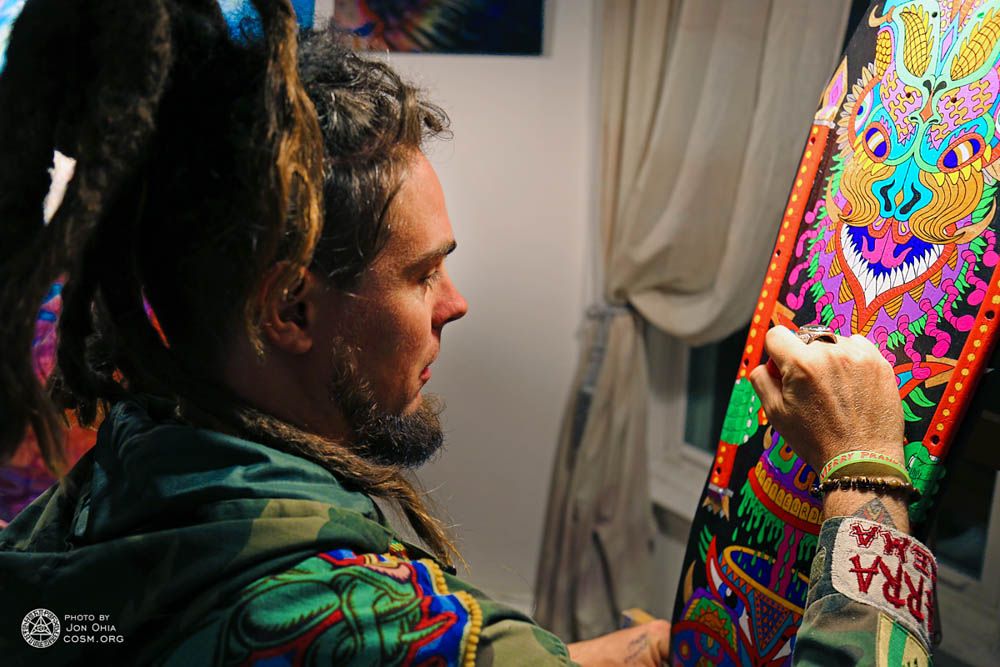 Chris Dyer's Positive Creations
Chris Dyer is a soul set with high intentions for humanity and his self. A medium of the Great Spirit, he opens himself up to the ocean of consciousness and tries to let go of the temporary complications of his ego mind. A student of life and true soul skater, Chris uses creative expression to speak the untold.

The Apotheosis of Dualitree by Chris Dyer
Chris Dyer grew up in Lima, Peru until age 17, where he was involved in 80's skateboarding, 90's surfing and soccer oriented recreations. He eventually moved to Canada to study art and is now based in Montreal, where he works out of his home, "The Positive Portal."

Chris Dyer working in his "Positive Creation Portal" in Montreal, Quebec
Half of the time he is on the road, making and spreading his art worldwide. By now he has been able to reach over 30 different countries, which has been a chance for him to learn much about the collective and himself through a variety of cultures. These powerful experiences have helped Chris generate a flavor of art, fusing many cultures into a spiritual oneness of unity within diversity, which can appeal to all, yet is owned by none.

Moment of Truth by Chris Dyer
Chris' art is rooted in the skateboard culture he has been part of since a young boy. As early as 1986 he would draw his own board graphics. After high school, Chris continued to develop his fine art skills using broken skateboards as the canvas. Providing a purposed life for these defeated pieces of wood eventually led him to working in California & the world wide skate industry. His graphics have been features for a variety of well respected brands. Chris also is Art Director of California's Creation Skateboards, which he took to the next level with their skate video "Soul Harmonics".

Ayalupe Trinity by Chris Dyer
Chris' exploration of inner worlds and ability to juggles mediums, styles and themes has made him stand out in the different art movements he is part of. Because of his unique voice, and high productivity, Chris has become one of the leading figures of the North American Visionary Art scene. This position has given him the chance to act as a bridge between that spiritual movement and less typically "conscious" art scenes he is part of like street art, and skate art. Though he appreciates the scenes he is associated with, he wants to break boxes and manifest the "Oneness" he believes is there beneath it all.

Peeling Bodies by Chris Dyer
His high quality work is exhibited in successful solo and group shows, galleries and museums around the world. Music Festival scene has also generated opportunities for him to be a featured Live Painter alongside visionary veterans such as Alex & Allyson Grey, Amanda Sage, and Android Jones.
He has also been featured in many magazines and books worldwide, including his own hardcover coffee table book published by Pennsylvania's Schiffer Books. He recently released a coloring book for adults via "Last Gasp" Publications. Chris Dyers Kick-Ass Coloring Book (For Rad 'Adults' and Cool 'Kids') is an opportunity to add your creative flair to his visionary designs.

Chris Dyers Kick Ass Coloring Book (For Rad 'Adults' and Cool 'Kids')
He manages his own Art brand, Positive Creations, offering a variety of quality apparel and artsy products. Though he has had healthy press throughout the years, he is still reaching out from the underground. It is the uniqueness of his art, and a solid social media presence that has helped him find his own following. Chris' biggest joy is to make his fans happy and to meet up with them at the different events performs at, so make sure to catch him somewhere and give him a nice hug.

Mural at Boom Festival in Portugal
In 2011 he released a full feature documentary, Positive Creations, which has reached several thousands and inspired many. These days he has a series of video Webisodes called "The Artventures" which cover the different lands he visits to paint spray paint murals left and right. Chris has also been offering a variety of different Art Workshops as he travels those lands, to share what he has learned with the youth.

Chris Dyer standing next to his recent mural addition on CoSM's Wisdom Trail.
Chris has shared his vision at CoSM through teaching and muraling, offering demos on how to create visionary graphic and street art. His two colorful additions to the Mushroom Cafe add an extra dimension of life and color to the walls. The Wisdom Trail features a patch of forest where Chris's mural creatures have set up camp – and are growing in numbers with each visit! Be a part of Chris' workshops at CoSM this year where he will share all of his secrets to creating the ultimate graphics.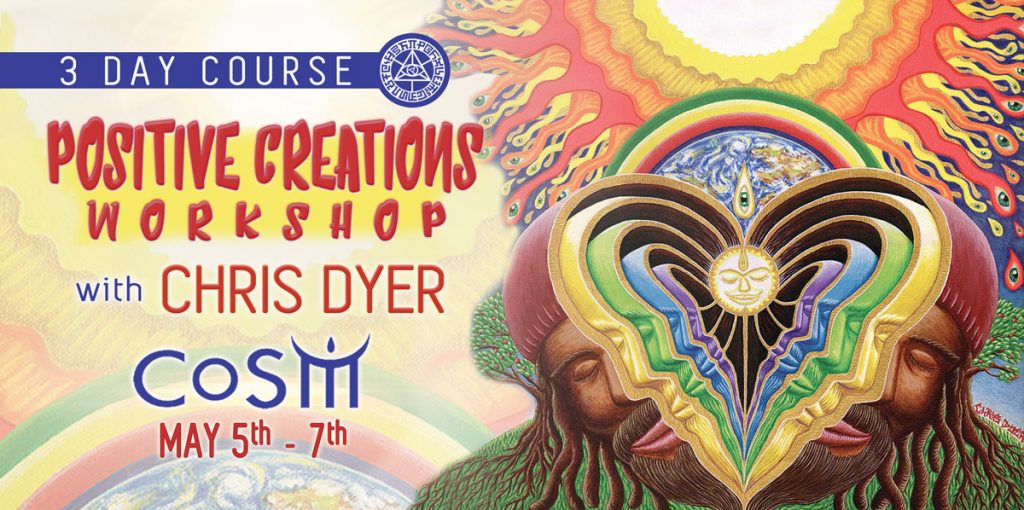 If art is more than a hobby for you, and you'd actually like to live off your passions, these presentations have all of Chris' knowledge and secrets he's accumulated over his 13-year career. Chris will go step by step through the process of sketching the ideas, priming, drawing on the board, achieving quality graphic line work, painting, layering effects, color theory, polishing and varnishing. An incredible opportunity to paint and learn from the maestro himself!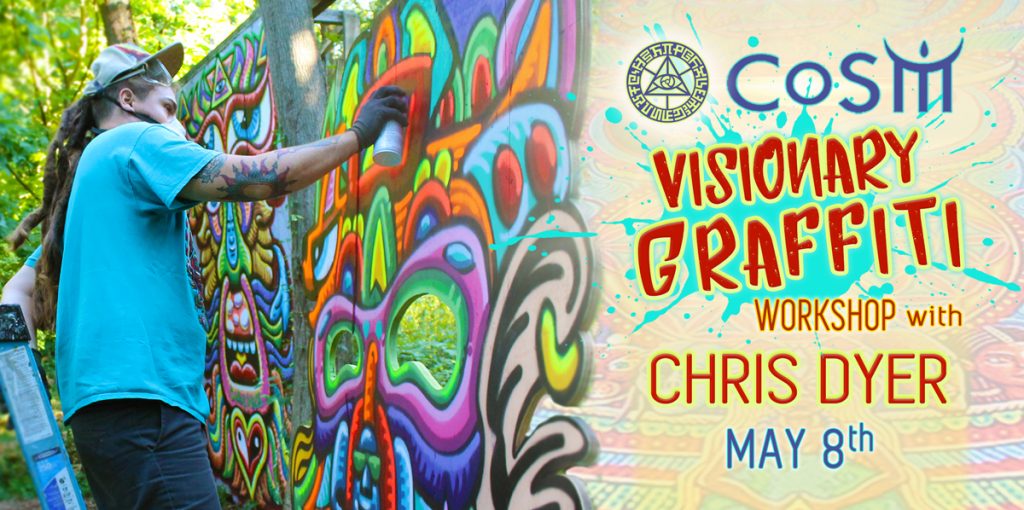 After this 3-day workshop, Chris will be offering an additional 1 day Visionary Graffiti Workshop for workshop participants. In this optional session he will give a slideshow presentation about the history of graffiti and street art culture, his own points of view of where this movement is going and also teach about the technical side of the spray paint medium.