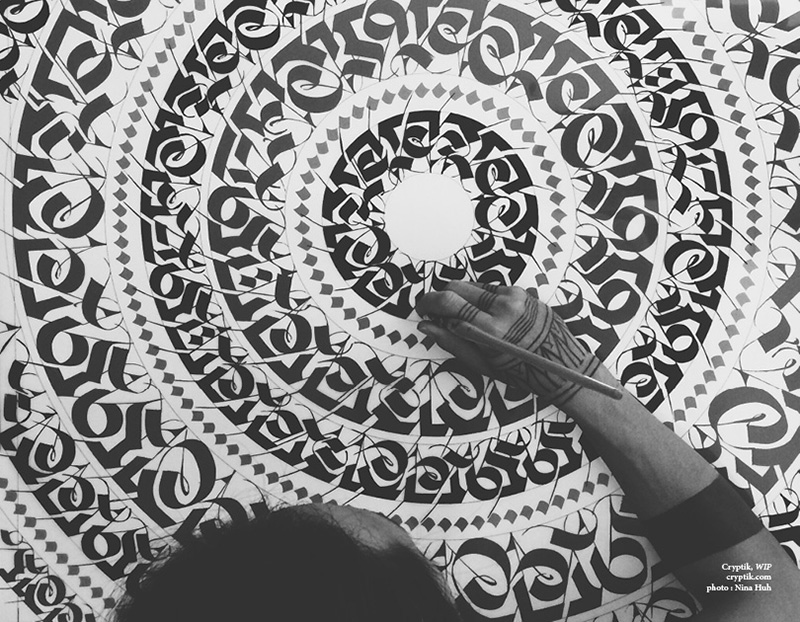 Related journal-volume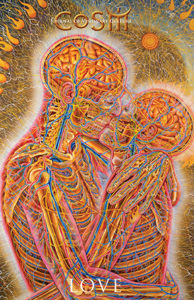 CoSM Journal Volume 10 : Love
"Where there is great love there is always miracles."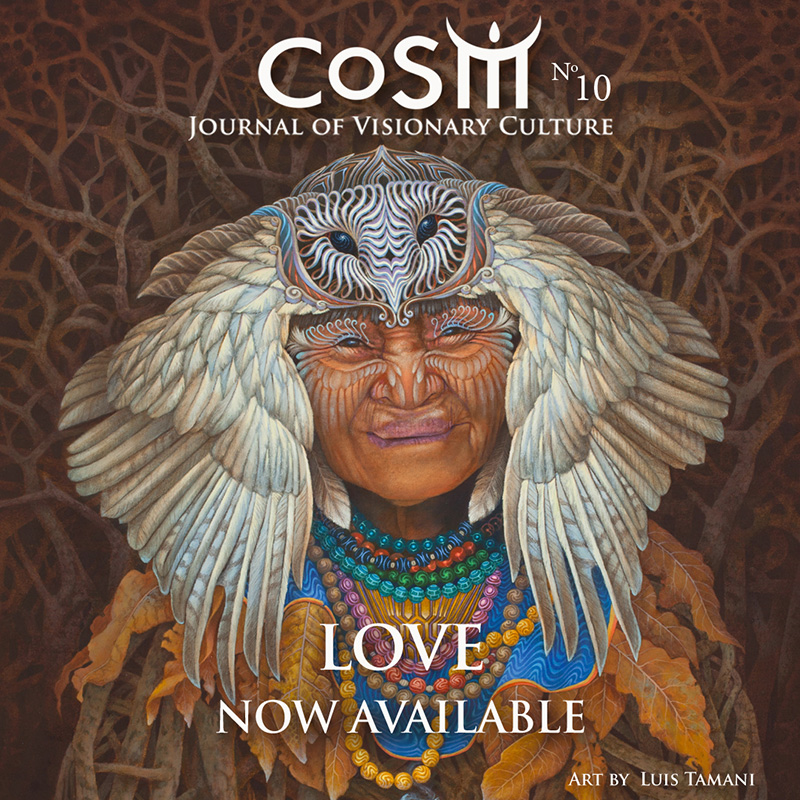 Celebrating 'Love' in art, wisdom and creative expression, the new edition of CoSM Journal of Visionary Culture uplifts and inspires.
Featuring wisdom of many exceptional leaders like Amma, Michael Beckwith, Jean Houston, Ken Wilber, Rosemary Morrow, Richard Rudd, Susun Weed, Jon Young, Looby Macnamara, Core Love, Judith Ansara and Robert Gass, Erik Davis, Ian Mackenzie, Shady Backflash, Martin Ucik and Michael Phillips. It is overflowing with incredible art from amazing visionaries like Michael Parkes, Robert Venosa, Martina Hoffmann, David Heskin, Aloria Weaver, Shrine, Louie Schwarzberg, Layla Love, Autumn Skye and Cryptik.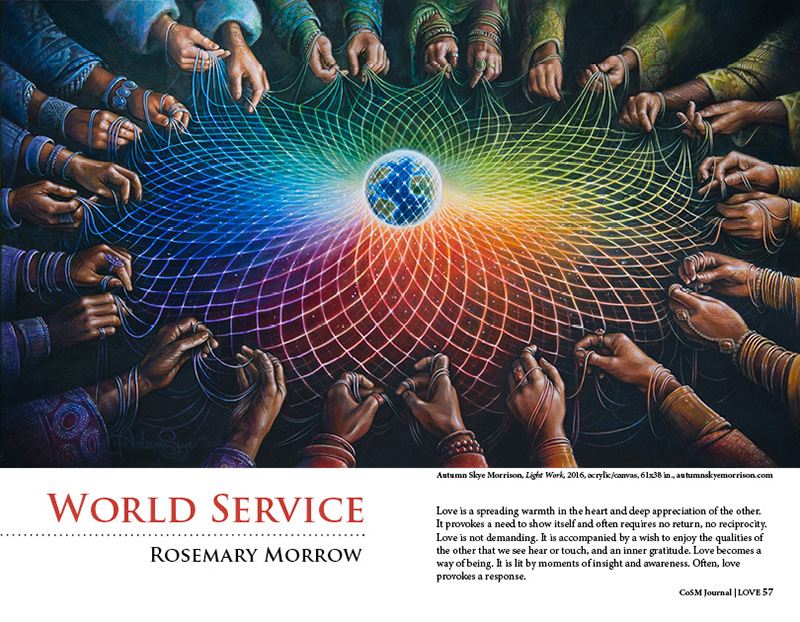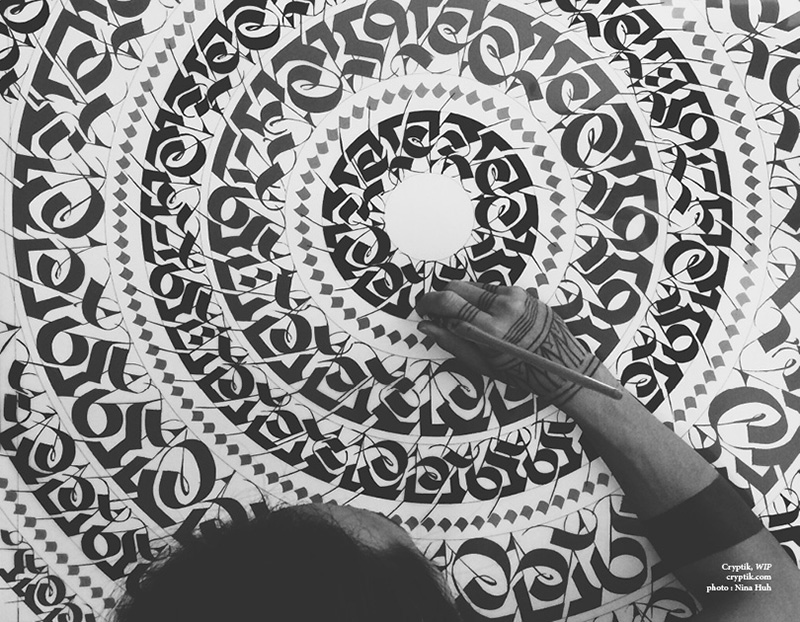 Journeying through the inner reaches of visionary reality, artists everywhere are exploring new and creative ways to express the ineffable. Every moment is a unique opportunity to love, and share new visions of love to uplift and inspire a more artful world.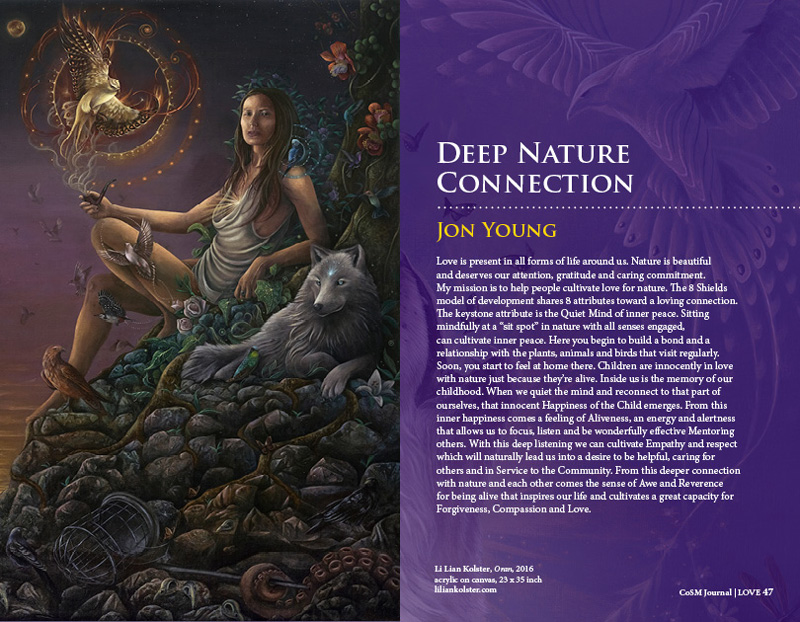 "The culture of the San Bushman of Kalahari focuses on love. When a bushman wakes up in the morning and sees a little bird, they look into each other's eyes with a moment of recognition forming a thread between them. Over time the Bushman gets to know the bird's ways of life. He observes that the bird is male, has a beautiful song and is feeding and tending a female bird while building a nest for babies. One day the birds are very upset because there is Mongoose nearby. This reminds the bushman of hyenas that come around the camp and the people in the camp shout. We all worry about our children. Over time the thread of connection becomes a string, then a cord, then a rope. What it means to be a Bushman is to make ropes with everything; the animals, the birds, the insects, the wind, the stars, the sun, the moon, the ancestors, the unborn and one another as human beings. The Bushman say that these ropes are made of love." –  Jon Young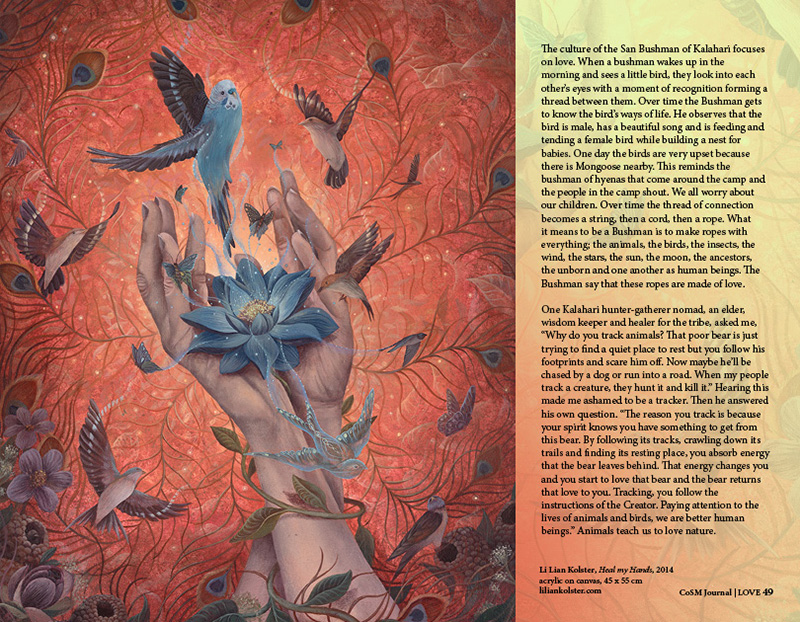 Celebrating creativity as a spiritual practice, the Chapel of Sacred Mirrors co-creates CoSM Journal of Visionary Culture to support its Core Mission to build an enduring sanctuary of visionary art to inspire every pilgrim's creative path and embody the values of love and perennial wisdom.
The Chapel of Sacred Mirrors honors the creative spark in each of us as a direct connection with divinity. Art practiced in service to love and divinity weaves together the global Visionary Arts Movement.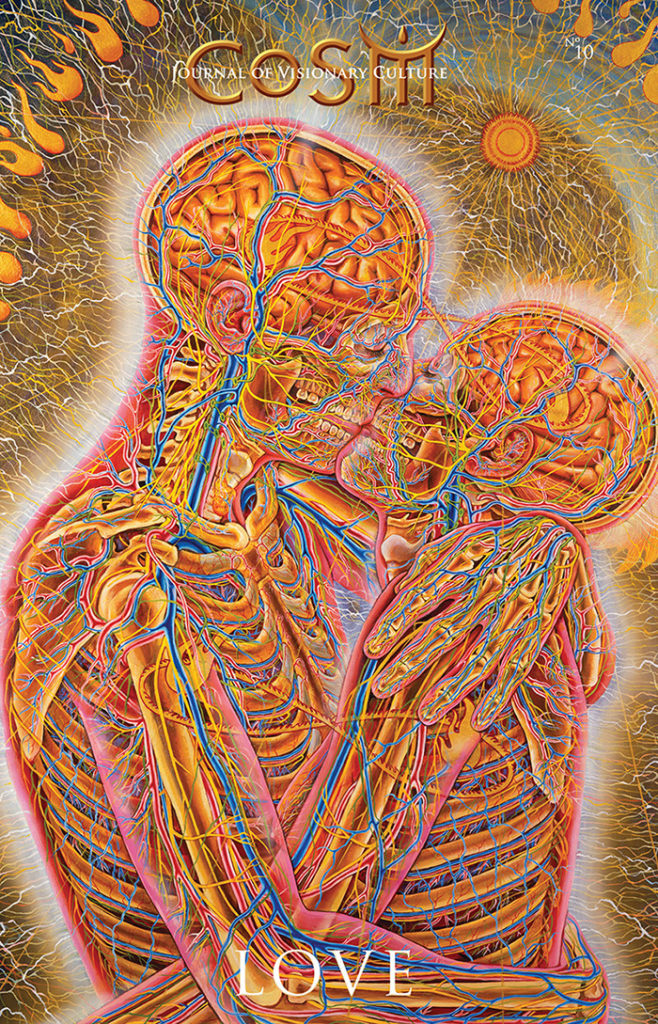 Endless love and gratitude to the CoSM journal team for their ceaseless work in bringing another beautiful and uplifting volume into the world.
Chief Editors : Alex Grey & Allyson Grey.
Creative Director : Eli Morgan.
Senior Managing Editor : Delvin Solkinson.
Senior Designer : Sijay James.
Media : Alexa Spadafora.