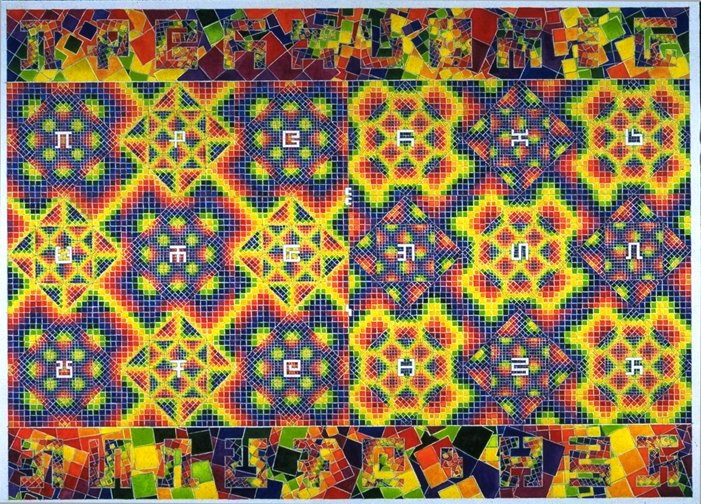 Dear Allyson,
Recently my mind was blown open while journeying with a gifted Shaman and friend. My soul lifted out through my third eye and "my-Lightself" traveled through a tunnel-like wormhole. The wormhole was completely lined with millions of eyes and I was seeing through each one of them…observing my-self observing myself and so on. Returning from the journey to the "Divine Collective," I found myself vibrating. My perception of the nature of existence and consciousness was altered and I grasped the knowledge of the holographic nature of the Universe. An awake and attuned friend pointed out that the vision of the eyes in the tunnel is a prevalent theme within Alex's artwork. I am a fibre artist currently living in Florida, away from my studio and feel quite lost going through huge life changes without my creative outlet. Everything from my old life has been stripped away. I feel as if I am being forced down a Cosmic Womb once again and this time with an acute and extremely painful yet beautiful awareness. My question: Does my vision of traveling through the eyed wormhole resonate as a rebirthing from the Cosmic Womb? I have been both disturbed and yet satiated since the experience. I am very curious to hear your take on my vision and journey.
-Rose
---
Dear Rose,
Others have reported seeing this tunnel of eyes, surfaces that surround our journeying consciousness. The field of eyes may represent infinite spiritual awareness. Your vision could be a radical awakening from a disconnectedness you may be experiencing. A visionary mystical experience has left a deep and lasting trace on your mind. You are a different person since that experience. Spirit compels you to transform, perhaps to try a new medium or subject.
The interpretation you assign to your vision is yours alone. Your description sounds quite fulfilling and uplifting. What you take from this experience, what you learn and do could honor that vision and guide your life with goodness (Godliness). As a creative person, you will not be satisfied allowing yourself to feel "lost without a creative outlet." As an artist, there is no excuse good enough and your "identity" will suffer. A sketch book, pens and pencils are always available to you, even in transition or on the road.
We invite you to join us at CoSM for an art workshop where you can "jump start" your creative process once again in the company of like-minded visionaries. Art can be a spiritual practice. Like exercise, yoga or meditation, devoting a portion of each day to a purely creative pursuit provides a healing energetic flow through your subtle light body that can circulate into the world around you.
Private artist consultations with Alex and I are also a possibility. Consider joining us at CoSM sometime where we can continue a discussion of your creative future.
Love,
Allyson and Alex