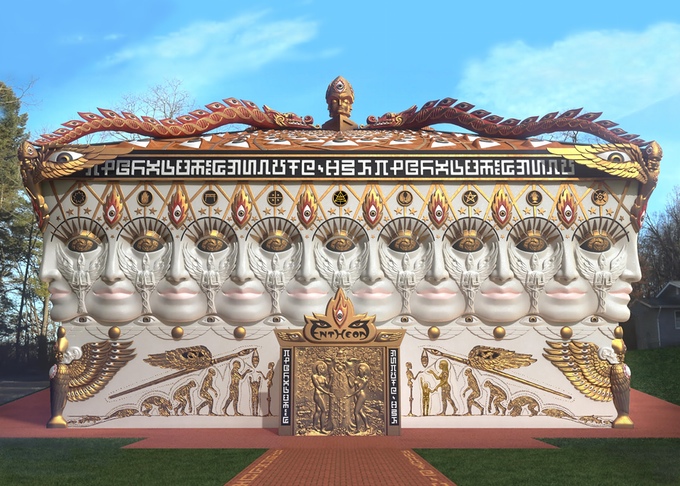 Entheon Campaign A Success!
This identity out of the One into the One and with the One is the source and fountainhead and breaking forth of glowing Love. – Meister Eckhart


Thank you to all 2,914 backers who brought the Build Entheon campaign to it's powerful finale! An outpouring of love and support kept the numbers rising, exceeding all  expectations and bringing us to a grand total of $354,917!
Collectively, you raised what we needed to finish the interior of Entheon. Thank you, we mean, historic for us, Thank you. The target date now proposed for opening the art exhibition inside Entheon is the Autumnal/Winter 2017.
Engineering and fabricating the sculptural countenance of Entheon will unfold as funds allow. To honor a heavenly connection, the first sculptural addition will start at the top with the 8-foot high Steeplehead, its installation planned for later this year.
We welcome you to check out cosm.org and consider visiting the grounds on which Entheon is being constructed.
One backer, Aaron Lee Weimer shared, "It's an honor to take part in this timeless creation of magnificent proportions." Thank you, Aaron and gratitude for every appreciative message. The radiance of love during this time has nourished our souls.
To help ensure that all rewards are received in a timely manner, a third party, called BackerKit, will help manage the post-campaign with a survey to collect information that will assist in fulfilling 2,914 pledges. The first round of surveys to launch soon.
In this survey, backers can specify their shipping address, t-shirt size, etc. 

In the survey, those who backed the campaign can select further ADD-ONS during the check-out process.  
The Sawblade Tondo edition, limited to the Kickstarter, will be available to campaign backers this one final time. 
Progress of Entheon will continue to be posted through Kickstarter updates.
Gratitude to all that helped make this historic campaign a success. Let's bring CoSM Visionary Art exhibition back on view!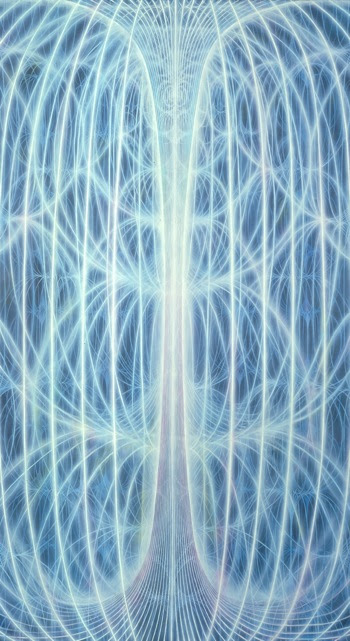 Sacred Mirror series: Universal Mind Lattice
The Angels: Thanks & Love


The success of the Build Entheon Kickstarter is due to the generosity of real life angels whose brilliance, art, organizational skills and intelligence was a gift of love.
Deep gratitude to our daughter, Zena who took time outside of her full-time gig creating for Buzzfeed/Snapchat and her monthly show in Hollywood, "The Lost & Found Film Club," to edit together a vast array of CoSM footage, articulating the vision of Entheon in the opening video representing the campaign. Check out Zena's creative videos and see her every month with her partner, Brendt in Hollywood presenting Lost & Found thematic extravaganzas.  https://www.facebook.com/LostFoundFilmClub


Appreciation is vast for Edward Dawson-Taylor and Jackie Cooper whose masterful special effects brought the Entheon building to life. We particularly loved the birds flying in a flock over the sculpted temple. See their reel of the most extraordinary special effects and accomplishments in films, including Harry Potter movies (that's how they met), FX Disney, Pixar and Lucas Films. Edd & Jackie just completed VR where butterflies swirl around you!! http://www.edgevisual.co


Eternal thanks to Ryan Tottle, premier Disney animator, whose digital sculpting originally brought Alex's drawing of Entheon into 3D. It is with Ryan's brilliant modeling that the Entheon countenance will be exquisitely crafted. http://ryantottle.blogspot.com


For the video we thank:
•    Shay Motion for videography — https://www.facebook.com/shaymotion/
•    Louis Schwartzberg for videography — https://movingart.com
•    Maurice Caicedo for Intro/Outro liquid gold special effects — www.mocaicedo.com/
•    Johnathan Singer for video kaleidoscopic effects — www.johnathansinger.com/
•    KOAN for contributing superior music — https://www.facebook.com/koantunes/
Stretching beyond all limitations, CoSM's Operations Manager, John Harris, has been the fearless leader organizing our most successful fundraiser. When backers had questions, Johnny answered them and it continues. Full-time staff at CoSM for less than a year (volunteer for two years driving from Boston every weekend), Johnny is an answer to our prayers. With his keen dedication to detail, a wrangler of talent and information, truly noble and tireless, we look forward to expressing our appreciation daily into the future.
Thanks to all CoSM Staff, especially the Media Lab, including:
•    Jon Ohia, CoSM Manager of Programs/Media and Archivist, master of content
•    Joness Jones, graphic designer and artist
•    Eli Morgan, Creative Director with CoSM for 15 years, initiating CoSM's first events in NYC in 2001.
•    CoSM Shop and Shipping, Emily Wilson & Peter Squires and their teams, for providing the editions and altar objects rewarded to support CoSM
•    Jewelry and ceramics leaders, Sharon Fulcher (15 years with A&A), Caren Charles & Grace, creating the original art plaque editions and ceramic grails
Thanks eternally to our friends, the band TOOL, who encouraged for this campaign alone, the edition of Sawblade Tondos. The Saw Blade artwork by Alex was featured on Tool's Lateralus album. It was part of Alex's first collaboration with Tool, and is this Kickstarter's runnaway hit. The edition of Sawblade Tondos ends after all current backer rewards are fulfilled. The final size of the edition, still to be determined, will soon be announced.
Grateful appreciation to Amanda Sage, CoSM Board Member, Master Visionary painter and friend, who, in addition to designing Visionary apparel, and teaching serious students, took the time to encourage the finest Visionary artists to contribute original art, reproductions and merch to reward Entheon campaign backers.


Thank you to all the Mystic Artists who contributed their visionary works to benefit Entheon! 
Aloria Weaver, Amanda Sage, Android Jones, Autumn Skye, Luke Brown, Banjo, Bridgid Marlin, Burgandy Viscosi, Caren Charles, Carey Tompson, Carrie Ann Baade, Chris Dyer, David Heskin, Eric Nez, Joness Jones, Johnathan Singer, Kuba Ambrose, Laurance Caruana, Mark Henson, Martina Hoffman, Robert Venosa, Maura Holden, Michael Divine, Morgan Mandala, Nikki Moon, Olga Kilmova, Randal Roberts, Dan Schaub, Martin Wittfooth, Kaliptus & Seth Lebowitz.
Finally, we, Alex & Allyson, want to thank each other for intrepid 'round-the-clock' devotion to this campaign and for being open to miracles.


So much love,
Allyson Grey & Alex Grey