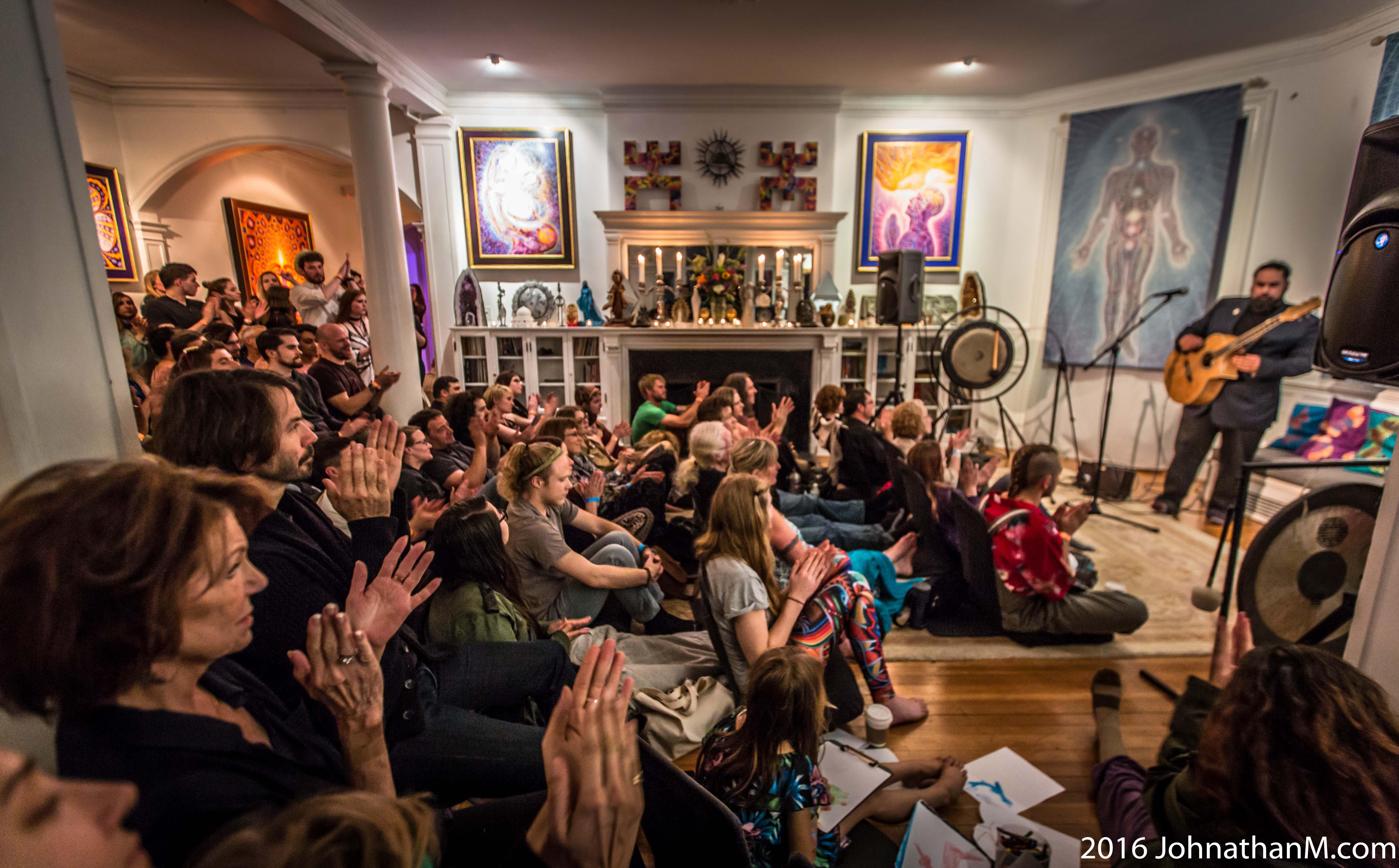 January Full Moon Weekend at CoSM
Friday Night @ CoSM: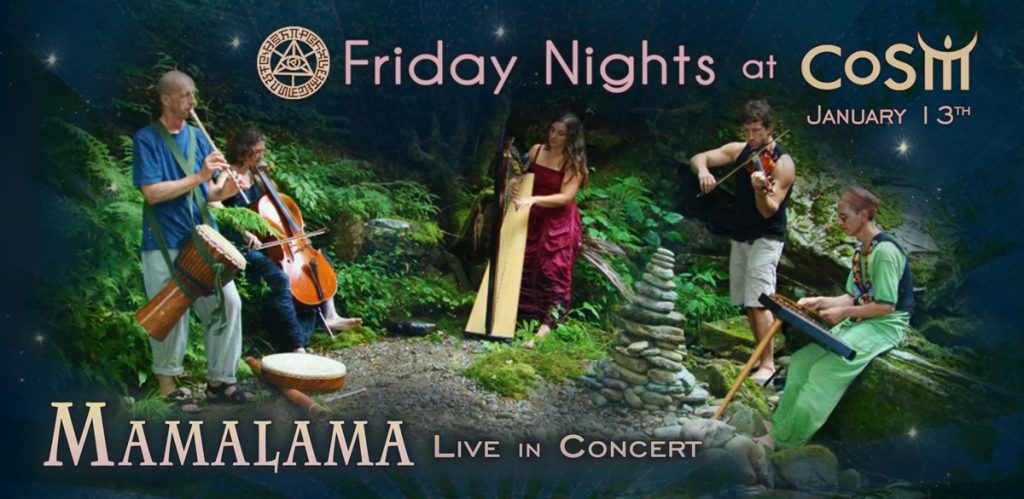 Mamalama Live in Concert
8pm – 10pm
Indulge in a listening experience that has been described as "like walking into a dream." Special musical guest, Mamalama, will perform in the Grey House Library this Friday Night at CoSM.
Mamalama is an uncommon orchestration of harp and ethereal voice, cello, violin hammered dulcimer, upright base, piano, french horn and choral voices. A seamless unit weaving together world music.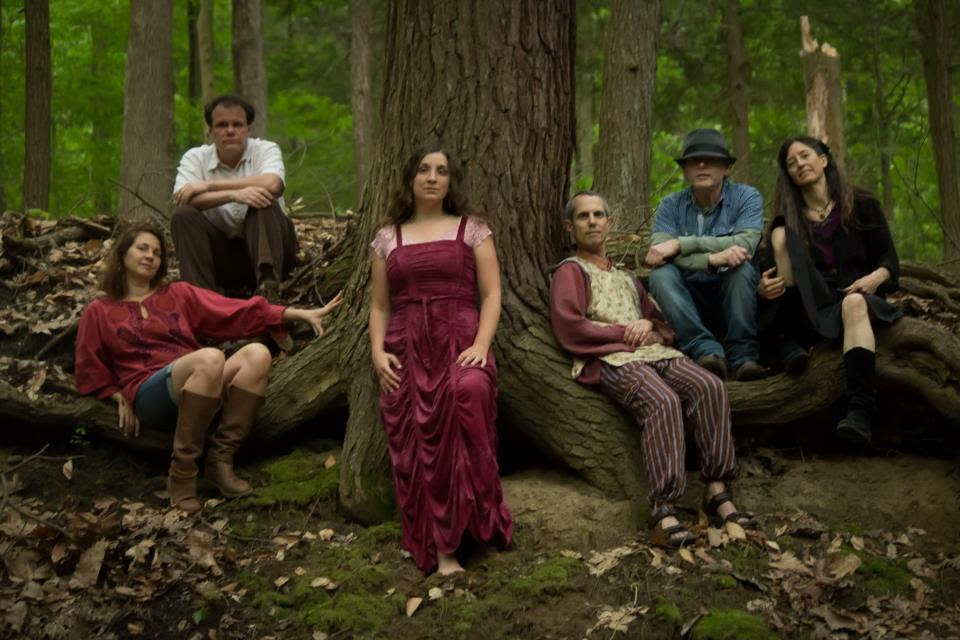 Come early and enjoy Friday Night Dinner, a delicious meal prepared by the house chef.
RSVP — Reserve a meal ticket in advance, or have heavenly snacks & beverages in The Mushroom Cafe.
Sip and snack in the parlor as you contemplate music, art and life. Browse through The CoSM Shop. Bring friends, a sketchbook and colors to draw by the fire.
Saturday @ CoSM: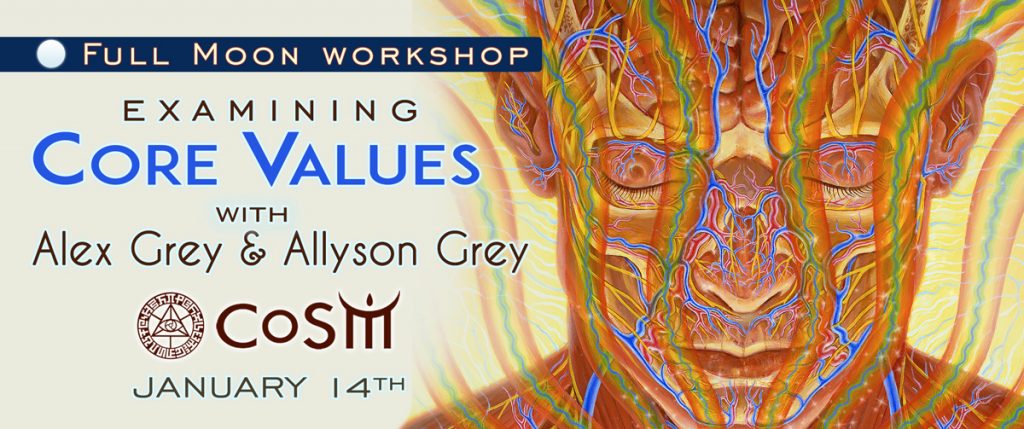 Full Moon Workshop:
Examining Core Values with Alex & Allyson
3pm – 6pm
Establishing your own core values helps harness your passions to their highest possibilities. Core values are the soul's values, the rules by which our being expands, evolves or feels constricted. In this session, we will review the process by which CoSM arrived at our organization's core values, and see how this system can be used to clarify an individual's true heart.
Perfect Compliments by Allyson Grey
Each persons creative will is an operating system that can be continually upgraded by clarifying that one's personal core values are empowering one's highest visions for their lives as a service to the collective.  Artists use allegory to point to virtues and higher aspirations as well as to warn the viewer of the characteristics of evil and vice. In this workshop, Alex and Allyson will examine the ideas of compassion, justice, liberty, truth, goodness and charity and call out the archetypal representations of these titanic forces portrayed by Visionary Artists for millennia.
Bring a journal and writing materials for exercises that will examine our core values, creating a space of profound self-reflection. How can an individual make a real difference in the world? What are the deal breakers and clear possibilities in all the areas of your life? What can you be counted on? What commitments do you choose and what is expected by others? Join us to explore how re-framing our reality through creative expression and perception, through sacrament and prayer, can deliver us toward our moral center.
January Full Moon Gathering @ CoSM:
Full Moon Ceremony
Music, Poetry, Wisdom and more
with hosts Alex & Allyson
7:30pm – 9:30pm
The Full Moon is a sacred mirror reflecting the greater light of the sun, just as each of us is a reflection of the greater light of God. Since January of 2003, CoSM has held Full Moon Ceremonies to pray with friends in order to empower each other's creative projects and to manifest a sanctuary of visionary art, as a collective gift to inspire the global community. It's been working, with your help Entheon is under construction. All sacred paths share the power of love and wisdom through creative expression. Immerse your art spirit with the community and celebrate the return of the full moon. A performative evening of wisdom, poetry, music and surprises. Opening ceremony led by Alex & Allyson will be held in the library from 7:30pm – 9:30pm. Seating begins at 7pm.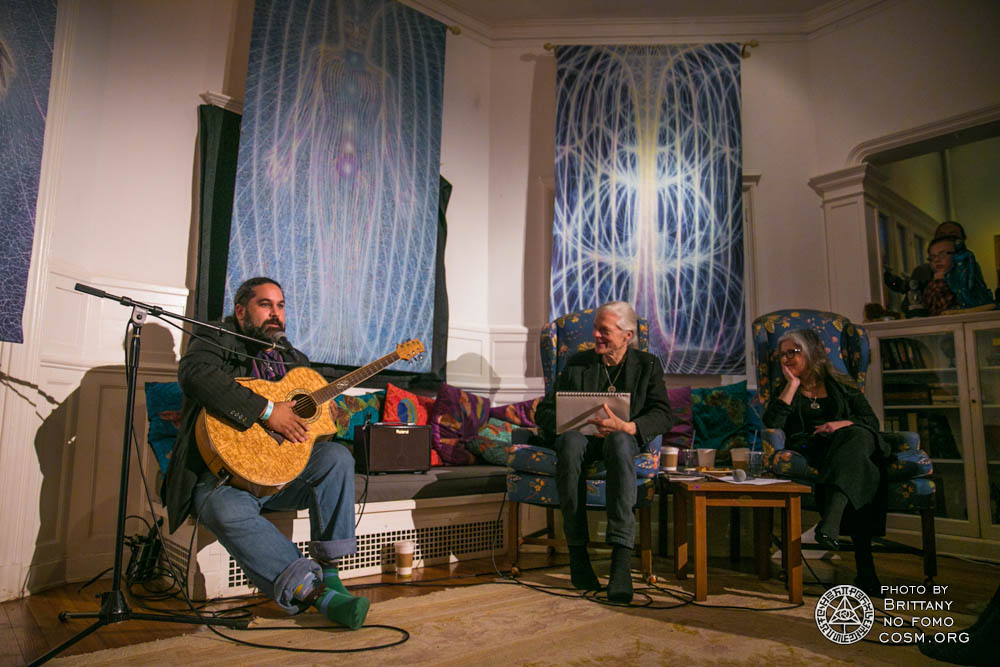 Full Moon After-Celebration
10pm – midnight
Connect with the community and enjoy live music, interactive art making and performance painting. Chat with Allyson about Art & Life. You might have Alex Grey create a "Supportrait" for you, a one-of-a-kind drawing of one guest or couple who supports CoSM. Have you body exquisitely painted by Caren Charles and Keiara Gallodoro or Henna by Hannah Beth. Receive a tarot reading with intuitive Ximon. Alexa Spaddy, Genevieve Wood, Hilary Carlson, Joness Jones, Louie Izzo and Spectra will be live painting throughout the house.
Snacks and beverages will be available for your enjoyment through the Mushroom Cafe. Head over to the CoSM Shop and seek out artful treasures. The moon lounge provides an ambient atmosphere, accompanied with drawing materials and interactive games.
Sunday @ CoSM:
Morning Yoga
with Shipra Saraogi
10am – noon
CoSM offers the ultimate mindbody stretch — Yoga with Shipra, late-morning on Sunday. Be gently guided toward your body's own potential. Deepen any asana practice and rejuvenate with friends of all levels of experience. Be comfortably nurtured and challenged by a sublime yogini. Shipra will have you leaving feeling refreshed and recharged.
Yoga begins at 10am, $10 donation requested. Mats available.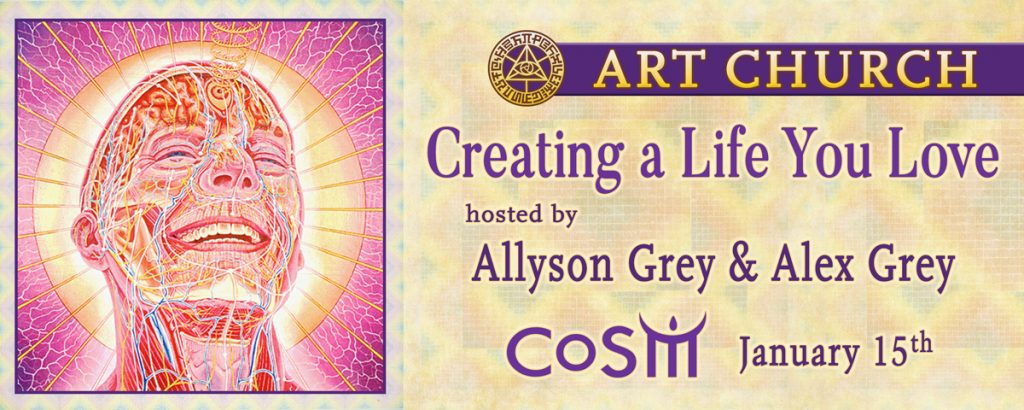 Art Church: Creating a Life you Love
with Alex & Allyson
1pm – 5pm
"To live a life you love, love the life you have and imagine a future worth drawing you forward."  –Alex Grey
We are all artists of consciousness creating our "pictures" of reality. Every bit of what we experience is a figment of our imagination. Since co-creative authorship of the story of our lives is in our hands, how will we most positively, powerfully interpret the life we have and create this precious life? Through the filter of our own unique sequence of circumstances, we sculpt our life with the "chisel" of our world view.
At Art Church we will reflect on the beauty of our mental creations and recognize that we are the authors of the story of our life.  Part of creating the life you love is taking time to see how you are manifesting your Soul's purpose thereby tapping the Soul's infinite joy. Looking at our mental creations as artworks, we see thoughts as psychotronic devices, windows on new realities, prayers, spells, hexes, charms, and protective Talismans.  How can our lives fulfill the higher love we are called to manifest?


Praying by Alex Grey
A life we love is filled with our appreciation of the world and we are also appreciated by others. We refine our connoisseurship of the beauty and blessings of life and develop visioning skills. Our thoughts are sculpted in the mental studio. To create beautiful thoughts and ideas, the Craftsman in the studio of our Being accepts mentorship and guidance from our Soul Angel.
Explore with us the skills and tools in the Art of Life. What is the "anatomy" of your "Love-able Life"? If money and circumstances opened your life to unlimited possibilities, what passions would you pursue and what would be different? Come to Art Church ready to write and draw from the wellspring of your imagination and consider the life you love.
Applications/Portfolios due NOW until March 1st
for the 7-Day Visionary Painting Intensive
@ CoSM with Alex & Allyson, July 16-27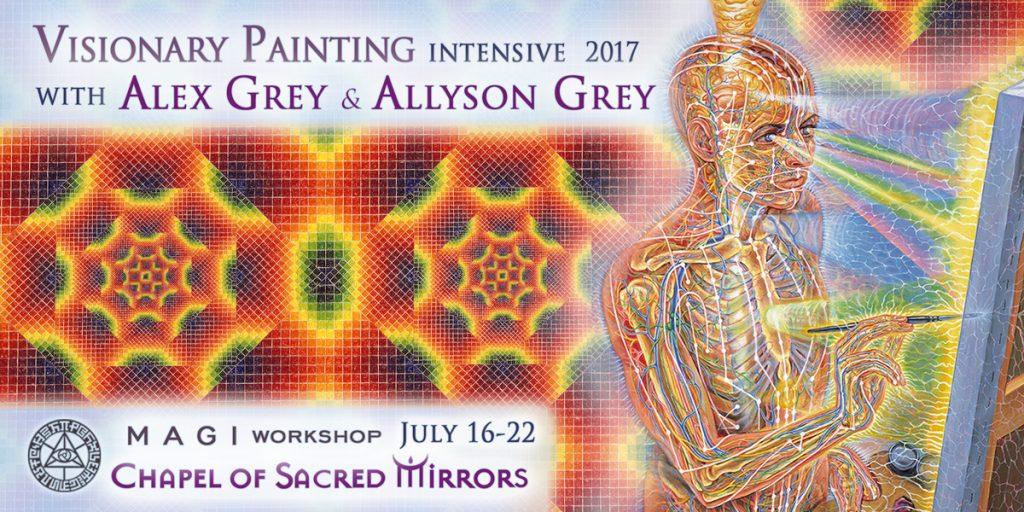 Love,
Alex & Allyson