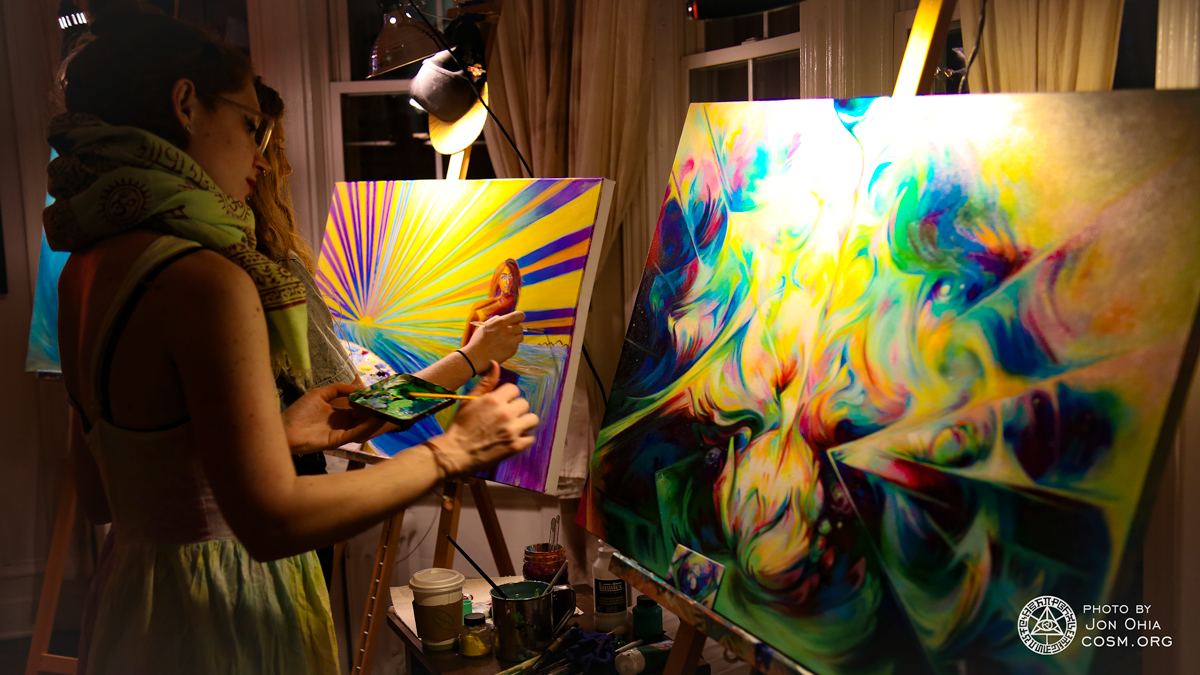 January Full Moon Weekend Recap
Full Moon frequencies were full throttle this weekend at CoSM. Celestial bodies gathered together for another unforgettable excursion of art music and community.
Friday evening welcomed the return of Mamalama for a musical orchestration of harp, cello, violin, hammered dulcimer, upright bass, piano, french horn, and choral voices. Their sweet melodies swept us away, much like walking in a dream.

Elizabeth Clark from Mamalama radiating with sound and color.
Saturday followed with an afternoon workshop: Examining Core Values with Alex & Allyson. Kindred spirits dove deep into the concepts of core principles while also generating values of their own. Spaces of profound reflection blossomed through discussion and written exercises. This new development of reframing reality set the coordinates to moral centeredness.
A smooth transition into the evening program, the Full Moon Ceremony commenced. An eclectic mix of kirtan, poetry, astrology and song illuminated the atmosphere. Allyson touched on Parsha wisdom followed by a Dedication to Love from Alex.
Hilary Carlson leading Kirtan during the Full Moon Ceremony
The fires were ablaze throughout the evening, keeping the atmosphere cozy and inviting. The Grey House flourished with live painting, body art, tarot and music. Guests engaged in insightful conversation with Allyson and Alex. Others were getting creative in the moon lounge to live music.
January is recognized as the Full "Wolf" Moon in the eyes of some Natives. A ritual howl at the end of the night seemed more than appropriate, lasting longer than usual this time around.
Lounging in the Grey House Library
Sunday morning yoga with Shipra provided a powerful activation to the day followed by an uplifting Art Church: Creating the Live You Love with Alex & Allyson. Guests drew from the wellspring of their imagination, envisioning their life's untold story. Encompassed by inspiration, empowerment was cultivated and creative intentions were ignited.
2017 provides us with another opportunity for growth and transformation. January's Full Moon at CoSM set the tone for what's in store. Cheers to a visionary New Year of spirit and surprises. See you next time!