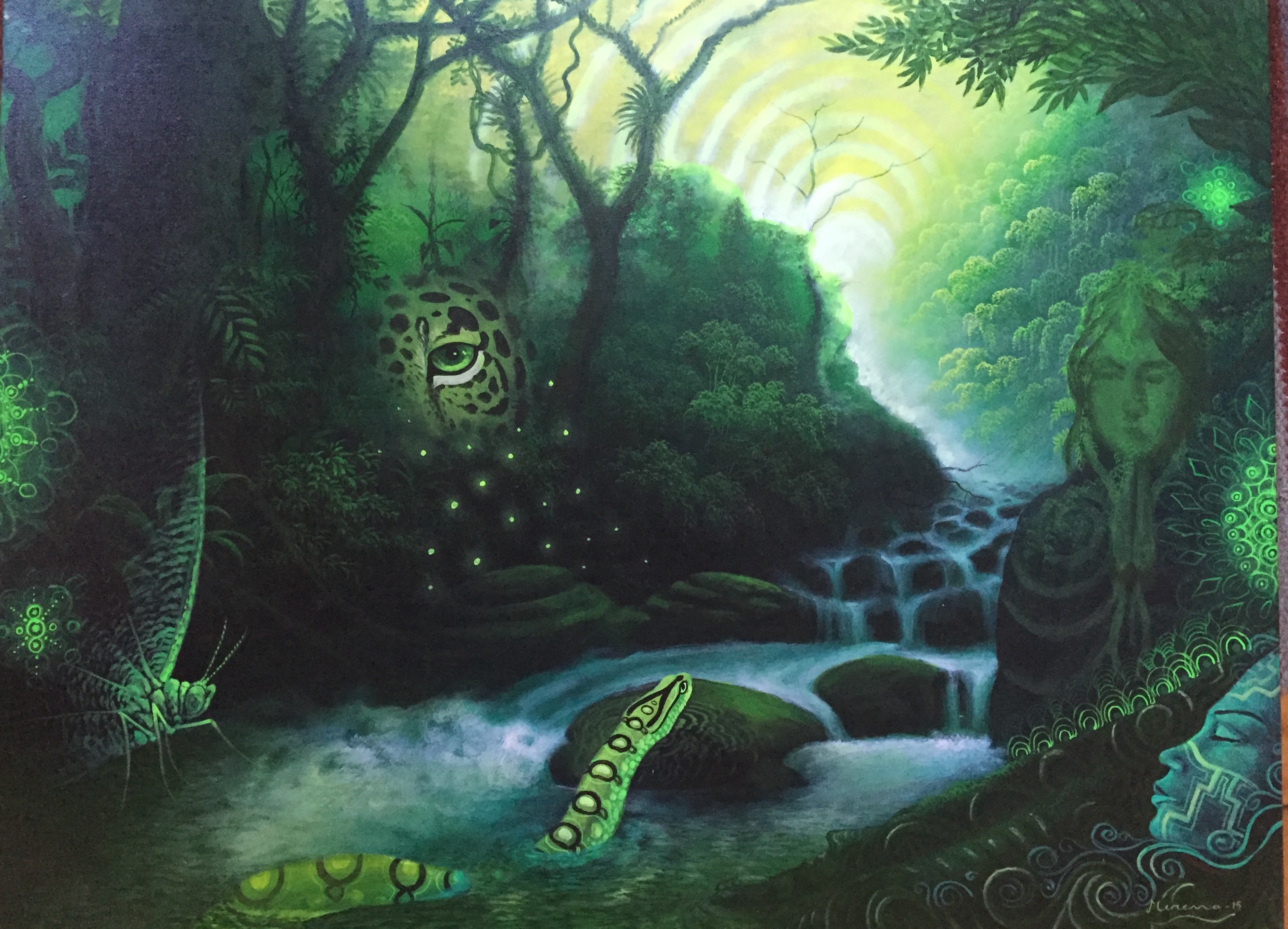 September Full Moon Weekend
Friday Night @ CoSM: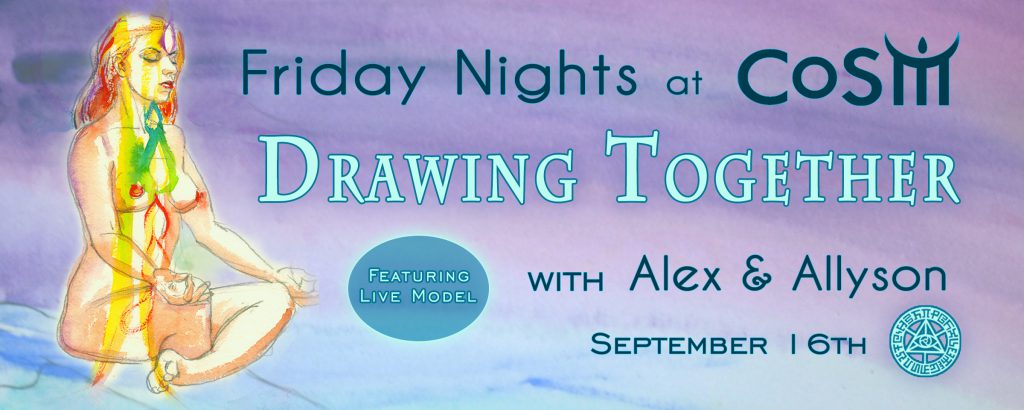 Drawing Together
with Alex & Allyson
7:30 – 10:30 pm
Day visitors and overnight guests are welcome to join CoSM after 6pm and partake in an evening at CoSM. Meal tickets for dinner are available and Alex & Allyson will be dining until 7pm followed by Drawing Together with Alex and Allyson. A model and an altar of special objects will inspire our drawing the figure, from life and strictly from the imagination. Uplifting music will usher our introspective journey, woven with guiding suggestions by Alex & Allyson. Bring a special relic or "power object" from your home altar to share on the drawing altar for the evening. Bring your favorite art materials for painting or drawing. Basic colors and paper will also be available at CoSM.
Enjoy The Mushroom Cafe's home-baked pastries, paninis and beverages open throughout the evening. Or check out CoSM's library of books. Ambient music in the library and cafe. Contemplate paintings in the CoSM Grey House, and browse through CoSM Shops to find unique and favorite books, gifts, and apparel. See you at CoSM on Friday!
Outside Friday Night @ CoSM: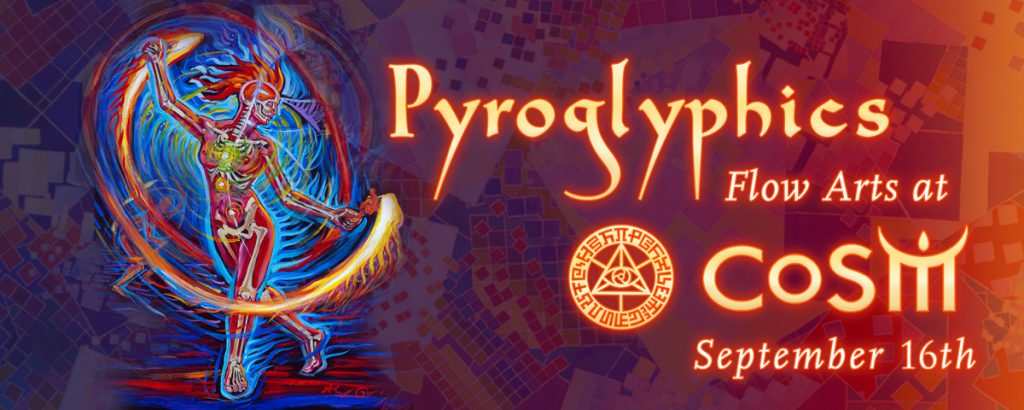 Pyroglyphics: Flow Arts
7 – 11 pm
The element of fire is an established symbol of energy, passion and spirit. Focus on the use of fire props such as staff, fans, and poi to craft your own unique flow style! Incorporating dance, circus and martial arts, enjoy an open spin jam, led by Pyroglyphics. Wander CoSM by day (noon-6) and stay late to explore fire as a spiritual art form! Meal tickets for dining with Grey's in possible between 6 & 7pm. The Mushroom Cafe and CoSM Shop will be open throughout the evening.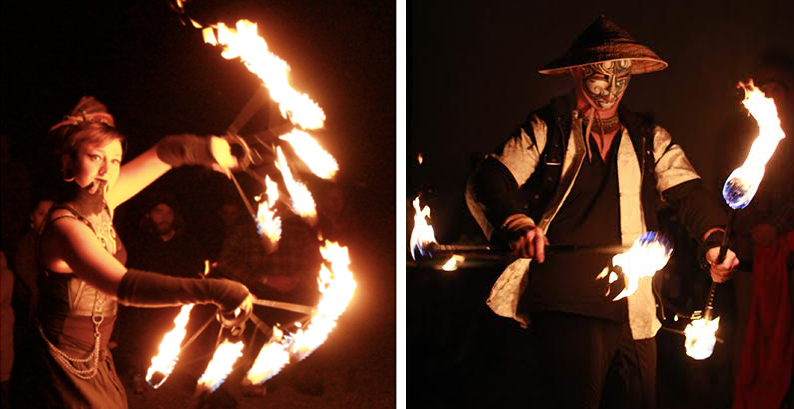 Saturday Full Moon @ CoSM: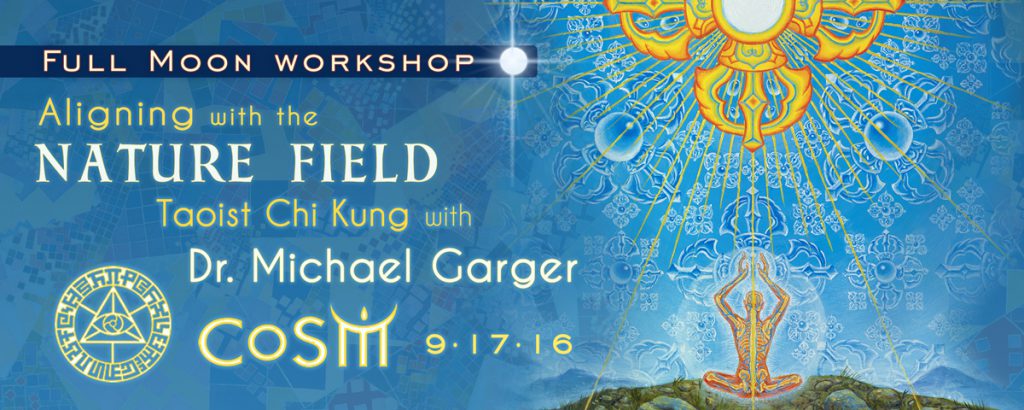 September Full Moon Workshop
Aligning with the Nature Field
Taoist Chi Kung
with Dr. Michael Garger, DC
3 – 6 pm
Our three dimensional reality is the nature field in which we live. Our spiritual essence ultimately transmits into our worldly experience through the mind/body vessel. Our mind/body conducts and directs this energy both consciously and subconsciously to create out reality. The better our alignment with the nature field, the more healthy and powerful we are and the more effectively and efficiently we can express this creative force.
This program is designed to:
– Help us develop an understanding of the principles upon which our bodies and the nature field function.
– Provide tools in the form of basic focuses and exercises that will produce alignment and power in our physical, mental, emotional and energy bodies.
Through techniques including Chi Kung as well as elements of Taoist Yoga and Chinese medicine, this workshop will serve as a guiding framework with which to base our thoughts and actions. Our focus will be on building foundational health so that this system can be used as a primary health care program or be a supplement to your already existing regimen. This workshop is basic and straightforward. No previous experience needed. Take part and enhance your energy field with the principles of resonance and synergism!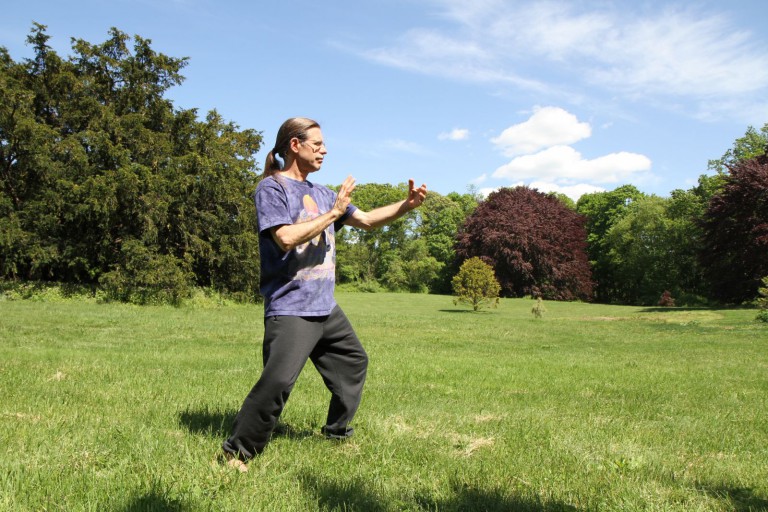 Michael F. Garger, DC, Chi Kung and Taoist Yoga master instructor, has maintained a chiropractic practice for 26 years. 
Integrating Eastern & Western disciplines, Dr. Mike's program inspires and prepares individuals apply natural laws to live harmoniously and powerfully.
September Full Moon Gathering @ CoSM: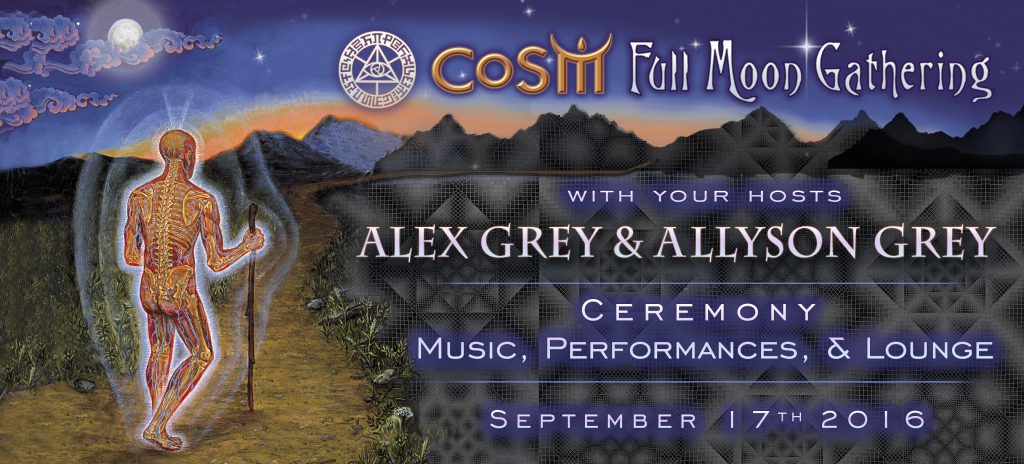 Full Moon Ceremony
with Alex & Allyson and guest presenters
Celebrate with us a magical Full Moon Gathering, an evening of wisdom, interfaith prayer, poetry, music and suprises. Embracing the richness of diversity, we share art and spirit with community. Opening ceremony in the library begins seating at 7pm and ends around 9:30pm.
Full Moon After-Celebration
Following the Gathering in the Library, from 10pm to midnight, there is a fire circle & fire performances outdoors, live music and a group sand mandala with Rosie and Dr. Mike indoors. The after celebration includes live painters creating throughout Grey House including artists Alexa Spaddy, DELA, Joness Jones, Louie Izzo and Moises Llerena. See the CoSM Shop if you would like a Supportrait by Alex Grey, a personal portrait in support of CoSM. Allyson Grey will be consulting with guests on the subject of Art & Life. Sign up at CoSM Shop for an intuituve tarot reading by Ximon or Body Painting by Caren Charles. Interactive art making happens throughout the house.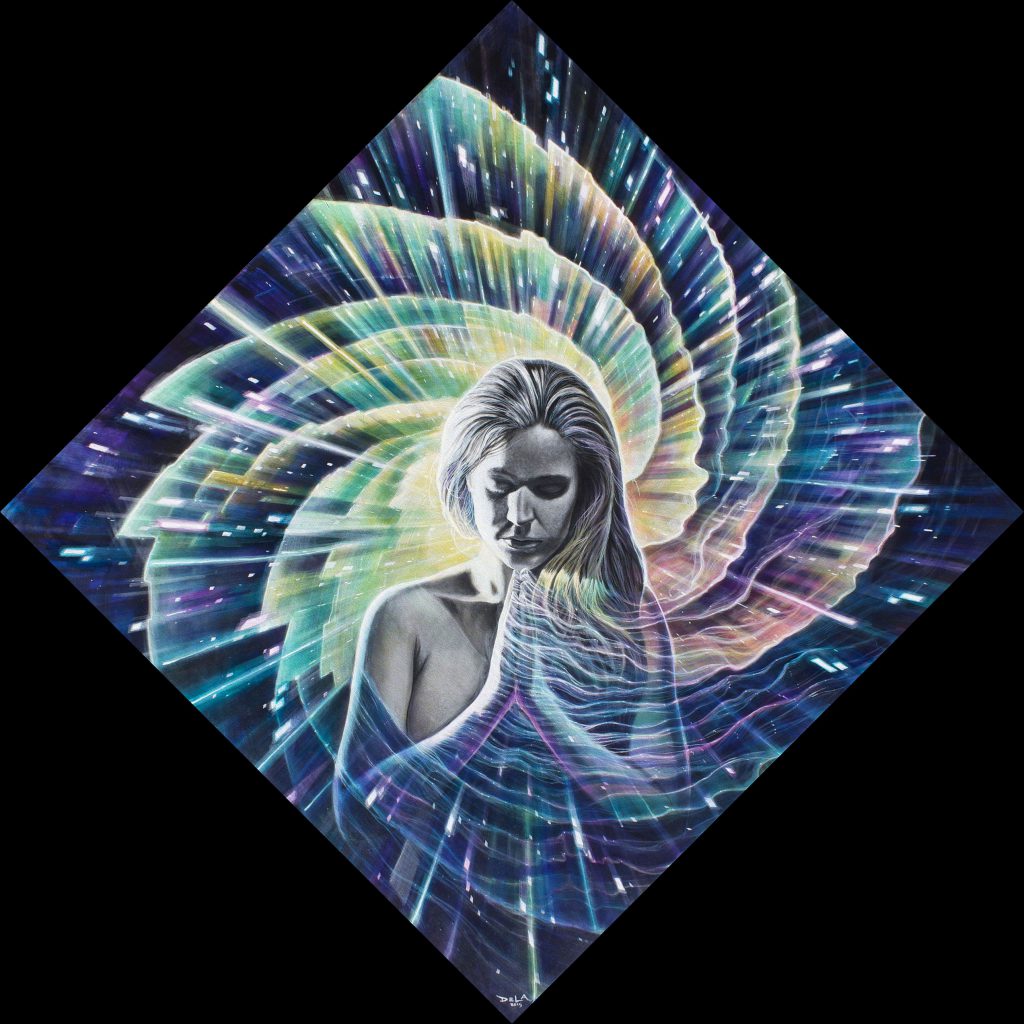 DELA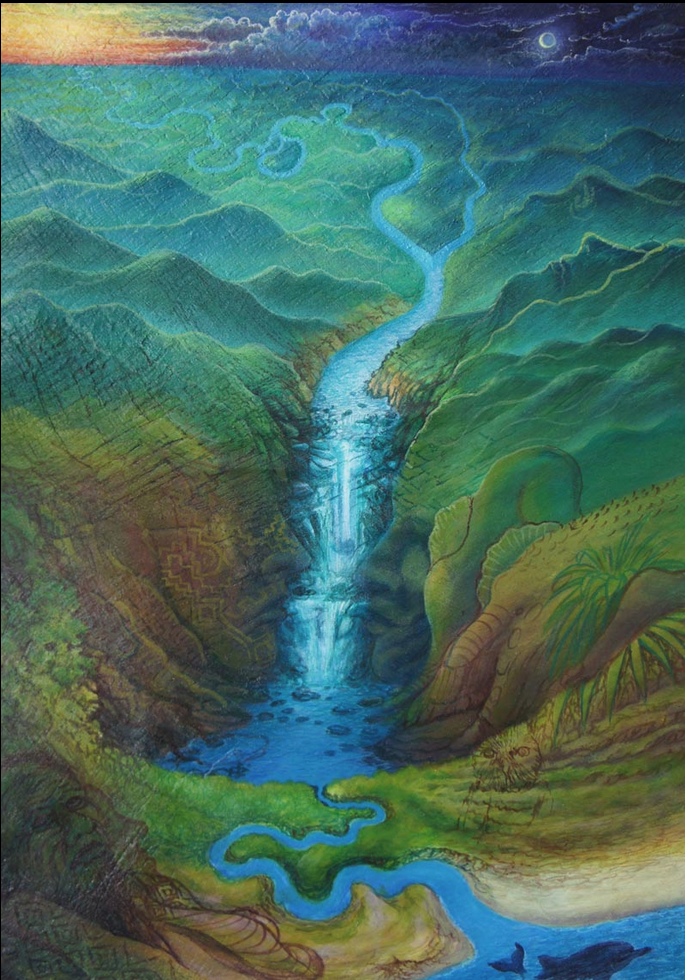 Moises Llerena
Sunday @ CoSM: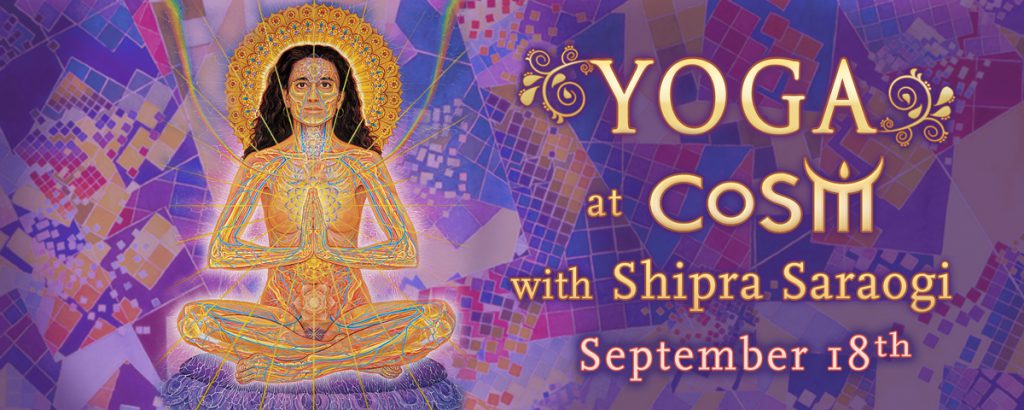 Morning Yoga
with Shipra Saraogi
10am – Noon
For the ultimate out-of-body experience, come to Morning Yoga with Shipra on Sunday after the Full Moon. 
Shipra guides yogis & yoginis toward their body's potential and takes us safely deeper into asana practice. 
Premier instructor, Shipra, offers illuminated guidance toward physical rejuvenation for all levels of experience.
Yoga begins at 10am, $10 donation requested. Mats available.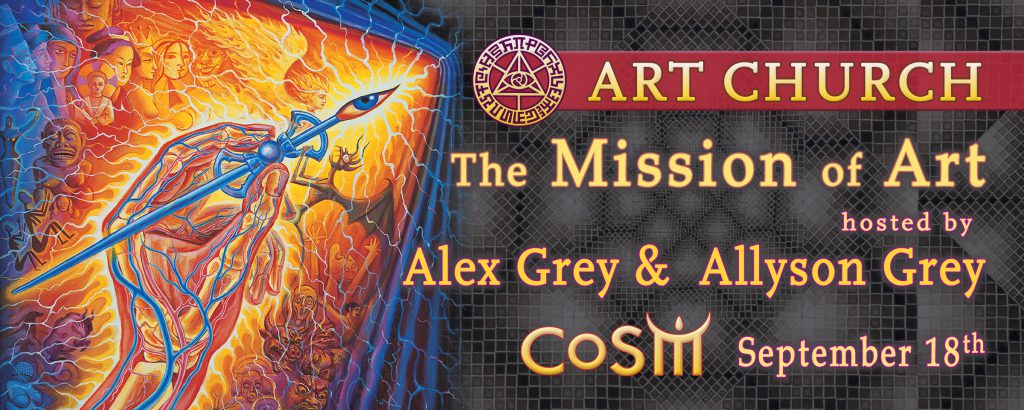 Art Church:

The Mission of Art
hosted by Alex & Allyson
1pm – 5pm
At this Sunday Art Church, Alex and Allyson will share the highlights of Alex's inspirational treatise on art's power toward personal awareness and spiritual awakening. Reflections on The Mission of Art combine art history and creative experiences that catalyze transformations in consciousness. 
Topics will offer  techniques for exploring a deeper purpose in our artistic expression and address how art can be a spiritual practice.
The Art Church program includes drawing with an exquisite musical track by DJ Jon Ohia. Journaling is also welcome during the art meditation period of Art Church. Bring a sketchbook and colors.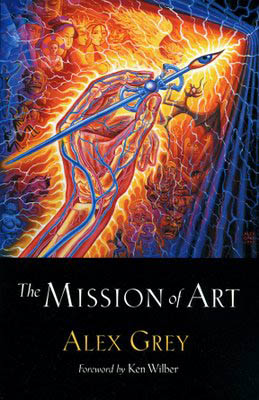 The Mission of Art by Alex Grey explores the role of an artist's intention and conscience. The book explores how we of the postmodern age can draw on the creative process as a spiritual path. A thought-provoking examination of how culture makes the soul visible, The Mission of Art challenges us to aim high with our creativity and bring beauty and fresh vision to our depleted and cynical world.
Available widely and through CoSM Shop in both soft-cover and online audio download.
Transform your world view. Have your very own copy of Alex Grey's, The Mission of Art, and help build a temple of Visionary Art!
"An inspirational text for artists and for everyone else who has ever had a glimpse of art's power for personal catharsis and spiritual awakening."— Branches of Light
Love,
Alex & Allyson
Save