Set Creative Intentions for 2017
Applications/Portfolios due NOW until March 1st
 for the 7-Day Visionary Painting Intensive
@ CoSM with Alex & Allyson, July 16-27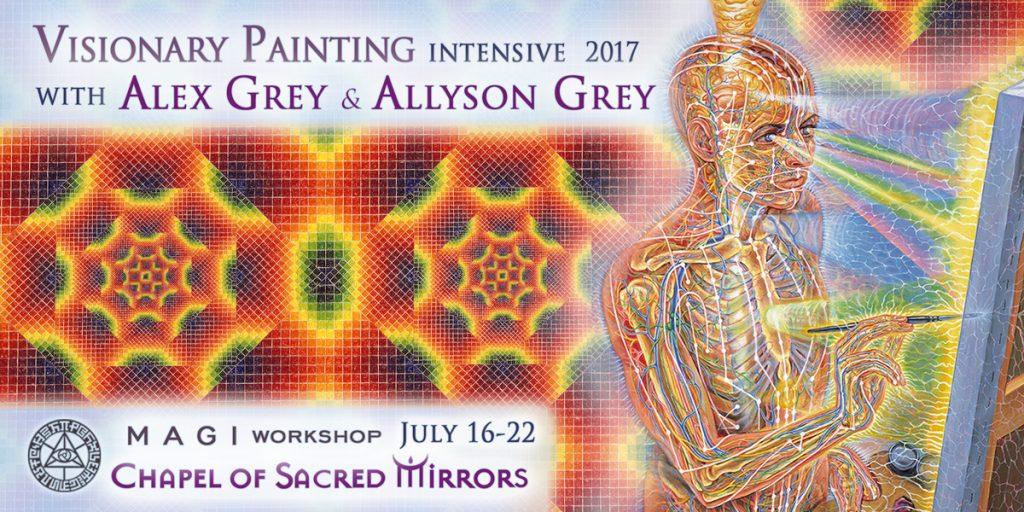 Sign Up Now for Next Week @ CoSM: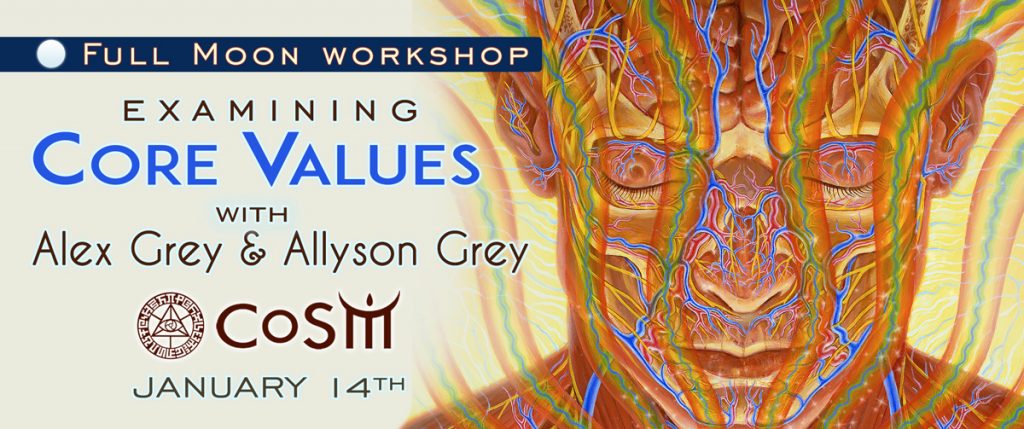 Full Moon Workshop:
Examining Core Values with Alex & Allyson
Saturday, January 14th, 3pm – 6pm
Core values can harness our passions to their highest possibilities. Core values are the soul's values, the rules by which our soul expands, evolves or feels constricted. In this session, we will review the process by which CoSM arrived at our organization's core values, and see how this system can be used to clarify an individual's true heart.
Each persons creative will is an operating system that can be continually upgraded by clarifying that one's personal core values are empowering one's highest visions for their lives as a service to the collective.  Artists use allegory to point to virtues and higher aspirations as well as to warn the viewer of the characteristics of evil and vice. In this workshop, Alex and Allyson will examine the ideas of compassion, justice, liberty, truth, goodness and charity and call out the archetypal representations of these titanic forces portrayed by Visionary Artists for millennia.
Bring a journal and writing materials for exercises that will examine our core values, creating a space of profound self-reflection. How can an individual make a real difference in the world? What are the deal breakers and clear possibilities in all the areas of your life? What can you be counted on? What commitments do you choose and what is expected by others? Join us to explore how reframing our reality through creative expression and perception, through sacrament and prayer, can deliver us toward our moral center.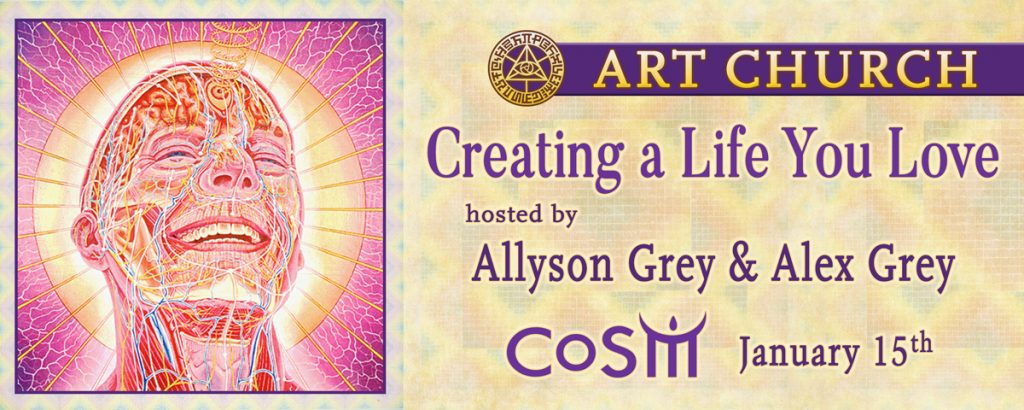 Art Church: Creating a Life you Love with Alex & Allyson
Sunday, January 15th, 1pm – 5pm
"To live a life you love, love the life you have and imagine a future worth drawing you forward."  –Alex Grey
We are all artists of consciousness creating our "pictures" of reality. Every bit of what we experience is a figment of our imagination. Since co-creative authorship of the story of our lives is in our hands, how will we most positively, powerfully interpret the life we have and create this precious life? Through the filter of our own unique sequence of circumstances, we sculpt our life with the "chisel" of our world view.
At Art Church we will reflect on the beauty of our mental creations and recognize that we are the authors of the story of our life.  Part of creating the life you love is taking time to see how you are manifesting your Soul's purpose thereby tapping the Soul's infinite joy. Looking at our mental creations as artworks, we see thoughts as psychotronic devices, windows on new realities, prayers, spells, hexes, charms, and protective Talismans.  How can our lives fulfill the higher love we are called to manifest?
A life we love is filled with our appreciation of the world and we are also appreciated by others. We refine our connoisseurship of the beauty and blessings of life and develop visioning skills. Our thoughts are sculpted in the mental studio. To create beautiful thoughts and ideas, the Craftsman in the studio of our Being accepts mentorship and guidance from our Soul Angel.
Explore with us the skills and tools in the Art of Life. What is the "anatomy" of your "Love-able Life"? If money and circumstances opened your life to unlimited possibilities, what passions would you pursue and what would be different? Come to Art Church ready to write and draw from the wellspring of your imagination and consider the life you love.
THIS WEEK @ CoSM:
R & R this Weekend @ CoSM
Explore winters beauty. Make CoSM a holiday destination this season. CoSM is open to day visitors noon – 6pm, Friday thru Monday. Bring love ones and cosmic friends for a wintery walk in the woods. Then sip chai by the blazing fireplace while contemplating exquisite Visionary Art.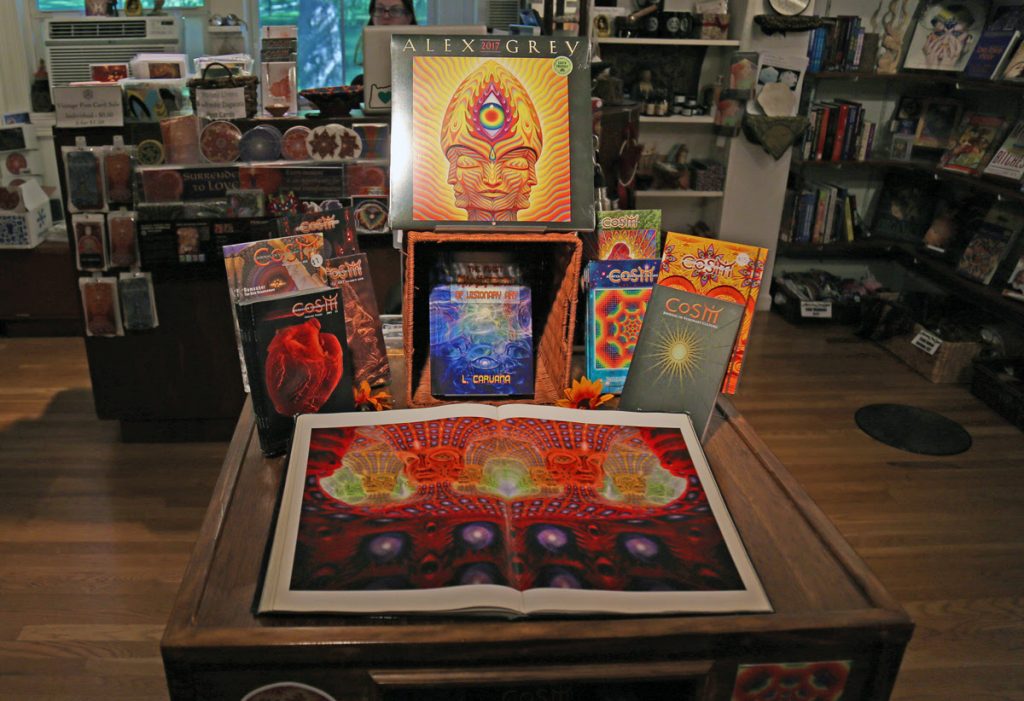 The CoSM Shop is filled with artful treasures. Scrumptious snacks and sandwiches are waiting for you in the Mushroom Cafe. Set your intentions for the New Year in a sacred space this weekend or weekday at CoSM.
Next Week @ CoSM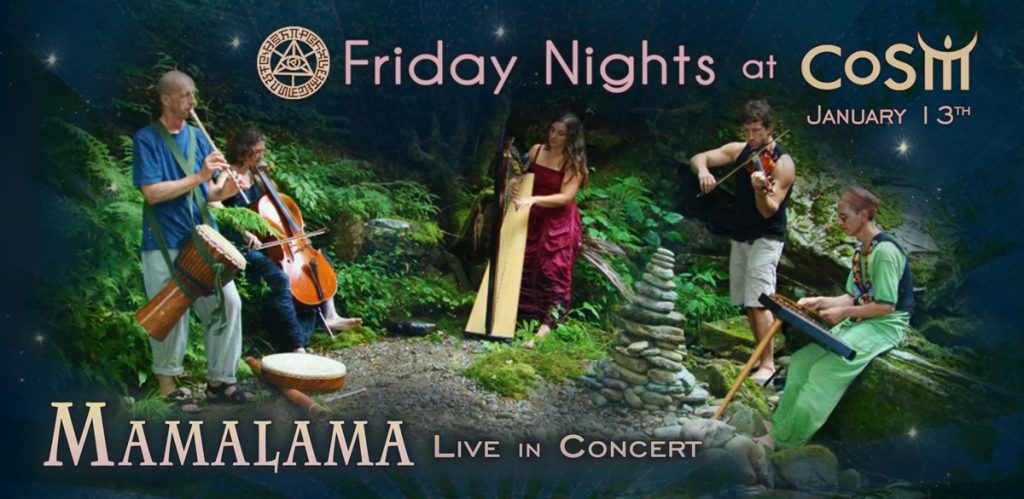 Friday Nights at CoSM:
Mamalama Live in Concert
January 13th
Next Friday Night special musical guest, Mamalama will perform in the Library of Grey House from 8-10pm.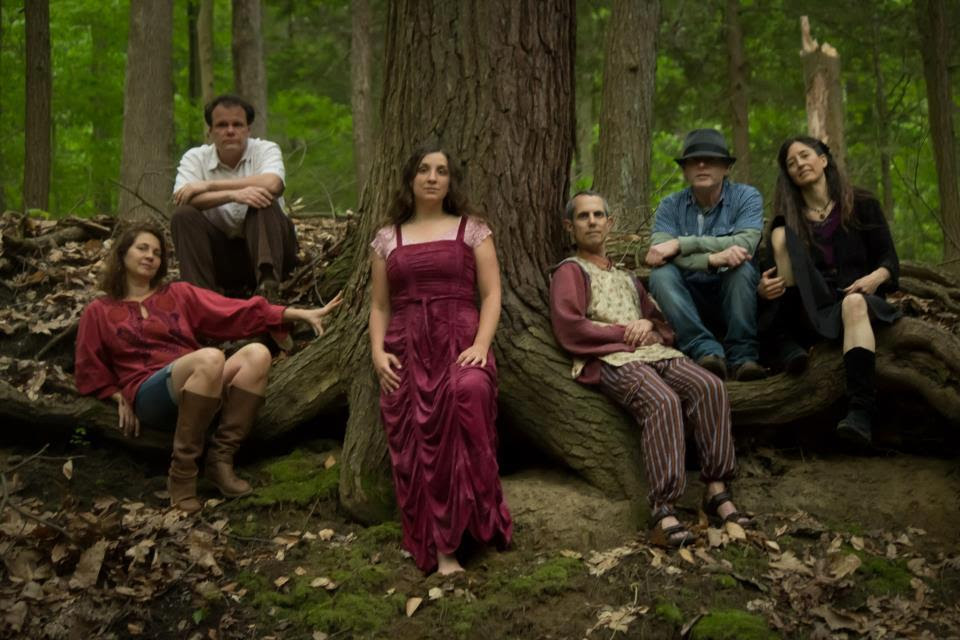 Mamalama is an uncommon orchestration of harp and ethereal voice, cello, violin hammered dulcimer, upright bass, piano, french horn, and choral voices. A listening experience that has been described as "like walking into a dream." Mamalama seamlessly weaves together world music (Native American, Middle Eastern, Celtic), classical minimalism, early/sacred/renaissance, psychedelia, indie-chamber music, and vivid lyrical mysticism. Listeners often recall the music of Philip Glass and Kate Bush, with undertones of Hildegard of Bingen and early polyphonic music.
Come early, stay late and enjoy the Parlor, the paintings and sculpture and bring friends, a sketch book and colors to draw by the fire.
Full Moon Ceremony with Alex & Allyson
Music, Poetry, Wisdom and more
Saturday, January 14th, 7:30 to 9:30pm
CoSM Full Moon Gatherings have offered a performative evening of wisdom, poetry, music, performance and soul healing since January Full Moon 2003. Celebrate with us a fourteen year unbroken chain of Full Moon Ceremonies, embracing the richness of diversity and sharing the creative spirit. The Opening Ceremony, led by Alex & Allyson, begins in the library at 7:30pm. Seating begins at 7pm.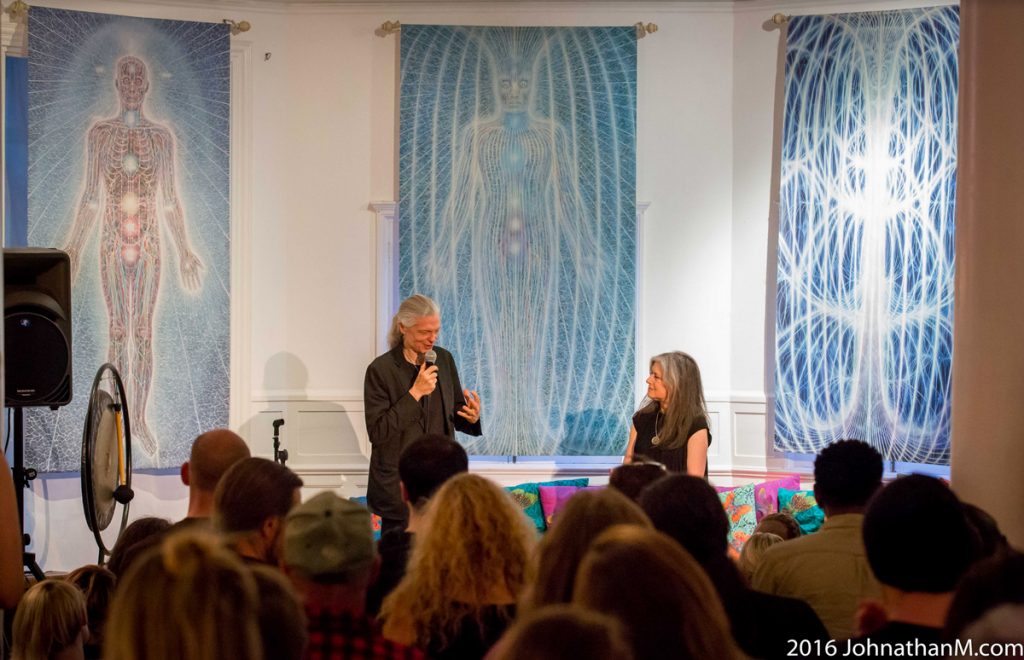 Full Moon After-Celebration 10pm to midnight
Enjoy live music, interactive art making, & performance painting. You might have Alex Grey create a "Supportrait" for you, a drawing of one guest or couple who supports CoSM. Chat with Allyson about Art & Life. Check out the live painters Alexa Spaddy, Joness Jones, Louie Izzo and Spectra. Have your body exquisitely painted by Caren Charles and Keiara Gallodoro and a tarot reading with intuitive, Ximon. Celebrate the fullness of the moon with friends at the high-tide of the spirit in CoSM's visionary substratosphere.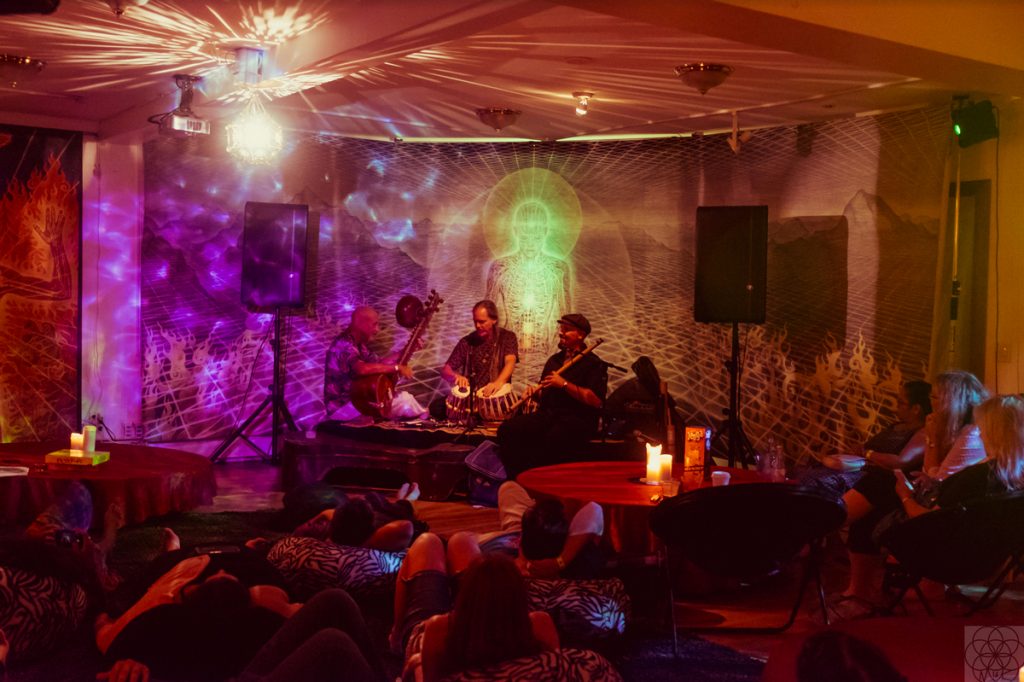 Love,
Alex & Allyson