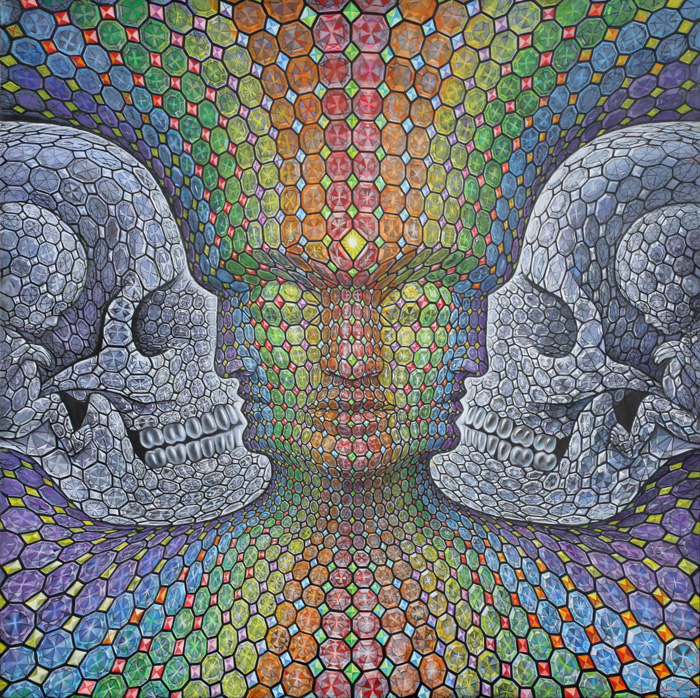 Friday Night @ CoSM:
CoSM's Grey House, The Mushroom Cafe, and CoSM Shop will be open for extended hours from 6-11 PM this Friday. Explore CoSM's Library with books on mysticism and the arts.  Sip and snack in the Parlor before the blazing hearth. Contemplate paintings and sculpture throughout Grey House and the grounds.
Glowga & Gongs
with Marshal & Megan
7:30 pm – 10:00 pm
This journey will begin with a meditative blacklight yoga flow, designed to stretch and relax your muscles and minds. In savasana, a guided yoga nidra meditation will prepare you for the cosmic ether sound healing gong bath within the mysterious musical realm of the the spheres.
Himalayan singing bowls from the 17th & 18th century, gemstone crystal bowls, planetary tuning forks, rattles, shamanic drumming, the ocarina, and chanting combine in our gong baths, featuring the Sun and Saturn Planetary Gongs. The instruments will sing while you clear your mind of chatter in relaxing savasana, reconnecting with your heartbeat and breath. Create a still crystal lake in which to journey. Let resonating percussion be your guide.
Return to the material realm of illusion imbued with wellness and filled with holy spirit.
Preceding Glowga & Gongs:
Enjoy your Friday night dinner at CoSM; a delicious, healthy meal prepared by the house chef.
Vegan and vegetarian options available.
RSVP — Reserve a meal ticket in advance. 845-297-2323 x104
Saturday @ CoSM:
Vernal Equinox Celestial Celebration
with Alex & Allyson and guest performers
7:00 pm – 1:00 am
Opening Ceremony with Alex & Allyson:
The Vernal equinox is a mysterious time of balance between day and night, symbolizing a stage of inner preparation as the Northern Hemisphere tilts forward initiating spring and the return of the light.
Celebrate with Alex & Allyson this special celestial evening program.
Begin the Vernal Equinox journey with a presentation & discussion honoring the return of spring.
Ceremony begins at 7pm in the Library.
Celebration continues at 9:30pm both indoors and outdoors.
Vernal Equinox After-Celebration:
Following the ceremony in the Library, dance to live music, commune at the fire circle, witness blazing performances, be creative with interactive art-making. See some of the finest live painters including Alex & Allyson, Andy Reed, Caren Charles, Lauren Nova, Nicole Palapoli and Seth Leibowitz, with live visuals by Johnathan Singer. Release your star dancer and get down to the musical stylings of An-ten-nae, Andreilien, Somatoast, Infinite Geometry & The Wandering Machine.


Featured Painter, Caren Charles
Outside, keep each other warm by the CoSM fire circle. Gaze into the flames and watch the fire performances. Inside, CoSM Shop will be blooming with artful treasures. Delight in the homemade snacks and meals from The Mushroom Cafe and Tea Tent.
Come to this special Celestial Event for a night to remember!
Sunday @ CoSM:
Morning Yoga
with Shipra Saraogi
10:00 am – 12:00 pm
Sunday, late-morning, come to CoSM for the ultimate out-of-body experience, Morning Yoga with Shipra.
A CoSM favorite, Shipra gently guides yogis & yoginis toward their body's own potential. Through illuminated guidance, Shipra leads participants toward rejuvenation on a safe journey to deepen any asana practice.
All levels of experience will be comfortably nurtured and challenged in Shipra's yoga class. Yoga begins at 10am, $10 donation requested. Mats available.
Love,
Alex & Allyson