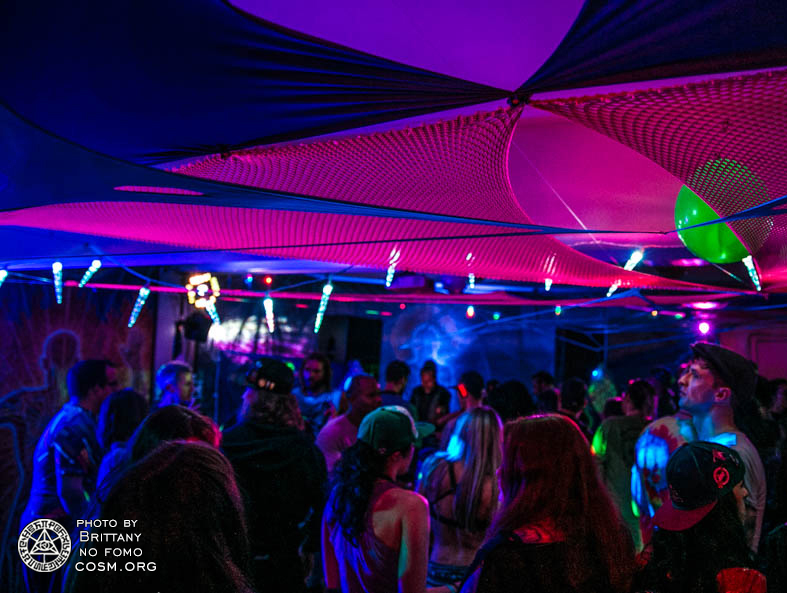 Weekend Rundown: 2016 Winter Solstice
The moon glistened over CoSM's snow covered grounds as cosmic friends gathered together to celebrate the coming of winter and the return of the light.
Friday night's event with Dr. Steven Schwartz activated kindred spirits. Guests attuned their body's vibrational resonance through sound experiential and guided meditation.

Dr. Steven Schwartz using a didgeridoo to target specific energy centers in the body.
Jack Frost made a visit to the Hudson Valley Saturday morning, providing a beautiful blanket of fresh snow. With the Full Moon and Winter Solstice falling in close proximity, Saturday was jammed packed, combining both programs into one spectacular workshop and celebration.
An afternoon workshop with illusionist, David London provided an opportunity for participants to tap into magic and surrealism, an enlightening experience of exploring inner worlds and lenses of perception.

Ceremony in full swing.
The air was crisp as the moon began to emerge over the horizon. An evening ceremony with Alex & Allyson touched on the Winter Solstice, accompanied by a spiritual variety show from some artistic friends.

Enjoying the sweet sounds from the CoSM Tribe.
The evening broke into celebration providing an opportunity to indulge in a multiplicity of environments. A fully decorated Grey House occupied live painters Alex & Allyson, Caren Charles, Douglas Lakota, Joness Jones, Keith Prossick, and Steve Shorts.

Alex and Allyson live painting in the Library and engaging with guests.
A sand mandala served as a platform for collective creation. Over in the dance hall, guests let loose to the musical acts of Mahadeva, Drumspyder, Hedflux and Phutureprimitive. Outside was cold but we kept each other warm by the bonfire. Flow art performances provided a fiery juxtaposition to the crystallized dance floor.

The snow did not stop the outdoor fire performances!
Inside the heated Starwood Dome, guests tuned in to a sound & 3D visual journey with Dr. Steve Schwartz along with the incredible visual projections of Joshua Inman.

A cozy ambiance in the Starwood Dome.
The night flashed by in a blink of an eye as a long howl at the moon brought the evening to a close. Sunday morning yoga with Shipra Saraogi provided a well-needed recharge after a blissful weekend of celebration. Thank you to all who participated. Stay update with future programs by visiting our events page. See you next time!

Intentions sealed in the sand mandala with a collective "OM."