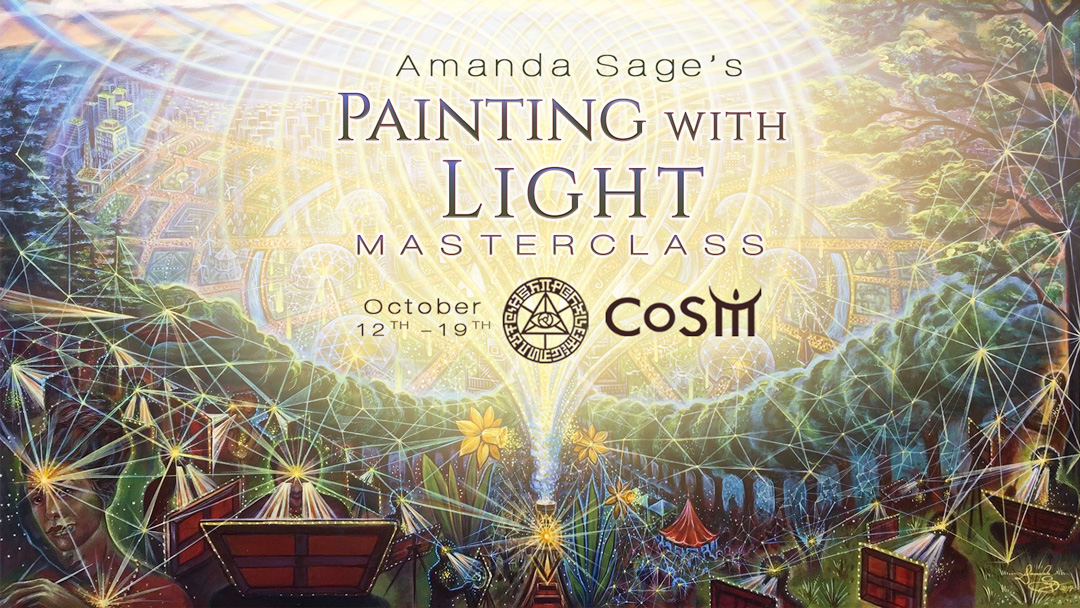 2018 Painting with Light Masterclass with Amanda Sage

Join us for CoSMs 7th annual week long transformational painting retreat with Amanda Sage & friends. Besides diving deep into creativity and technique, the full spectrum experience of community is at the heart of this experience.
Primary focus is on creating a painting from start to finish following a step by step method based on the Mischtechnik, an early European renaissance technique that was used by artists such as Hieronymos Bosch and the Van Eyck brothers.
Re-discovered in the 1950s by Austrian artist Ernst Fuchs, the base concepts in this method of developing a painting is highly conducive for expressing transcendental subjects and rendering visions. Fundamentals of the Mischtechnik have been adopted by many painters working with fantastic and visionary subject matter, as the transparencies and use of light in developing a painting are exquisite.
Amanda studied with Michael Fuchs as an apprentice for 2 years in Austria and then went on to be an assistant to Ernst Fuchs for 10 years. She has been painting in a similar method for over 20 years and has developed her own way of expressing and sharing it through over 10 years of teaching.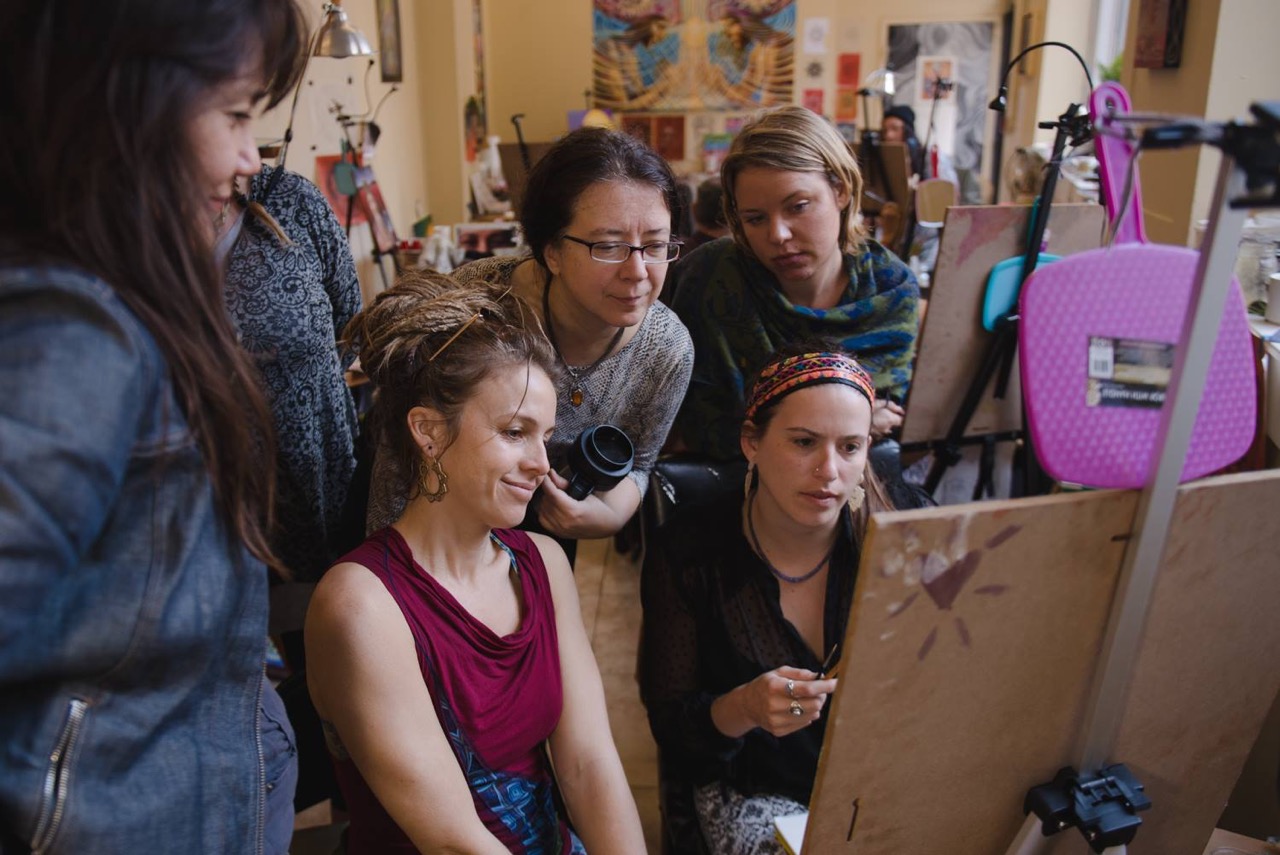 The most special part of these intensives is the collective magic that happens when like minded souls come together to create for a week.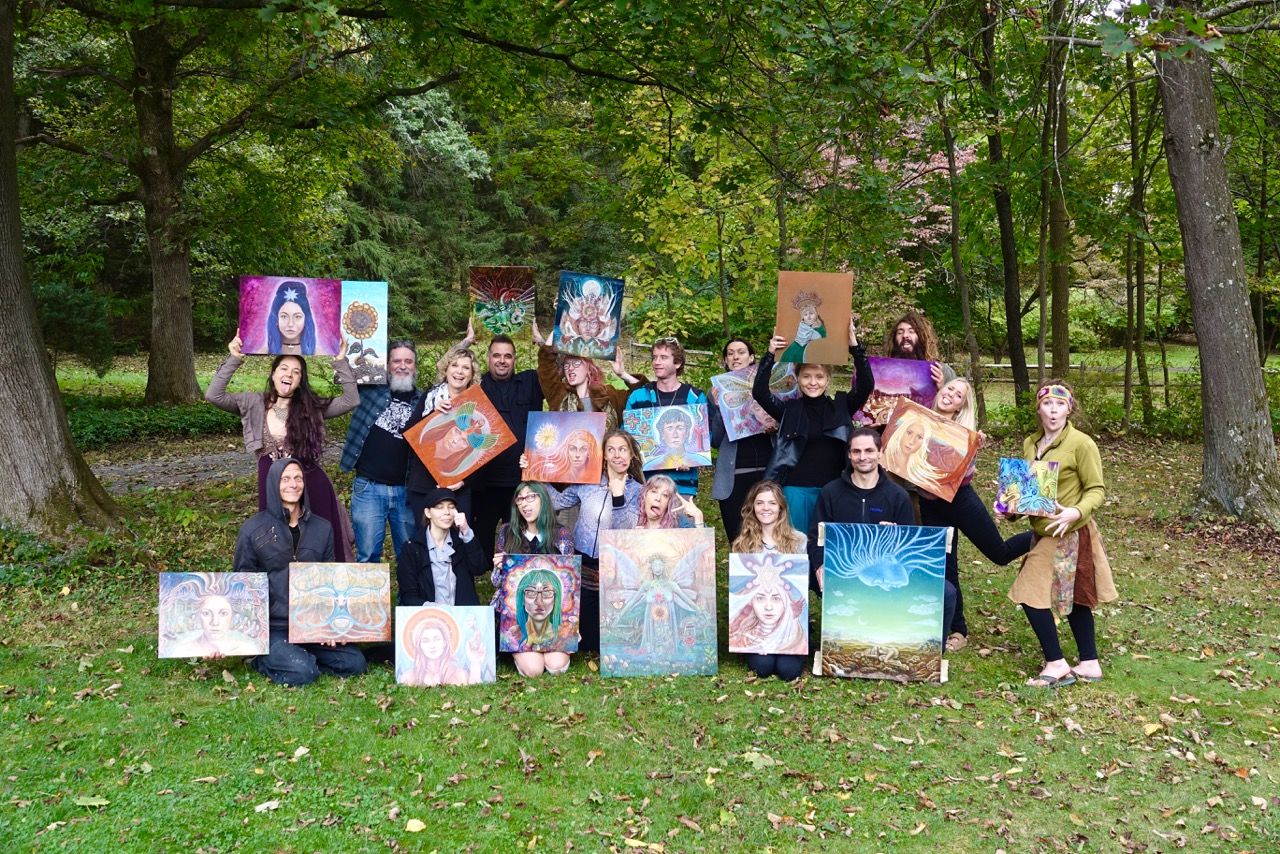 She sees herself as a permissionary in teaching and facilitating ˜Painting with Light" by supporting each student in expanding their tool belt of skills in basic drawing and painting skills, as well as getting deeper in touch with what they really want to express through their art.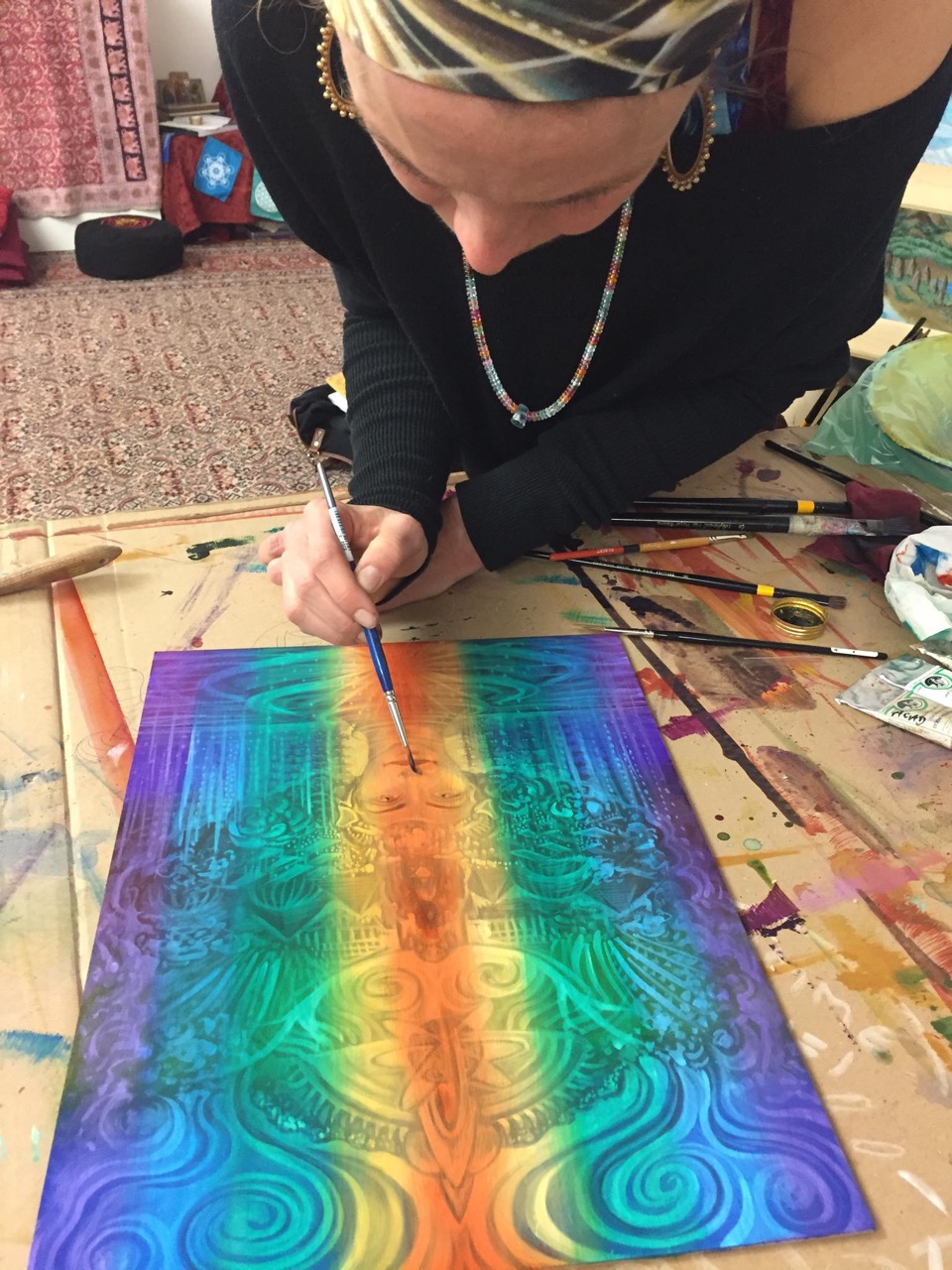 Everything at CoSM conspires to support deep focus and maximum painting time. Alex & Allyson Grey are leaders in the movement of Visionary Art and Culture, and the opportunity to be apart of the CoSM family for any duration of time is inspiring. The staff that enliven CoSM everyday are all also artists in their own right as well as invested in the continuation of this land based project and the greater vision of creating space for community to gather in the art spirit.
Through attaining a blissful timeless state of connection with source, one becomes a transmitter, a conduit for creative expression. And once a taste of this has been had we crave to return to that state. Through exploring other perspectives, placing ourselves in new environments and being open to experience, we find our lives enhanced as painting with fresh light illuminates the path.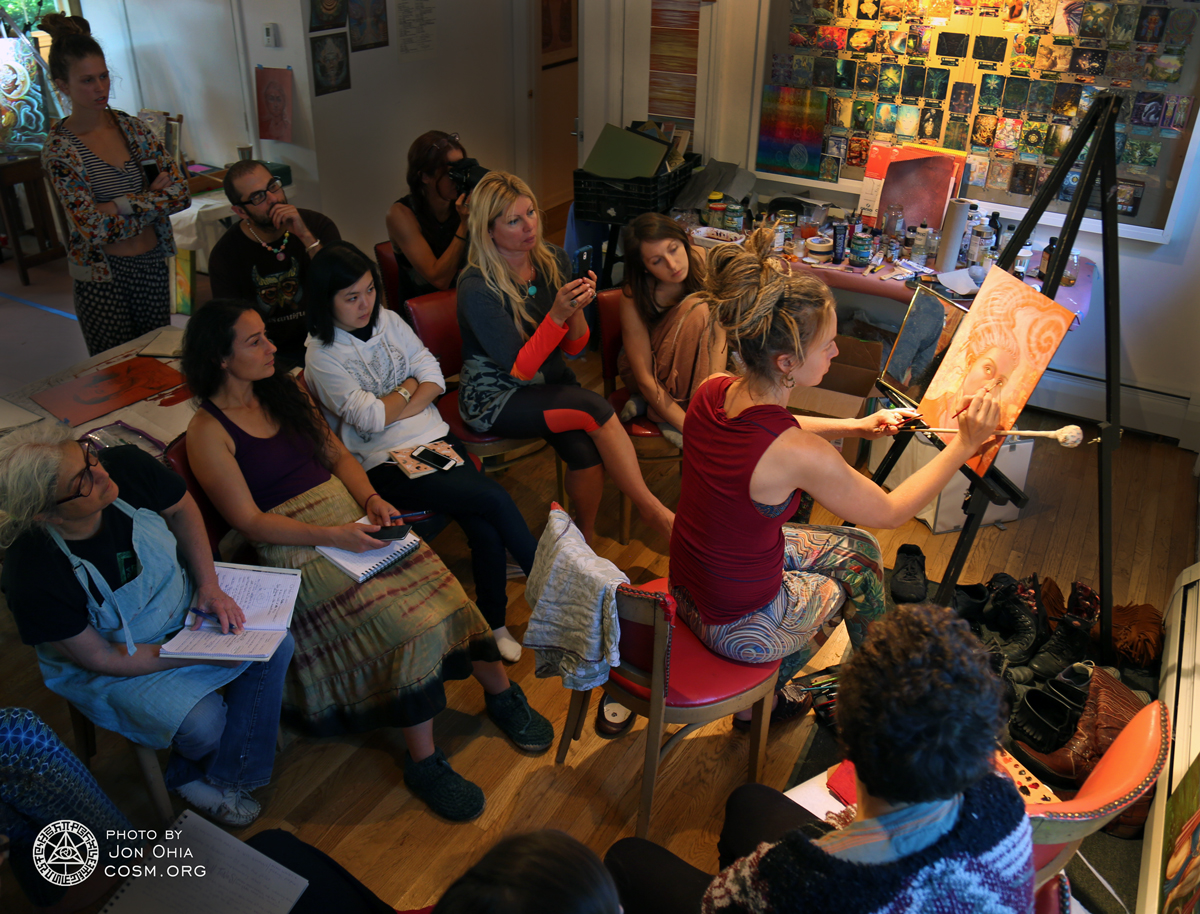 You do not need to have prior knowledge of the Mischtechnik to attend this class, though significant time already dedicated to painting and or drawing is requested and therefore is not catered to beginners. Your passion and desire to participate is most important, so feel free to apply and submit your most current work!  For those who have already studied the Mischtechnik this workshop will help you deepen your knowledge and practice while expanding the lens of possibilities within your own work."
Participants will be invited to work on 2 different paintings. 
1 main piece which will be 16×20" on panel and a smaller practice piece 11×14″ also on panel.
Participants are also invited to put together 10 slides of their work, to present during the last couple evenings of the workshop
To participate in Painting with Light at CoSM 2018, we ask that you fill out an online application and include some images of your work. 
You will then receive a letter with a more detailed description of the Workshop program, materials list, link to register and accommodation options at CoSM.

$1150 General Admission (meals included, accommodations separate cost) /  3 discounted return student spaces for $975 each
If you have questions about filling out the form or are unable to, please email us: [email protected]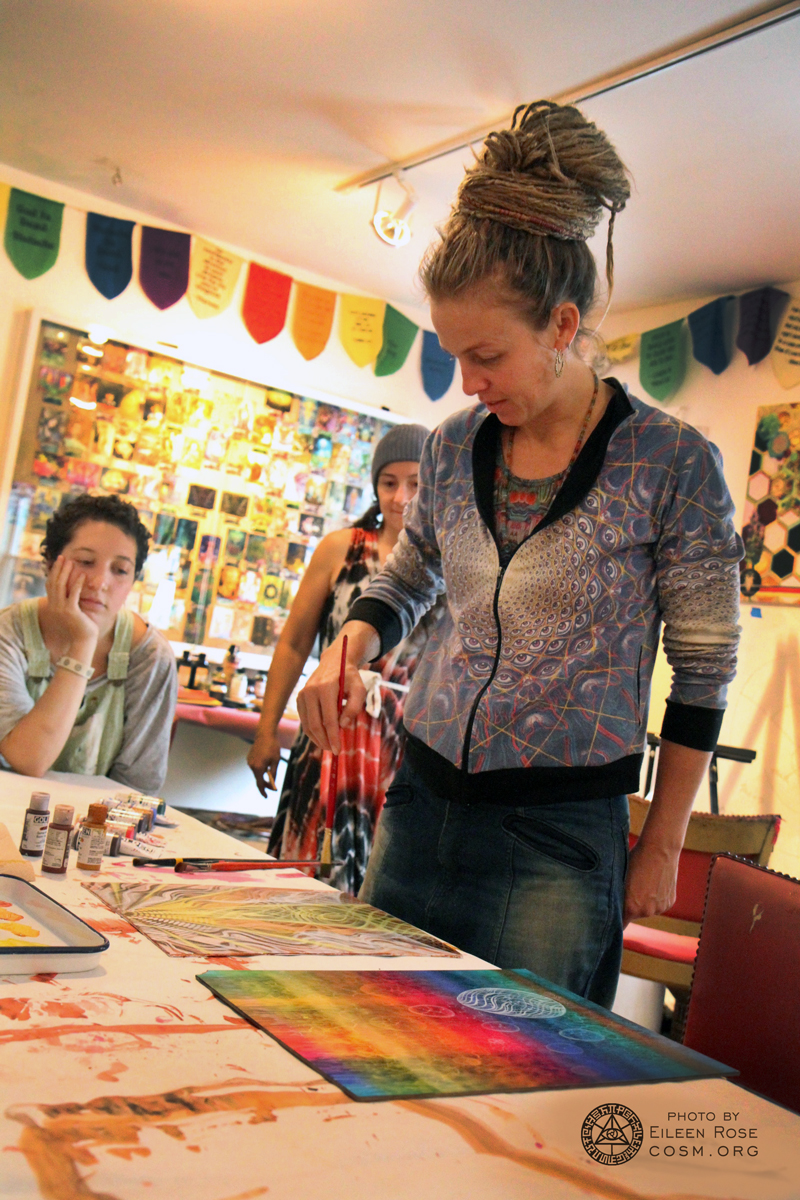 Class Schedule

 Day 1. Friday – Arrival
4 pm-6 pm Arrival & set up Studio, explore CoSM & settle in.
6pm – 7pm Dinner
7pm – 8pm Workshop introduction circle
8:30pm – 9:30pm Slide show by Amanda

Day 2. Saturday – Intention / Drawing / Composition

Day 3. Sunday Imprematura / Decalcomania / 1st Underpainting

Day 4. Monday Mediums / 1st Glaze / Color download / 2nd Underpainting

Day 5. Tuesday Local Glazing / Refining the Vision / Goals & Narrative

Day 6. Wednesday Oil Painting ala prima / Business of Art / Mission Statement

Day 7. Thursday Transparencies / Fine Tuning / Finishing a Painting

Day 8. Friday Closing circle

Amanda Sage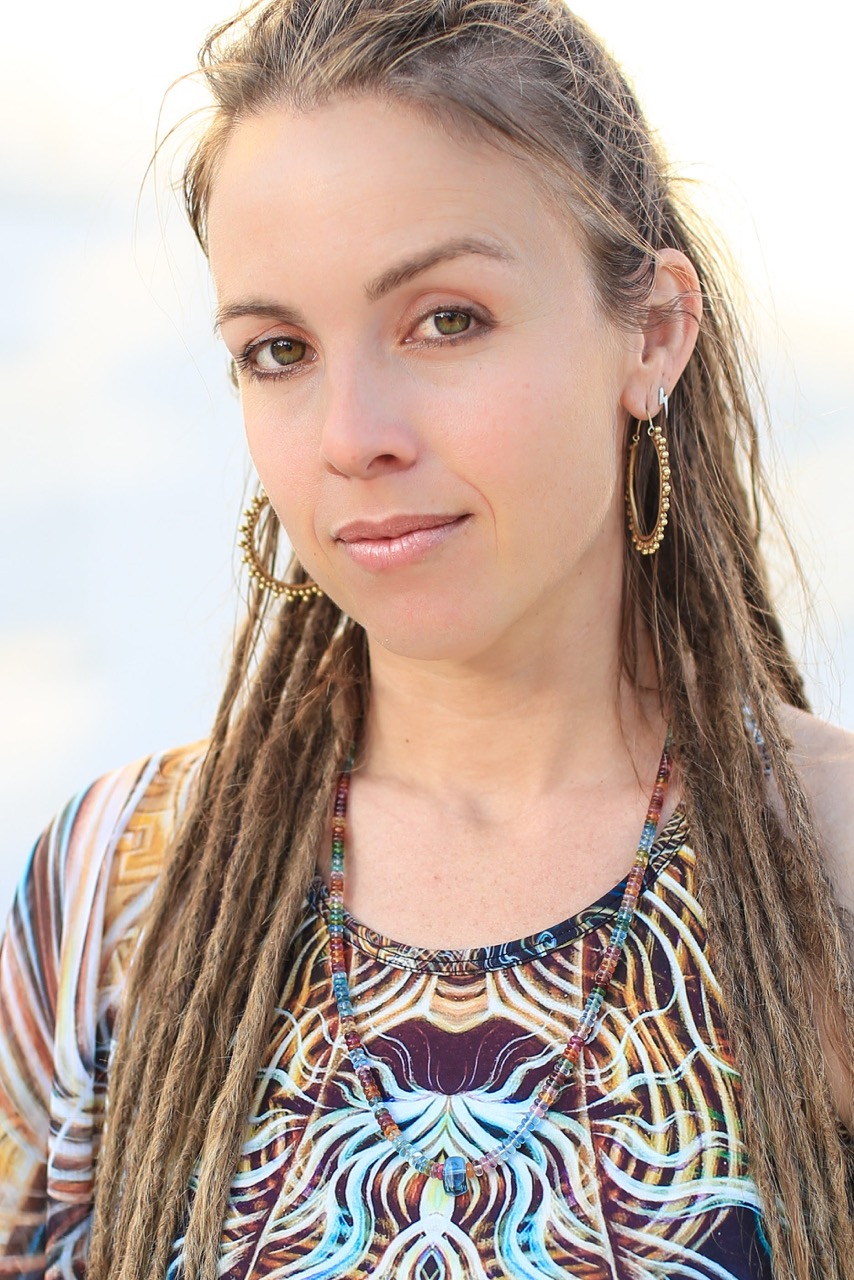 Amanda Sage is an artist driven by the desire to reveal arts critical role in spiritual transformation. A celebrated Visionary Artist, she is a citizen of the world, exhibiting in galleries, art fairs and festivals, as well as lecturing and teaching worldwide at places such the Chapel of Sacred Mirrors in New York, Paradise One in Australia and the Vienna Academy of Visionary Art in Austria. A contemporary nomad, she is passionate about artistic social experiments such as the WUK in Vienna, Burning Man and bridging worlds for creative flourishing. When not traveling she can be found in her studios in Los Angeles & Colorado.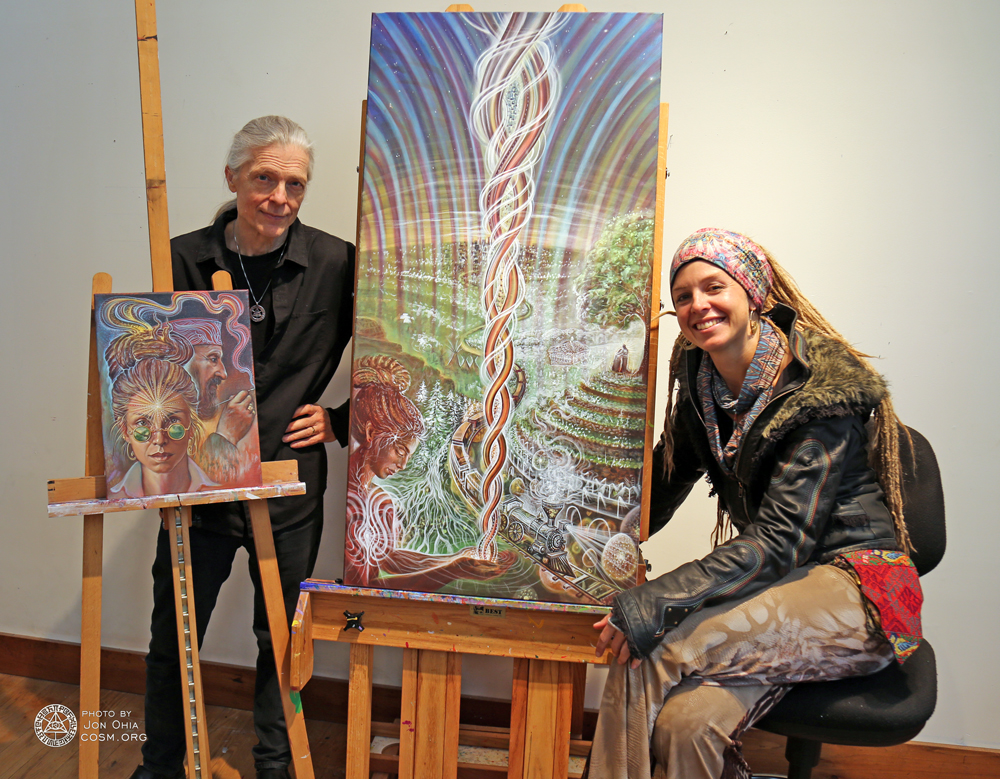 "I got so much from my training with Amanda. Amanda is a dedicated teacher who will go that extra distance with you until you fully understand the oil and egg tempera Method. I recommend any one interested in a painting training to give her a go you will not regret it. She is also authentic and that shines from her soul."
– Mikaela Perera – Visions in the Mischtechnik July, 2016
"I am FULL of love after the Painting With Light Download… Who would have known we were to not only learn a profound painting technique, but also be surrounded by powerful human connection. After this workshop, I have cradled a whole new connection with Light. Every perspective in life holds the pattern of "Light to dark.. Dark to light." The trees, the birds, the human body.
Amanda, you are a warm teacher, guide, a light, allowing each individual to grow from their current painting process. Thank you."
– Katie Smith – PWL LA wk 1, Feb. 2018