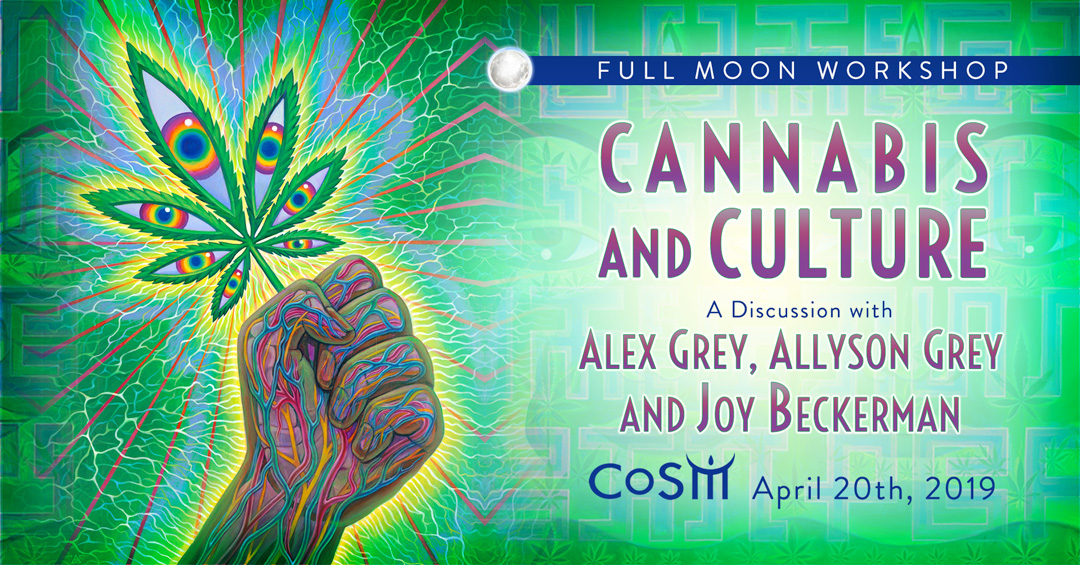 2019 April Full Moon Workshop: Cannabis & Culture with Alex & Allyson
Full Moon Workshop:
Cannabis & Culture
with Alex Grey & Allyson Grey
and Joy Beckerman
3 pm – 6 pm
12 pm –
CoSM Open to the Public (Grounds, Gallery, Shop, Cafe open)
*Event Day Gallery Hours: 12 pm – 3 pm
3 pm –
Cannabis & Culture Discussion with Alex & Allyson
6 pm –
Dinner
7:30 pm –
April Full Moon Ceremony
9:30 pm –
Full Moon After-Celebration
12 am –
CoSM Closed
Cannabis, a psychoactive plant, offers medical, recreational and spiritual benefits. An entheogenic (heart opening) sacrament, cannabis has long evolved a rich history of religious, shamanic and spiritual assets since ancient times. Greek and Egyptian writing describes a powerful elixir to alleviate anguish and sorrow. In modern culture, inebriating with cannabis is embraced openly by disciples of the Rastafari movement as a sacramental aid to meditation. One of humanities earliest remaining books, the Atharva Veda [2000–1400 BCE,] reports regarding the sacred status of cannabis in the subcontinent of India. In the past 200 years, nations throughout the world have set legal restrictions and bans on the possession, use, and sale of cannabis. Today, physician-recommended medical cannabis is legal in Canada, Belgium, Australia, the Netherlands, Germany, Spain, South Africa, and 33 U.S. states.
Known also as marijuana (and by many names), cannabis, smoked or eaten, alters perception, heightens mood, and stimulates appetite. Evidence suggests that cannabis can reduce nausea and improve appetite in HIV and cancer patients, reduce seizures in epileptic adults and children, ease chronic pain and depression. Used recreationally, effects of cannabis can include relaxation, euphoria, altered consciousness and perception of time and space, increased sensitivity & libido. Side effects may include diminished short-term memory & motor skills, dry mouth, red eyes, paranoia or anxiety.
In contemporary times, cannabis has evolved its own vocabulary, humor, etiquette, art, literature and music. In societies throughout the world today, cannabis use takes on a greater symbolic meaning, due to its ancient beginnings, mystical and spiritual openings, its psychotherapeutic effects and even due to its illegality. Join artists, Alex Grey & Allyson Grey for a discussion of the promise and perils of this controversial topic.
With Your Hosts:
Alex Grey & Allyson Grey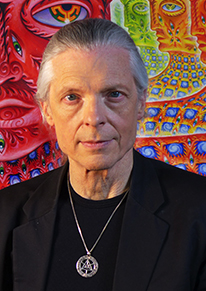 Alex Grey, world-renowned artist, poet, and author, is best loved for his paintings which portray multiple dimensions of reality, interweaving biological anatomy with psychic and spiritual energies. His books, Sacred Mirrors, The Mission of Art, Transfigurations, and Art Psalms, trace the development of his work and mystical experiences that shaped his spiritual artistic life. Alex's most recent monograph, Net of Being, addresses how his art is evolving the cultural body through icons of interconnectedness. www.alexgrey.com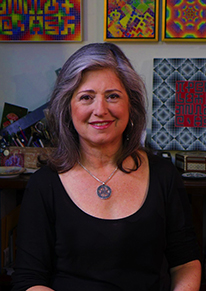 Allyson Grey
, artist, writer and social sculptor, has co-written and edited a dozen books and all seven volumes of CoSM Journal of Visionary Culture. Since 1975, Allyson has been artistic partner and studio mate of artist, Alex Grey. With a Master of Fine Arts from Tufts University, Allyson has been an educator and muse to artists for over 30 years.
 Alex and Allyson are the parents of actress, Zena Grey. allysongrey.com Together, the Grey co-founded the Chapel of Sacred Mirrors, CoSM, an interfaith church since 2008, celebrating creativity as a spiritual path.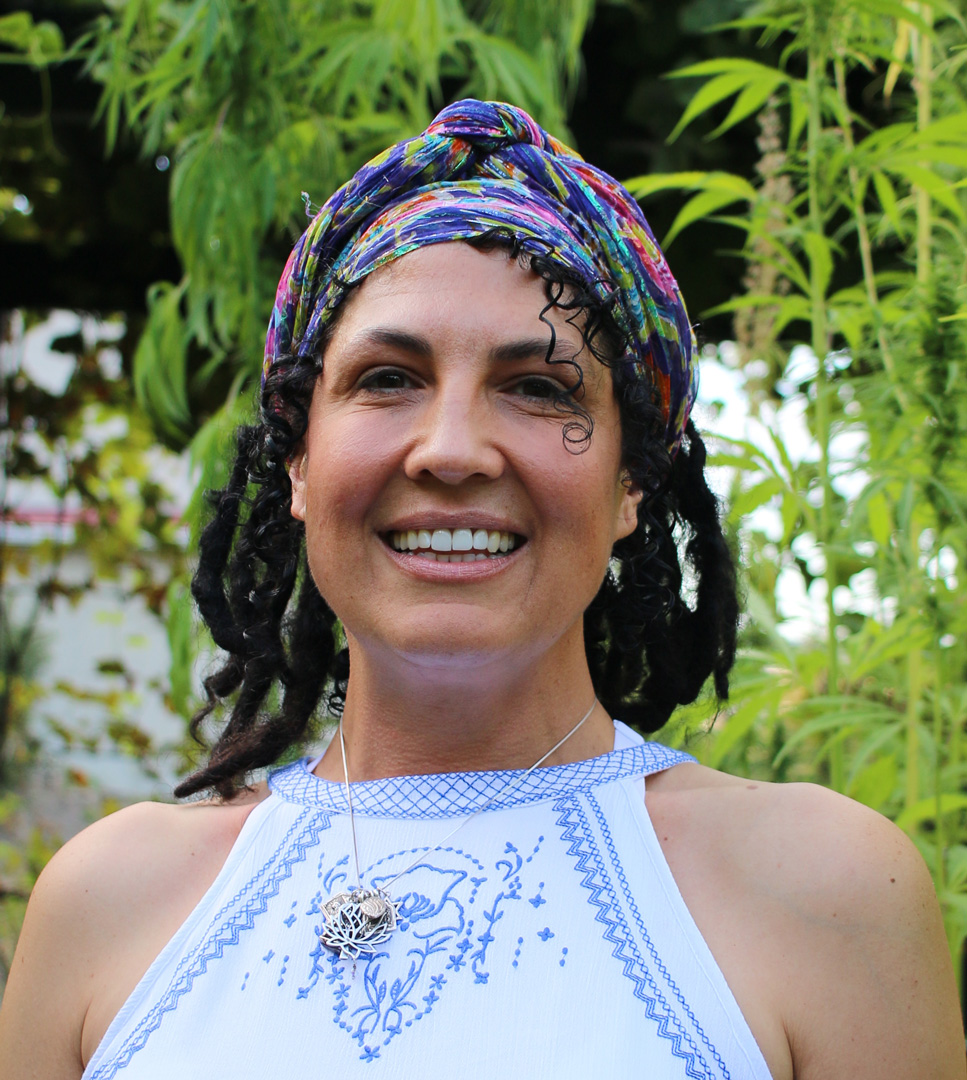 Joy Beckerman has been involved in the hemp movement for over a quarter of a century, commencing as a grassroots activist, which she still considers to be her most important role. Joy is the Regulatory Officer & Industry Liaison for Elixinol, an international leader in hemp extracts, as well as the Principal at Hemp Ace International, a New York-based consulting, legal support and expert witness firm serving the global hemp community. She is the President of the Hemp Industries Association®, founded in 1994, the Vice President of the U.S. Hemp Authority™ which created the first cGMP and GAP standards for the hemp industry, and she sits on the National Board of Directors of NORML, founded in 1970. Joy's passion for and encyclopedic knowledge of the genus Cannabis are infectious!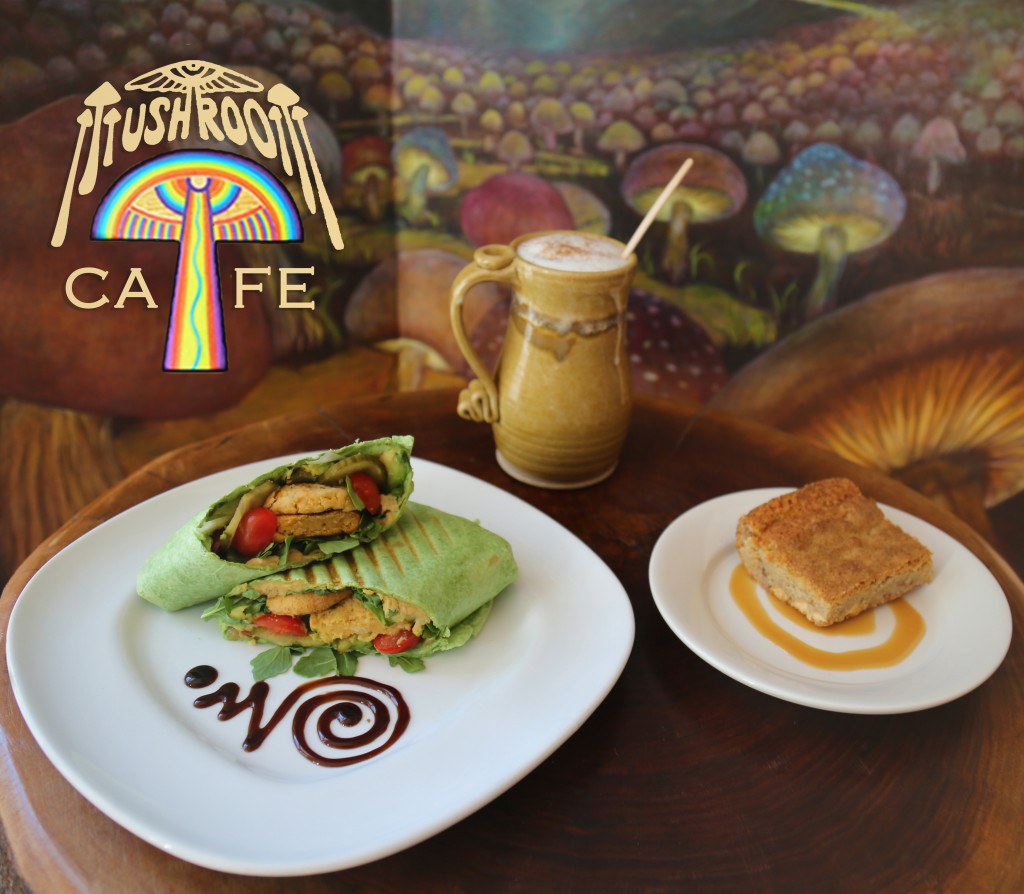 Rooms are available for rent in the Grey House, CoSM's fully renovated Visionary Victorian guest house.
Accommodations for this event must be booked directly through Hospitality. Accommodations may only be booked once event tickets have been purchased. Please call 845-297-2323 ext. 104 or email us at [email protected]
To plan a future stay, please view our Booking Calendar.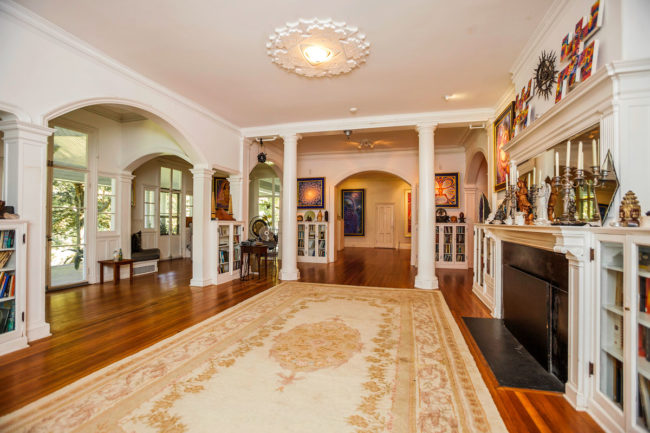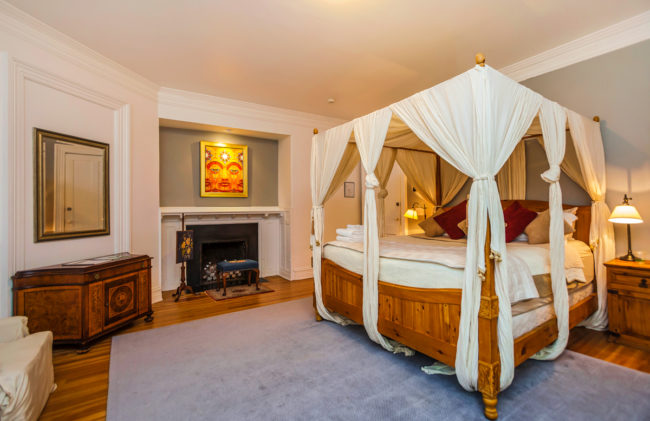 The artwork of Alex Grey & Allyson Grey plus many other visionary artists are on display in the guest house.
CoSM, Chapel of Sacred Mirrors, 46 Deer Hill Road, Wappinger, NY 12590.