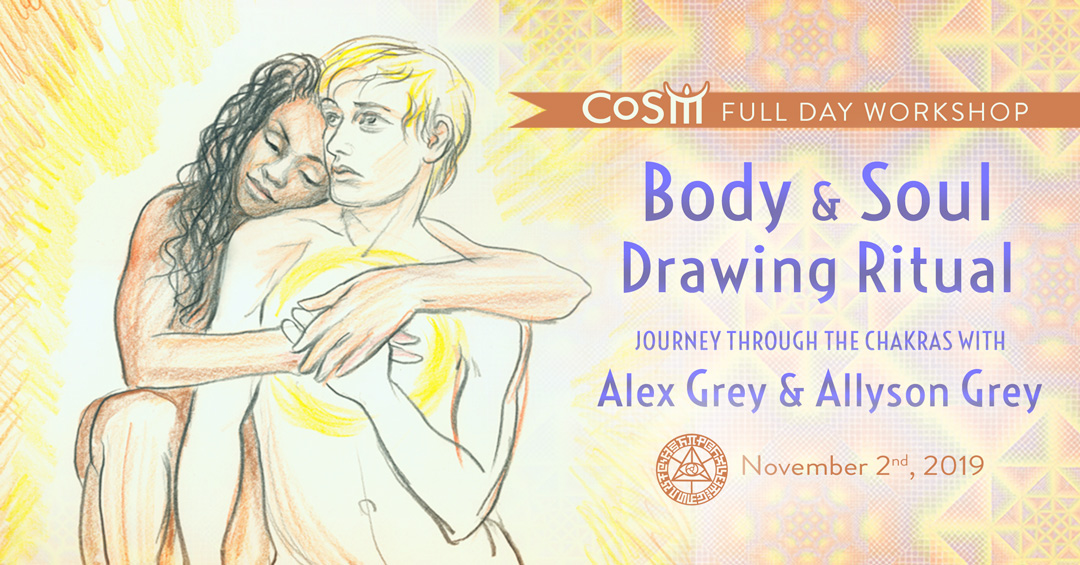 2019 Body & Soul Drawing Workshop with Alex & Allyson
Attune yourself to the presence of the human aura in relation to the physical body.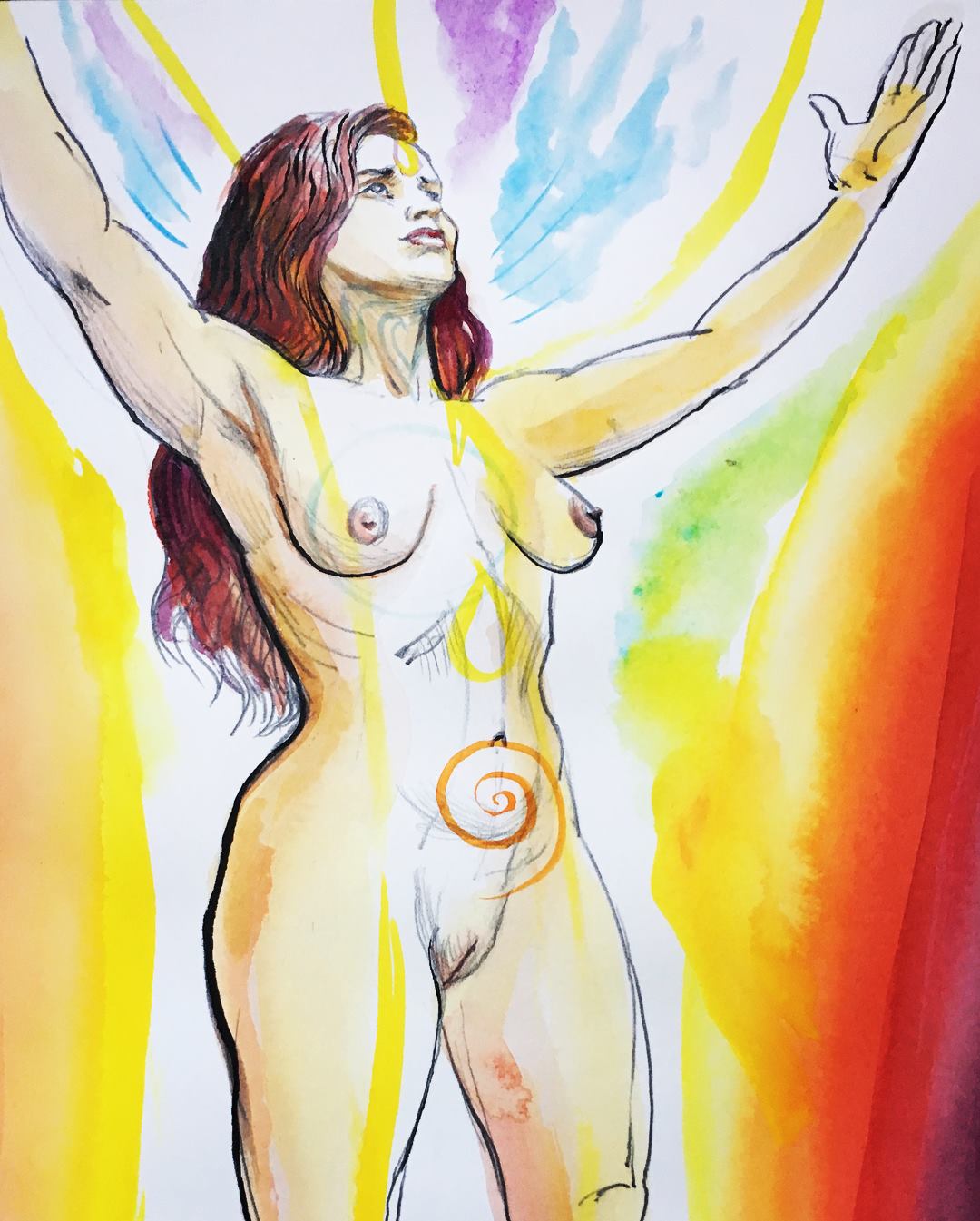 Join Alex Grey and Allyson Grey for a weekend of drawing that will include:
– A slide talk on the portrayal of the subtle energetic body throughout art history
– Instruction on proportions, features and expressions of the head and body
– Instruction on painting and drawing techniques and elements of design
– Vision practices that allow us to glimpse the interplay of body and soul
– Seven drawings of the subtle chakra centers posed by a yogic model
– Observing and visually capturing the subtle body interaction of yogi and yogini
All levels of ability are welcome.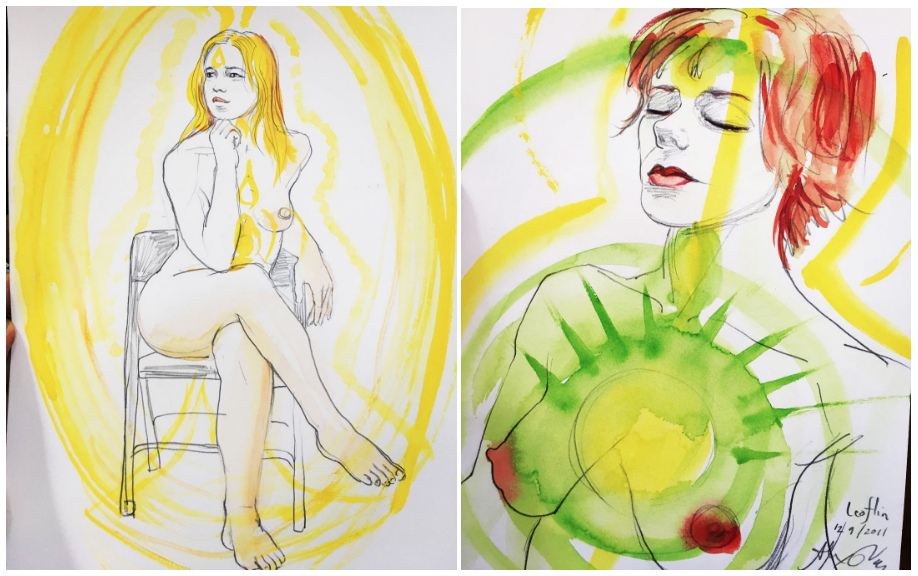 Participants will take home drawings that may be touchstones of the harmonic integration of psyche and soma.
Suggested Materials List
Pencils and pens for drawing
graphite pencils — 2B, 3B, 4B, HB
Pencil sharpener
Kneadable eraser and other preferred types
Heavy drawing paper pad — 11″ x 14″
2 or 4 ply Strathmore drawing paper pad or Bristol 100% rag paper
Good quality colored pencils — 20 or  more colors
Watercolor or acrylic set
Palette or white/clear plastic lids
Good quality brushes of various sizes — 0, 1, 2, 4, 6…
point? flat? angled? Listen to what calls you.
Watercolor paper block  —
We like the pink Arches watercolor block. It is smooth. If you like texture choose blue or green. We like 9″ x 12″; 10″ x 14″
AND/OR
Stretched pre-gessoed canvases — No larger than 30″ x 40″ please, due to space constraints.
AND/OR
Gessoed panel(s)
Optional – a travel easel, stool and small portable folding table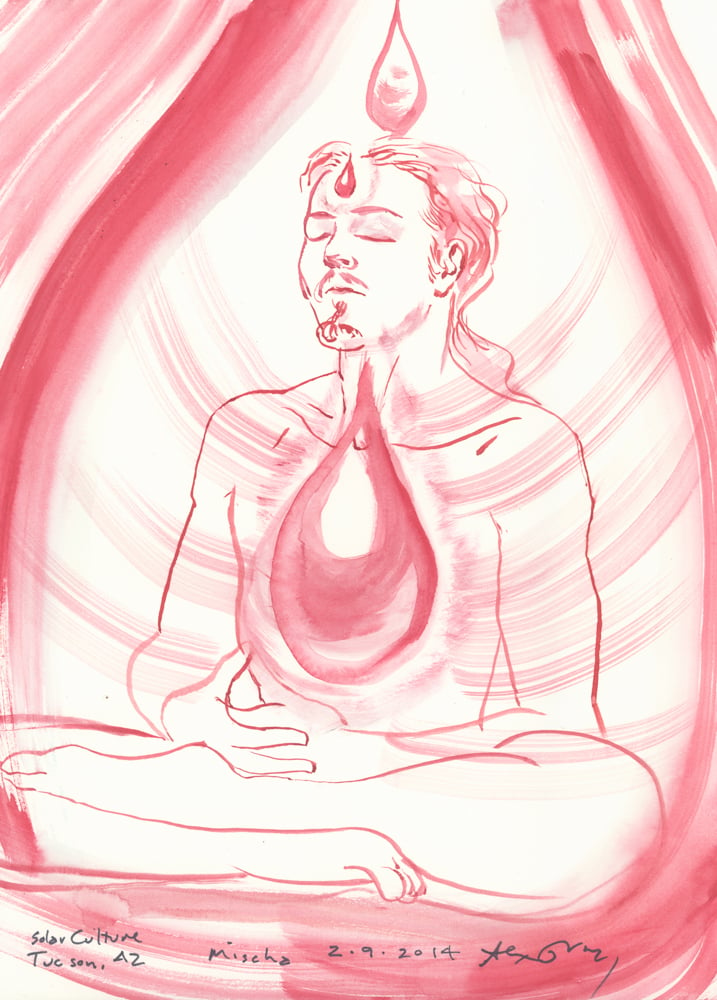 Event Schedule
Saturday
10am — Body & Soul Ritual Session 1
1 pm — Lunch
2:30 pm — Body & Soul Ritual Session 2
6 pm — Dinner
7:30 pm — Body & Soul Ritual Session 3
10 pm — End of Session
Alex Grey & Allyson Grey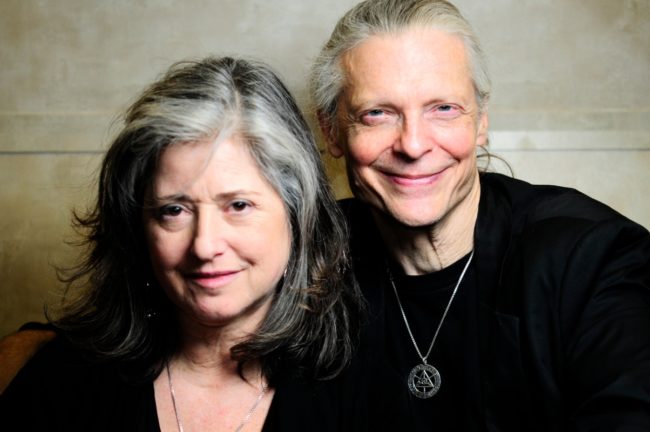 Internationally renowned for paintings that "X-ray" multi-dimensional reality, Alex Grey interweaves biological anatomy with psychic/spiritual energies in his visual meditations on the nature of life and consciousness.  This groundbreaking artwork has reached millions through Grey's six books, extensive reproduction of his artwork, and dozens of key-note addresses and exhibitions from Tokyo to Sao Paulo to Moscow to Melbourne.  Alex's art and life has been featured on the Discovery Channel, The New York Times, Newsweek and Time magazines.
Alex Grey's live, on stage, painting appearances, his collaboration with major rock bands, the use of his images in elaborate rock concert stage sets, his music video animations, and his Grammy award winning album art for Tool, Beastie Boys, Nirvana and SCI (among others) have led to the celebration of his artwork by millions of music fans.
Committed to art that celebrates oneness, Alex and Allyson Grey, his wife of 36 years, co-founded the Chapel of Sacred Mirrors, (CoSM — cosm.org), a church celebrating creativity as a spiritual path.  CoSM now flourishes in the tranquil setting of a 40-acre interfaith spiritual 65 miles north of New York City.
Allyson Grey is an artist whose paintings have been exhibited and sold internationally.  Co-founder of the Chapel of Sacred Mirrors,  Grey is a community leader with a Master of Fine Arts degree from Tufts University. She has edited and co-authored over a dozen books and journals, lectured widely, and has been an educator and muse to artists for over 30 years.  The symbol system in her paintings represent an essentialized world-view comprised of chaos, order and secret writing.  Allyson is the wife and partner of internationally renowned artist, Alex Grey, and the mother of accomplished film actress Zena Grey. allysongrey.com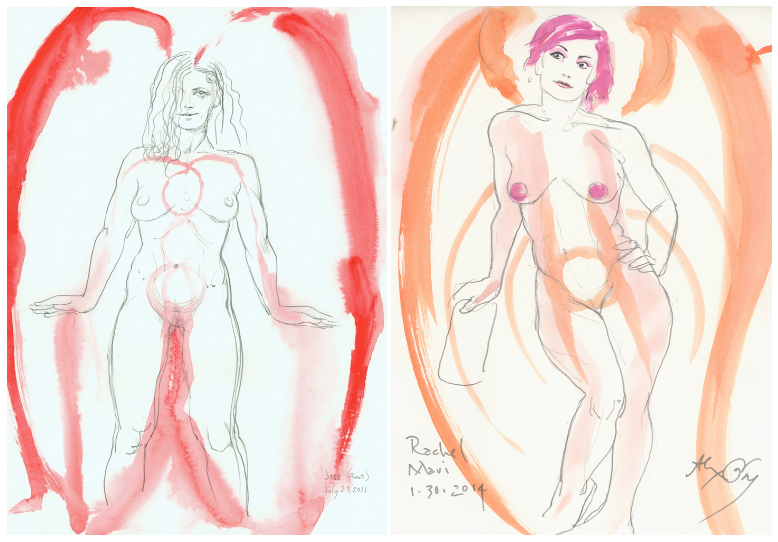 Rooms are available for rent in the Grey House, CoSM's fully renovated Visionary Victorian.
For assistance in booking your stay, please call 845-297-2323 ext. 104 or email us at [email protected]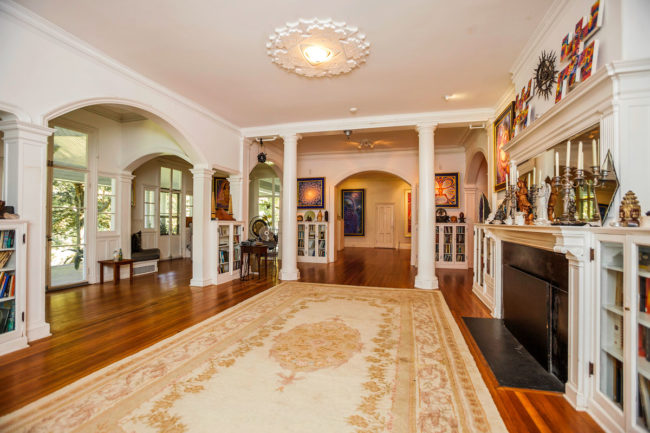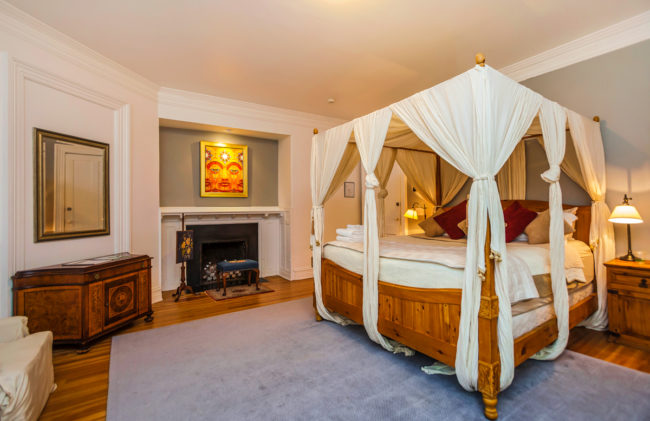 The artwork of Alex Grey & Allyson Grey plus many other visionary artists are on display in the guest house.
CoSM, Chapel of Sacred Mirrors, 46 Deer Hill Road, Wappinger, NY 12590.