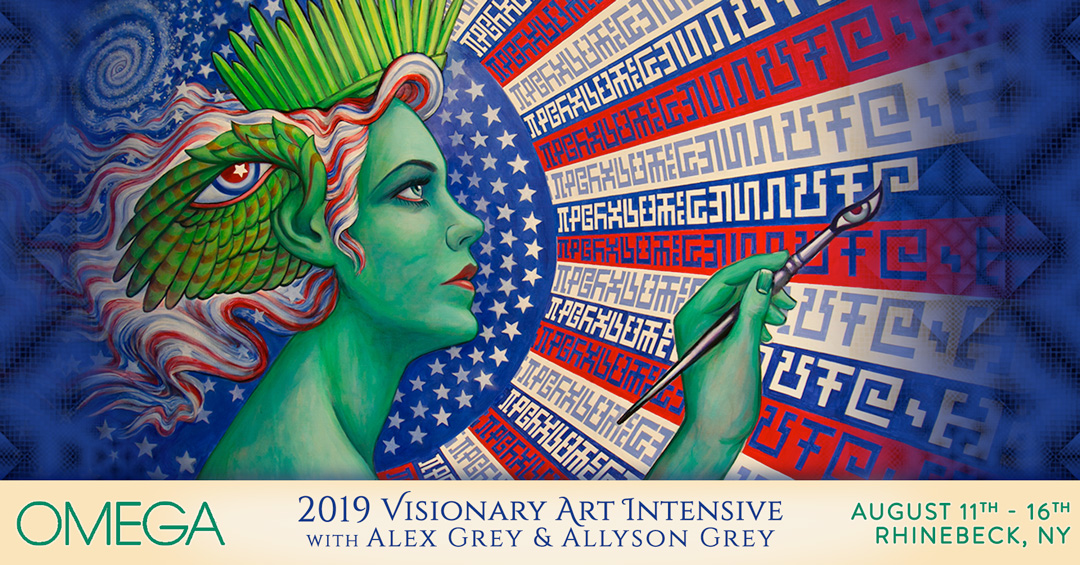 2019 Visionary Art Intensive @ Omega Institute
2019 Visionary Art Intensive @ Omega Institute
with Alex Grey and Allyson Grey
Through illustrated talks, vision practices, and group interaction, we empower the process of bringing our heart's iconography to outer form and examine the worldwide visionary art movement.
Using guided imagery, meditation, shamanic ascent, and love model chakra drawings of body and soul, we open the doors of the imagination to the theater of revelation. Utilizing basic materials such as graphite, colored pencils, pastels, and watercolors, we commit mental pictures to paper and discuss the aesthetic dimension of our mystical experiences.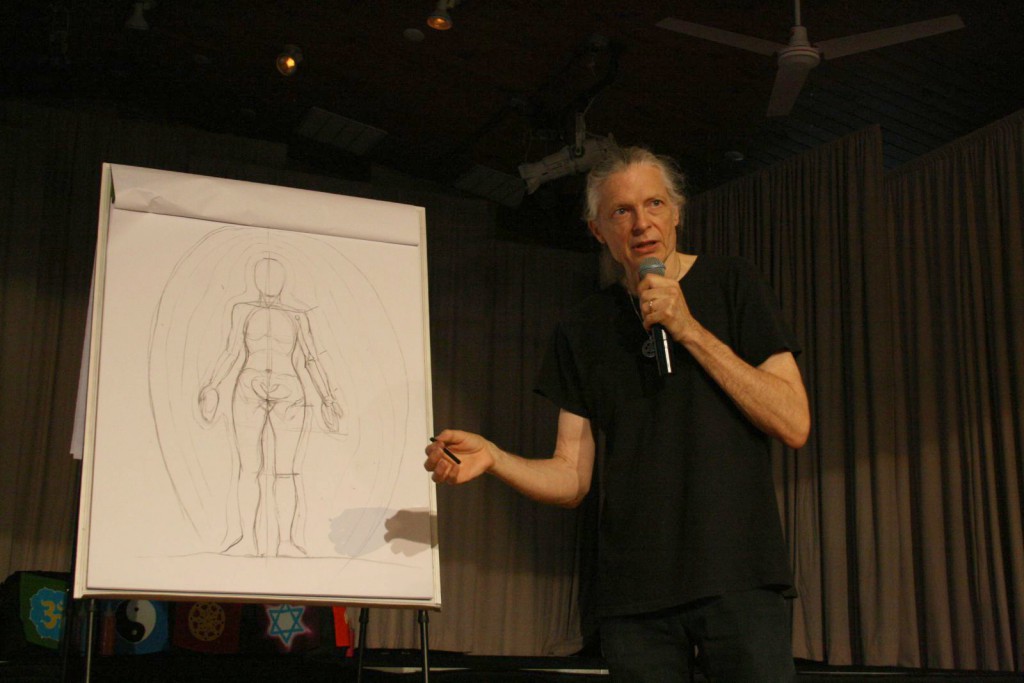 Learn how to draw the face and figure.
Explore art as a spiritual path and art as a career, address technical concerns, and define your creative goals. Re-enter the charged vortex where we will empower each other toward breakthroughs in our artwork.

Pencils and pens for drawing – 2B, 3B, HB
Pencil sharpener
Drawing/watercolor pad with heavy paper – 11" x 14"
Colored pencils — 20 or more colors
Kneadable eraser
Watercolor set and brushes
Watercolor paper block
Images of past work: small portfolio, slides, color xeroxes, etc.
Artists who prefer working in acrylic, pastels, oil pastels, or would like to bring small canvases or painting boards are welcome to bring those materials and should ALSO bring sketch materials listed.
Alex Grey is a world-renowned artist, poet, and author. His books, The Mission of Art, Sacred Mirrors, Transfigurations, and Art Psalms, trace the development of his work and the mystical experiences that have shaped his personal, spiritual, and artistic life.
He is cofounder of CoSM (Chapel of Sacred Mirrors), an art retreat center in Wappinger, New York, that celebrates creativity as a spiritual path.
alexgrey.com
Allyson Grey, cofounder of CoSM (Chapel of Sacred Mirrors), has a master of fine arts degree. An educator and muse for more than 30 years, her artwork is sold and exhibited widely. allysongrey.com
4:00 p.m.–7:00 p.m.
Check In (Rooms available after 5:00 p.m.)
8:00 p.m.
Welcome & Orientation
9:00 a.m.–Noon
Workshop
2:30 p.m.–5:00 p.m.
Workshop
9:00 a.m.–Noon
Workshop
2:30 p.m.–5:00 p.m.
Workshop
9:00 a.m.–12:30 p.m.
Workshop
9:00 a.m.–12:30 p.m.
Workshop
2:30 p.m.–5:00 p.m.
Workshop
9:00 a.m.–Noon
Workshop
Noon–1:00 p.m.
Check Out
The Children's Program is generally available during standard workshop hours only. Contact Omega registration at 800.944.1001 for details.
The above schedule is subject to change at the discretion of the faculty.
Join us for another amazing adventure at Omega!
One of the many paths at Omega
The Omega Garden
The Omega Center For Sustainable Living
(Leed Certified & one of the Greenest buildings in the world)
Sign up for the Visionary Art Intensive at the Omega Institute for five days dedicated to your creative life.