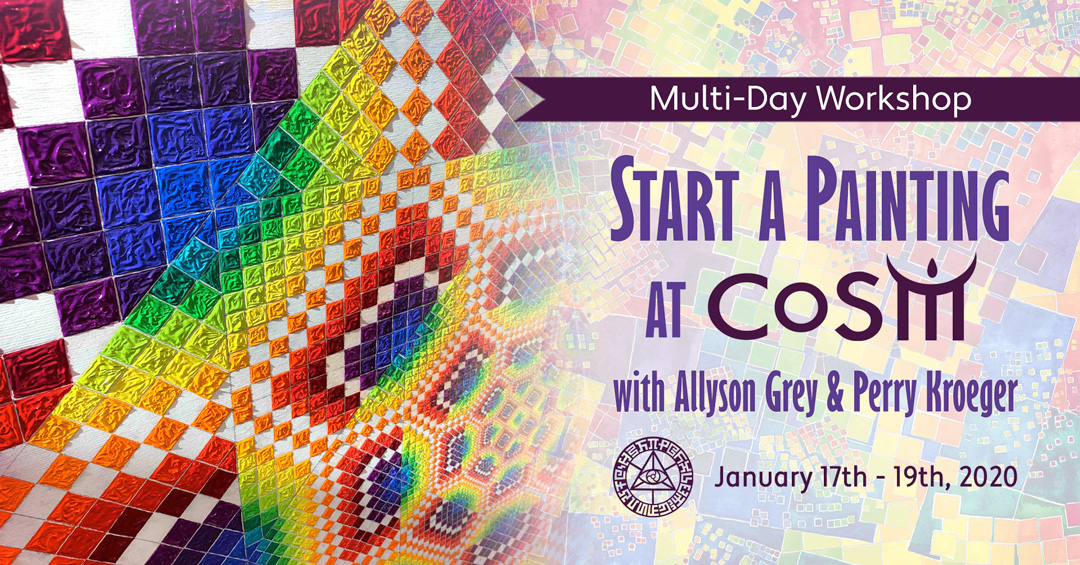 2020 Start a Painting with Allyson & Perry
Start A Painting Workshop
Friday, 7pm, January 17
through Sunday lunch, January 19th
With Allyson Grey & guest faculty
Perry Kroeger
Whether this would be your first painting or your hundredth… whether you have been meaning to begin painting and have been procrastinating… or maybe you'd just like to start a new work while taking a rejuvenating weekend at CoSM, start a painting with us. Turn your inner vision into outer form and develop a personal approach to design, composition, mixing and applying paint. Learn how to evolve and improve your work as you practice the art of teaching yourself. Familiarize yourself with materials and techniques that can access new ways of expressing the "eyes of your soul."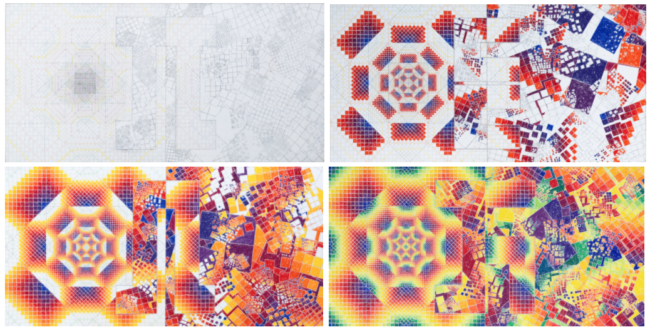 We paint because it is a great pleasure to reveal our inner world in outer form. Painting our inner world literally turns the subjective thoughts into objective reality. A painting can celebrate our uniqueness. Finding our personal style is a journey of discovery. What makes your strokes, marks, composition, design and symbols an expression that represents your inner world in a way that is recognizable to others? Through practice, our paintings evolve and our soul becomes increasingly transparent as we determine our manner of line, color and application of paint.
Successful painting makes evident the artist's mind and essence. The subject of a work of art can make a political point, can represent a spiritual expression or communication a philosophical concept. We create to share a sense of beauty; to explore our perception of nature; to articulate strong emotions or because painting uncovers our personal expression of excitement, peace, emotion or contentment.
Progress Photos of Painting by Perry Kroeger
Painting is a practice. Like yoga, meditation or playing a musical instrument, facility in any creative medium will improve with devoted practice. Getting started, we need time, space, materials and a subject for our painting. A painting often confronts us with an awkward phase of unknowing. To overcome and evolve our artwork, we must learn from the last painting. By applying ourselves and giving our creativity the time it needs to flower, better work is the inevitable future reward that makes the practice worthwhile.
Start a painting with us at CoSM. Investing in a few basic materials, you may complete the work you start in the class. You may take the piece with you having goals in mind and a  mapped out vision of completion. Dive into the next painting easily on your own. MAGI Art Lab (at CoSM) will have a variety of supplies available for experimentation.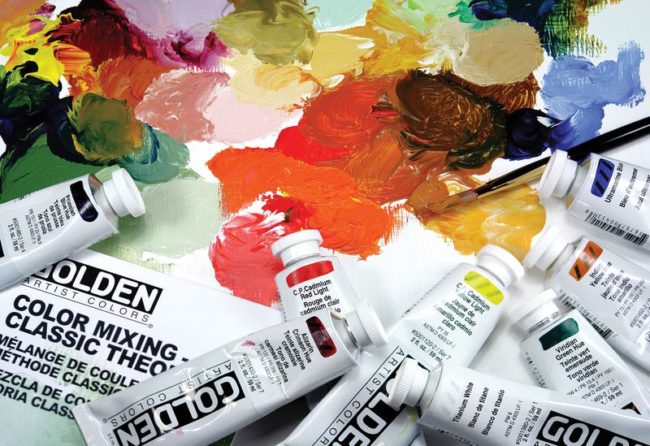 Materials to Bring:
Buy the best supplies you can afford. Avoid student grade like Cotman or Liquitex Basic.
Bring examples of drawings or paintings you have done, if available.
3-5 Good brushes of various sizes and styles — flat, pointed, angled.
Do not choose a preselected set of brushes.
For the best results, choose better than the cheapest brushes.
Two 16 x 20 canvases or boards, pre-gessoed. Personally prefer a gessoed board.
Additional painting surfaces will be available.
Regular sized tubes of Golden or Liquitex paint:
Avoid a pre-boxed set. Select your favorite colors or choose these recommended:
Titanium white, cadmium yellow, cadmium red, ultramarine blue, medium green, purple, cadmium orange.
More color variety will be available to try.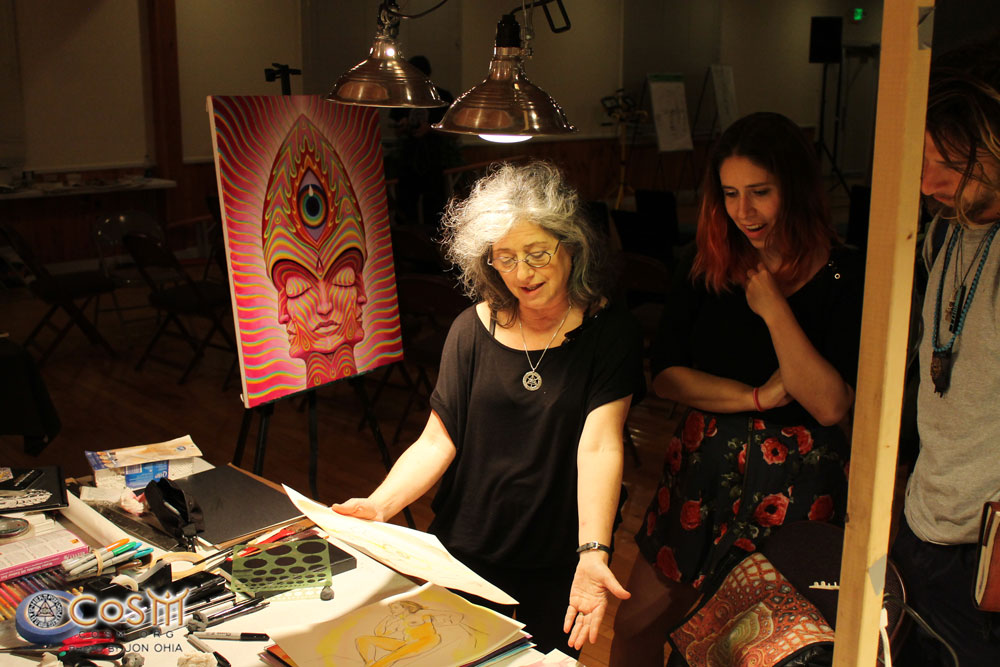 Workshop Schedule:
Please plan to attend every session from Friday at 7:30PM to Sunday 1PM. Lunch on Sunday 1-2PM.
Friday
7:30 PM Friday evening:
Introduction
Discussion on Design & Composition
Saturday

Saturday morning:
Meet your materials
Cover canvas with tracing paper
Visioning your painting
Lay out drawing on tracing paper
1:00 pm – Lunch
Saturday afternoon:
Experimenting with paint application
New tracing paper;
Second drawing & adjustments
Lay down basic ground in paint
6:00 pm – Dinner
Saturday evening:
PPT of paint application styles
Paint mixing: theory & practice
Second layer of paint
Sunday
Sunday morning:
Third layer of paint application
Group discussion of the weekend's work.
Closing
1:00 pm – Lunch Provided for the class before departure.

Allyson Grey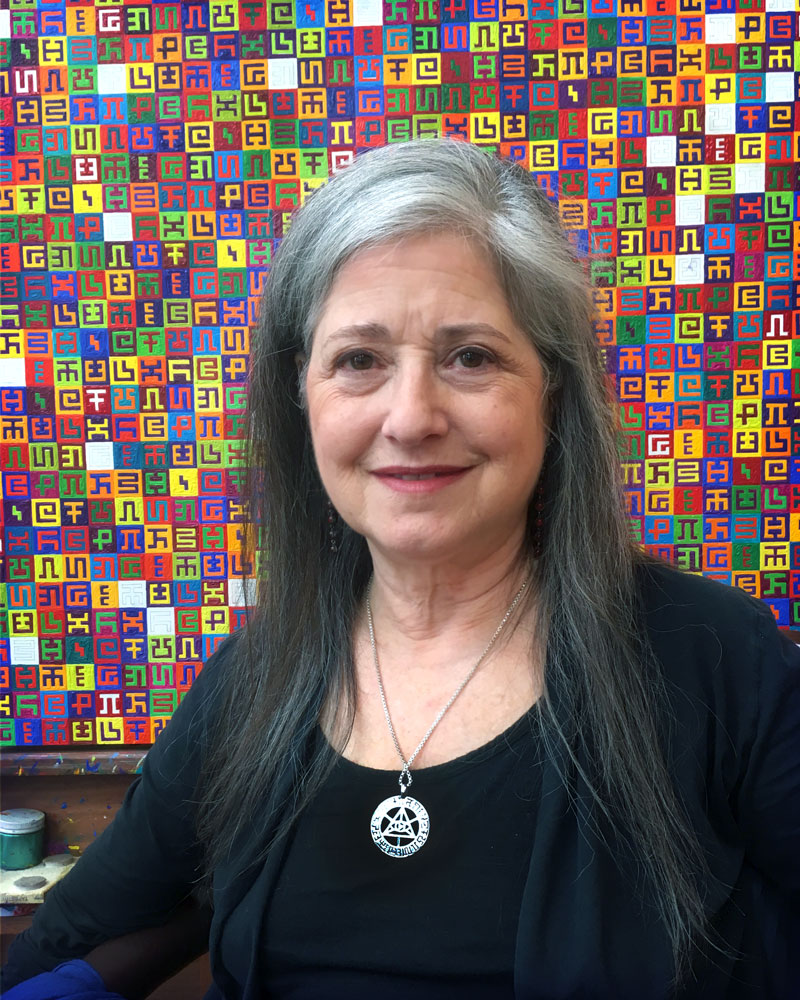 Allyson Grey is a painter and social sculptor. Her paintings have been widely collected and exhibited in galleries throughout the U.S. Allyson's paintings represent chaos, order and secret writing, an essentialized world view symbolizing the material world, the interconnected realm of energy and light and the sacred language of creative expression. With an MFA from Tufts University, Allyson has long been an art educator, art events organizer and a muse to artists worldwide. allysongrey.com
Perry Arthur Kroeger is a visionary performer, writer, designer, videographer, and artist. A three time Broadway veteran, his theater art has been experienced both here in states and in the theaters of Copenhagen, Sydney, Bangkok, and Moscow. A student of the Vienna Academy of Visionary Art, he has been a featured live painter and workshop facilitator at CoSM Chapel of Sacred Mirrors, and Burning Man.  His cartoon series "Perry Kroeger's ROCKS (enlightenment without getting stoned)" is featured in Natural Awakenings Magazine. He is currently Artist in Residence at The Growing Stage, The Children's Theater of New Jersey. See his work at www.perrykroeger.com
Rooms are available for rent in the Grey House, CoSM's fully renovated Visionary Victorian.
Accommodations for this event must be booked directly through Guest Services. Accommodations may only be booked once event tickets have been purchased. Please call 845-297-2323 ext. 104 or email us at [email protected]
To plan a future stay, please view our Booking Calendar.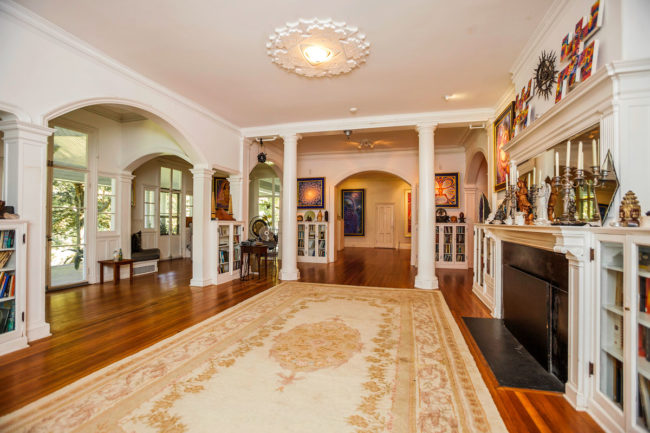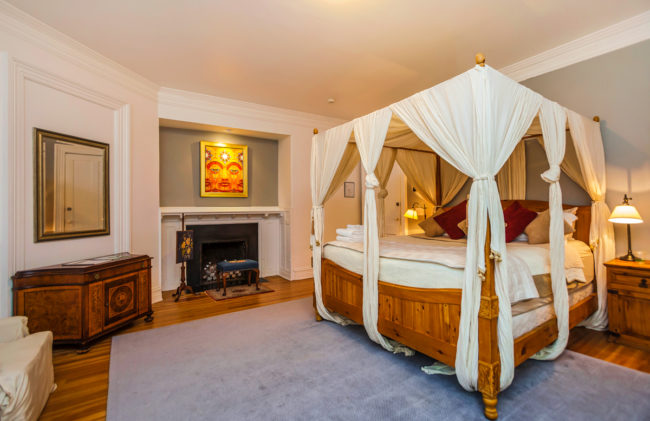 The artwork of Alex Grey & Allyson Grey plus many other visionary artists are on display in the guest house.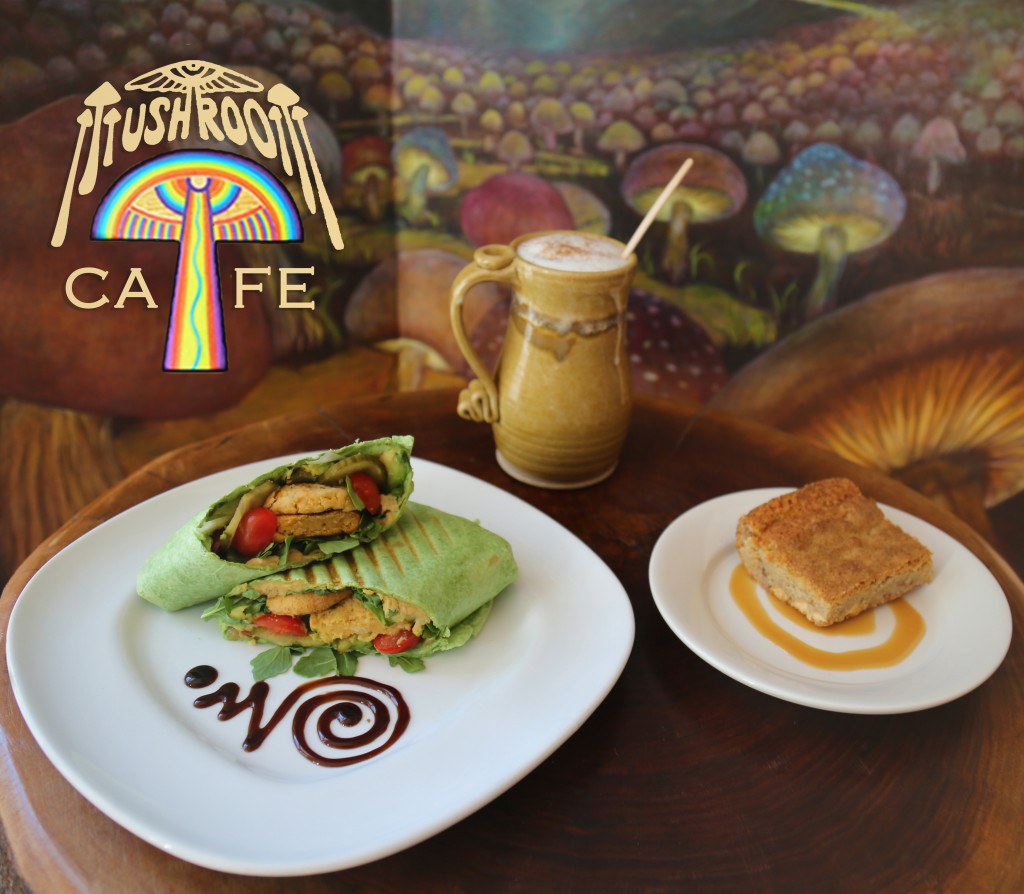 CoSM, Chapel of Sacred Mirrors, 46 Deer Hill Road, Wappinger, NY 12590.