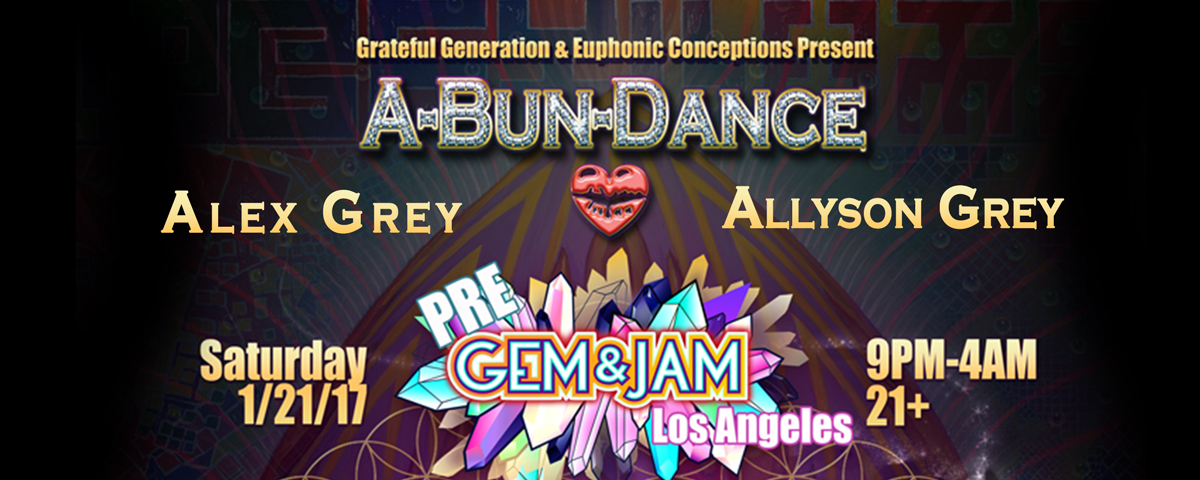 ABunDance x Gem & Jam LA Pre-party
ABunDance x Gem & Jam LA Pre-party
Get ready for the Mega ABunDance x Gem & Jam LA Pre-party! Two stages of music, art and excitement with The Floozies, Stylust Beats, Kaminanda, Gigamesh, Govinda Music & More, accompanied by the incredible live painting of Alex Grey & Allyson Grey!
Join us in an Indoor / Outdoor wonderland of Amazing Art, Stunning Visuals, Playful Performers, Vibey Vendors, and an Unbelievable Lineup of Epic Music!
DANCE | PLAY | LOVE
Grateful Generation and Euphonic Conceptions welcome you to Abundance Gem & Jam LA Pre-party! This year our theme honors the beauty of Gemstones. Show us your glitter, shimmer, glamour and sparkle!
Let your radiance shine with sensual sequins, jewels, rhinestones, gold and silver, shiny spacesuits!
Delight your ears with sets from the top house and bass DJs including Govinda Music, Josh Billings, Soulular & the rest of the epic Abundance lineup.
Enlighten your eyes with over 40 live performance artists, and an accomplished array of live painters.
We are really excited to present our new home venue: The Globe Theatre downtown! A stunning baroque environment with an esteemed LA heritage and a brand new makeover!
Lineup:
Main Theatre
Stylust Beats
https://soundcloud.com/stylustbeats
The Floozies
https://soundcloud.com/flooziesduo
Kaminanda
https://soundcloud.com/kaminanda
Govinda Music
https://soundcloud.com/govindamusic
Soulular
https://soundcloud.com/soulular
Basement
Josh Billings & @Nonfiction (Focus OC)
https://soundcloud.com/joshbillings
https://soundcloud.com/djnonfiction
Gigamesh
https://soundcloud.com/gigamesh
GALEN (Sunset Sound System)
https://soundcloud.com/dj-galen
Shiny Objects (Om Records)
https://soundcloud.com/shinyobjects111
Loboman
https://soundcloud.com/loboman
Come inspire, and be inspired by:
♥ DJ's
♥ Live Performance
♥ Vendors
♥ Live Artists
♥ Healers
♥ Belly Dancers
♥ Mermaids and Mischievous Fairies
♥ Stilt Walkers
♥ Costumes
♥ Organic Treats
♥ Festive Drinks
♥ Expression
♥ LOVE
♥ Dance
~~~~~~~~~~~~~
Live Painters:
~~~~~~~~~~~~~
Ava Youssefi
Portfolio: www.avayoussefi.com
Instagram: www.instagram.com/pigment_of_your_imagination/
Benedigital Arts
Portfolio: www.benedigital.com
Instagram: www.instagram.com/benedigital/
Jennifer Michelle Long
Portfolio: www.jennifermichellelong.gallery
FB Page: www.facebook.com/TheArtofJenniferMichelleLong/
Instagram: www.instagram.com/jennifermichellelong/
Linzy's heART-work
Portfolio: www.linzymiggantz.wixsite.com/heartwork
Instagram: www.instagram.com/linzys_heart_work/
Mr Melty
FB Page: www.facebook.com/Mr-Melty-215124185177361/
Instagram: www.instagram.com/mr.melty/
Peter Goode Art
Portfolio: www.petergoodeart.com/
Instagram: www.instagram.com/petergoodeart/
Visionary Art by Vajra
Portfolio: http://altaroftheheart.com/
FB Page: www.facebook.com/AltaroftheHeart/
Instagram: https://instagram.com/visionaryartbyvajra/
~~~~~~~~~~~~
Art Installations:
~~~~~~~~~~~~
Debi Cable's 3D Art Gallery
www.debi.cable.com
Instagram/Twitter: Debi Cable's 3D Art Gallery
~~~~~~~~~~~~
Body Painters:
~~~~~~~~~~~~
Adorn Body Art by Faeryn Rose
www.faerynfire.com
~~~~~~~~~~~~~~~~~
LIVE PERFORMERS:
~~~~~~~~~~~~~~~~~
Ahnna Barbarella
Alex Iverson
Alexa Rae
Alicia Marie
Alyssa Rutledge
Andrea Greigo
Angela Marie de Pietro
Ashley Soltys
Beverly Taylor
Bridget Avildsen
Brittany Quidang
Celina Anderson
Cerene Shepherd
Chris Stuart
Christina Clark
Crystal Miel Cossey
Faeryn Rose
Franny Eve
Gillian Lynn
Hannah Lee
Jesse Luis Rodriguez
John Grey
Julie Iphis
Leany Bear
Liz bits
Michael lespinasse
Morgan Jenkins
Natalia Delsindico
Nicole Ohanessian
Nicolette Roux
Olivia Kemp
Rain Locker
Ratha Khn
Rewi Bracey
Roger Fojas
Samantha Panther Wax
Tina Phoenix
~~~~~~~~~~
VENDORS:
~~~~~~~~~~
Laser Trees
www.lasertrees.com
https://www.facebook.com/lasertrees/
The Elephant Tribe
http://theelephanttribe.com/
https://www.facebook.com/ElephantTribeClothing/
Stardust Love
www.stardustlove.com
www.facebook.com/stardustlove
Light Sound Dimension
http://www.lightsounddimension.etsy.com/
https://www.facebook.com/lightsound4d
Mostly Minerals
www.mostlyminerals.com
www.facebook.com/MostlyMinerals/
Gypsy.Boo.Love
http://www.gypsyboolove.etsy.com/
https://www.facebook.com/GypsyBooLove/
CATAL
http://www.catalcollections.com/
Www.facebook.com/catalcatoure
Good Fortune Gems
https://www.facebook.com/goodfortunegemspage/
Phoenix Rose
Www.facebook.com/woodnuvo
FestEssentials
www.etsy.com/shop/festessentials
www.facebook.com/shopfestessentials