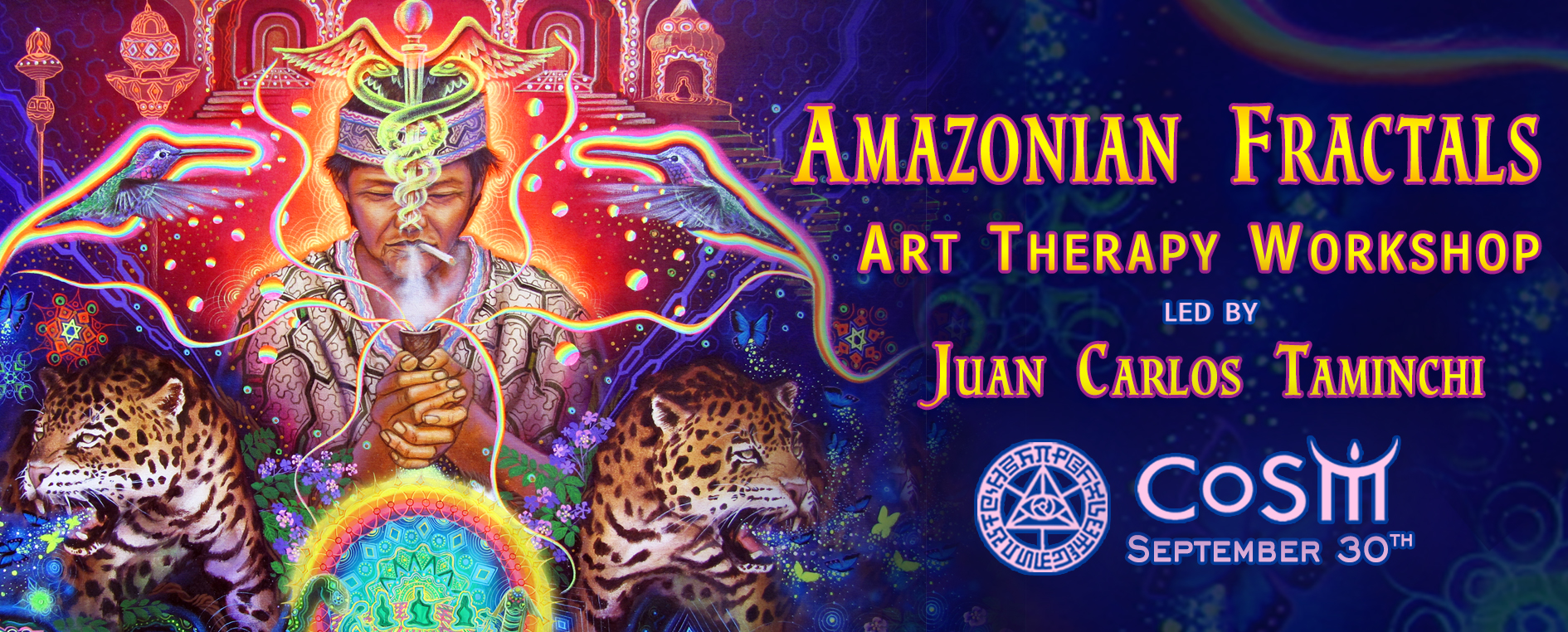 Amazonian Fractals with Juan Carlos Taminchi
Amazonian Fractals – Art Therapy Workshop
with Juan Carlos Taminchi
Amazonian Fractals is a healing art therapy to wake up your creativity using various techniques and sacred plants from the Amazon. It is much more than only a drawing or painting workshop. It is a meditation exercise used to reconnect with mother earth and our own creative and healing spirit using sacred songs, aromas and colors through the experience.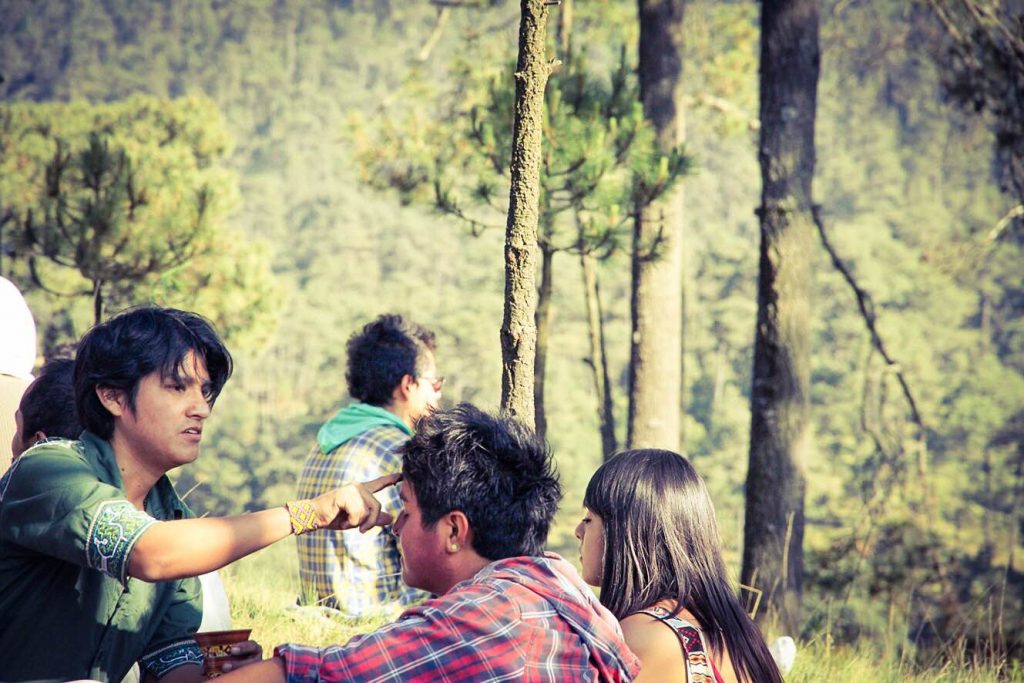 This helps us to let go and liberate ourselves from emotional baggage or blockages that prevent us from our own growth. In this way we are able to reconnect with the sacred, and feel the inspiration and divine creation inside each one of us. Mother Earth, nature, and all that lives within it recharges us with inspiration. Not only artistic inspiration, but for all of our unique individual processes on our path to walking through life in balance.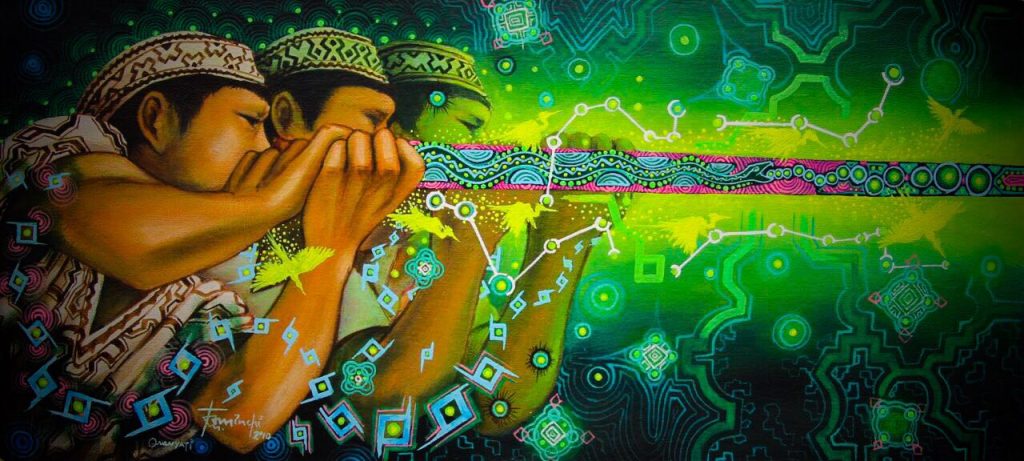 Meditation: Deep introspection through sounds and aromas. (Flutes, drumming, sacred amazonian songs [icaros], amazonian plants, and flower essences.) We will begin the meditation sitting in position that is comfortable, and i will offer a drop of amazonian plant medicine applied to the third eye to everyone. We will then enter the meditative state accompanied by sounds and aromas for approximately 45 minutes to wake up your creativity, and visualize what you will create throughout the workshop.
As we come out of meditation, each person will take their sketchbook and begin to sketch out ideas and visions that they received through the meditation. We will send the rest of the weekend creating a unique work of art, inspired by the spirit of the Amazon, and our own creative spirit.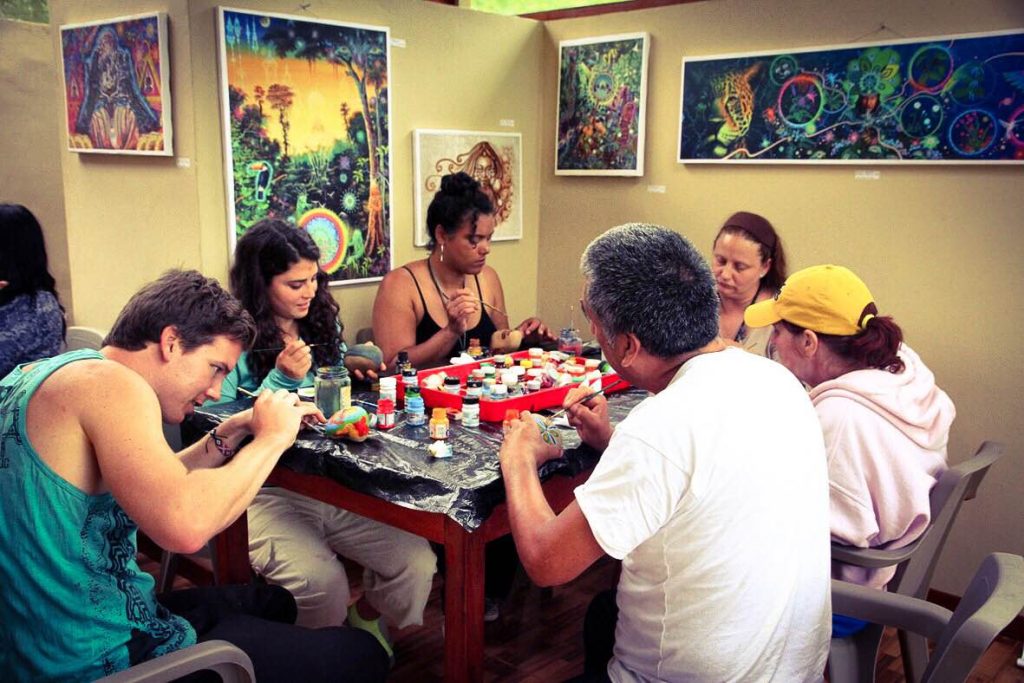 Amazonian Visionary Art
The city of Pucallpa and the surrounding Ucayali River region is not only one of the most ecologically rich areas of the world, but also has a vibrant cultural heritage of art, crafts, and music that is based on thousands of years of tradition from the diverse indigenous peoples that call it home. It is the birth place of Amazonian Visionary Art's forefather- Pablo Amaringo, and has since given birth to many artist following in the lineage unique visionary style.
"The pictures themselves have messages and teachings that train the mind to see what could have happened in the past and what can happen in the future. They open up other ways of seeing, which you could call sacred or divine. I would like my pictures to inspire a different idea of religion, one that is not given in exchange for something but is free."  Pablo Amaringo.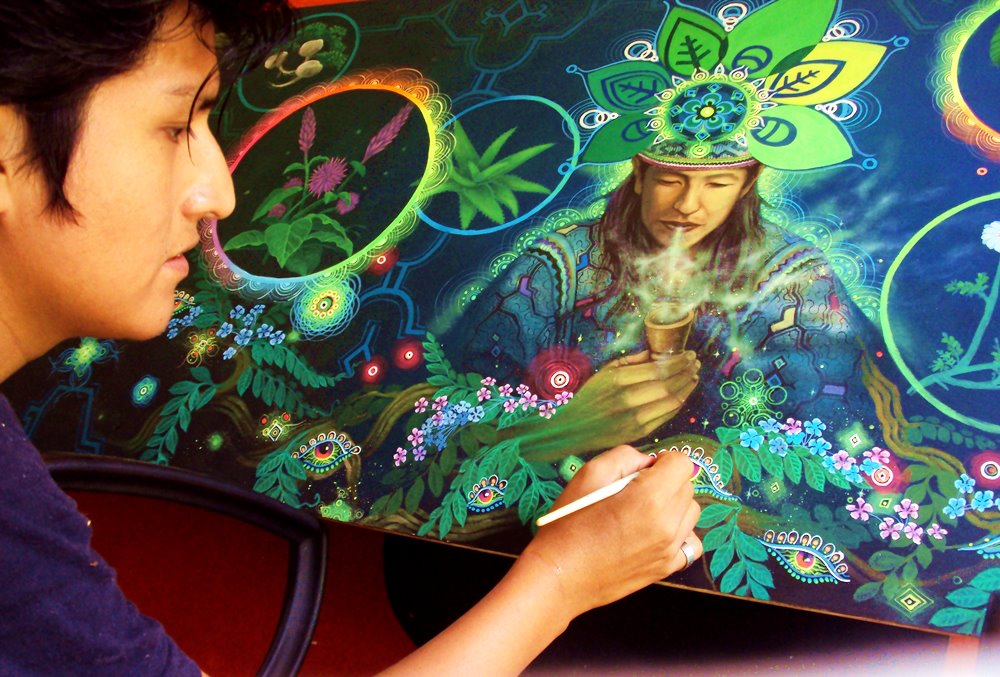 Deeply rooted in the abundance of the surrounding rainforest, this style of painting reflects the artists' experiences of the sacred spirit world of nature and the relationship of the human beings with the mysterious and mythological spirits of the deep Amazonian jungle – the animals, rivers, skies, birds and magical plant spirits that teach and foster our human connection with the cosmic consciousness and the transformational journey of existence within the natural world.
Schedule

2:00pm – Introduction
2:30pm – Meditation with sound healing and aroma therapy
3:15pm – Sharing of meditation experience
3:30pm – Begin painting
6:00pm – Dinner Break – Food will be available for purchase in the Mushroom Cafe
7:00pm – Continue painting with guidance of Juan Carlos
8:00pm – Group presentation of artwork
9:00pm – Event ends
Required Materials:
round river stones
acrylic paint set
paint brush set
Juan Carlos Taminchi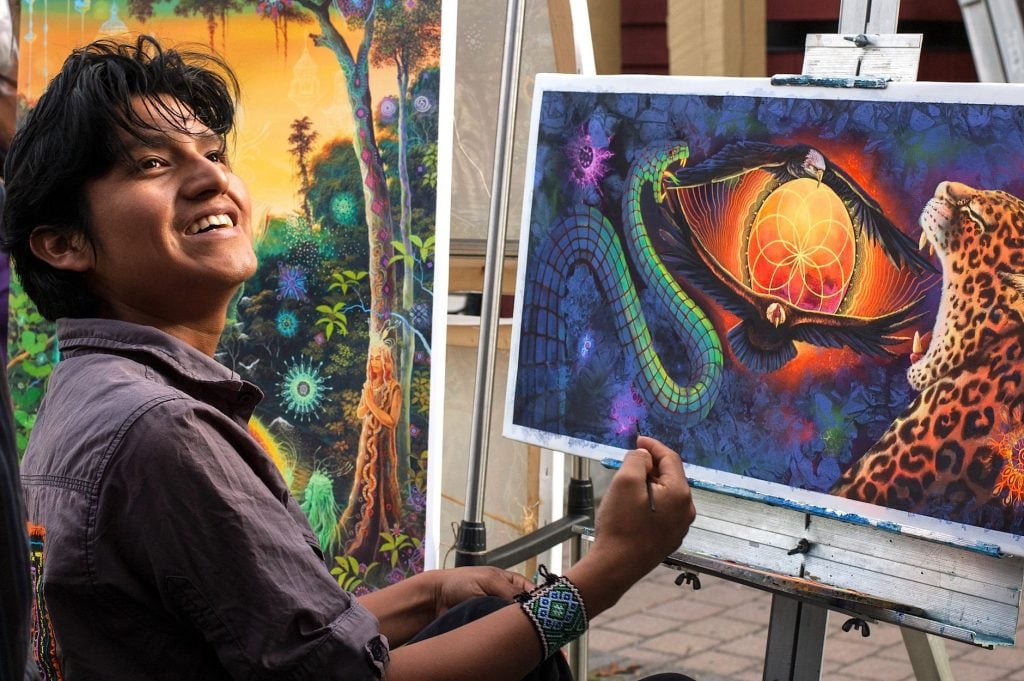 Juan Carlos Taminchi is a young Peruvian artist who has inherited from the Andean and Amazonian cultures. At 8 years old, the surrounding nature drew his attention and stimulated his drawing abilities, and thus opened the possibilities to artistic dreaming. In college, he attended a drawing class that inspired him to study art at the Pucallpa School of Arts, where he then became an Art Professor.
From the age of 17, searching for his artistic style, he discovered the spirit world and sacred plants, which enabled him to deepen his approach to Visionary Art – a sacred and spiritual gift given by Mother Earth. He took part in several exhibits and attended several workshops with other visionary artists from his area.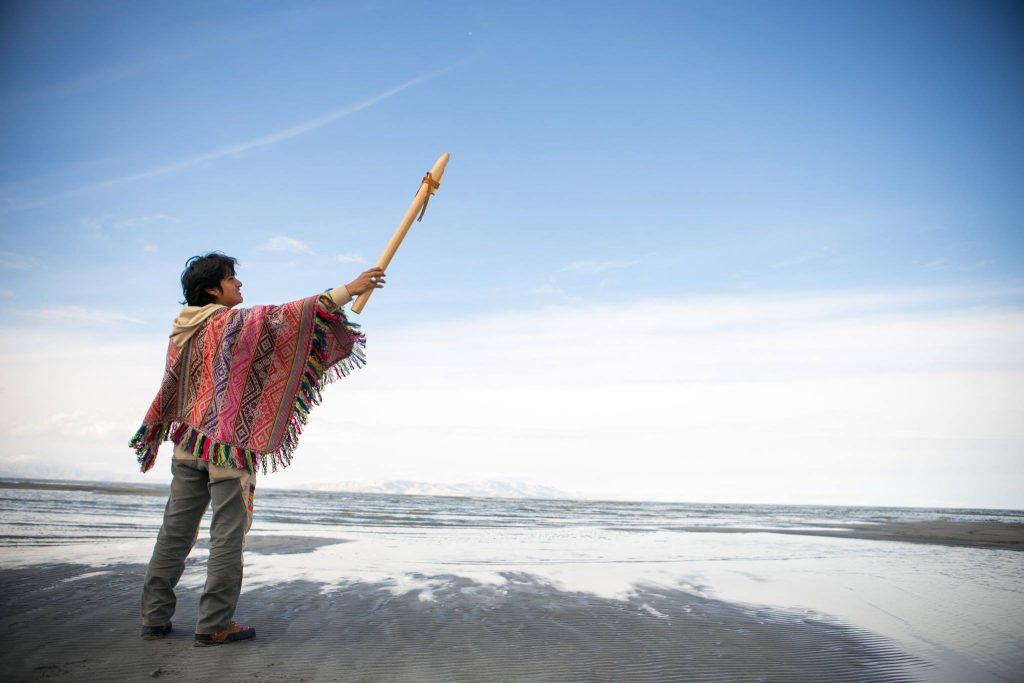 In October 2009, he made his first individual art exhibit that was named "Amazonia" in Paris France. Later, he acted on behalf of an association of Amazonian painters and sculptors called ONANYATI, which means in the Shipibo language "Wisdom from ancestors," in the collective exhibit "Jamais trop d'art" in Tournai, Belgium.
He also took part in various exhibitions such as "Third Eye Gallery"-Boom Festival 2012 in Portugal, "Burning Man 2012," "Matices de las Americas", "Moksha Fair Art-2012"- Miami – U.S, "Chimera 2014"- Sedan- France, Symbiosis Festival 2015, California- U.S and many other exhibitions in Europe and the Americas.
Since 2012, he has dedicated his life to serving and sharing the sacred medicine of Amazon, and also leading shamanic art-therapy workshops in various spiritual events. He is often invited to do live painting in events and concerts all around the globe.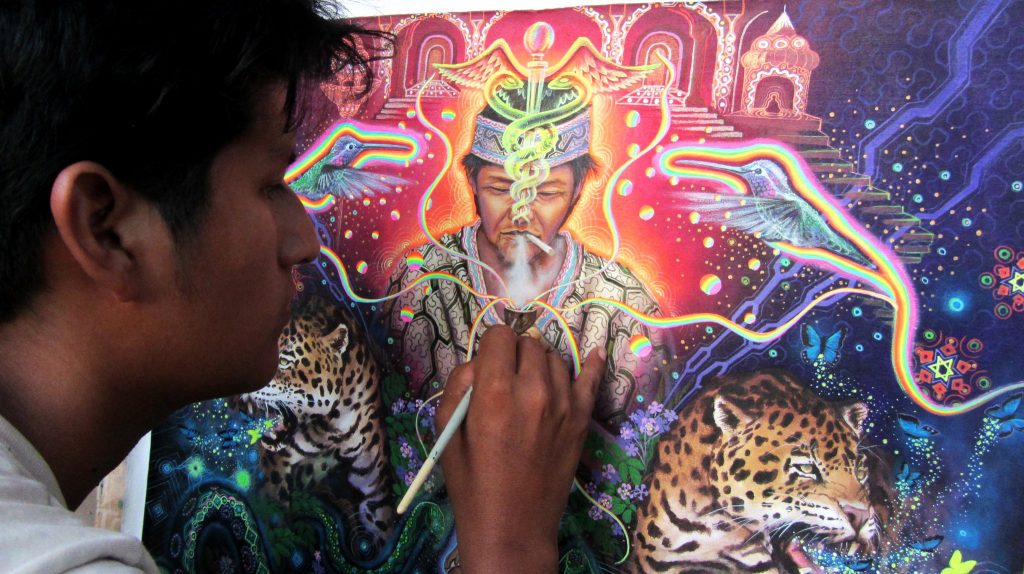 Rooms are available for rent in the Grey House, CoSM's fully renovated Visionary Victorian guest house.
For assistance in booking your stay, please call 845-297-2323 ext. 104 or email us at [email protected]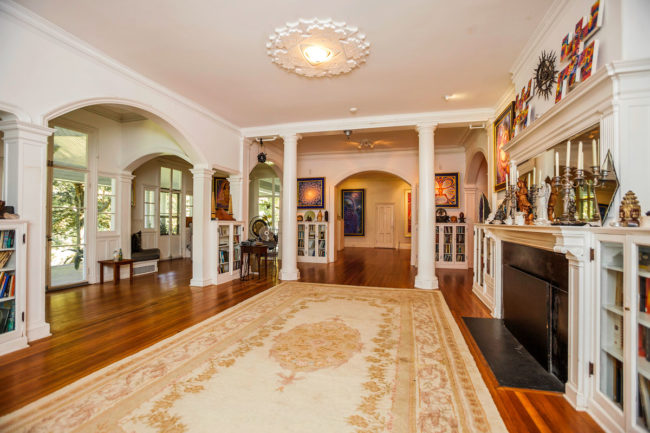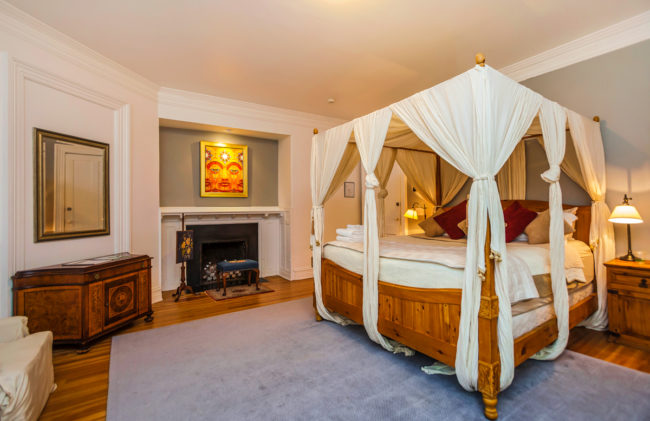 The artwork of Alex Grey & Allyson Grey plus many other visionary artists are on display in the guest house.