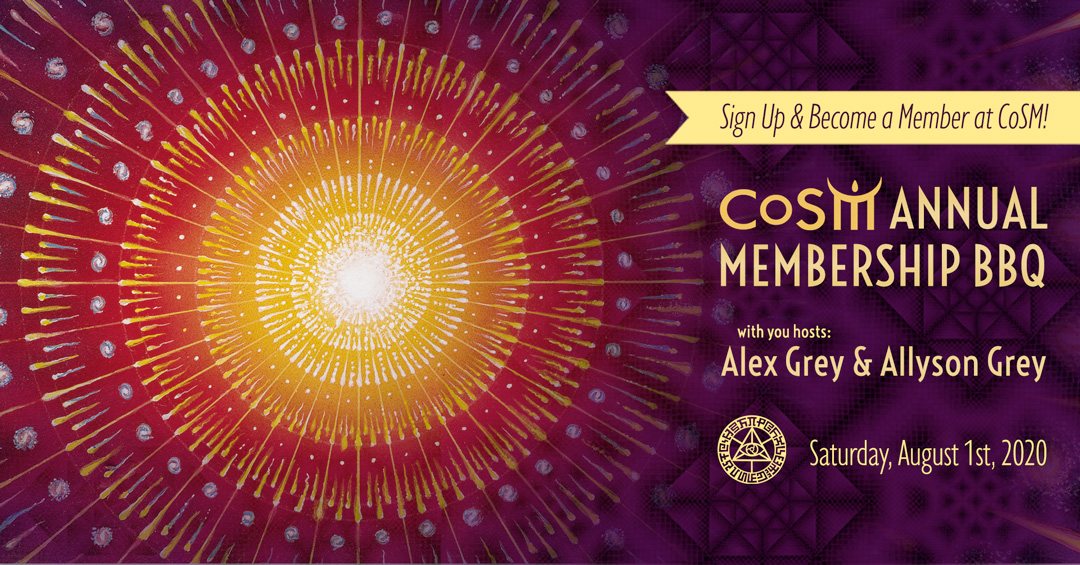 Annual Membership BBQ 2020
Annual Membership BBQ 2020
with hosts, Alex Grey & Allyson Grey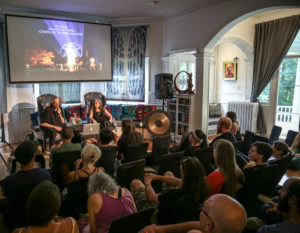 Take a tour with Alex and Allyson, who will recount the history of the land & the past, present and future of CoSM. Outdoor barbecue, weather permitting. In the event of inclement weather, dinner will be served indoors. This is a complementary event for CoSM Members.
*New Memberships are for the calendar year beginning with the date of purchase*

12 pm:
CoSM Open to the Public (Gallery, Grounds, Shop, Cafe open)
**Event Day Gallery Hours: 12 pm – 2:30 pm
2:30-5:30 pm: Discussion & Tour of CoSM Land with Alex & Allyson
5:30-6:30 pm: BBQ Dinner
7 pm: August Full Moon Ceremony
9:30 pm: Full Moon Celebration
12 am: CoSM Closed
Presentation and tour of CoSM, including the Grey House, Wisdom Trail and more.
Dinner with Alex & Allyson Grey
Entry to Full Moon Gathering
All attendees must pre-register online to reserve a meal ticket.
CoSM Member Benefits Include
Exclusive Membership Card
Free General Admission
FREE entry to Full Moon events for one year ($120 value)
FREE entry to Art Church events for one year ($120 value)
Discount for Room Rentals – Monday through Thursday with Coupon Code
Discount to MAGI, Mystic Artists Guild International Programs
The Latest Issue of CoSM Journal of Visionary Culture
Calling all Temple Builders!
With Your Hosts:
Alex Grey & Allyson Grey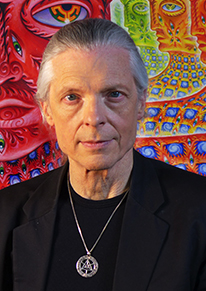 Alex Grey, world-renowned artist, poet, and author, is best loved for his paintings which portray multiple dimensions of reality, interweaving biological anatomy with psychic and spiritual energies. His books, Sacred Mirrors, The Mission of Art, Transfigurations, and Art Psalms, trace the development of his work and mystical experiences that shaped his spiritual artistic life. Alex's most recent monograph, Net of Being, addresses how his art is evolving the cultural body through icons of interconnectedness. www.alexgrey.com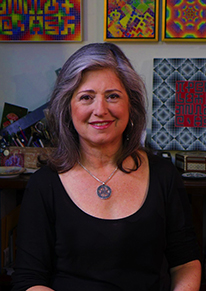 Allyson Grey
, artist, writer and social sculptor, has co-written and edited a dozen books and all seven volumes of CoSM Journal of Visionary Culture. Since 1975, Allyson has been artistic partner and studio mate of artist, Alex Grey. With a Master of Fine Arts from Tufts University, Allyson has been an educator and muse to artists for over 30 years.
 Alex and Allyson are the parents of actress, Zena Grey. allysongrey.com Together, the Grey co-founded the Chapel of Sacred Mirrors, CoSM, an interfaith church since 2008, celebrating creativity as a spiritual path.
Rooms are available for rent in the Grey House, CoSM's fully renovated Visionary Victorian.
Accommodations for this event must be booked directly through Guest Services. Accommodations may only be booked once event tickets have been purchased. Please call 845-297-2323 ext. 104 or email us at [email protected]
To plan a future stay, please view our Booking Calendar.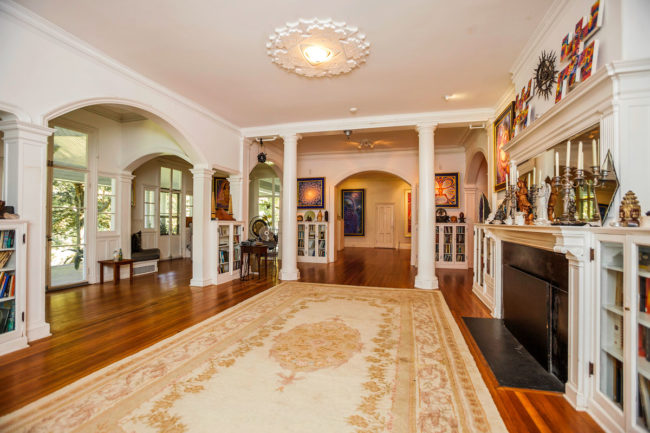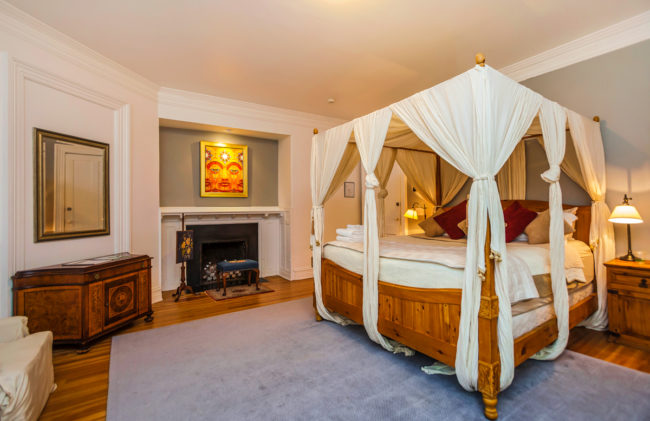 The artwork of Alex Grey & Allyson Grey plus many other visionary artists are on display in the guest house.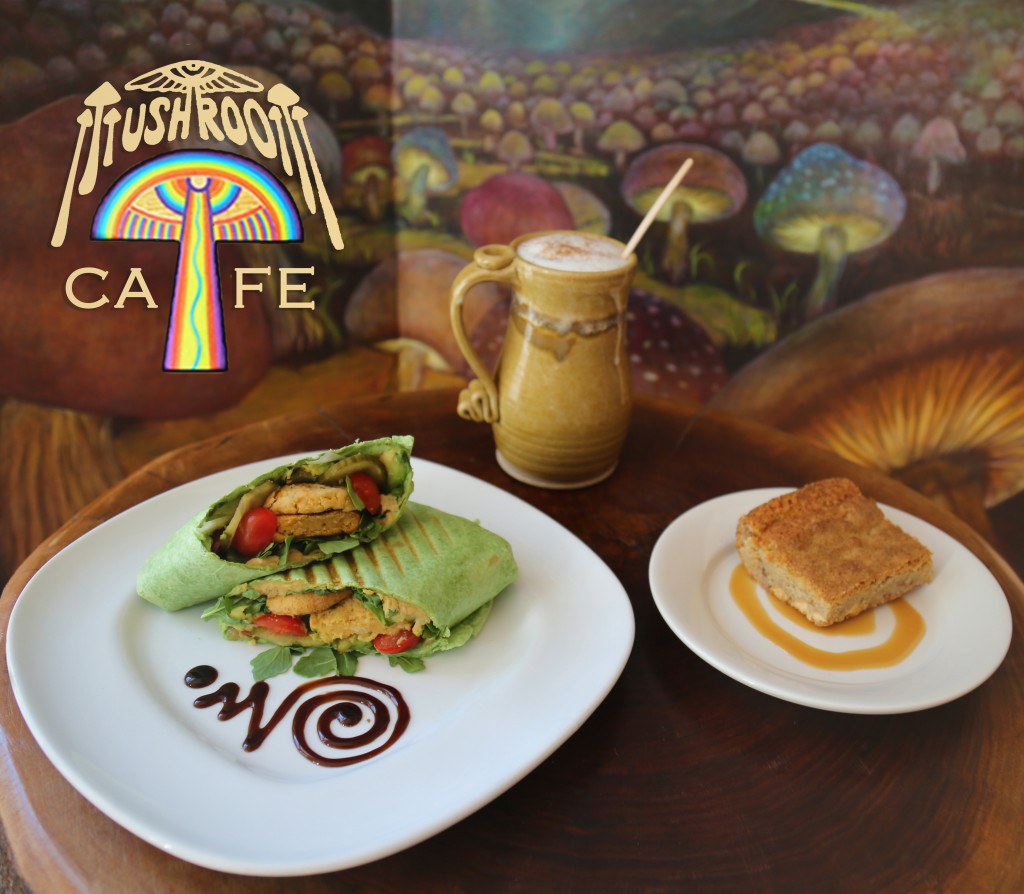 CoSM, Chapel of Sacred Mirrors, 46 Deer Hill Road, Wappinger, NY 12590.