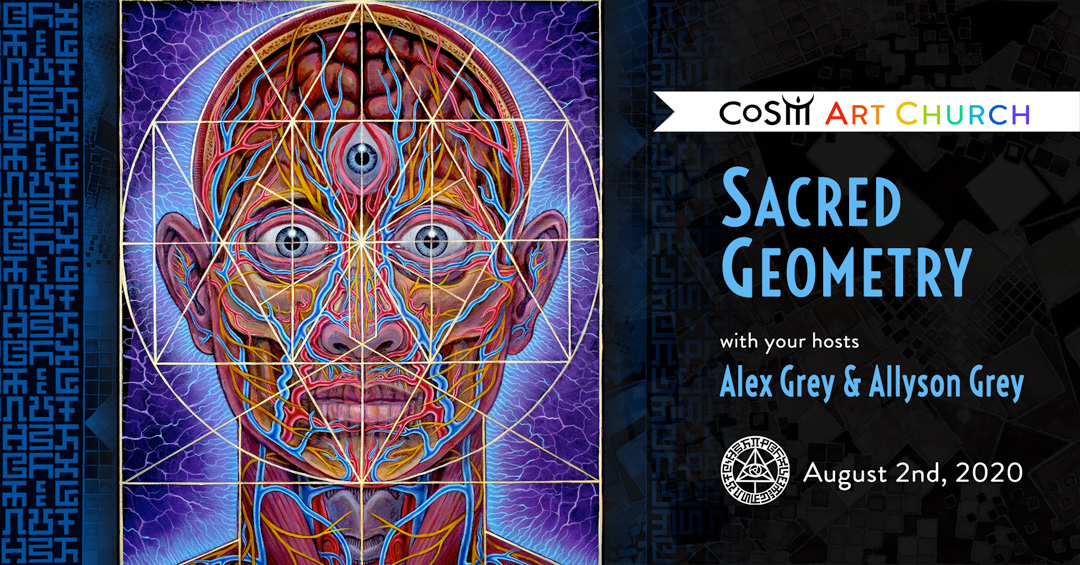 Art Church 2020 : Sacred Geometry
Sacred Geometry

Behind the veil of the visible world, a matrix of divine proportions and underlying grids plot the mathematics of biology, space and time.  Today in Art Church, we will study and draw the basic Sacred Geometric forms, counting from one to six.
A talk demonstrating the principle of sacred geometry woven into natural forms will show how the golden section and fibonacci sequence is detectable in flowers, growing plants and living creatures.  The One-sided sacred geometric form is a perfect sphere, in two dimensions it is a circle, the symbol of Spirit's wholeness.  The Vesica Piscis is the two sided sacred geometric shape and is associated with the divine feminine. The Vesica was used as a proportional guide for many cathedrals in Europe.  The upward pointing Triangle is a symbol of trinity, of fire and the mind.  The square is a symbol of matter, solidity, and the four elements.  The pentagon is connected with the golden ratio and is related to the anatomical human form with five projections, head, arms & legs.  The hexagon is the underlying foundation of crystals, is seen in the bees hive, and is the center of the flower of life.  We will explore the meaning and craft of contemplative drawing on paper with compass and straight-edge.  All participants need to bring supplies. Recommended are a sketch pad (11″ x 14″), a good compass and metal cork back ruler.
Art Church begins with art as a spiritual path. Bring drawing and/or journaling materials.
With Your Hosts:
Alex Grey & Allyson Grey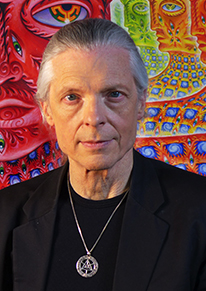 Alex Grey, world-renowned artist, poet, and author, is best loved for his paintings which portray multiple dimensions of reality, interweaving biological anatomy with psychic and spiritual energies. His books, Sacred Mirrors, The Mission of Art, Transfigurations, and Art Psalms, trace the development of his work and mystical experiences that shaped his spiritual artistic life. Alex's most recent monograph, Net of Being, addresses how his art is evolving the cultural body through icons of interconnectedness. www.alexgrey.com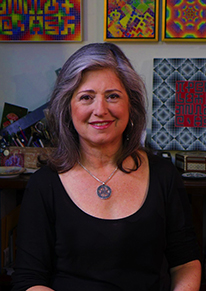 Allyson Grey
, artist, writer and social sculptor, has co-written and edited a dozen books and all seven volumes of CoSM Journal of Visionary Culture. Since 1975, Allyson has been artistic partner and studio mate of artist, Alex Grey. With a Master of Fine Arts from Tufts University, Allyson has been an educator and muse to artists for over 30 years.
 Alex and Allyson are the parents of actress, Zena Grey. allysongrey.com Together, the Grey co-founded the Chapel of Sacred Mirrors, CoSM, an interfaith church since 2008, celebrating creativity as a spiritual path.
Event Schedule
1pm
– Program Begins
• Art Meditation — with music
• BRING DRAWING MATERIALS including colored pencils, pens or watercolor and a sketch book or pad.
• Journaling and poetic expression also encouraged.
• Meditation Ends with Closing Reflections
• Break — [store & cafe will be open]
• Presentation on Sacred Geometry
• Discussion
• Drawing Meditation with music
• Closing Ceremony
Rooms are available for rent in the Grey House, CoSM's fully renovated Visionary Victorian.
For assistance in booking your stay, please call 845-297-2323 ext. 104 or email us at [email protected]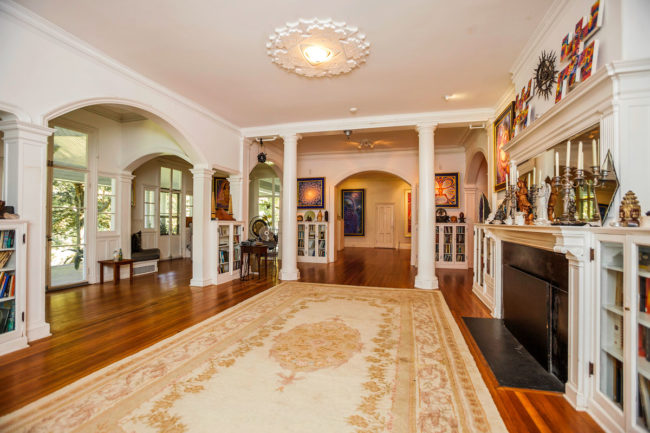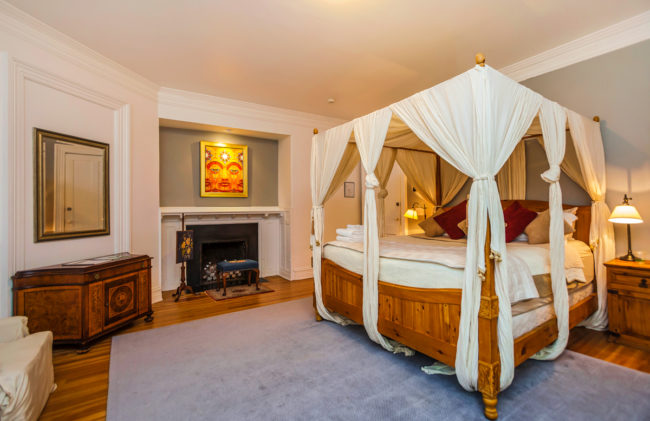 The artwork of Alex Grey & Allyson Grey plus many other visionary artists are on display in the guest house.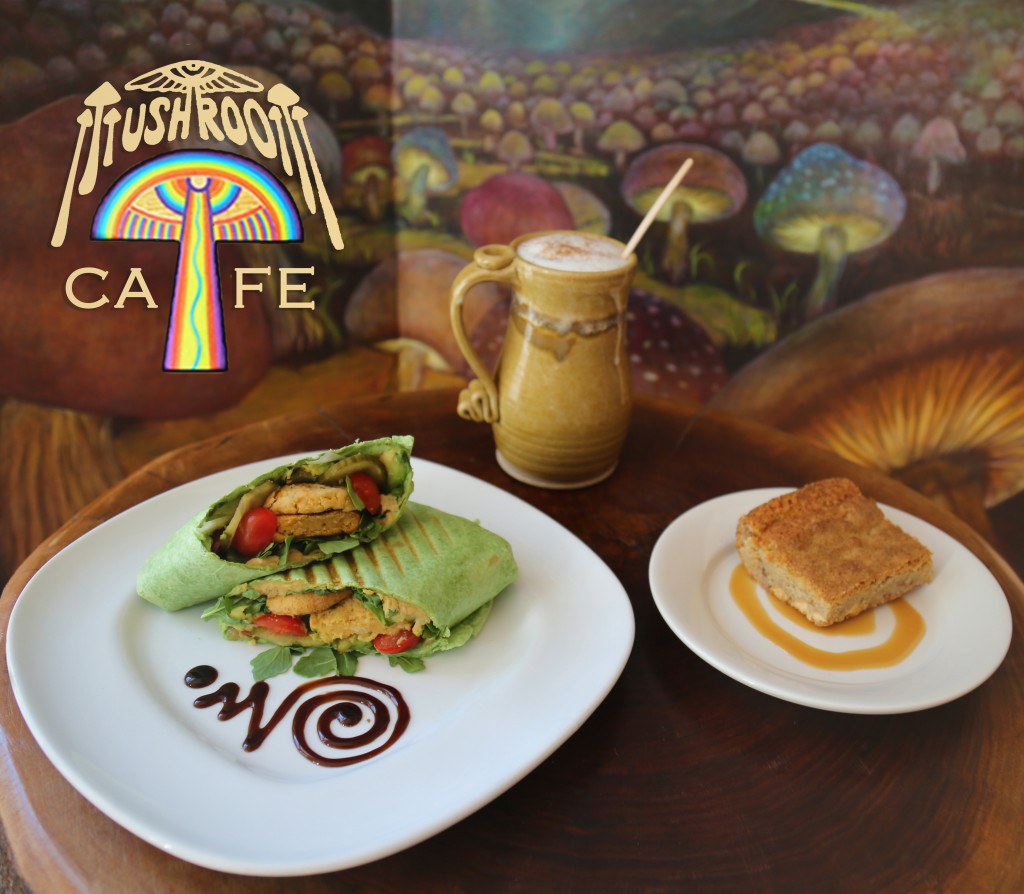 CoSM, Chapel of Sacred Mirrors, 46 Deer Hill Road, Wappinger, NY 12590.