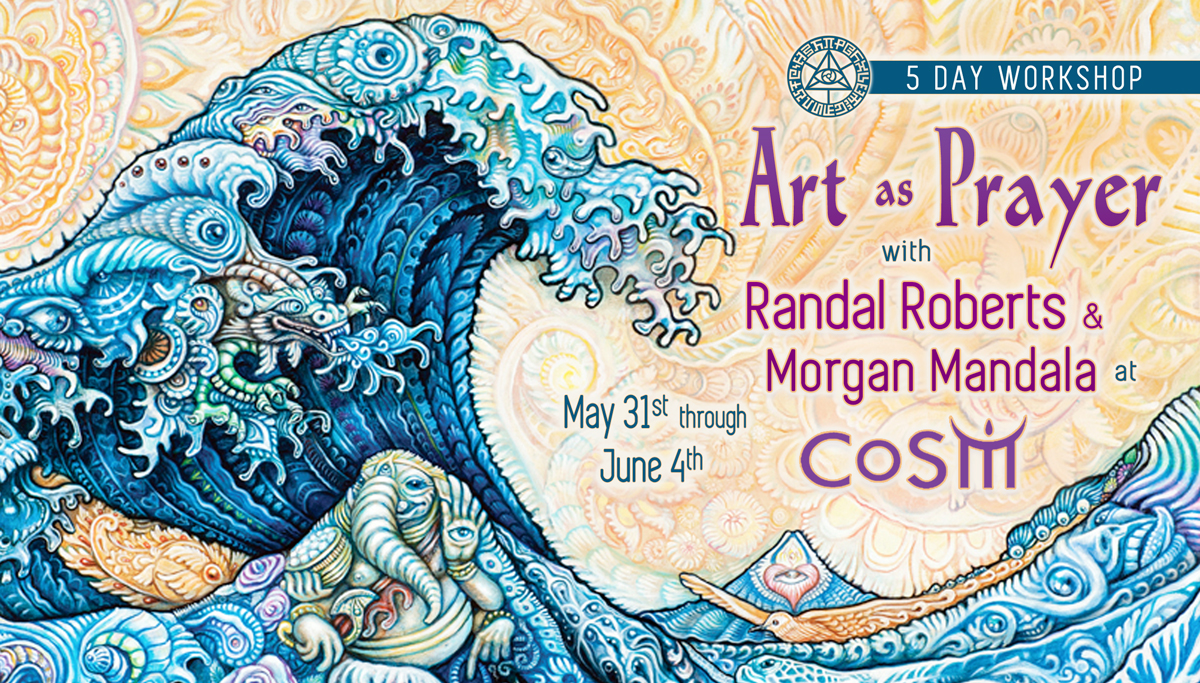 Art As Prayer with Randal Roberts & Morgan Mandala
Art As Prayer with Randal Roberts & Morgan Mandala
Join us in the soothing setting of Alex and Allyson Grey's visionary art sanctuary for a 5-day intensive art & painting workshop!

"Sir Frederic Leighton – Flaming June (Remix)" by Randal Roberts

In this class, we'll look at different ways in which we can experience and express our inner visions with the practice of art. During our 5 days together we will begin and significantly develop 1 – 2 paintings, using acrylic paint & glazing techniques. Painters of all levels of experience are welcome. 
Class will also include drawing exercises, guided meditation, 2-dimensional design, slideshow, art discussion and critique, and open studio.
Participants will be guided technically through the entire painting process –  from using planning and layering to create an authentic and intuitive piece, to completing a painting and presenting our art to the world.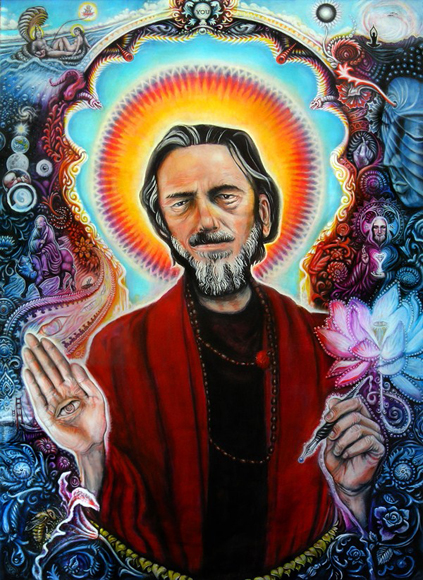 "Portrait of Alan Watts" by Randal Roberts
While students are encouraged to begin a painting during this workshop, you may bring 1 or 2 paintings from home to work on or for individual consultation during open studio hours.  Participants are also welcome to bring a few examples of their own art to share with the class.
Exploring the process of creating art to be present – and being present to create art, we will learn ways to develop our visual language and enhance our inner direction. See you there!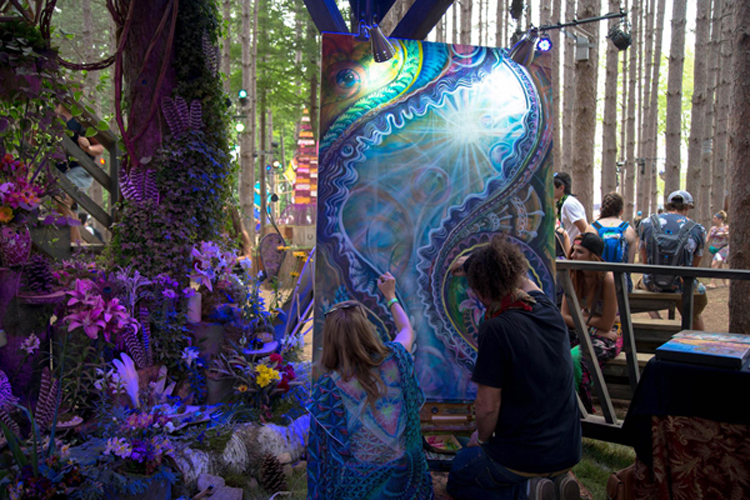 Suggested Materials:
-Paper (11×14 + larger)
-Sketchbook / journal
-1 – 2 stretched & primed canvases (any size from 16" x 20"  –  36" x 36")
-Acrylic paints, brushes, palette, rags, etc  (various colors & sizes, to your personal taste).
-A work-in-progress painting / drawing from home, to work on during open session (if you choose).
-A portfolio and/or finished painting, to share with the group
Drawing tools:
-Pens (recommended), pencils, colored pencils, and kneadable eraser.
Brushes (Recommended): 

-2-4 filberts in assorted sizes
-1-2 small rounds/liners
-1"-2" flat brush for glazes
* All levels of painters welcome
Some materials & colors will be available for shared use.
"Solstice" by Randal Roberts & Morgan Mandala
Event Schedule

Wednesday
2-5pm – Students arrive
6pm – 7pm – Dinner
7:30pm – Opening Slideshow
9:30pm – End of Day
Thursday
10am – 1pm – Session 1
1pm – 2pm – Lunch
2:30pm – 5:30pm – Session 2
6pm – 7pm – Dinner
8pm – Slideshow / Open Studio
12pm – End of Open Studio
Friday
10am-1pm – Session 3
1pm – 2pm – Lunch
2:30pm – 5:30pm – Session 4
6pm – 7pm – Dinner
8pm – Open Studio
12pm – End of Open Studio
Saturday
10am-1pm – Session 5
1pm – 2pm – Lunch
2:30pm – 5:30pm – Session 6
6pm – 7pm – Dinner
8pm – Open Studio
11pm – End of Open Studio
Sunday
10am – 1pm – Last Session
1pm – Lunch
2pm – End of workshop
Randal Roberts
Randal Roberts is an internationally recognized self-taught painter. Having identified as an artist his whole life, at the age of 30 he was inspired to at last quit the factory job to dedicate himself to art full time after meeting Alex and Allyson Grey. After a yearlong soul-searching road trip across the U.S., Randal found a community at the Omega Institute for Holistic Studies, where he lived and worked for seven years.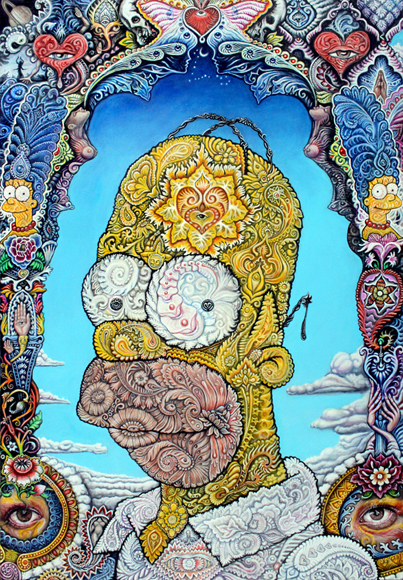 During this time, he began building a body of artwork fusing various wisdom traditions, iconic symbolism, and profound personal experiences and relationships with the flow of ornamental design.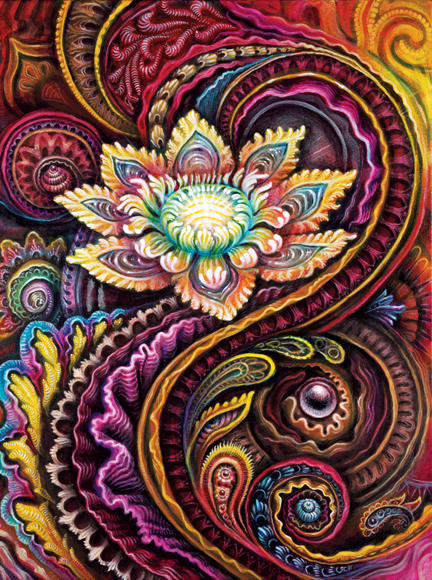 Since then, he has become a celebrated live-performance and studio painter. The organic sensibility and attention to detail in Randal's paintings reveal his intuitive direction to "emphasize what you love about each brushstroke."   He has lived in the beautiful NY Hudson Valley, the beloved San Francisco Bay, and is currently based in Boulder, CO.
Morgan Mandala
Morgan Mandala was born and raised outside of Chicago, Illinois,USA, but has called the front range of Colorado home for a decade.  She is most well-known for live painting, circular canvases, and imagery of fantastic naturalism combined with geometry. Morgan has toured throughout the United States and beyond the borders, teaching, painting, and constantly learning, often in collaboration with artist and partner, Randal Roberts.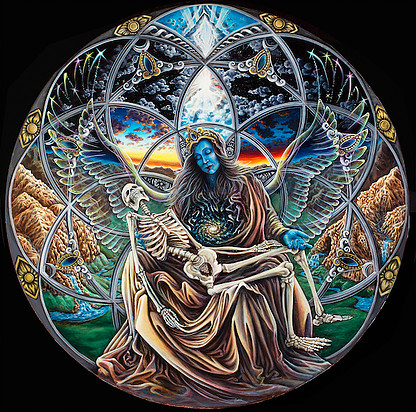 Morgan earned a double BFA in painting and art History with a minor in philosophy at Colorado State University. Her studies sparked her interest in the relationship between art and spirituality, and how this relationship manifests itself throughout global cultures with special interest in shamanism. Many paintings are informed by her world travels, symbolic studies, and experiences with plant medicine.
Randal Roberts & Morgan Mandala live painting at CoSM's Full Moon Gathering.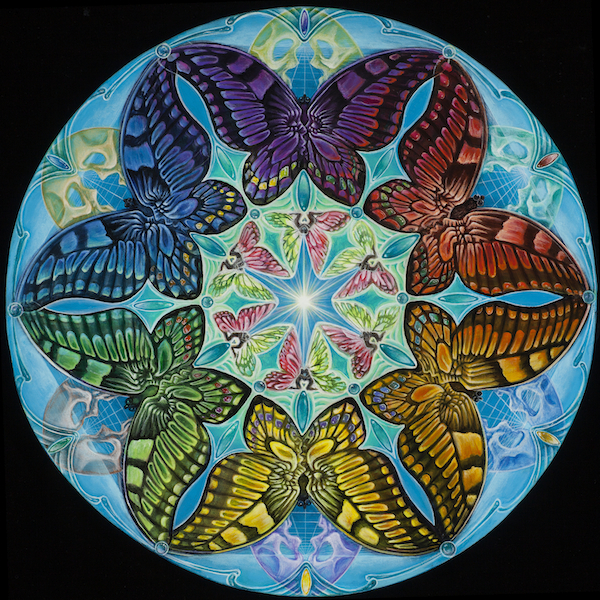 "Metamorphosis" by Morgan Mandala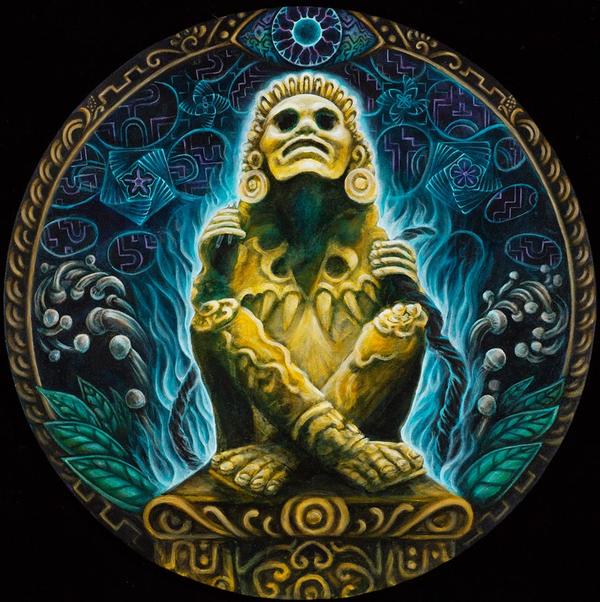 "Xochipili" by Morgan Mandala
Rooms are available for rent in the Grey House, CoSM's fully renovated Visionary Victorian guest house.
For assistance in booking your stay, please call 845-297-2323 ext. 104 or email us at [email protected]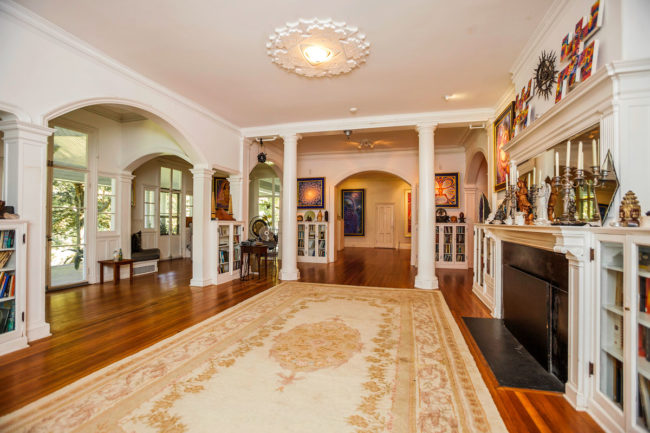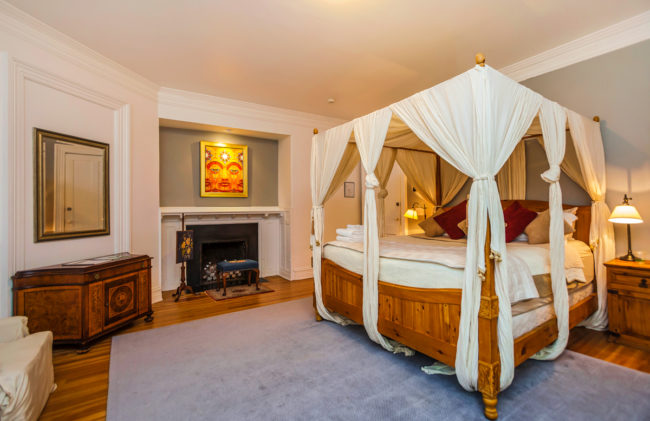 The artwork of Alex Grey & Allyson Grey plus many other visionary artists are on display in the guest house.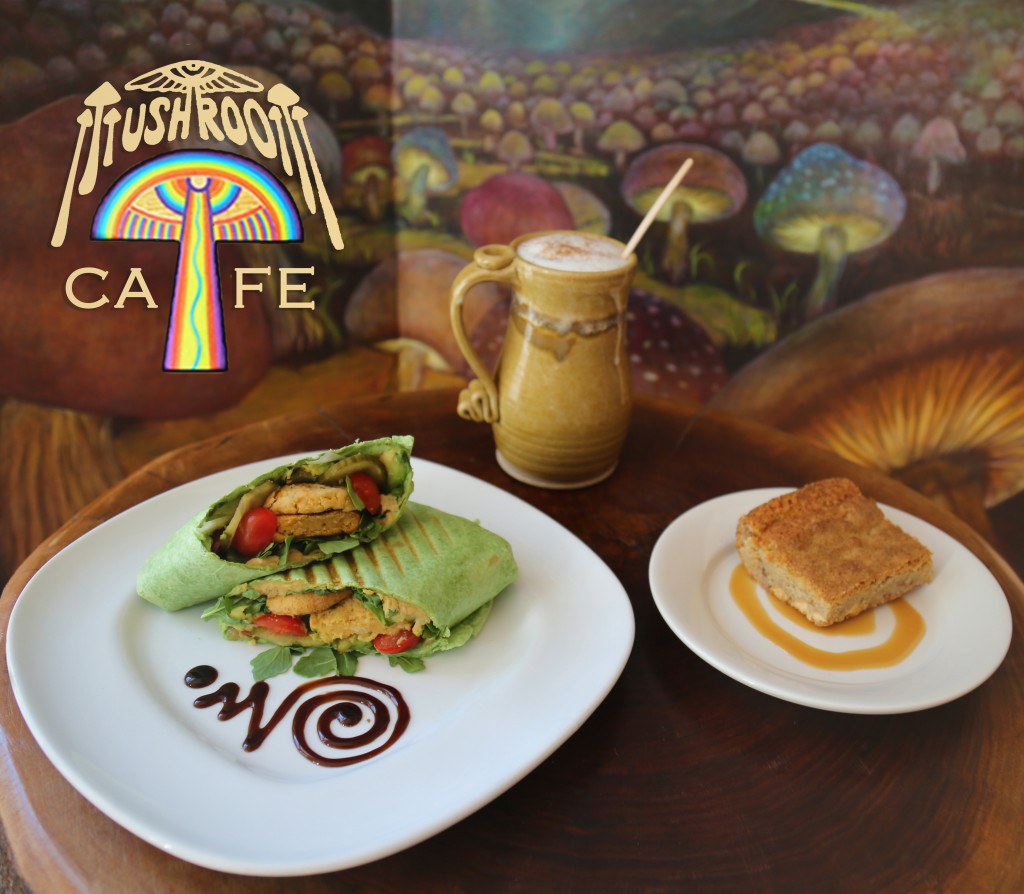 CoSM, Chapel of Sacred Mirrors, 46 Deer Hill Road, Wappingers Falls, NY 12590.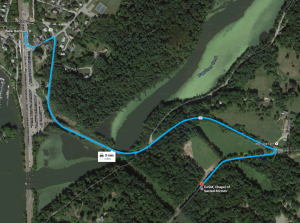 Save
Save
Save
Save