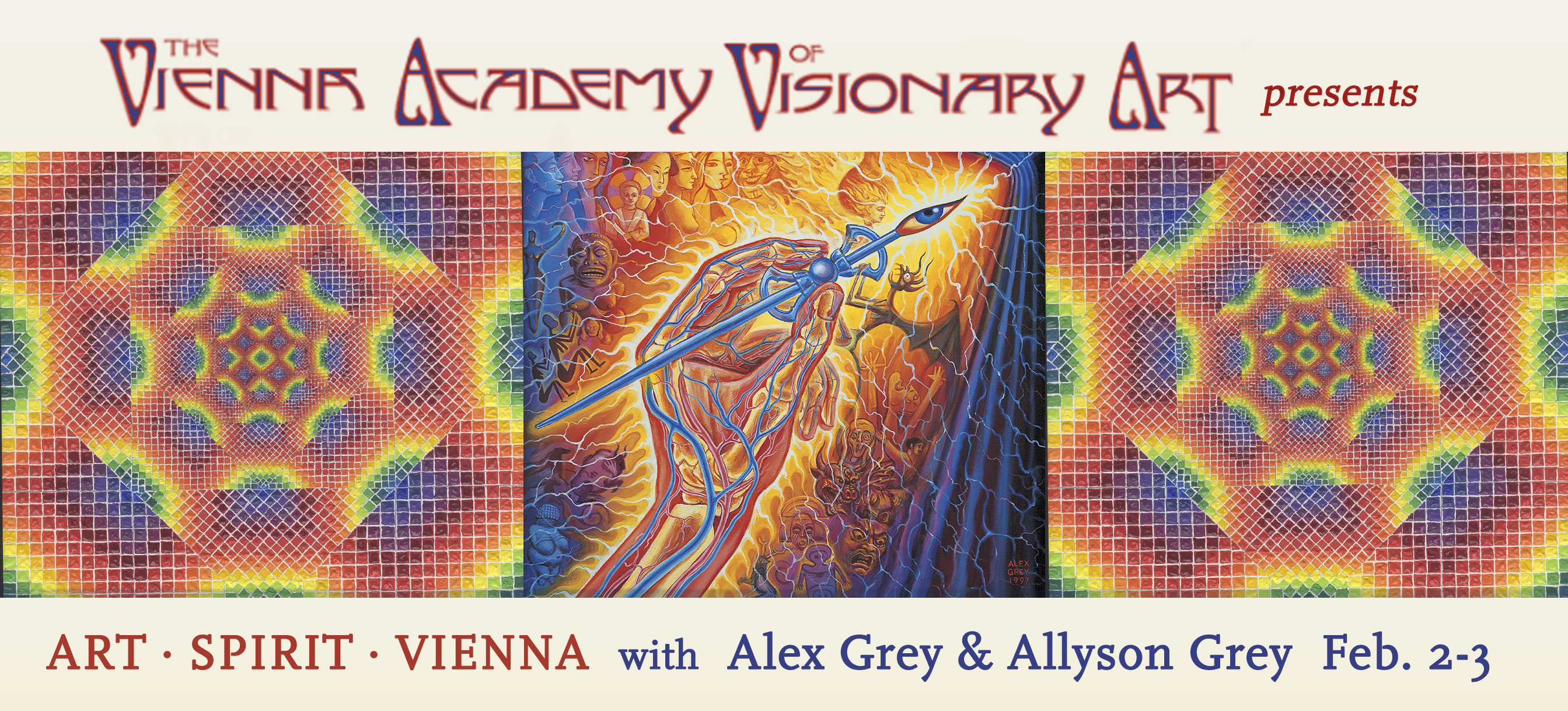 Art Spirit Vienna, at the Vienna Academy of Visionary Art
The Vienna Academy of Visionary Art Presents:Art Spirit Vienna
A 2 Day Intensive with Workshops and Lectures with Alex Grey & Allyson Grey
TUESDAY, FEBRUARY 2ND
10:30am – 5:30pm: VISIONARY ART WORKSHOP
In this workshop, artists at any level of experience create from the sacred ground and the mystic eye. Using guided imagery, meditation, shamanic ascent, we open the doors of the imagination to the theatre of revelation. Utilizing basic materials – graphite, coloured pencils, pastels, and watercolors – we commit mental pictures to paper and discuss the aesthetic dimension of our mystical experiences.
An illustrated talk on the worldwide visionary art movement will prepare us for vision practices, art meditation, and group interaction that empowers the process of realizing our heart's iconography to outer form. Explore art as a spiritual path with Alex & Allyson.
7:30 – 9:30pm: ENTHEOGENERATION
Public talk by Alex Grey & Allyson Grey
The human urge to achieve altered states of consciousness through the ingestion of sacramental, mind-expanding substances is as old as history itself, from the cradles of Eastern and Western civilizations to contemporary trance and neo-shamanic subcultures. Through plant medicines and chemical epiphanies, the drive to risk hell to experience heaven has been unfolding into a modern day spiritual movement. In this presentation, Alex & Allyson will trace these generations of God seekers, offering us extraordinary visual illustrations of their inner journeys, including glimpses of their own art and of other exponents of this emerging visionary culture.
WEDNESDAY FEBRUARY 3RD
10:30am – 5:30pm: BODY & SOUL DRAWING RITUAL
Many of us have felt and seen the glow of the life force around and through our bodies. As artists, we are the scintilla of universal force of creativity. In alignment with the natural flow we connect with our own unique vision and manifest the images born of our essence. The practice of drawing the light body can be deeply purifying.

The Body & Soul Drawing Ritual begins with a talk on the Subtle Body, the Energy Body, the Light Body and how invisible natural forces have been portrayed by artists of the past as well as Visionary artists of today. Introductory instruction is then offered on proportions, technique, and composition. 

Then, sharpen your drawing skills as you open your third eye to glimpse and portray the subtle energies of the light body. A series of vision practices, one before each chakra drawing, stimulates our imagination in contemplating the interplay of body and soul.
Seven drawings will be inspired by gazing at a beautiful live-model yogini. Initiating each chakra drawing, our attention will focus on one of the seven centers of spiritual power in the body. A guided visualization preceding each drawing will illuminate the rich meaning of that vortex of consciousness associated with a particular energy site on the body's central channel. Music resonant with each chakra accompanies the silent drawing meditation. In 30 minute poses, drawings will interlace a sense of the subtle chakra centers and aura, manifesting touchstones of harmonic integration of psyche and soma.
Turn on your light body!

Attune to the presence of the human aura in relation to the flesh.
7:30 – 9:30pm: SACRAMENTAL CULTURE & VISIONARY ART
Public Talk and Round Table

In many traditional cultures, sacred & healing visions are sought through plant-based sacraments, while Western Culture has yet to integrate this practice. After a presentation by Laurence Caruana on The Role of Entheogens in the Creation of Visionary Art, Alex & Allyson Grey will be joined by the artists Ihti Anderson & Mark Lee in a Round Table Discussion on Sacramental Culture in Visionary Art, moderated by Academy Director Laurence Caruana.
ALL INCLUSIVE PRICE FOR THE 2 DAY INTENSIVE OF WORKSHOPS & LECTURES: €249
The price includes 2 days of worskhops with Alex Grey and Allyson Grey plus 2 evenings of lectures
The evening lectures are open to the public: €10 oper person per lecture.
Register here via Paypal :http://academyofvisionaryart.com/programmes/enrollment-2015-16#seminar

Or contact Florence Ménard at [email protected]rt.com to pay by bank transfer.