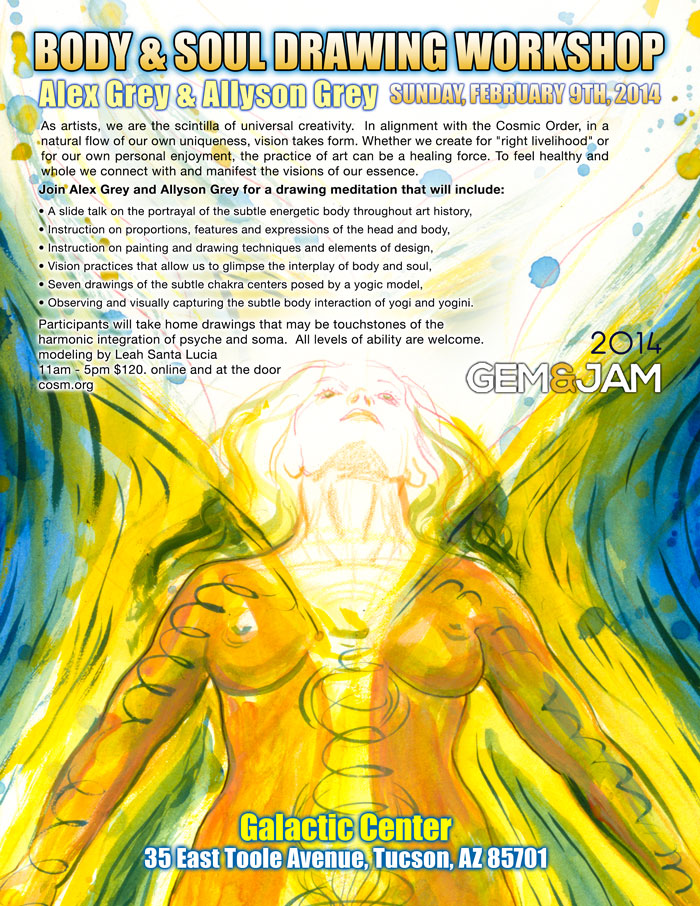 Body & Soul Drawing Workshop
Turn on your light body. Attune yourself to the presence
of the human aura in relation to the flesh.
As artists, we are the scintilla of universal creativity.  In alignment with the Cosmic Order,
in a natural flow of our own uniqueness, vision takes form. Whether we create for "right livelihood"
or for our own personal enjoyment, the practice of art can be a healing force.
To feel healthy and whole we connect with and manifest the visions of our essence.
Join Alex Grey and Allyson Grey for a drawing meditation that will include:
• A slide talk on the portrayal of the subtle energetic body throughout art history,
• Instruction on proportions, features and expressions of the head and body,
• Instruction on painting and drawing techniques and elements of design,
• Vision practices that allow us to glimpse the interplay of body and soul,
• Seven drawings of the subtle chakra centers posed by a yogic model,
• Observing and visually capturing the subtle body interaction of yogi and yogini.
Participants will take home drawings that may be touchstones of the
harmonic integration of psyche and soma.  All levels of ability are welcome.
Materials list:
Pencils and pens for drawing
graphite pencils — 2B, 3B, 4B, HB  (a few or all)
Colored pencils — 20 or  more colors
Kneadable eraser and other preferred types
Pencil sharpener
Drawing pad with heavy paper — 11″ x 14″
Watercolor block (optional but recommended)
Watercolor or acrylic paint set (optional but recommended)
Good quality watercolor brushes of various sizes
Easel (optional) — work tables will be available. Bring a travel easel, if you need one.
Students are encouraged to use the best quality material they can afford.