Friday Nights at CoSM: Clear Light Ensemble

CoSM's Grey House, Cafe, and Shop will be open for extended hours from 6-11 PM on August 25th. This Friday Night features special musical guest, Clear Light Ensemble, performing live in concert. Enjoy our extensive library of books on mysticism and the arts, sip and snack in the parlor, and contemplate paintings and sculpture throughout the house and grounds. Bring a friend or two, and some art supplies for the most enjoyment.

Clear Light Ensemble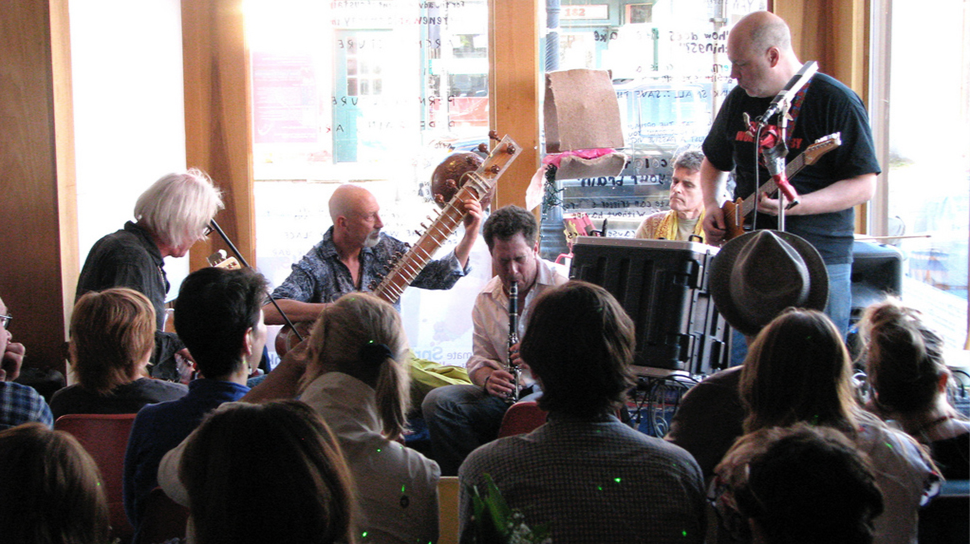 The Clear Light Ensemble is an improvisational musical collaboration loosely based on North Indian Classical Raga forms as a "point of departure", freely incorporating any and all very diverse musical forms including jazz rock, classical folk, avant guard, etc."
Clear Light musicians don't "plan" or discuss their musical expressions, they operate on a deep sense of trust that there exists a statement from the divine waiting to be born at any moment, with every audience.   Imagine yourself in a pique Grateful Dead improv moment, Miles Silent Way Genesis, or surrendering to an Ali Akbar Khan epiphany, and you will find yourself treading in Clear Light.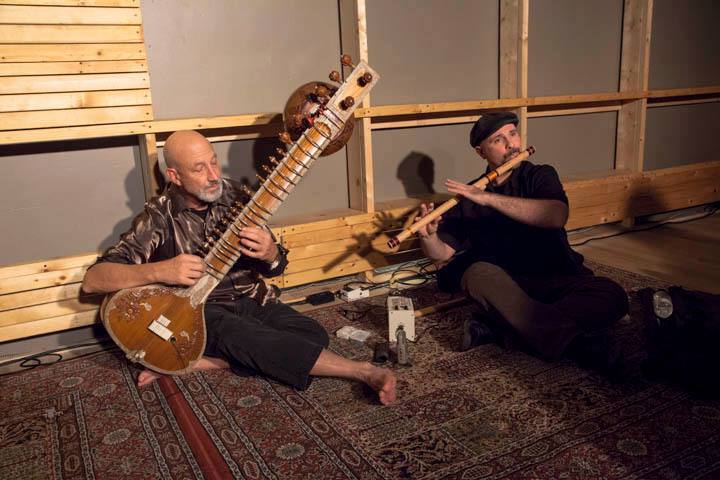 John Carl Dubberstein – Sitar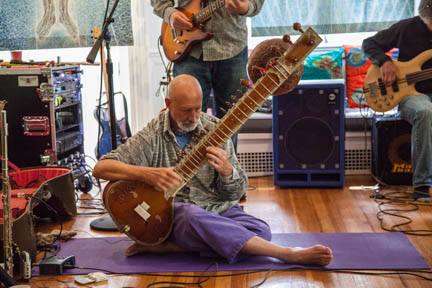 John started playing the sitar while living in India during the 1970s, his primary teacher being Harihar Rao.   He continued his study of the instrument at the Ali Akbar College of Music in Berkeley, and has now been playing for over 40 years.  His Clear Light Ensemble weaves musical compositions grounded in classical raga scales and has featured collaborations with a variety of prominent luminaries.
John has also played the electric and acoustic guitar for forty years.  He has had a number of blues and rock bands, including Jaguar Memory Loss, Blind Pig, and the Bad Boys Blues Band.
On breezy days you will find him windsurfing the mighty Hudson River, as he currently resides in Beacon, NY.
Craig Hazen – Bass Guitar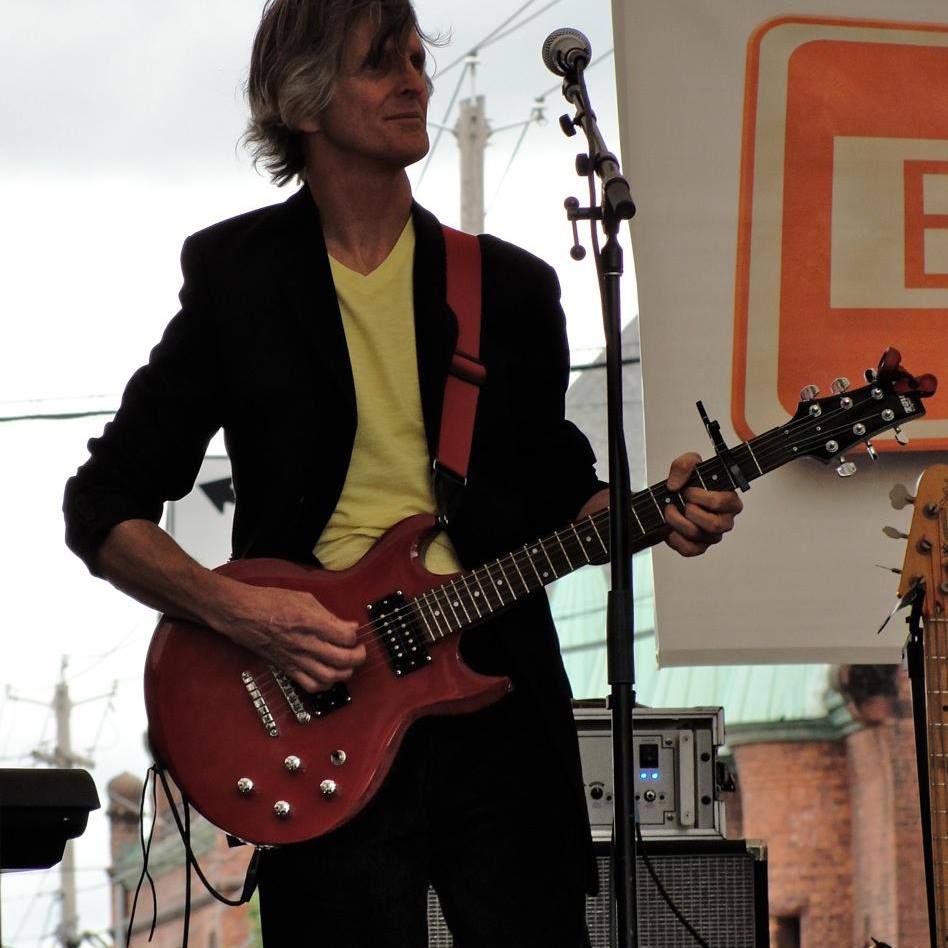 Craig writes and produces music for films. His scores include Academy Award winning director Leon Gast's "Smash His Camera", which received the Sundance 2010 Grand Jury Award, "Double Parked", a winner of Best Picture at the SlamDance Awards, "Speed for Thespians", which was nominated for an Academy Award in the Best Short Film category, and " Independent Spirits", a documentary about animation artists, John & Faith Hubley, made for PBS.  He composed the Theme for the Nickelodeon TV series, "The Animorphs".
Craig received his undergraduate degree in Music from Brown University and a MfA in Music Composition from Mills College, where he studied and worked with Terry Riley and Robert Ashley.  Awards have included NEA grants and commissions.
Craig, while the co-owner of ZEN Music in NYC, CO-wrote and produced the music for several trend-setting commercials and has received most of the major awards in advertising, including 2 Clios and an Emmy nomination. His work has included campaigns for Wendy's, AT&T, Hallmark, Lincoln Mercury, Doctor Pepper, New York Telephone (amongst many others).  He has worked with major recording artists including Rod Stewart, Ronnie Spector, The Four Tops, David Johansen, Squeeze, etc.
He now resides, composes and plays bass in Bearsville, NY.
Scott Beall – Guitarist/composer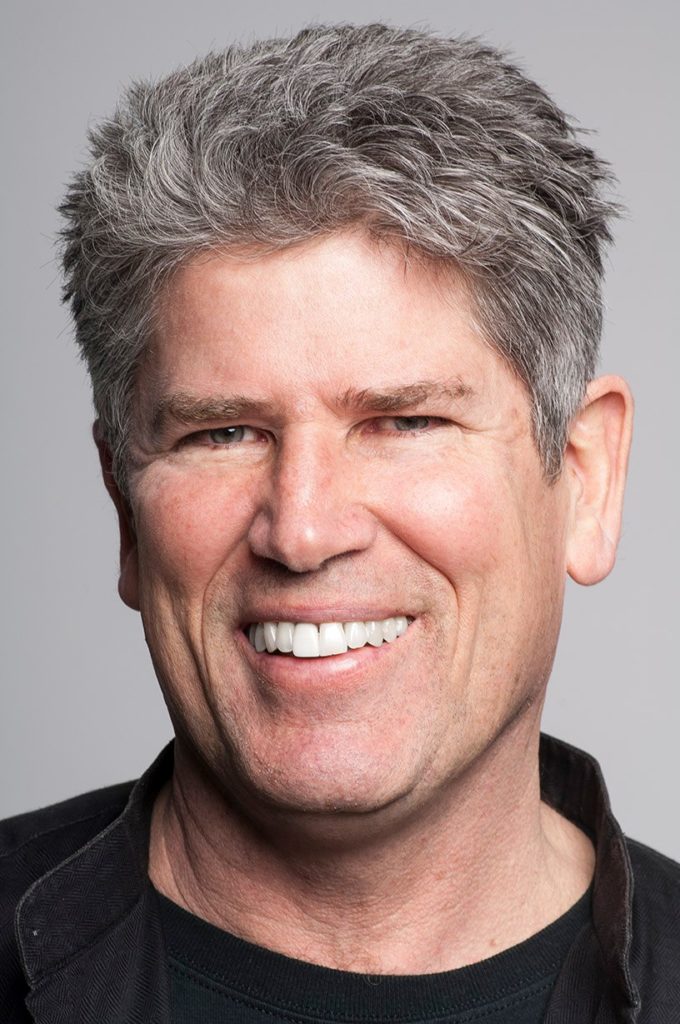 Scott began his musical career in the San Francisco Bay Area, performing at most major concert halls, theaters and recording studios. He has backed up such artists as John Hendricks and Cal Tjader, and shared the stage with Huey Lewis, The Tubes, Billy Idol, Stevie Ray Vaughn, Johnny Winter and many others. Scott also worked as producer and guitarist for Hot Spoons Productions gracing countless recordings in studio sessions with top Bay Area musicians.  Moving to New York 2000 Scott teamed with James Cammack from the Ahmad Jamal Trio and in 2010 released his solo CD of original compositions, "Out To Play" and has opened for the likes of Robben Ford and Mike Stern. He received his BA degree in music composition from San Francisco State University and is also a teacher, university professor, education consultant and author. His first book, Functional Melodies is a curriculum combining music with mathematics and was published by Key Curriculum Press in 2000.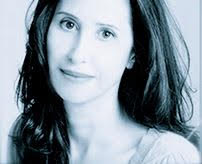 Alice Andrews teaches psychology and evolutionary studies at SUNY New Paltz. In addition to singing with Clear Light Ensemble from time to time, Alice recently formed The Hudson Valley Vocal Improv Collective. She has sung with Gaiatree Sound Project and did backup vocals on Sri Kirtan srikirtan.com and Radharani's radharaniwali.com latest albums — as well as on Baba Brinkman's upcoming Rap Guide to Consciousness. Alice also has a passion for the rights of nature; as environmental conservation commissioner in her village, she helped to pass laws banning pesticides, as well founded the groups Mothers & Others United to Shut Down Indian Point and Beyond Pesticides in Ulster County. She currently serves on the Village of New Paltz Board of Ethics and was recently endorsed by the Humanist Society as a Humanist Chaplain. She's the author of Trine Erotic (Codhill Press) and her latest project is Sacred Naturalism.
David Rothenberg – Clarinet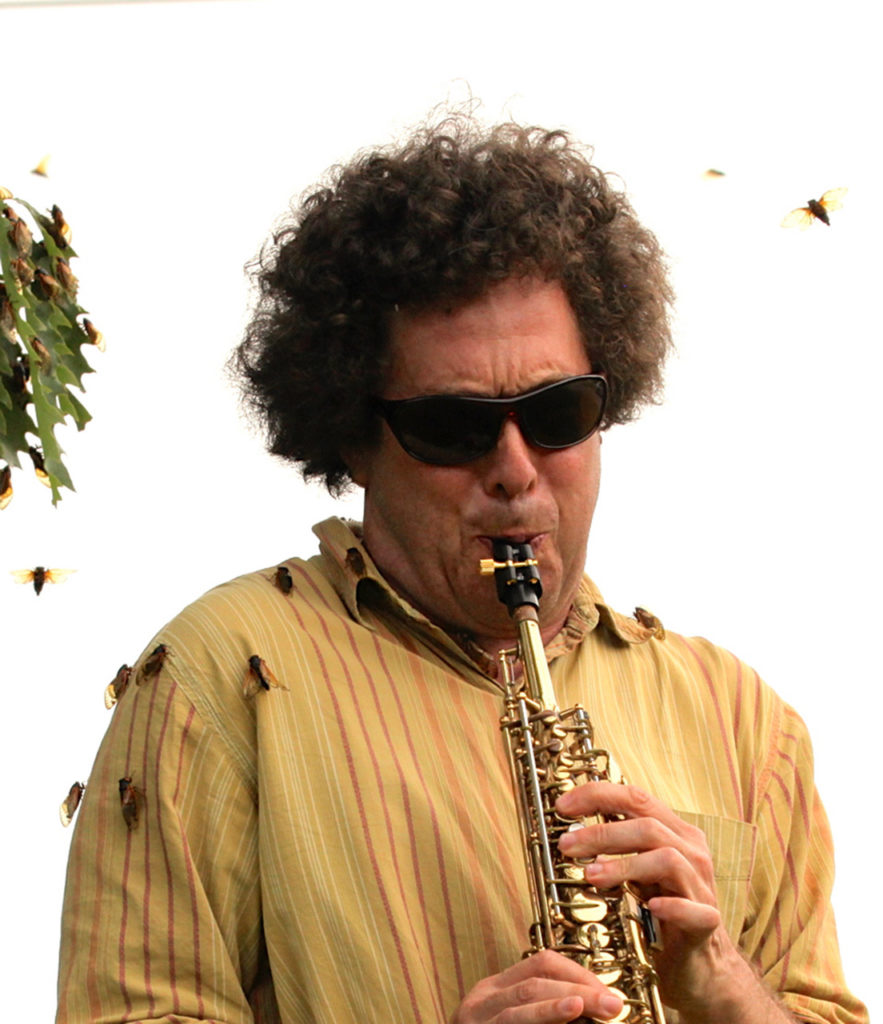 As a composer and jazz clarinetist, Rothenberg has eleven CDs out under his own name, including On the Cliffs of the Heart, named one of the top ten CDs by Jazziz Magazine in 1995 and a record on ECM with Marilyn Crispell, One Dark Night I Left My Silent House.  Other releases include Why Birds Sing and Whale Music.  He invited many musical colleagues to join him on Whale Music Remixed, with contributions from noted electronic artists such as Scanner, DJ Spooky, Lukas Ligeti, Mira Calix, Ben Neill, and Robert Rich.  His 2014 CD features Pauline Oliveros and Timothy Hill, called Cicada Dream Band.  His latest CD featuring live performances with nightingales is Berlin Bülbül, made together with Korhan Erel.  David Rothenberg is Professor of Philosophy and Music at the New Jersey Institute of Technology, which has encouraged and supported all of his creative projects since 1992.
Stephen Franchino – Flute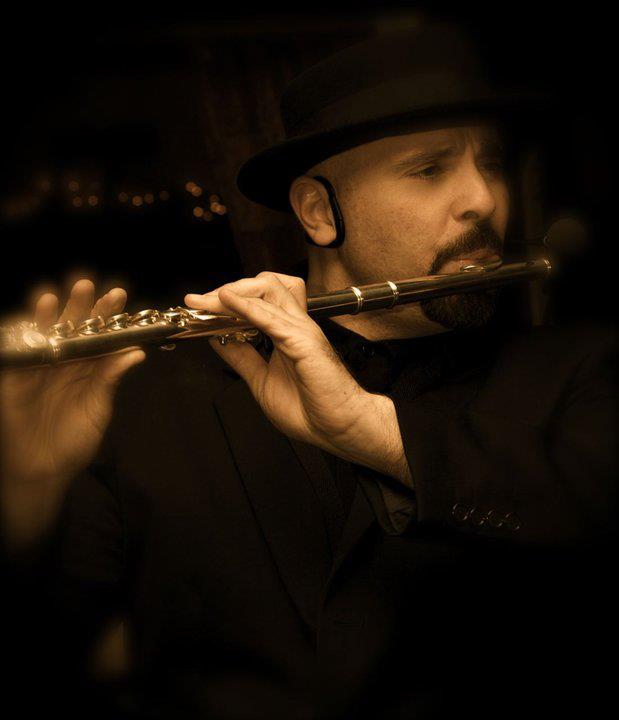 Stephen Franchino has been a musician most of his life. He began guitar lessons at a early age, and quickly moved to the bass. Influenced by jazz, world music, and progressive rock, he has performed in many different styles and genres. In 1997 he became interested in woodwind instruments from around the world, and has been performing primarily on the flute ever since.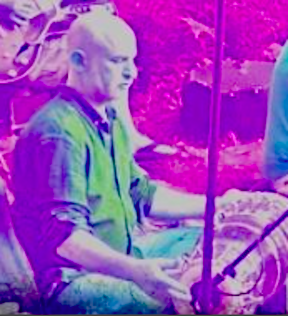 Ami began playing the Indian percussive instrument known as Mrdungam in the mid-eighties while leading long kirtans for large groups of chanters. He currently plays nylon and electric guitars in a local jazz/pop outfit called Strangers in a Strange Band, and he adds texture and rhythym to Clear Light's performances using both twelve-string guitar and Mrdungam. Ami likes music. He hopes you do, too.
Dinner at CoSM
Enjoy your Friday night dinner at CoSM; a delicious, healthy meal prepared by the house chef. Vegan and vegetarian options available.
RSVP —
Reserve a meal ticket in advance.
See ticket link at top of page.
Schedule
12:00pm
– CoSM open to visitors
6:00 pm
– Dinner
8:00 pm
– Clear Light Ensemble performance begins
11:00 pm
– CoSM closes
Bring your own art supplies for the most enjoyment.
A sketch book and colored pencils, pens or a watercolor set is plenty.
Paper and markers are available.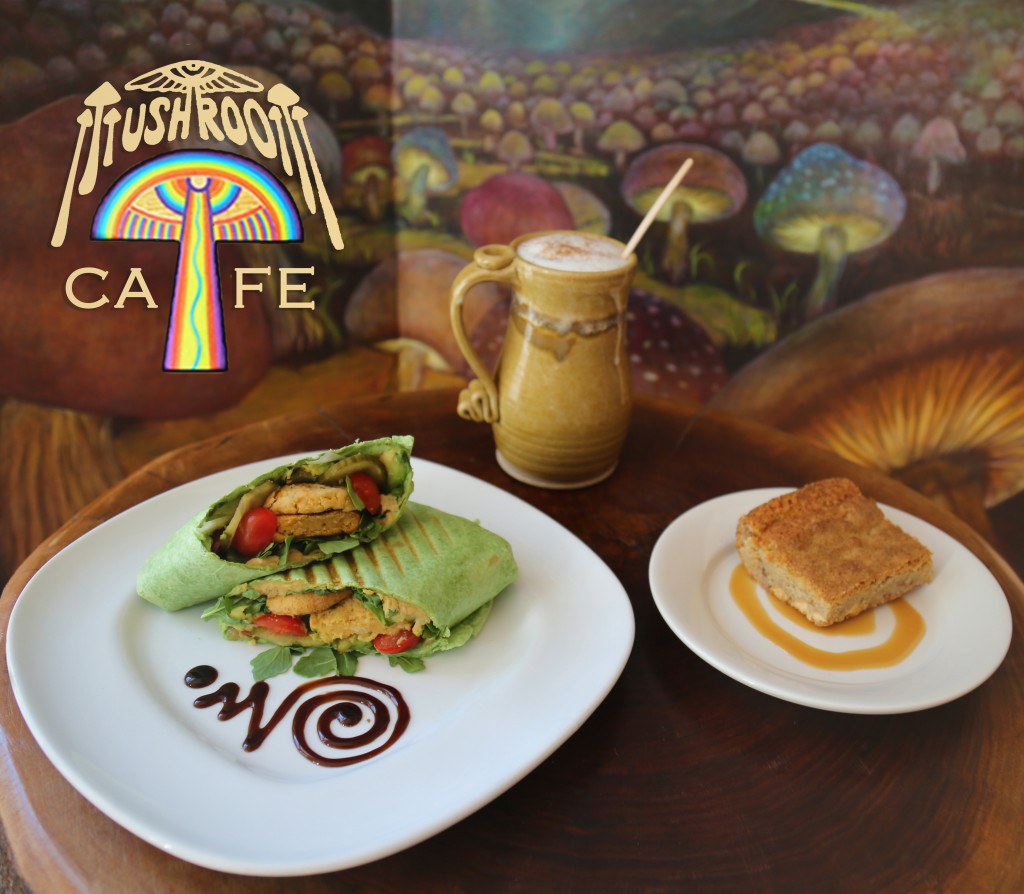 Rooms are available for rent in the Grey House, CoSM's fully renovated Visionary Victorian guest house.
For assistance in booking your stay, please call 845-297-2323 ext. 104 or email us at [email protected]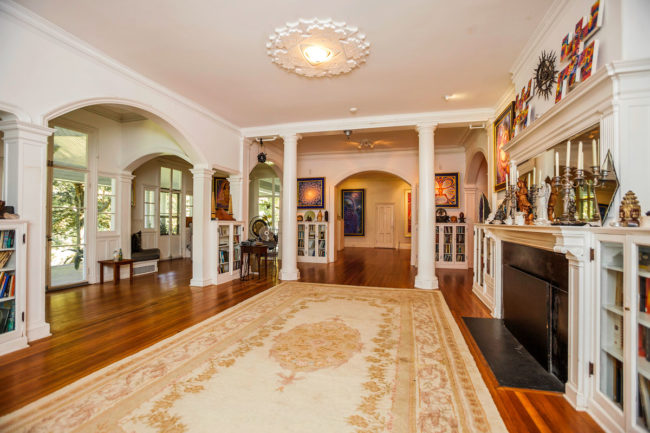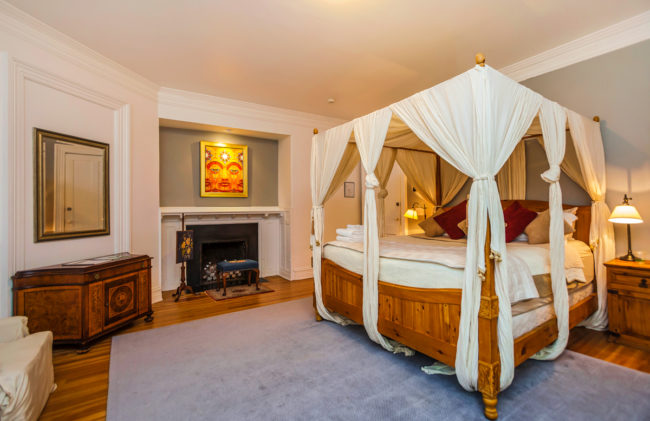 The artwork of Alex Grey & Allyson Grey plus many other visionary artists are on display in the guest house.
CoSM, Chapel of Sacred Mirrors, 46 Deer Hill Road, Wappingers Falls, NY 12590.