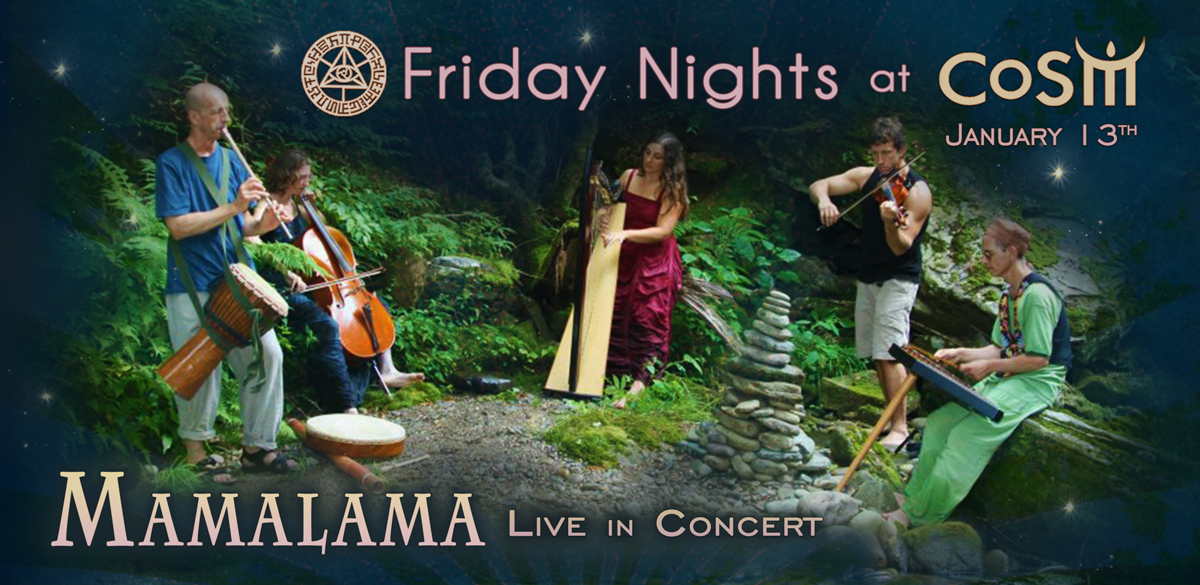 Friday Nights at CoSM: Mamalama Live in Concert
Friday Nights at CoSM:
Mamalama Live in Concert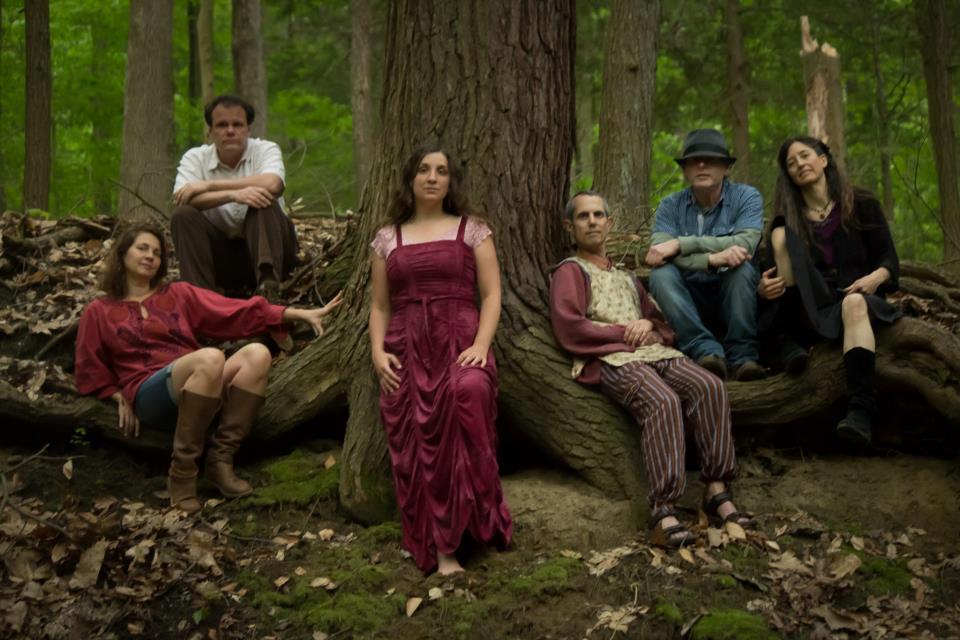 Schedule
12pm – CoSM open to the public
6pm – Dinner (register below)
8pm – Music Performance by Mamalama
10pm – Event ends
11pm – CoSM closed

CoSM's Grey House, Cafe, and Shop will be open for extended hours from 6-11 PM on January 13th. This Friday Night features special musical guest, Mamalama, performing live in concert from 8pm – 10pm. Enjoy our extensive library of books on mysticism and the arts, sip and snack in the parlor, and contemplate paintings and sculpture throughout the house and grounds. Bring a friend or two, and some art supplies for the most enjoyment.
Dinner at CoSM
Enjoy your Friday night dinner at CoSM; a delicious, healthy meal prepared by the house chef. Vegan and vegetarian options available. Secure a meal ticket now!
Mamalama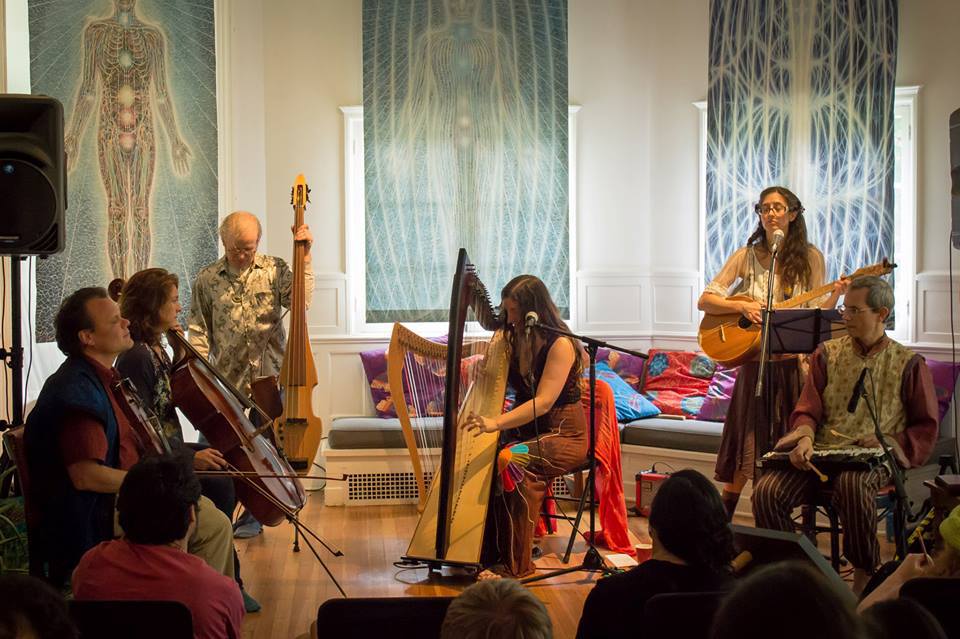 Mamalama is an uncommon orchestration of harp and ethereal voice, cello, violin, hammered dulcimer, upright bass, piano, french horn, and choral voices. A listening experience that has been described as "like walking into a dream." Mamalama seamlessly weaves together world music (Native American, Middle Eastern, Celtic), classical minimalism, early/sacred/renaissance, psychedelia, indie-chamber music, and vivid lyrical mysticism. Listeners often recall the music of Philip Glass and Kate Bush, with undertones of Hildegard of Bingen and early polyphonic music.
Mamalama has put out three albums: Willows and Waves (2010), The World of Color and Light (2012), and Live at The Old Dutch Church (2016). The albums may be streamed and/or bought on Spotify, iTunes and Bandcamp.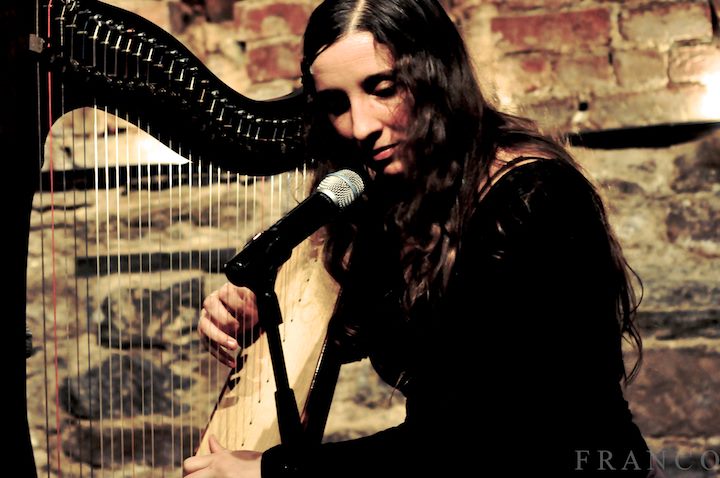 Elizabeth Clark is the harpist/vocalist/songwriter for the band Mamalama. She has been steeped in the music of many different cultures through her world travels and apprenticeships, especially the music of modern and ancient Europe (sacred, medieval, renaissance, Celtic, Greek, Calabrian, classical), the traditional music of Native North and South American indigenous people (Algonquin, Lakota, Inca), West African music, various American pop/folk/roots songwriters, and modern orchestral composers. Her formal studies include music composition at SUNY Purchase Conservatory of Music, and monastic music studies in a "Contemplative Musicianship" through the "Chalice of Repose Project" with Therese Shroeder-Sheker (world-renowned harpist and founder of the Music Thanatology field, i.e. music for the dying). Elizabeth currently composes and performs her music throughout the Northeastern United States. She is also a mother and a music teacher.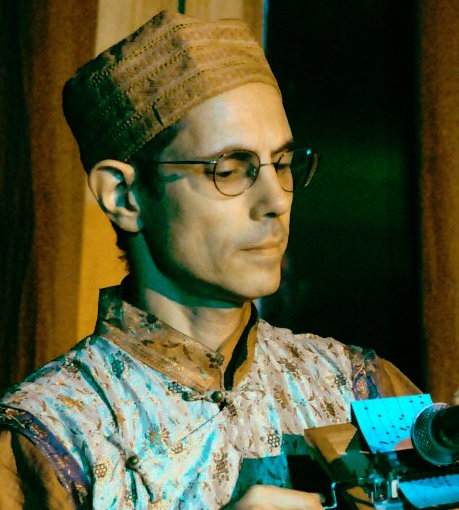 Henry Lowengard is the dulcimer hammerer, melodica blower, tenor recorder player, and glockenspieler for the band Mamalama. He is mostly known musically as a computer music programmer and performer (RGS, LYR, BITE, Monkey) on Amigas in the 80s and 90s, now on iPhones and related devices with SrutiBox, Droneo, Tondo, synthicity itself and others). He was also a singer with the Loser's Lounge and the Empty Orchestra Cafe in NYC, an experimental autoharpist, and performer / composer with the American Festival of Microtonal Music. He's been playing hammered dulcimer since 1985, tenor recorder since 1973. His droning iPhone apps are featured in Pauline Oliveros's "Droniphonia(2009)."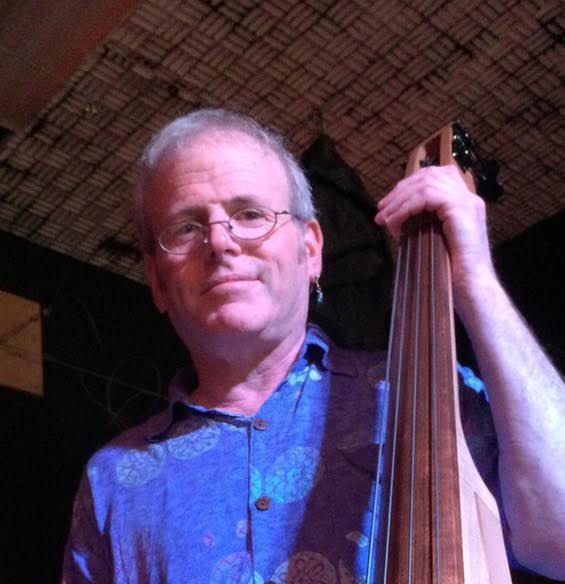 Rusty Boris plays upright bass for Mamalama, but also can bee seen playing bass guitar and guitar. Rusty is a skilled improviser and instrumental performer in many styles, including: blues, rock (classic, old-time, and alternative), jazz (both restricted and free), funk, reggae, bluegrass, folk, country, new age, and styles are too many adjectives. He has recorded parts on many recording sessions, and also performs live throughout the region with a variety of musicians of acclaim.
Rusty has studied at Berklee College of music, School of Contemporary Music, and has a BA from the Evergreen State College with a major in music composition recording / studio production.
Eric Ortner has been performing on the violin for over thirty years.  He moved to New York's Hudson Valley region in 2001 and has been performing and recording with various groups and musicians in the region ever since. One of the most prominent ensembles Eric has been affiliated with is St. Marks Consort, with whom Eric Ortner performed for five years. This group has functioned as the house band at the New York Renaissance Fair in various incarnations for the past 25 years. While in St. Marks Consort, Eric was recorded on two CDs released by iWaz music. He was a member of The Hudson River Folk Symphony in 2009 and placed in The Times Herald Record's 2010 Best of the Hudson Valley for Chamber Music Experience of the year. Eric performs in multiple styles of music including classical, rock, blues, jazz, country and bluegrass. He does not limit himself to violin, but considers himself a specialist in string instruments in general. He has performed and recorded on guitar, bass guitar, mandolin, Baglama Saz (Turkish long neck lute) and Bazouki (Greek long neck lute). He has also studied brass instruments and can play French horn and trumpet.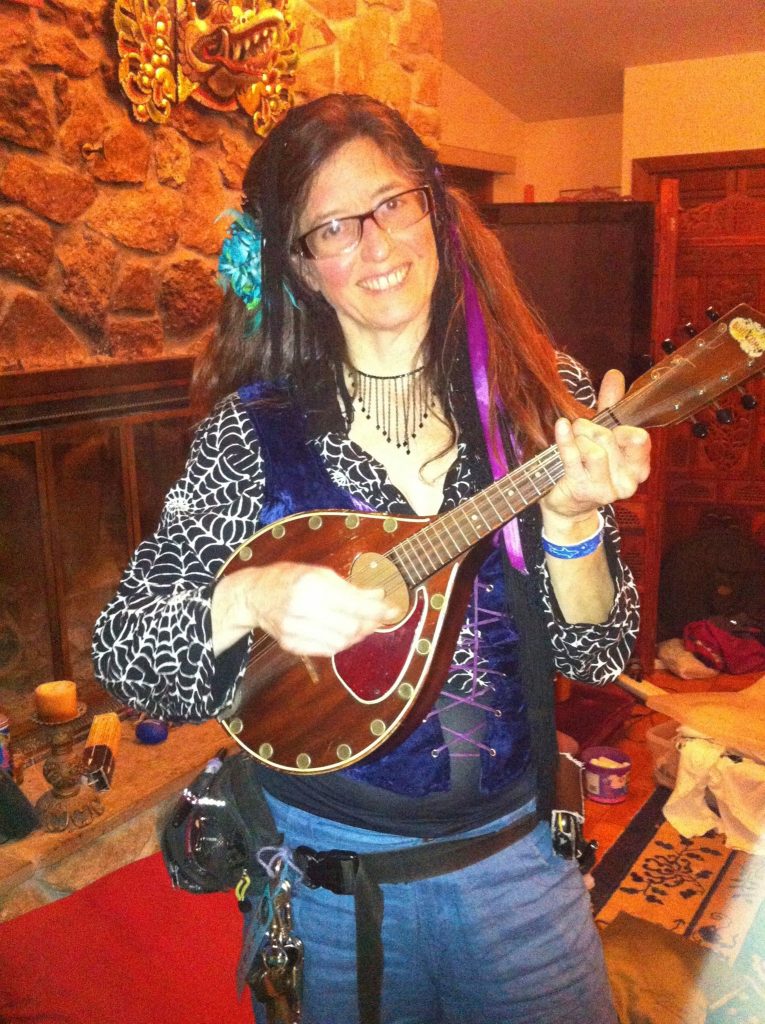 Since the early 1980s, Annie Roland has been performing her original music as well as traditional European ballads and contemporary pieces. She has applied the classical training of her soprano voice into a unique style which is at times trance-like and often ethereal in nature. In an extended partnership with singer Carrie Chapman, she has most often performed as the duo Barely Lace. When in its full incarnation, Barely Lace is blessed with Alan Thompson on percussion and Rusty Boris on bass. Barely Lace is the name of a character in a friend's dream who resided in a realm between worlds, lending guidance and protection to worthy beings passing through.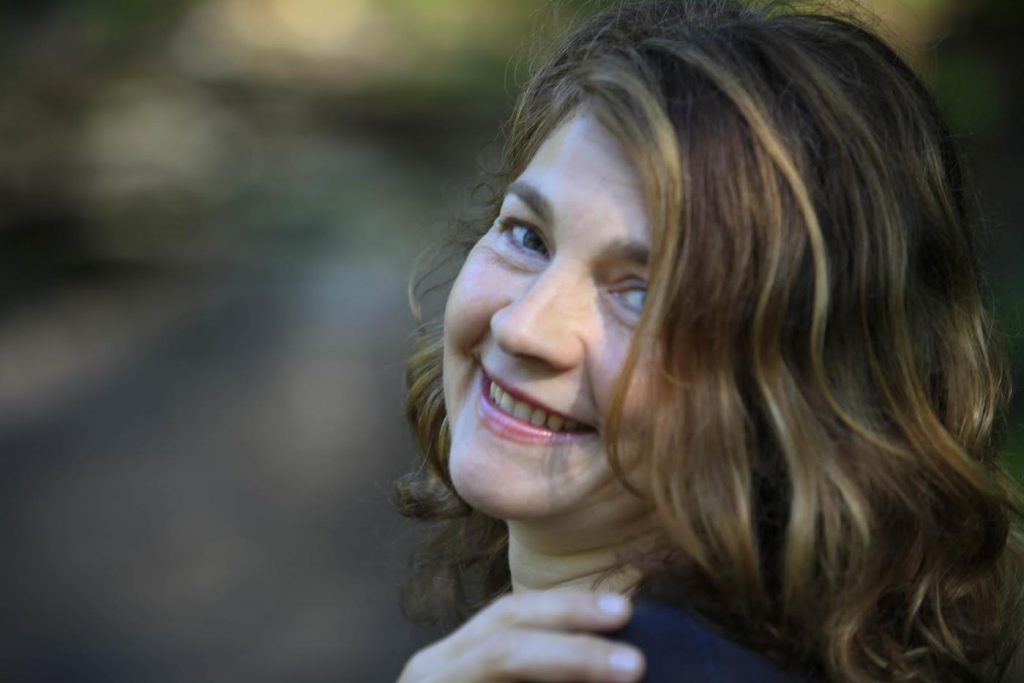 Cornelia Logan began playing cello when she was nine years old. She grew up in a creative Waldorf environment, with a musician (piano) father\teacher, where singing and music making together were common place. Cornelia studied music and voice at Emerson College in England, where upon completion of the program the students traveled to sacred sites throughout England and performed in spaces that were designed acoustically to carry sound without amplification.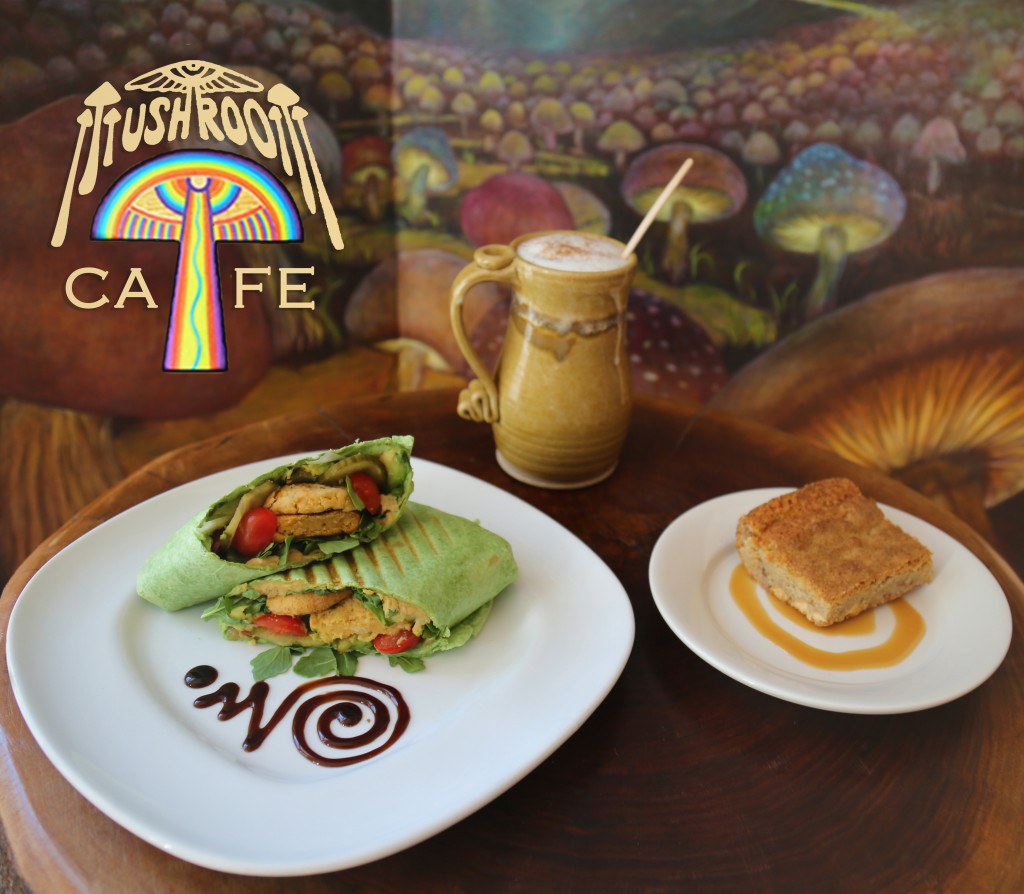 Rooms are available for rent in the Grey House, CoSM's fully renovated Visionary Victorian guest house.
For assistance in booking your stay, please call 845-297-2323 ext. 104 or email us at [email protected]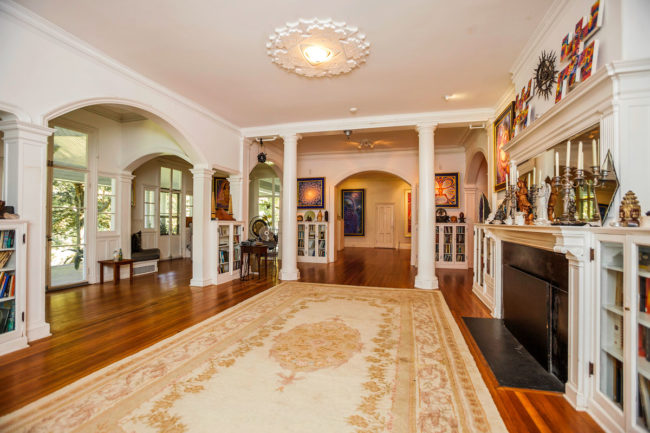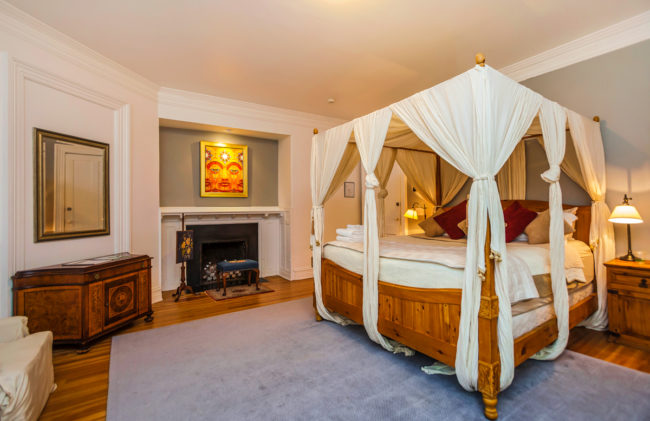 The artwork of Alex Grey & Allyson Grey plus many other visionary artists are on display in the guest house.
CoSM, Chapel of Sacred Mirrors, 46 Deer Hill Road, Wappingers Falls, NY 12590.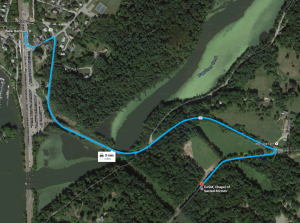 Save
Save