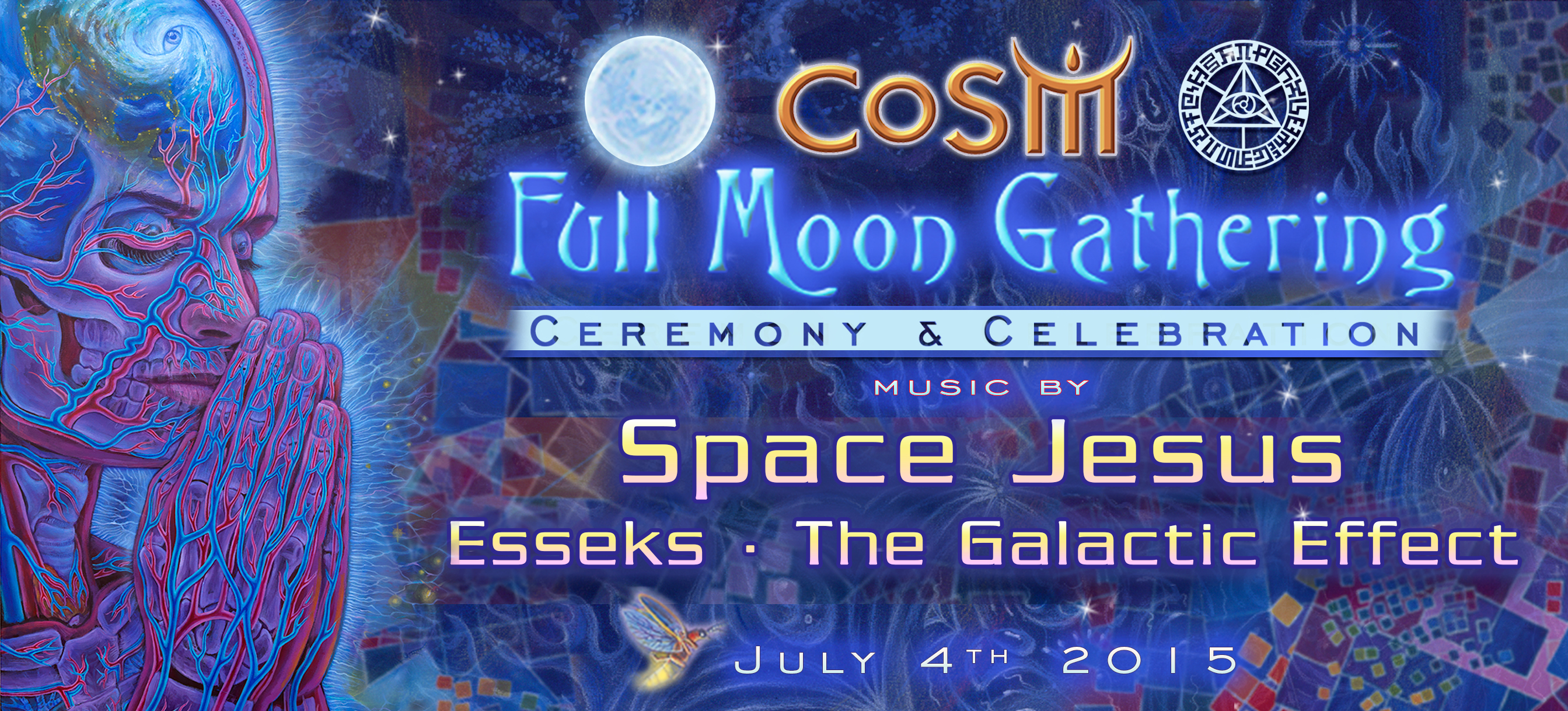 3:00 – 6:00pm – Full Moon Workshop:
Tuning the Universe: Cymatics and the Cosmometry of Music
7:00 pm - Doors Open
7:30 pm - Full Moon Ceremony
9:00 pm - End of Ceremony
9:30 pm - Music, Live Painting, Tarot Readings, Tea Lounge, Supportraits & more.
12:00 am - CoSM Closes
10am Yoga Sundays with Shipra Saraogi
1pm – Art Church – Sacred Architecture with Alex & Allyson Grey
With Your Hosts:
Alex Grey & Allyson Grey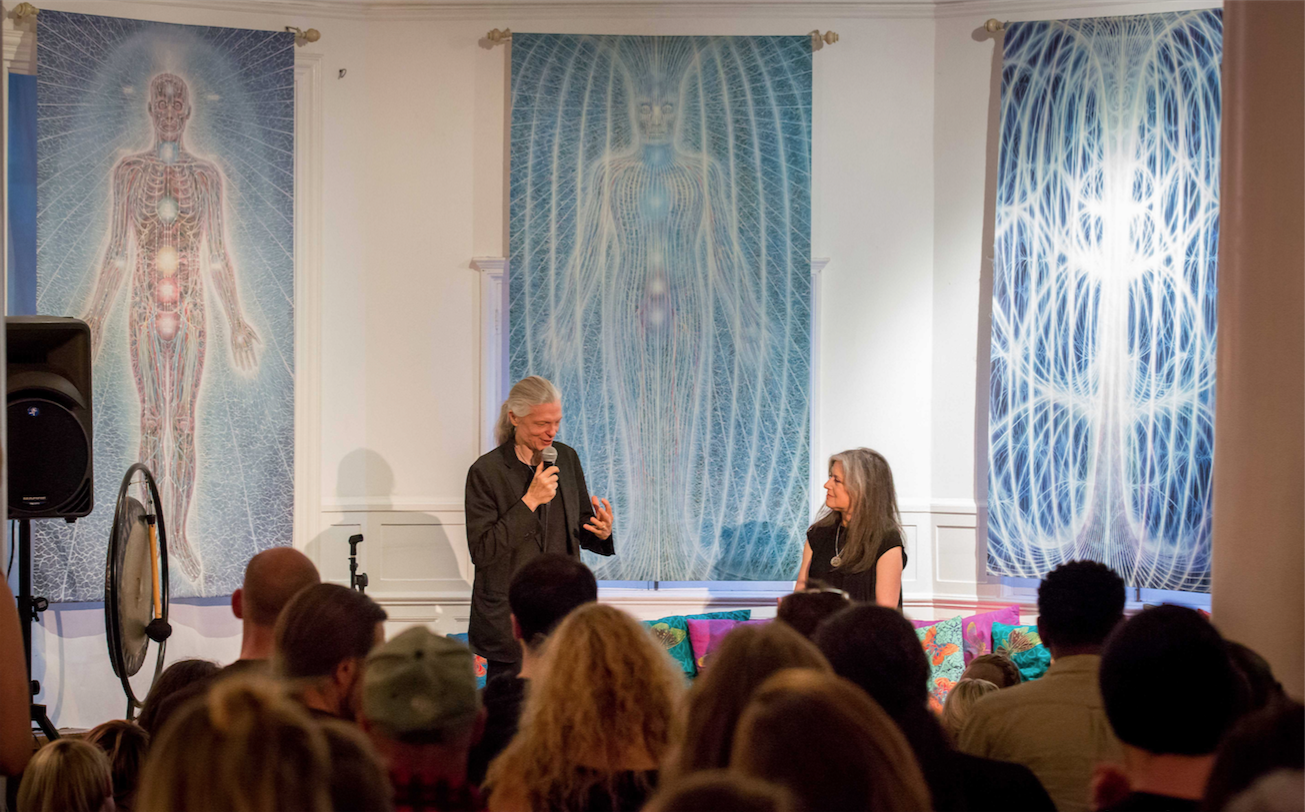 At the Chapel of Sacred Mirrors, Alex and Allyson Grey invite you to celebrate the Full Moon with an evening of wisdom and prayer from all faiths. In this inter-denominational ceremony, we embrace the richness of our diverse cultures in music, poetry and shared community.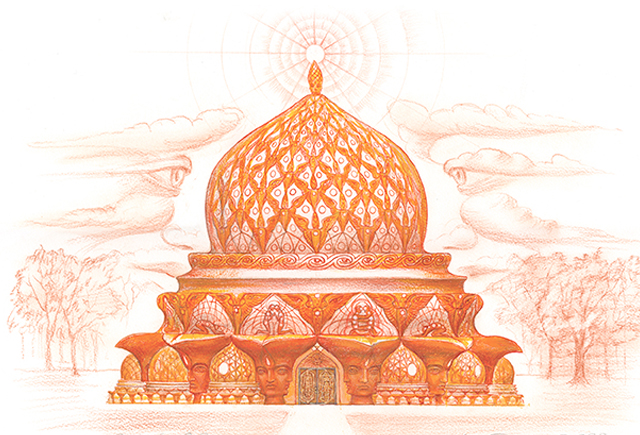 Come with an open mind and heart…expect lively dialogue and interactive experiences through art, music, meditation, prayer and rhythm. All are welcome.
Get your portrait painted by Alex Grey to help raise funds to build Entheon.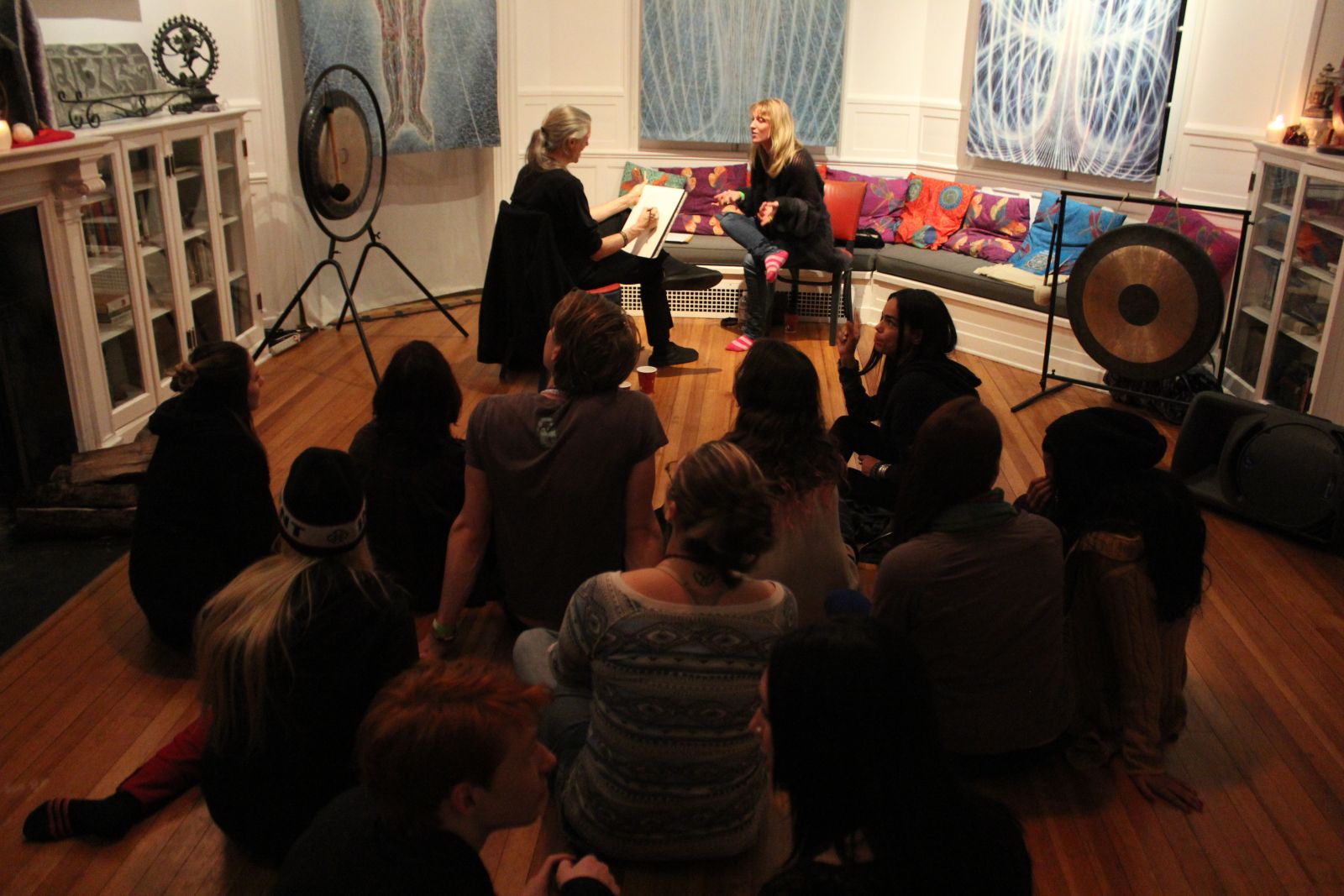 Space Jesus aka Jasha Tull is a Brooklyn NY based electronic music producer. Born and raised in New Jersey, Jasha's firm roots in hip-hop are apparent in most of his productions. With a focus on bass-line synthesis, commanding beats and futuristic feels, Jasha injects his signature sound on every sub-genre he graces.
Jasha's other projects include Schlang with fellow producer Rob Uslan (Supersillyus) and #$ (Hash Money) with NJ rapper and long time friend GDP. These two projects highlight both sides of Jasha's brain, Schlang – rooted in depth of multicultural psychedelia, and #$ – hard hitting future hip hop.
With a reputation for his dynamic live performances, Space Jesus recently completed a national tour supporting Break Science. He's also been handpicked to support Tipper, Shpongle, Big Gigantic, Zeds Dead, Rusko, Die Antwoord, Infected Mushroom and Feed Me to name a few. Currently in the midst of a co-headlining national tour with Freddy Todd. Expect his next full-length album titled "Close Encounters" to be released in late Spring 2015 via Brooklyn-label Smokers Cough.
Esseks (Sam Eckstein) is a Brooklyn based producer and artist who creates emotionally driven electronic music and visual art. His music is influenced by a variety of styles from J Dilla inspired hip-hop beats, melodic bass, house and even blues and swing. The diverse elements of his music are tied together with Esseks' subtle but instantly recognizable sonic landscape.
Since the release of his first solo effort, Hair and Nails in April 2012, Esseks has shared the stage with range of artists including Ott & The All-Seeing I, An-Ten-Nae, EXMAG, D.V.S*, Govinda, Branx, Skytree, Phutureprimitive and Space Jesus. He's also had the pleasure of performing at Alex Grey's Chapel of Sacred Mirrors and at The Hudson Project with Griz. His most recent album "The Profound Whatever" was released via Smokers Cough on July 22nd, 2014 and was featured on WhiteRaverRafting.com. Following his track with Space Jesus titled "Mom's Spaghetti", the two are crafting a yet untitled collaborative EP scheduled to be released by the end of Summer 2014.
Bringing in a cinematic twist to Electronic music.The sounds and performances of The Galactic Effect blend many different realms and styles into one stellar glue.His sound crafting technique incorporates vibrant synthesizers and future bass with orchestral vibes,strings, and other world elements.Arranging music which defies all barriers, genre's and labels, creating in constant change and movement, leaving the audience curious for the next possibility plucked out of the infinite spectrum of the auditory universe.
Photo by: Ashley Dupree
Interactive Art Project with
Eileen Rose & Mike Garger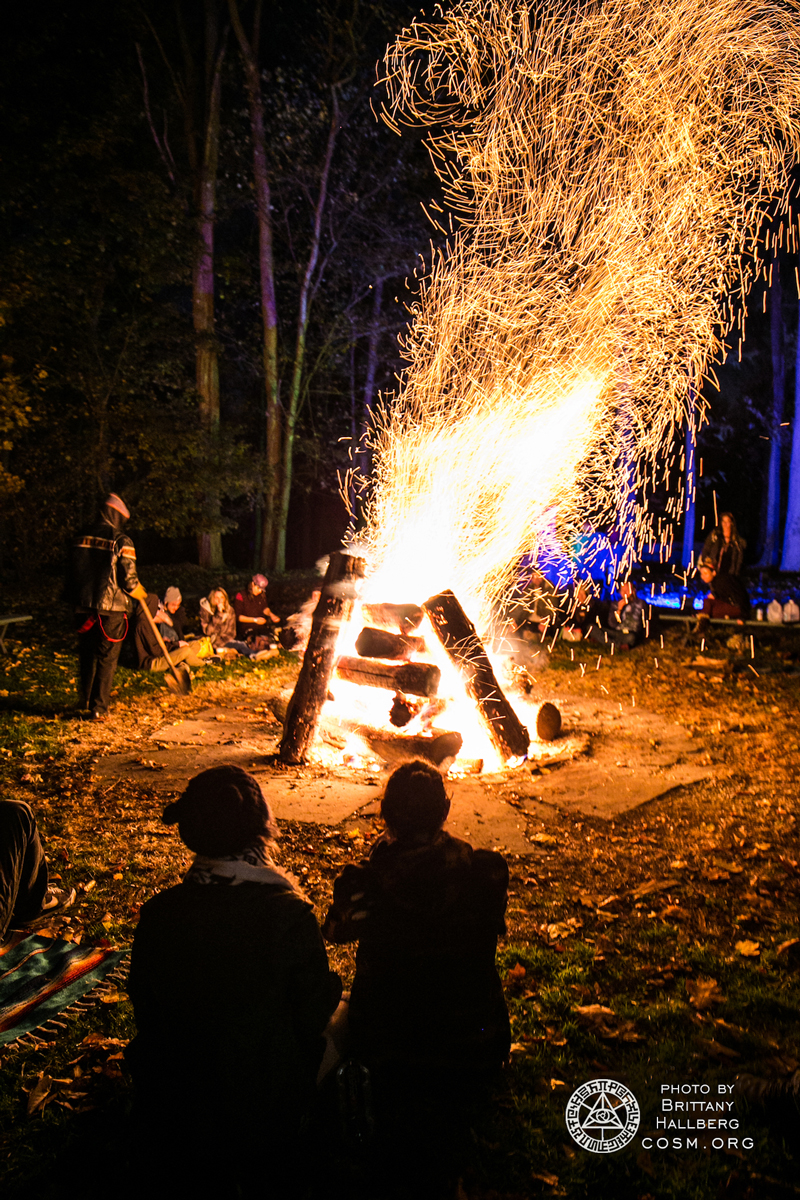 Come to Yoga for the ultimate out of body experience!
Shipra combines elements of Hatha Vinyasa Flow with elements of dance, flexibility and strengthening into her practice Yogea. Yogea has elements of Tai chi, Bharatnatyam, Kalari, Chhau and Modern dance, to go with Pranayama and asana practice. The base philosophy is Yoga integrated with other esoteric phiosophies (Egyptian, Oriental, Greco-Roman, Hermeticism etc). I know Sanskrit well therefore I put in Bhakti yoga too. She also likes to offer Marma therapy, Reflexology towards the end.
She has been teaching dance for 8 years and is relatively now is sharing her Yogea practice which brings her same enthusiasm to this new modality. She does focus a lot on adjustments and likes to safely push her students deeper into asanas, guiding them to their body's potential.
This is a family-friendly, drug and alcohol-free event.
No camping or pets.
All visitors must leave the grounds before 1am.
Tickets are a non-refundable donation to the Chapel of Sacred Mirrors.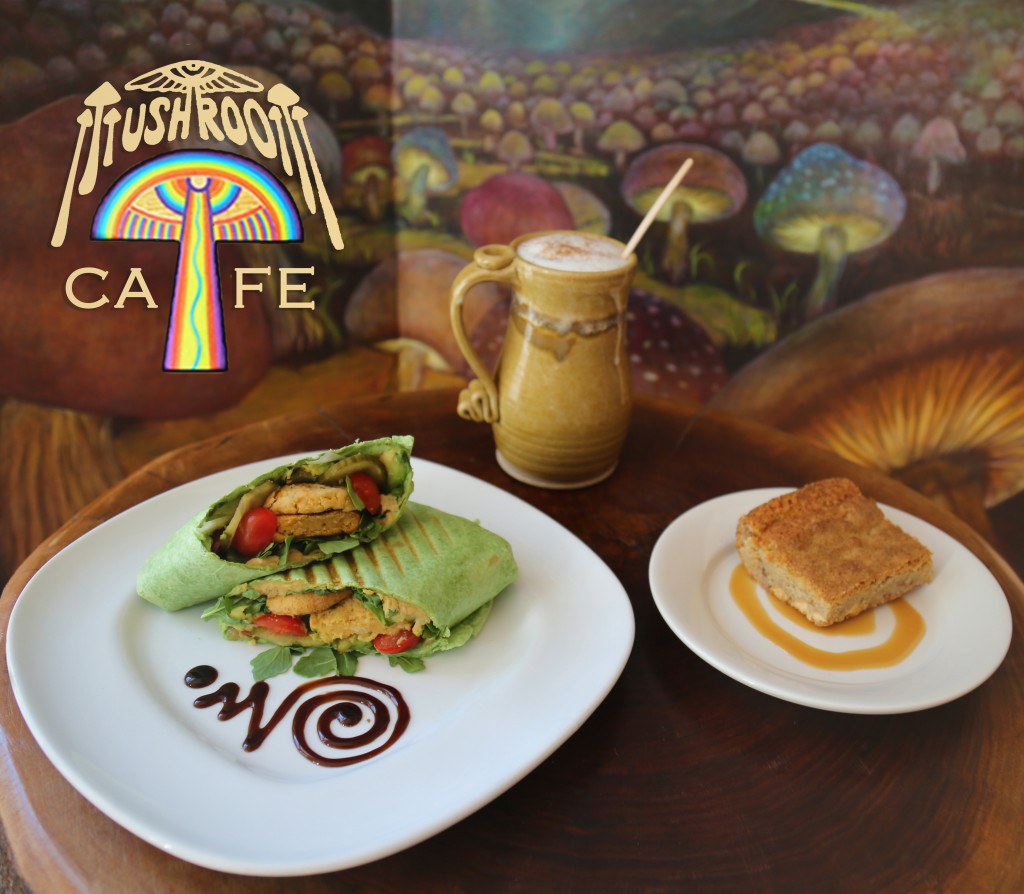 Rooms are available for rent in the Grey House, CoSM's fully renovated Visionary Victorian guest house.
For assistance in booking your stay, please call 845-297-2323 ext. 104 or email us at [email protected]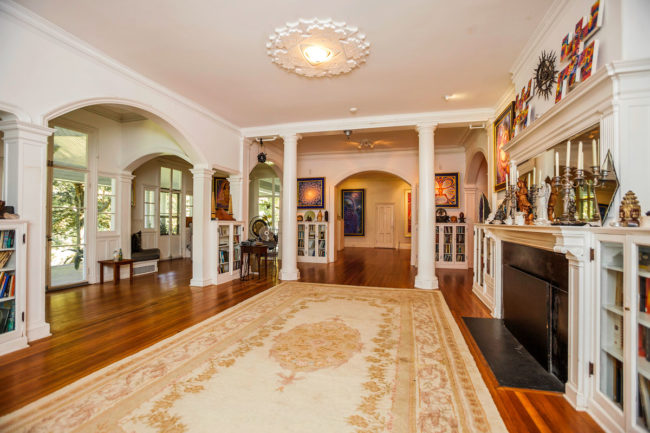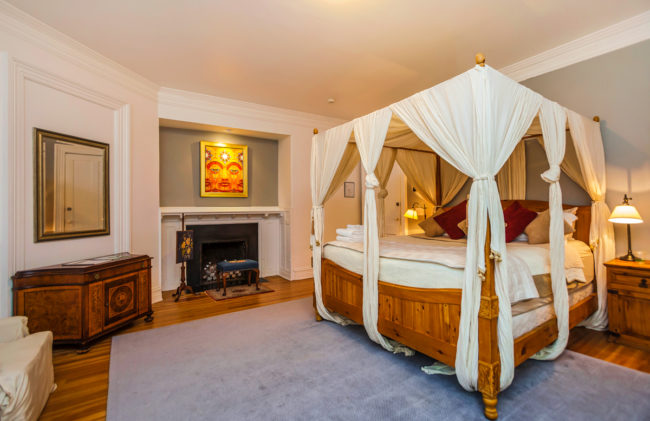 The artwork of Alex Grey & Allyson Grey plus many other visionary artists are on display in the guest house.
Overflow parking is available at the New Hamburg Metro North Train Station.
No need to walk - a shuttle bus will be available to transport any CoSM patrons between the station and CoSM grounds during the event.
CoSM, Chapel of Sacred Mirrors, 46 Deer Hill Road, Wappingers Falls, NY 12590.