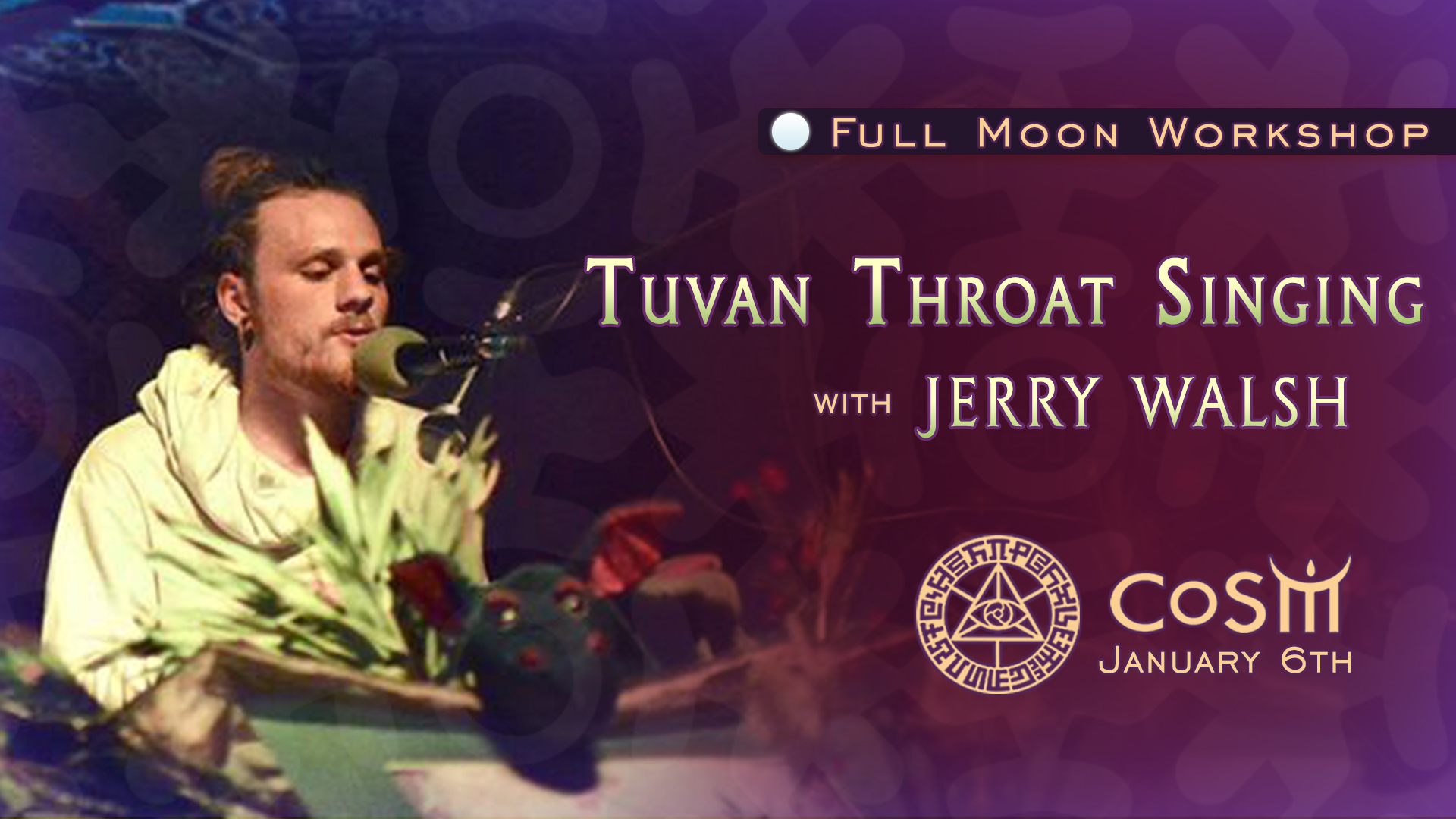 Full Moon Workshop: Tuvan Throat Singing with Jerry Walsh
Full Moon Workshop:
Tuvan Throat Singing with Jerry Walsh
This workshop will cover the techniques required to create the four fundamental styles of Tuvan throat singing and basic overtone singing:
What is Tuvan throat singing? Tuvan throat singing is an ancient style of singing from the tiny Russian republic, Tuva, which creates otherworldly harmonic overtones over a droning vocalization.
1.)  Khorekteer (hor-ek-teer) – A higher pitched raspy vocalization often used in Tuvan music while singing lyrics
2.)  Khoomei (who-may) – A deep and low expression with powerful wailing overtones
3.)  Sygyt (Si-gut) -A high-pitched ethereal whistle sounding meant to symbolize the union of Heaven and Earth
4.)  Kargryraa (Car-gyra) – An extremely deep, almost growling and guttural vocalization that can produce beautiful overtones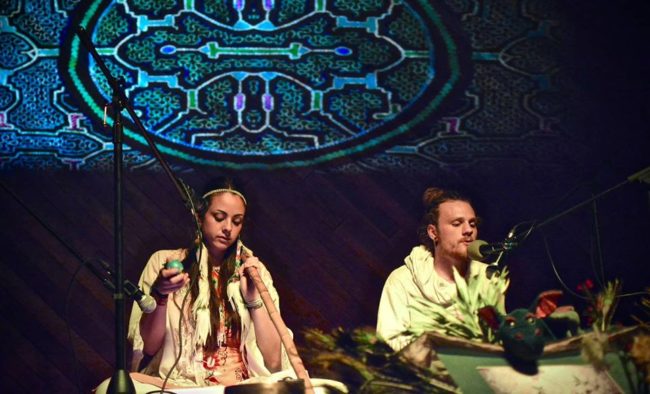 This workshop will be a methodical singing lesson where participants will be guided through a step-by-step method to generate harmonic overtones and experiment with each style of throat singing both in a group and individually.
The method presented in this workshop does not require any previous experience or any knowledge of singing. This is a great class for anyone desiring to express themselves vocally while exploring the voice and learning a non-western style of singing that predates human language.
The class will end with a 30-minute shamanic sound journey featuring eclectic instruments and vocals from across the globe.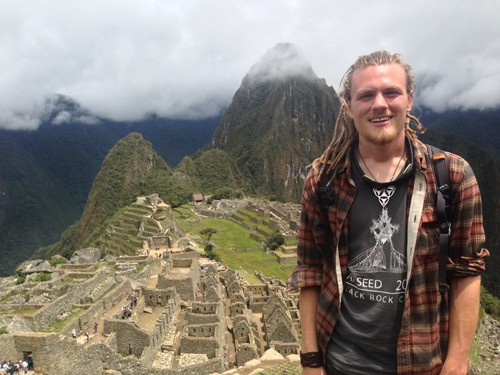 Jerry Walsh
is a musician and vocalist, weaving together ancient and otherworldly sounds from sacred traditions across the globe to create ceremonial shamanic journeys. He has collaborated with Merkaba (Kayla Scintilla), Srikala, Native American hip-hop artist, Supaman, and American beatbox champion, Mark Martin. He has been student of Taino elder, Maestro Manuel Rufino, for over six years, studying the indigenous shamanic cultures of the Americas and other wisdom traditions. Jerry has travelled to over twenty-five countries on five continents and spent a full year studying Buddhism and Himalayan culture in India, Nepal, and Bhutan from 2010-2011. He currently lives in Brooklyn, NY with the Golden Drum community when he is not on tour sharing music and meditation with partner, Ixchel Prisma.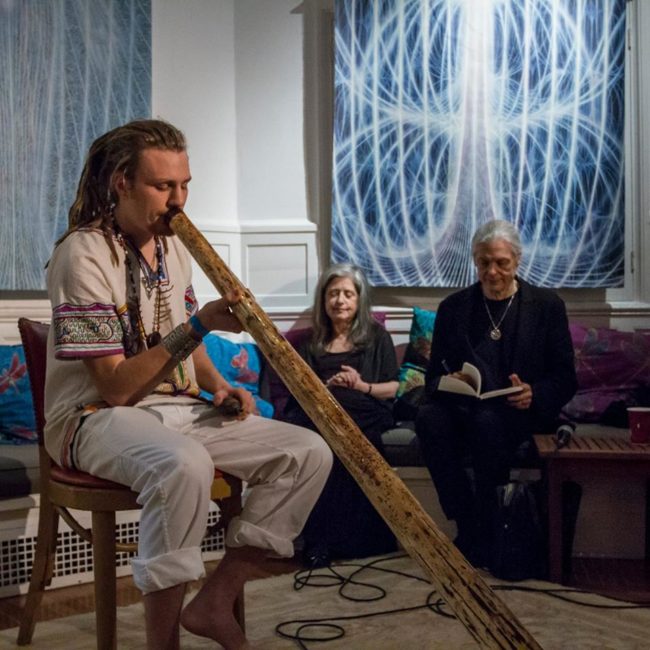 Event Schedule
12pm – 6pm –
 CoSM Open Hours (Grounds, Trails, Shop, and Cafe Open)
*Event Day Gallery Hours: 12 – 3pm
3:00 – 3:20 pm –
 Welcome and introduction to throat singing
3:20 – 4:00 pm – 
Vocalizations and generating overtones
4:00 – 5:00 pm – 
Khorekteer and Khoomei styles
5:00 – 5:30 pm – 
Kargryraa and Sygyt
5:30 – 6:00 pm – 
Shamanic Sound Meditation & Closing
6:00 pm –
 Dinner
7:30 pm – 12 am –
 Full Moon Gathering
Rooms are available for rent in the Grey House, CoSM's fully renovated Visionary Victorian guest house.
For assistance in booking your stay, please call 845-297-2323 ext. 104 or email us at [email protected]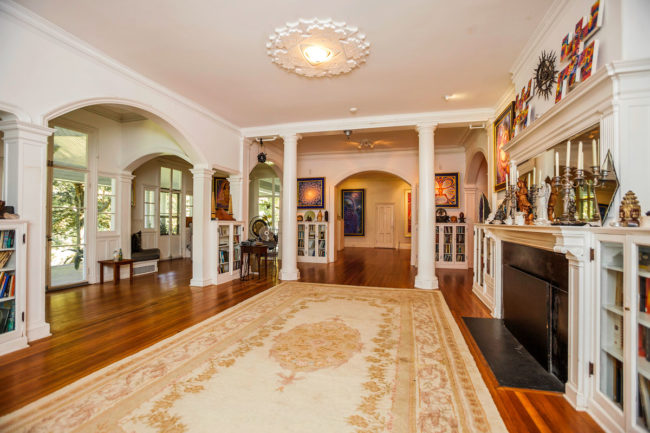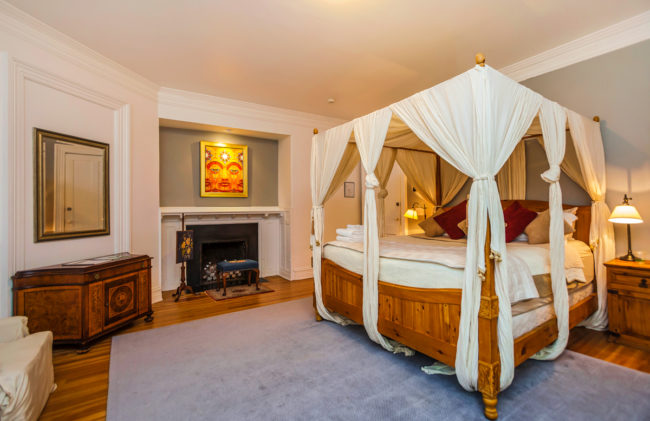 The artwork of Alex Grey & Allyson Grey plus many other visionary artists are on display in the guest house.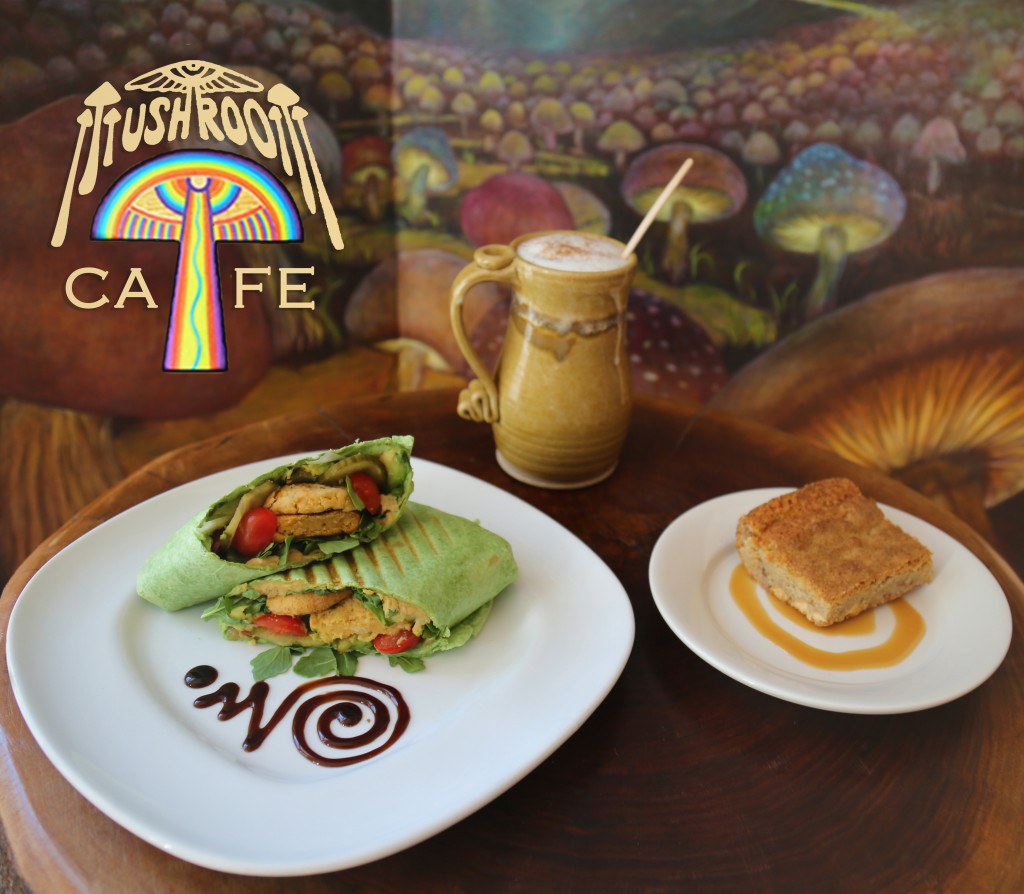 CoSM, Chapel of Sacred Mirrors, 46 Deer Hill Road, Wappingers Falls, NY 12590.