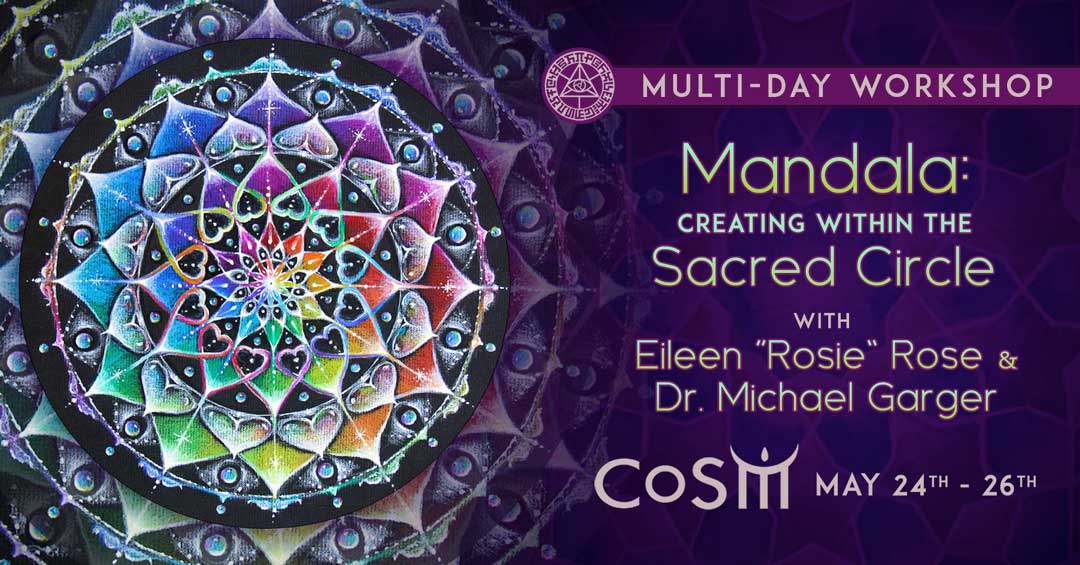 Mandala: Creating within the Sacred Circle
3-Day Workshop:
Mandala: Creating within the Sacred Circle
with Eileen "Rosie" Rose
and Dr. Mike Garger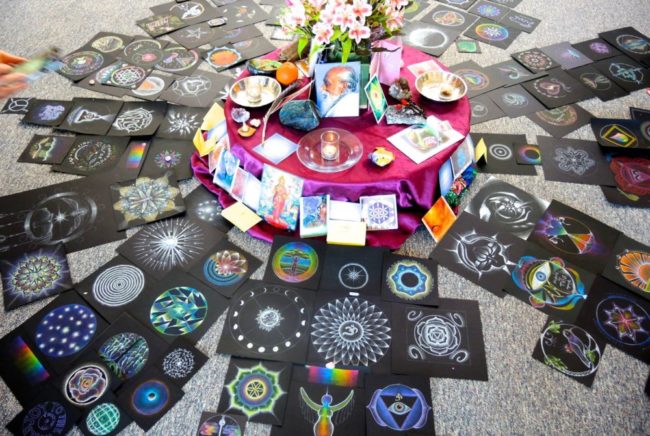 The mandala, Sanskrit for ('circle of essence'), has been used throughout history in various cultures as an aid for meditation, prayer, and journeying within. The empowering and enlightening act of creating these mandalas will support you to heal, open your heart to unconditional love, and manifest and awaken to your Divine self.  Through meditation and holding strong intentions, we will intuitively receive and illuminate sacred symbols. Using simple Chi Kung movements and principles we will develop body/mind awareness to enhance and direct our energies.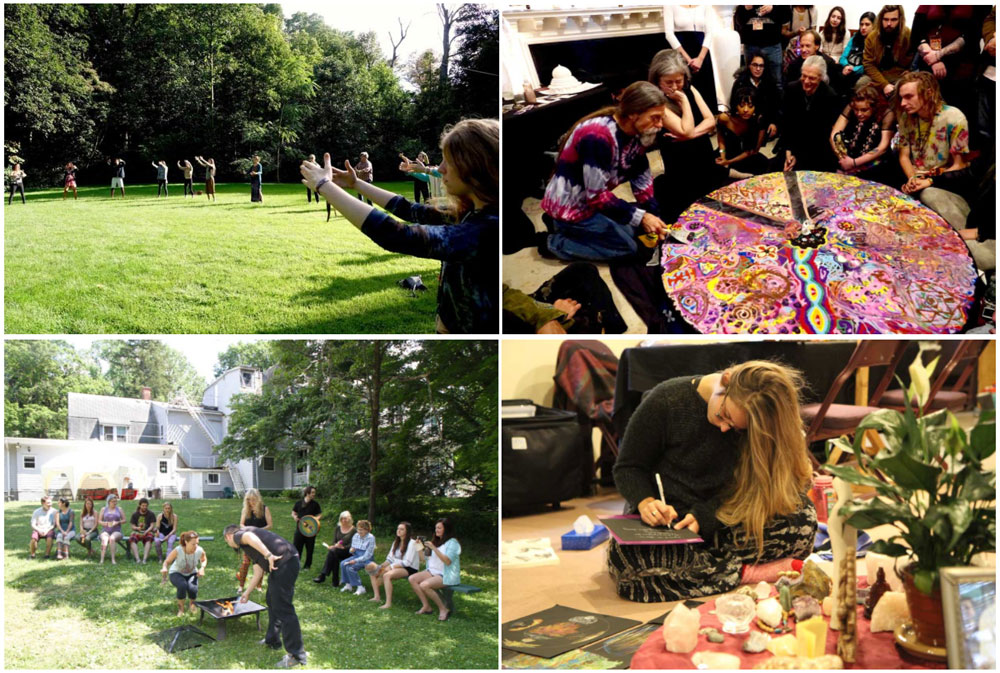 All participants, regardless of artistic ability, will create a variety of luminous mandalas. This joyous, non-competitive workshop will include the creation of a communal sand mandala,  a releasing burning ritual, and periods of silence. Our techniques are simple and straightforward while being deeply focused and profound.  This workshop is appropriate for adults of all ages and mature teens. No artistic experience or prior knowledge of the mandala is needed.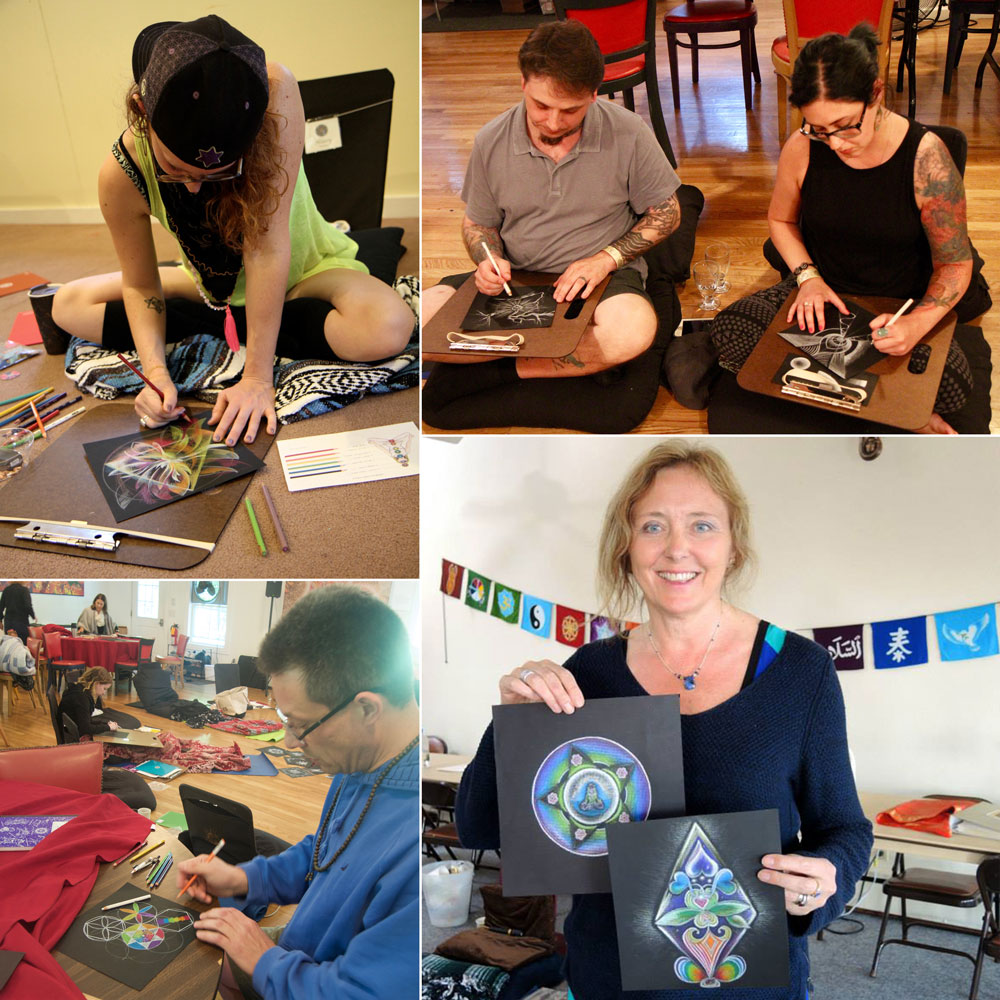 Join us for this heart opening, empowering weekend of immersing yourself in the sacred circle. All needed supplies are included in the class price.  A letter of welcome and suggestions will be sent after registration.
All techniques are simple, straightforward and deeply focused. This workshop is appropriate for people from all walks of life, including those in need of healing of the body, mind and spirit.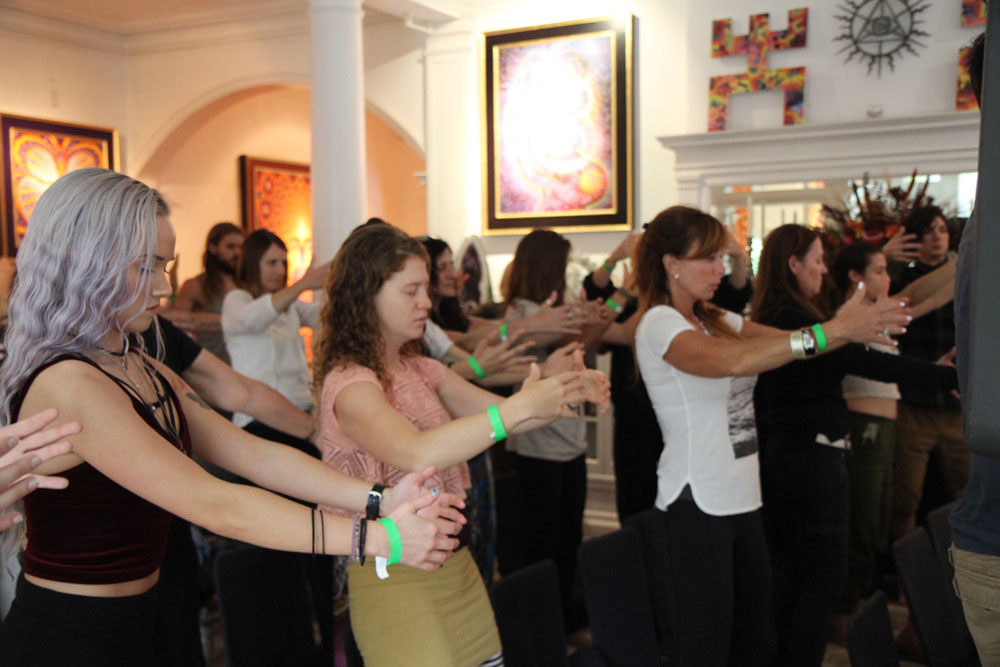 Benefits from our mandala processes include:
• Creating luminous mandalas that express your Inner Light
• Moving beyond your ego and connecting with your true inner self
• Improving your life using positive intentions
• Opening your heart to the flow of pure, unconditional love
• Recognizing and appreciating the gift in every moment
• Mindfulness techniques that transform old "programming" and subconscious patterns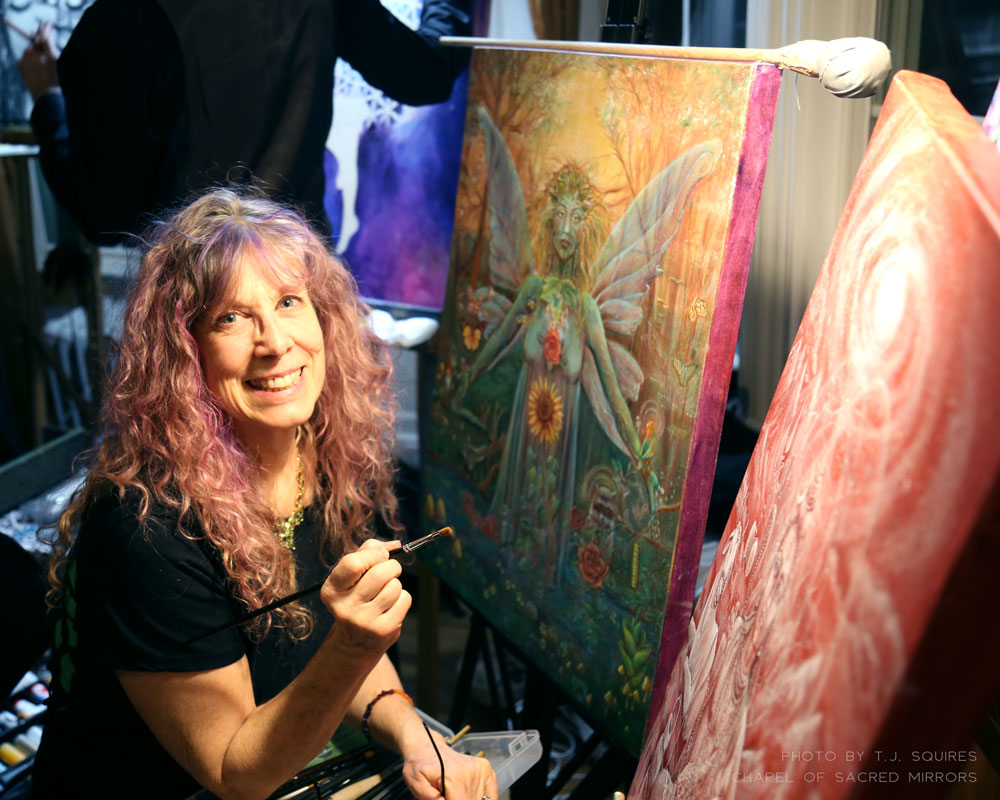 Eileen M. Rose (aka "Rosie") holds a Masters Degree in Art Education from Brooklyn College, is a Certified Mandala Facilitator and the co-author of Create Your Own Sand Mandala: for Meditation, Healing and Prayer. She has been creating mandalas and teaching mandala healing processes for over 25 years to various groups.  Rosie is visionary artist, photographer, percussionist, and 40 year veteran art educator.  Along with her husband Michael Garger, she co-facilitates communal sand mandalas at various CoSM events and classes.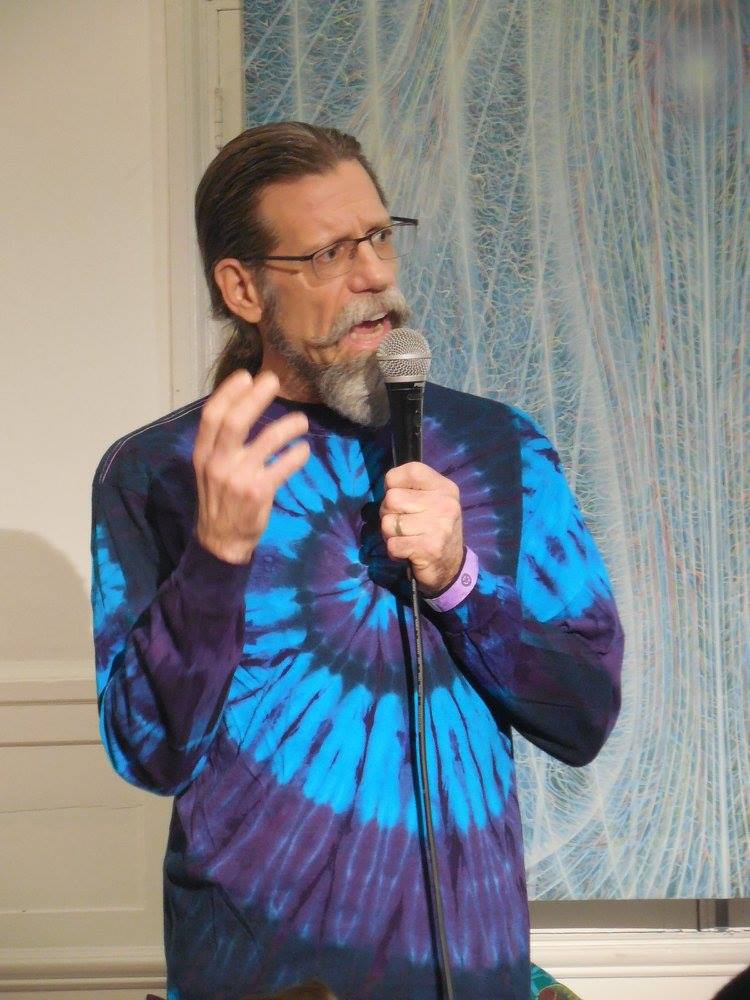 Dr. Michael F. Garger, has practiced Chiropractic for 28 years and teaches Taoist Esoteric Yoga and Tai Chi and a variety of health related subjects with the emphasis on helping people to understand and apply laws of nature in their lives for optimal wellbeing and creative ability. As an instructor of mandala drawing and meditation workshops, certified by Dr. Judith Cornell, he has for the past 20 years facilitated healing and self-realization retreats, communal sand mandalas and classes along with his wife Eileen Rose.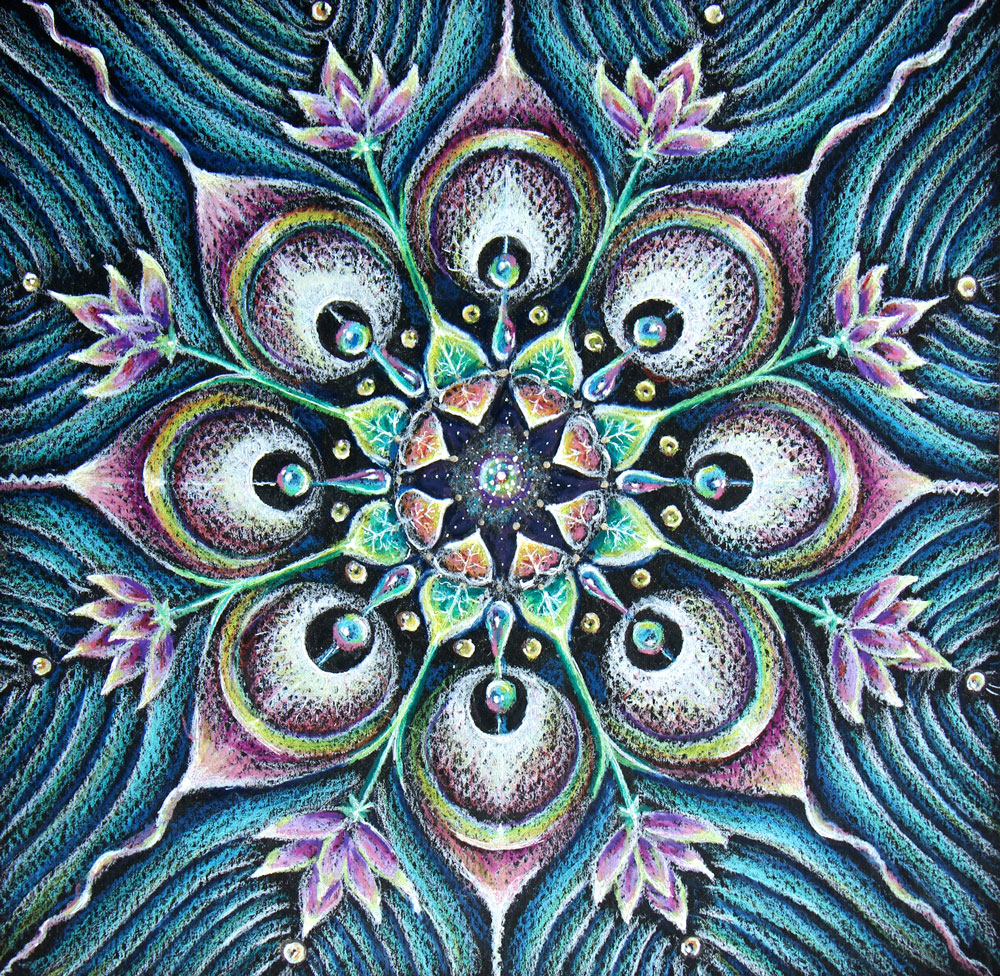 Rooms are available for rent in the Grey House, CoSM's fully renovated Visionary Victorian.
For assistance in booking your stay, please call 845-297-2323 ext. 104 or email us at [email protected]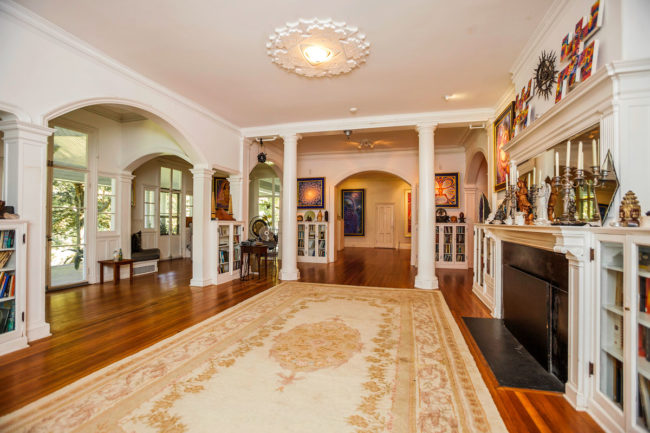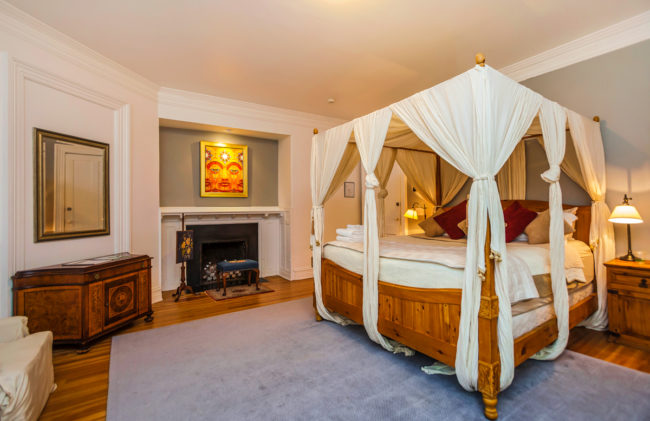 The artwork of Alex Grey & Allyson Grey plus many other visionary artists are on display in the guest house.
Mandala Class Weekend Schedule
Day 1
Guests check in by 4pm
5:30 pm: Dinner
6:50 pm: Session 1
10 pm: Session ends
Day 2
10 am: Session 2
1 pm: lunch
3 pm: Session 3
6 pm: Dinner
7:30 pm: Session 4
10 pm: Session ends
Day 3
10 am: Session 5
1 pm: Lunch
2 pm: Workshop ends

I learned so much about myself, the practice of getting in touch with my spirit and God's spirit. This had been incredibly helpful to my life and my journey. So enjoyed the time to STILL that I have needed for so long. Many realizations, many lessons,. Much love!  – Lesley Shakespeare Brogan
Thank you Rosie and Michael for your joy and your generousness in your being and in what  you teach. You have enhance my way of being and introduced me to new ways of being and new ways of add and giving to the world. Much love, – Annie Rapaport
"This was wonderful! Literally, I am full of wonder and energy and light after just two days and wish I could stay to continue the work. I hope you will offer this again. I would definitely take it." — Anna
"Loved this class, enjoyed the group and the humor. Rosie and Mike were great teachers carrying on Judith Cornell's work with wonderful humor. I would recommend this class in a heartbeat." — P.C.
"This workshop was a delight. Making these mandalas with specific intentions as a group of like-minded people was fun, inspiring and illuminating. Thank you." — L.
"This is a wonderful retreat that takes your out of your head space and connects you with your heart and spirit through mandalas and meditation. I especially enjoyed the bits of stretching and breathing that Michael adds with the Qi Gong exercises. All in all, this retreat includes a wonderful balance of mind, body and spirit. Thank you!" — Kelly Bartlett
"Magical, spiritual, centering, healing, enlightening, opening. Thank you!"— Kathy O'Donnell
"It is a great blend of Qi Gong, meditation and discussion (personal and group) that they teach to help enable your mind to search into its vast depths to pull out sacred personal images to turn into your own beautifully colored mandala. The group was great and the energy was very loving … I am so happy I took this class and highly recommend it to any artists, young or old, boy or girl, interested in the sacred art of the mandala and they're own personal growth." — Ely Kale Powell
"I really enjoyed the process. I found it very healing and empowering. I was touched by the beautiful images that we all created." — Polly K.
"This has been the spiritual experience I have been seeking. I haven't worked with mandalas for over twenty years. I felt in touch with something unconscious in my being that I've longed to awaken." — Mary Ellen Price
"Confirming the power of the moment – my mandala came to me in prayer/meditation. Nothing what I 'thought' it would be. Beautifully done! Thank you so much. Also couldn't believe how beautiful your mandalas are." — Fran
"What a wonderfully uplifting and joyous time. I thank Michael for grounding me as a group and holding space… and to Rosie for sharing her love and light with us. I am grateful for the opportunity to attend this mandala workshop." — Terry Ganley
"The thoroughness of your teaching, from the history of the mandala, the Tai Chi meditations to the detail guidance in mastering the drawing tools was so nurting and enriching. I feel whole & integrated & I intend to remember to breat in the eternal wisdom of the rainbow mandalas with me!" — Marianne Gunther
"I am a camp counselor and I would like to just take a moment to say thank you for the resources on your website about mandalas. I plan to use the lesson with a group of 6-9 year olds and appreciate the flexibility in knowing it does not need to be viewed as religious but as a tool for balance and peace." — Shelley
"My soul thanks you for the time to play." — Lise Garnier
"Group was great. I felt the energy and love in the room. Great feeling." — Willie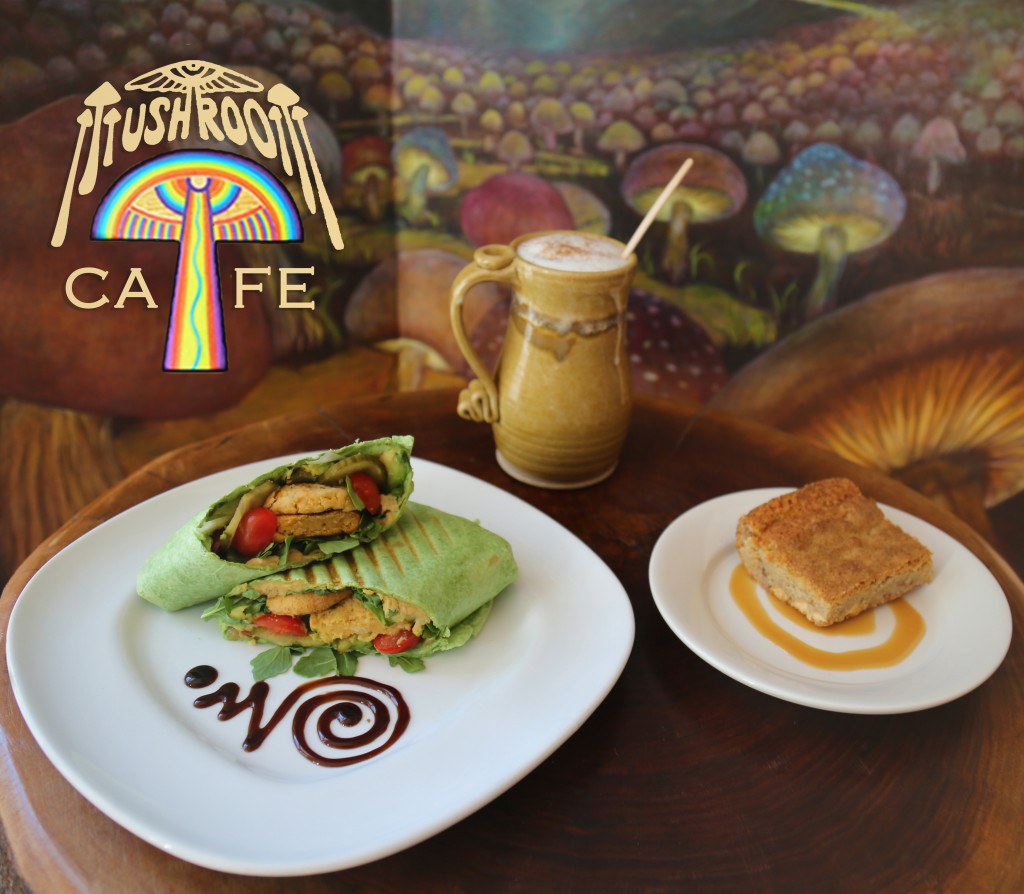 CoSM, Chapel of Sacred Mirrors, 46 Deer Hill Road, Wappinger, NY 12590.