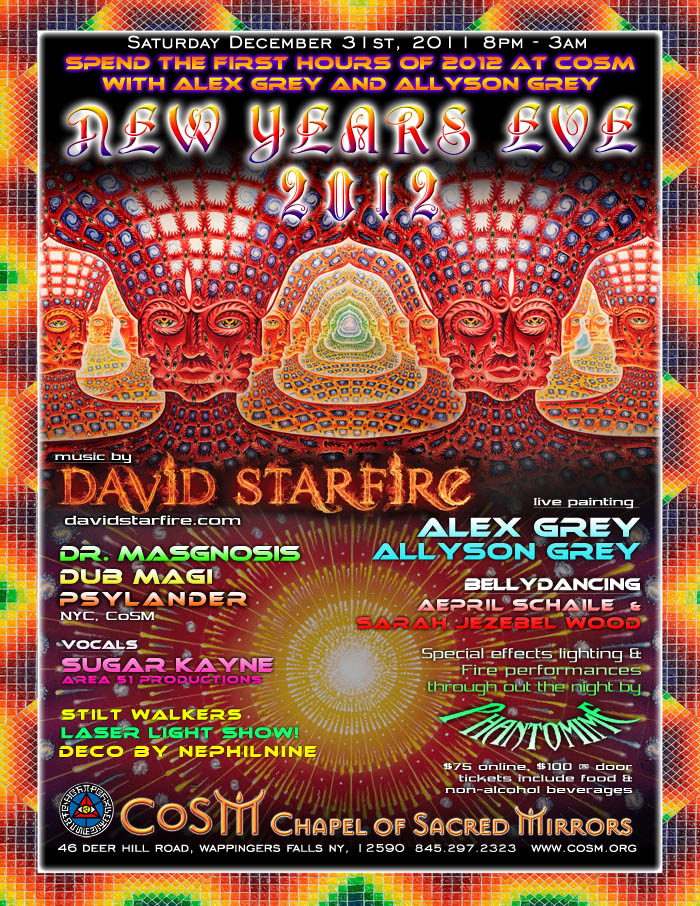 New Years Eve Celebration 2012
Live Painting with Alex Grey & Allyson Grey

Start the CoSM New Year's Eve journey with Alex and Allyson exploring the alchemy of intention setting empowered by our own created imagery. Reflect on your highest purpose for the year and for your life. Learn the valuable technique of making sigyls, magic emblems that remind us of our goals. Using these secret designs on an altar or place of power can provide focus and support. Visualizing ourselves as embodying the heart of our commitment, we will draw a symbol or conception directly from our imagination. Share the collective visionary energy and plant seeds of awakening that will become the soul flowers of your future. Supercharge your most uplifting insights for 2012 with spiritual and creative friends.

DJs

David Starfire


davidstarfire.com


Dub MaGi – CoSM, NYC


ZNUH – Wicked, Northampton


Psylander – CoSM, NYC


Dr. Masgnosis – CoSM, NYC

Satchi Om – CA, NYC www.satchiom.com

Vocals
Sugar Kayne

Laser Light Show!

Bellydancing

Sarah Jezebel Wood – Elizabeth Muise – Aepril Schaile

Special effects lighting &
Fire performances 
through out the night by
Phantomime

Stilt Walkers
Deco by NephilNine

$75 online $100 at the door
Closing Ceremony with Alex & Allyson at 3am
Tickets include appetizers & 
non-alcohol beverages

Recommendations & Considerations
Bring a water bottle.
 Celebrations and Ceremonies at CoSM are drug and alcohol free.
 If you do not see well at night, consider bringing a flashlight.
 We have 40 acres of land and depending on where you park
 on site you may have to walk in the dark.
 Cigarette butts should be disposed of in the trash not the ground. 
Please do not smoke in front of any of the common entrances.
 There are no shoes permitted in the Grey House. 
Please come prepared to remove your shoes before entering.
 Thank you for your consideration. We look forward to your visit.
CoSM, Chapel of Sacred Mirrors, 46 Deer Hill Road, Wappingers Falls, NY 12590 – click here for directions