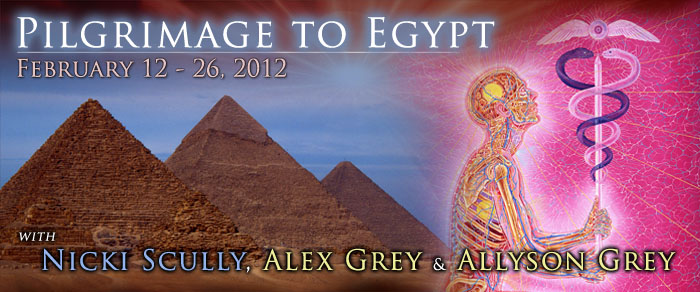 There will only be room for 16 passengers on this once in a lifetime trip, so register early!
This tour includes:
Round trip airfare from NYC to Cairo and all travel within Egypt
5-star hotel at the Pyramids
Luxurious 7-night cruise down the Nile
All sightseeing in itinerary including entrance fees
Artwork with Alex and Allyson including drawing, architecture and sacred geometry
Private and exclusive visits to the temples and other important sites
Mystery School lectures, initiations, meditations, and ceremonies at sacred sites with Alex, Allyson and Nicki
Private Initiation in the Great Pyramid
Our first tour in 2009 was so wildly popular (and we had so much fun) that we have decided to do it again! This time, we will be be offering a seven-day cruise on the Nile on our own private sailing yacht/art studio, along with private visits to sacred sites including The Great Pyramid, the Sphinx and the Temple of Isis at Philae, among others.
I am particularly excited to be hosting this shamanic journey with visionary artists and philosophers Alex and Allyson Grey. I have long been inspired by Alex's work, and have delighted in contributing to a number of full moon soires at his magnificent Chapel of the Sacred Mirrors (CoSM). Deeply moved by the depth and spectrum of the sacred art that graces this temple, I have recognized it as an intersection point where many traditions interact to thin the veils between dimensions. The rites I've offered there seem to attract a unique power, sourced a deep well of ancient, even pre-dynastic Egypt, and mostly related to the Osiris and Anubis mysteries. I love to see what rites manifest themselves through our collaboration, and how they influence future visionary art and the sacred spaces they adorn.
—Nicki
"…As artists building a sacred site and a spiritual community, we look forward to studying this culture with you, and experiencing the profound mysteries that manifested architecture adorned with Gods and Goddesses of the Old Kingdom. While on this pilgrimage, to deepen our receptivity to these carved, sculpted and painted artifacts of a glorious era, classes will be offered in drawing, sacred geometry, and sacred architecture. Akin to meditation, drawing brings an object into heightened consciousness, opening our awareness to the subtle forces latent in powerful relics… The legacy of sacred space left by this ancient civilization is foundational to the mission of the Chapel of Sacred Mirrors. With correct guidance, archetypes and temples imbued with holy spirit through ages of devotion have great relevance today, teachings that can profoundly influence contemporary society so in need of a connectedness with the divine."
—Alex Grey, April 2008
click here for offical tour web site www.shamanicjourneys.com
Contact Shamanic Journeys Ltd. for more information:
(541)484-1099 or 800-937-2991
Email: [email protected]