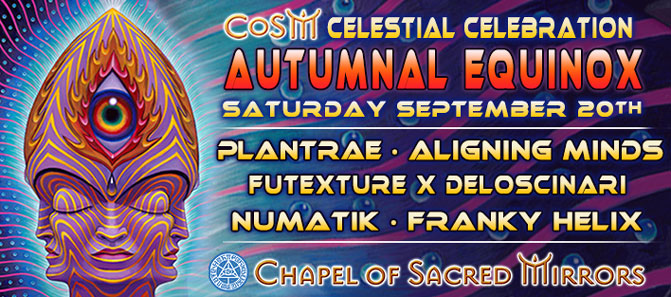 Autumnal Equinox Celebration 2014
Autumnal Equinox Celebration 2014
ONLINE REGISTRATION CLOSED: LIMITED TICKETS AVAILABLE @ DOOR
Saturday, September 20th – 8pm – 3am
Event Registration – $40 online / $50 at the door
7:30 – Doors Open
8pm – Opening Ceremony with Alex & Allyson
9:30 – Ceremony Ends – Celebration begins
10pm – Dance Music, Live Painters, Fire Performers, etc.
3am – End of the 2014 Autumnal Equinox Celebration
Plantrae
Plantrae is an energetic and melodic sound experience originating deep in the rainforests of Oregon. The Plantrae Sound gathers many wild elements together to form a new traditional, earth-inspired dance music. Dirty folk melodies, raw drum-skins, and a substantial dripping bass root are all woven into one; with live viola improvisation fermenting everything together. Plantrae crafts a unique sonic palette, hauntingly beautiful and emotionally intelligent, but also pushing the low end beats in a way that is exhilarating, yet balanced. Seeking to unite acoustic and organic instrumentation with contemporary bass music, Plantrae also encourages the listener to delve deep into the humyn ethos, back to a time when we lived as one with the earth.
Facebook I Soundcloud I Bandcamp
Aligning Minds
The Aligning Minds sound is melodic and bass heavy. It's emotionally charged future music that rides on hypnotic breakbeats, deep infectious basslines, dubby soundscapes, and glitchy experimentation for one to dance or lounge to. Aligning Minds is the shared voice of electronic music producers Daniel Merrill and Michael Folk. As lifelong friends, music has always been their chosen path to express, explore and reflect the space within themselves as well as the world around them. With a soulful, melodic sound that fuses emotional atmosphere with deep sub-heavy grooves, they have carved out a multi-genre style that carries universal appeal. With releases and remixes on labels like Gravitas Recordings, Adapted Records, Aleph Zero, Beats & Pieces, and Muti Records, they move forward to capture a spirit of unity, diversity and vision. Their latest album, My Heart is Love has been called "An exquisite album of deep, soulful, chilled bass and euphoric frequency bending." (Igloo Magazine, 2013) and "a quest to express a heart so full you can hear the birth pangs of the new world borne forward." (Reality Sandwich, 2013).
Official Site I Facebook I Soundcloud
Futexture x Deloscinari
Futexture x Deloscinari: Live Audio/Visual Collaboration
Take a psychedelic quest into the hyperdimensional depths of stylistic multiplicity and cross-sensory cohesion. Deloscinari's crisp, prismatic motion graphics and fractaline dreamscapes interlace with Futexture's razor sharp sound design and expansive beat styles to converge at a point beyond the horizon of normal experience. Aficionados of expressing the inexpressible, their sets are a sublime glimpse into the next generation of interdisciplinary temporal art.
The collaboration is rooted firmly in the belief that when combined, light and sound are far more powerful than each on their own. By recognizing each medium as true, equal parts of a balanced whole, the duo seeks to challenge the notion that video art is merely a supporting production element. Optical and auditory layers intertwine and coalesce into a unique and emergent experience that offers far more than the sum of its parts.
As technological boundaries slip away into the past, new artistic possibilities become reality. Futexture and Deloscinari's unified vision blurs the creative boundaries between light and sound, seeking ever deeper coherence. Opting for organic growth and technical precision over gimmicks and manufactured hype, they are poised to raise the standard of integrated live audio/visual performance.
Futexture  Soundcloud  |  Facebook
Numatik
Summit Jaffe, as Numatik, offers fresh and timelessly deep sonic expressions of love and gratitude. Currenty nestled in the ancient mountains of Appalachia, Summit has been digging deeper and deeper into his creative outlets in a mission of self-discovery and unfoldment. After experimenting with and learning the intricacies of analog synthesis at a young age, he became enthralled in the infinite creative potential of digital production. Through spiritual practices, ancient plant medicines, and the synchronized cosmic flux, Summit has stepped gently into deeper awareness of what it means to be here on Earth. Numatik is a project that brings together his spiritual awareness and tactical production knowledge, resulting in deeply connected sonic landscapes, pulsing with ever evolving freshness. By the cultivation of sacred sonic space, Numatik transforms dance floors into containers for free expression of the divinity within us, guided by music infused with the organic sounds of breath, natural sounds, shamanic vocals and occasional ethnic instrumentation. The majority of recent Numatik sets have also featured different vocalists and performers, speaking powerful invocations, singing deep shamanic chants, and spitting improvised spirit raps with fiery intent. Numatik brings a truly unique offering into the collective, cocreative mind of worldwide conscious EDM.
Official Site I  Bandcamp  I Soundcloud  I  Facebook

CoSM, NYC

CoSM, Boston
I Soundcloud I
Alex Grey & Allyson Grey
I alexgrey.com   I  allysongrey.com I

Photo by Kyer Wiltshire Photography
Amanda Sage


"The Shaman" by Amanda Sage
Amanda Sage Art
Joness Jones


Joness live painting at Rootwire 2013 in Ohio
Joness Jones Art
Ken Zeltakalns

"She Owl" by Ken Zeltakalns
Zeltakalns Art
Martin & Carl Bridge

Martin and Carl live painting at CoSM
Bridge Brothers
Morgan Mandala


"Trinity" by Morgan Mandala
Morgan Mandala's Art
Olga Kilmova

"The Big Bang" by Olga Klimova
Olga Klimova Art
Randal Roberts

"Sir Frederic Leighton – Flaming June (Randal Roberts remix)"
Steve Shorts

"Mercury" by Steve Shorts
Steve Shorts Art
Live Airbrush Painting Collaboration
John Shook & Alysa Sheats

John Shook & Alysa Sheets Airbrush Collaboration

"Star Gazer" by Alysa Sheats

"Tesla" by John Shook
John Shook Art
Dance Performance
Zola Dubnikova
Lunaris
 Interactive Art Project with Eileen Rose and Mike Garger
WizArt Visions
Outdoor Visual Projection Dome
The Puffer Dome
The Puffer Dome, this transportable theater, is forty feet across and near as high, made from a space age white translucent material, that's perfect for projections that can be seen both from within and without it's geometry. The acoustics are wild, weird and amazing, and the floor, being grassy is perfect for dancing.
The dome is held aloft by positive pressure, supplied through a large fan, bringing in fresh air that is constantly circulated throughout. The sound system, video projectors, and special-effects lighting make it the perfect place for an amazing multi-sensory experience.
Phantomime
Illuminata
Illuminata Dance Co. is an experiment in tribal fusion belly dance mixed with fire.  Under the guidance of troupe director and choreographer, Kenna, Illuminata Dance Co. frequents local festivals and performance venues.   The troupe, located in the Pioneer Valley, is a culmination of dancers from various backgrounds of dance and fire experience.
CoSM Fire Tenders
The CoSM Store and the Mushroom Cafe will be open.
Rooms are available  for rent  in Grey House, CoSM's fully renovated Visionary Victorian guest house.
The artwork of Alex Grey & Allyson Grey plus many other visionary artists are on display in the guest house.
CoSM, Chapel of Sacred Mirrors, 46 Deer Hill Road, Wappingers Falls, NY 12590 click here for directions