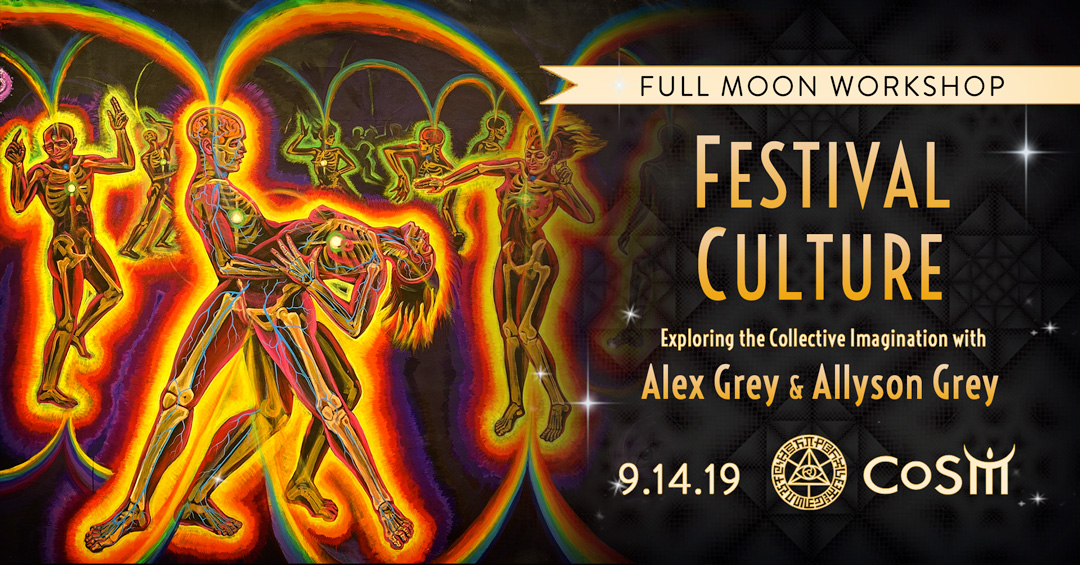 September Full Moon Workshop: Burning Man & Festival Culture with Alex & Allyson
Full Moon Workshop:
Burning Man & Festival Culture
with Alex Grey & Allyson Grey
3 pm – 6 pm
Throughout history 
cultural 
gatherings have brought communities together. 
Connecting with creative flow, today's 
Visionary 
festivals celebrate music, art, dance, performance, architecture, sound & light design, moving image art, film and more. Because festivals
 bring happiness to
 so many lives and strengthen cooperative association, these gatherings are often affiliated with a sense of unity and friendship that touches a common 
spiritual core.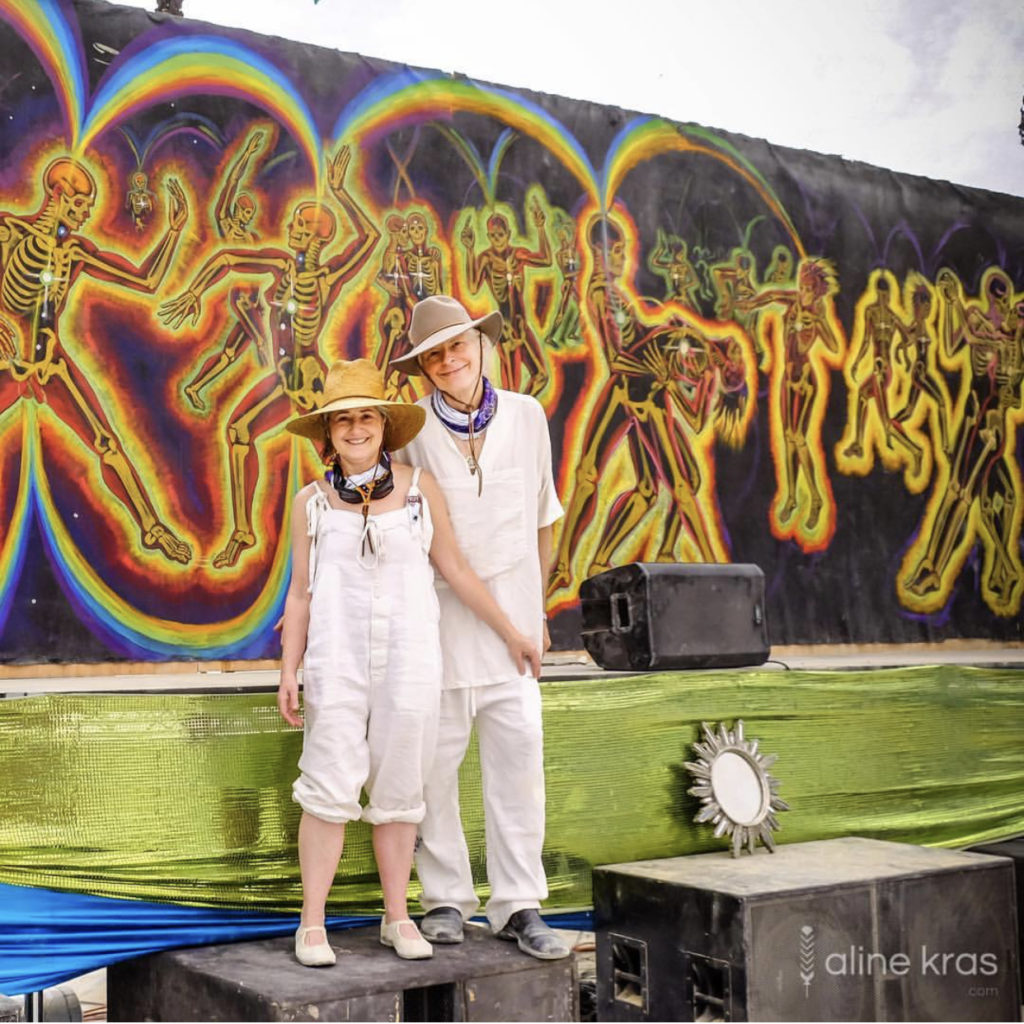 Alex & Allyson will share highlights of Burning Man and contemporary Visionary festivals on every continent. They will also represent experiential
 art attractions like Meow Wolf in Santa Fe, Other Worlds in Columbus and Zero Space in NYC all claiming to offer "portals to another dimension." 
 Festivals and immersive environments offer an opening in the collective imagination that includes the spiritual outside of conventional religion.
Join Alex & Allyson for an illustrated philosophical decompression party about festivals with an emphasis on mystic and sacramental culture.
The program will conclude with a tour of Entheon, now in the final stages of construction.
Dinner and admission to the 209th Full Moon Gathering and After-Celebration are included.
12:00 pm – CoSM Open (grounds, gallery, shop, cafe open)
*Event Day Gallery Hours: 12:00 pm – 3:00 pm
3:00 pm – Burning Man & Festival Culture with Alex Grey & Allyson Grey
6:00 pm – Dinner
7:00 pm – 12:00 am – September Full Moon Gathering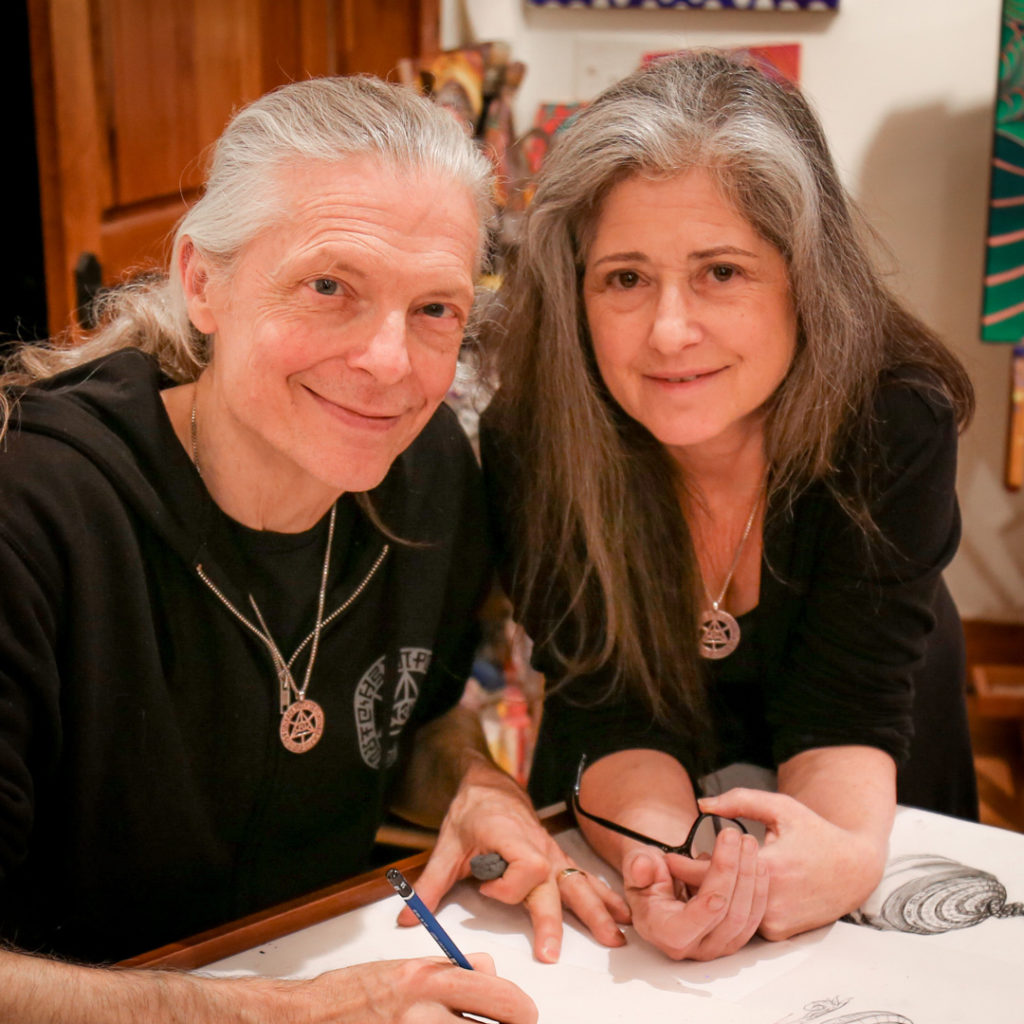 Internationally renowned for paintings that "X-ray" multi-dimensional reality, Alex Grey interweaves biological anatomy with psychic/spiritual energies in his visual meditations on the nature of life and consciousness.  This groundbreaking artwork has reached millions through Grey's six books, extensive reproduction of his artwork, and dozens of key-note addresses and exhibitions from Tokyo to Sao Paulo to Moscow to Melbourne.  Alex's art and life has been featured on the Discovery Channel, The New York Times, Newsweek and Time magazines.
Alex Grey's live, on stage, painting appearances, his collaboration with major rock bands, the use of his images in elaborate rock concert stage sets, his music video animations, and his Grammy award winning album art for Tool, Beastie Boys, Nirvana and SCI (among others) have led to the celebration of his artwork by millions of music fans.
Committed to art that celebrates oneness, Alex and Allyson Grey, his wife of 36 years, co-founded the Chapel of Sacred Mirrors, (CoSM — cosm.org), a church celebrating creativity as a spiritual path.  CoSM now flourishes in the tranquil setting of a 40-acre interfaith spiritual 65 miles north of New York City.
Allyson Grey is an artist whose paintings have been exhibited and sold internationally.  Co-founder of the Chapel of Sacred Mirrors,  Grey is a community leader with a Master of Fine Arts degree from Tufts University. She has edited and co-authored over a dozen books and journals, lectured widely, and has been an educator and muse to artists for over 30 years.  The symbol system in her paintings represent an essentialized world-view comprised of chaos, order and secret writing.  Allyson is the wife and partner of internationally renowned artist, Alex Grey, and the mother of accomplished film actress Zena Grey. allysongrey.com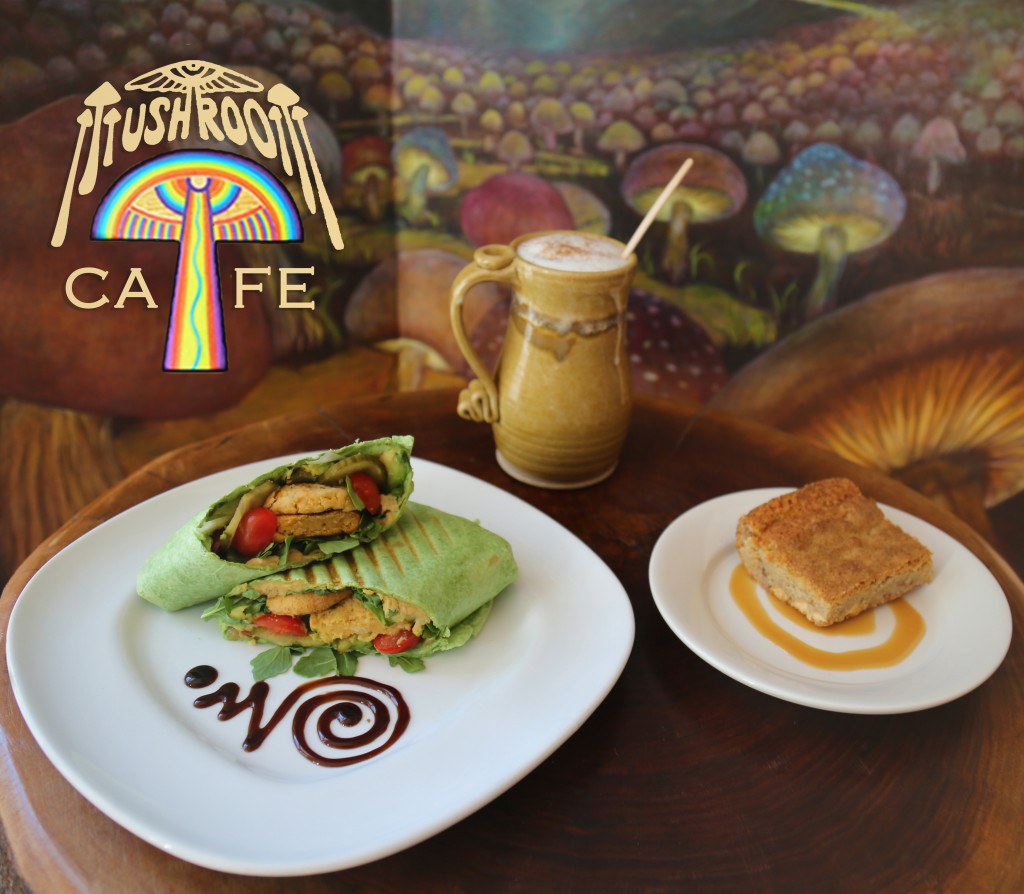 Rooms are available for rent in the Grey House, CoSM's fully renovated Visionary Victorian guest house.
Accommodations for this event must be booked directly through Hospitality. Accommodations may only be booked once event tickets have been purchased. Please call 845-297-2323 ext. 104 or email us at [email protected]
To plan a future stay, please view our Booking Calendar.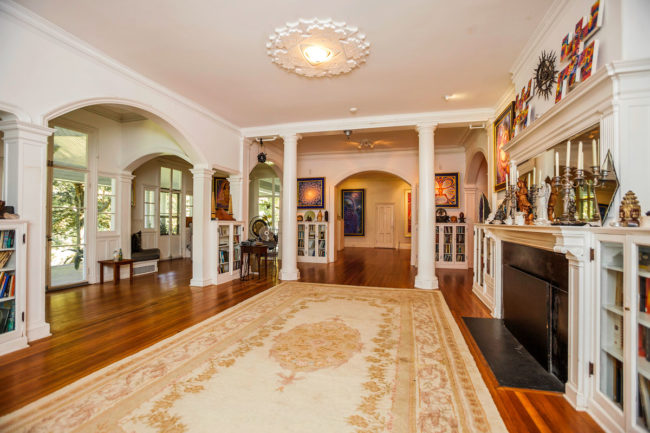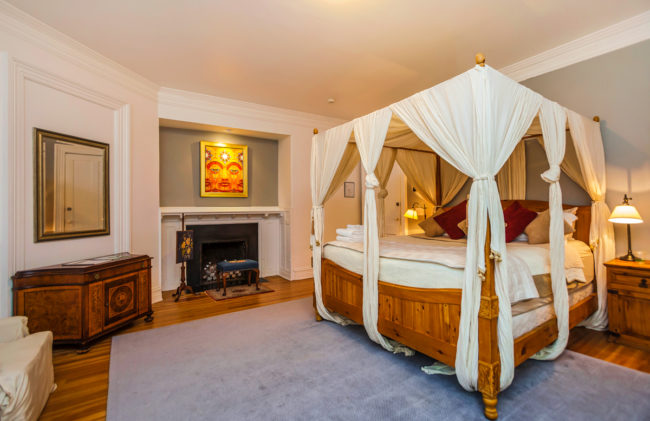 The artwork of Alex Grey & Allyson Grey plus many other visionary artists are on display in the guest house.
CoSM, Chapel of Sacred Mirrors, 46 Deer Hill Road, Wappinger, NY 12590.