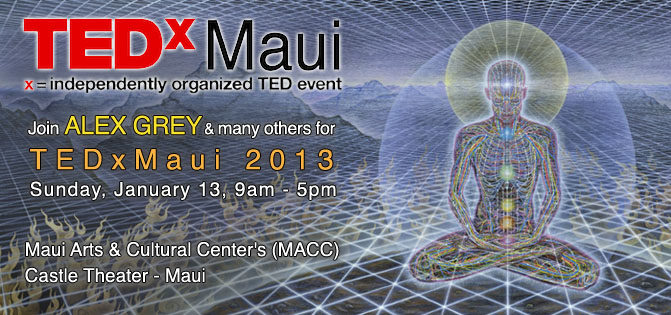 TEDxMaui 2013
The Dream is Real
SUNDAY Jan 13 ~ 9 am to 5:30 pm
Castle Theater
TED, which stands for technology, entertainment and design, is a national
nonprofit organization devoted to "Ideas Worth Spreading." The 2013 Maui event is intended to educate, inspire and connect great minds by honoring innovators who have passion, curiosity, creativity and adaptability to change the world with revolutionary ideas.
This year's featured presenters are:
Paul Atkins • Chad Kalepa Baybayan • Michael Bernard Beckwith • Rickie Byars Beckwith • Jim Channon • Sean Connelly • WenLu Duffy • Alex Grey • Kamea Hadar • Graham Hill • Quayle Hodek • Archie Kalepa • Brian Kennedy • Garrett Lisi • Sherry Lynn • Makana • Next Level Theater Productions • Jenelle Peterson • Kim Rosen • Lauren C. Roth Venu
Learn more about them by clicking here
Coffee, tea, iced water and a healthy snack will be provided to ticket-holders along with a boxed lunch. A limited amount of breakfast items will be available for purchase in the courtyard • A no-host reception will follow the presentations from 5:30 to 7:30 pm with dinner items by Whole Foods Market and drinks available for purchase in the courtyard and live music with special guest musicians!
TICKETS: $100/person (plus applicable fees)
Visit the MACC Box Office, call 808.242.SHOW (7469) or order online at MauiArts.org