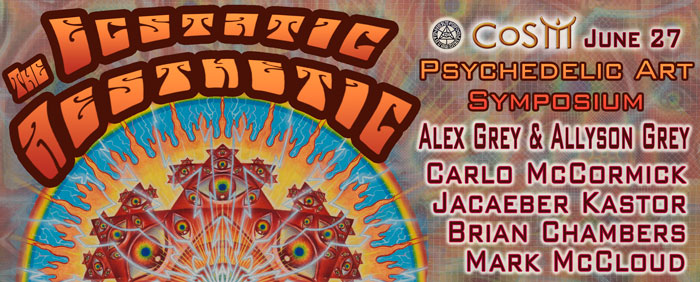 The Ecstatic Aesthetic
Psychedelic Art Symposium
with your hosts Alex & Allyson Grey
Admission – $15 online / $20 at the door
SCHEDULE
7pm – Doors open
7:30 – Welcome & opening comments Allyson & Alex
7:45 – Mark McCloud on Psychedelic Art in general
8:30 – Jacaeber Kastor on hidden psychedelic art history 50's-60's
9:15 – Brian Chambers Furtherrr
10:00 – Carlo McCormick overview of Artworld integration/non-integration of psychedelic art.
10:45 – Break
11-12 – Roundtable discussions audience inclusion
The Ecstatic Aesthetic
Psychedelic Art Symposium
ec·stat·ic
; [ekˈstatik]; adjective; — Involving an experience of mystic self-transcendence.
"an ecstatic vision"
aes·thet·ic – [esˈTHetik]; noun; — Principles underlying or guiding the work of an artist or an artistic movement.
"the Impressionist aesthetic"
Visionary mystical experiences are humanity's most direct contact with God and are the creative source of all sacred art and wisdom traditions. The best currently existing technology for sharing the mystic imaginal realms is a well-crafted artistic rendering by an eye witness.  — Alex Grey
Psychedelic Art has a long history with humanity.  Anthropologist David Lewis-Williams among other Cave Art researchers report that iconography found in caves painted thousands of years ago may have been inspired by psychedelic use, placing sacramentally altered states of consciousness at the foundations of religion and art.
Seventy-one years ago, Dr. Albert Hofmann discovered the psychoactive properties of LSD, one of the most important scientific, religious and artistic breakthroughs in human history. Despite having been outlawed around the world, psychedelics have impacted artists globally and may hold keys to furthering a culture of peace and love.
Post war art movements in the US displayed the influence of psychedelics, most obviously during the '60's from Brigit Riley's wavey Op Art & Warhol's intensely colored Pop Art to Visionary Realists like Mati Klarwein.  Today a new wave of artists are reinterpreting the meaning of the psychedelic art.
Join Alex and Allyson at CoSM for a conversation with some of the most discerning and active supporters of Psychedelic Visionary Art. From both Coasts, these long-time specialists will discuss their own unique lens on the movement, and the importance of the genre, dubbed by art critic Carlo McCormick as the Ecstatic Aesthetic. We will explore the ancient history of psychedelic art, the 60's, and the exciting new generation of visionary artists working today.  We will ask our respected guests what attracts them to this very special oeuvre?  How do they discover works of art for their own private collections as well as for their clients? Why do they feel that Visionary Art matters?
"Vision Crystal", by Alex Grey
PRESENTERS
San Francisco legend, Mark McCloud, is the founder of the Institute of Illegal Images. One of the foremost collectors of original and printed editions of Psychedelic Art for over three decades, Mark is committed to art generated by the Ecstatic Aesthetic.
Jacaeber Kastor  is a preeminent collector and researcher in the Psychedelic Art field founded Psychedelic Solution Gallery in Manhattan in 1986. Editor of the 1997 book on Psychedelic posters, "The Art of the Fillmore", and contributing writer for Juxtapoz Magazine, he has been influential in publishing and exhibiting the work of such noted artists as Lee Conklin, H R Giger, Rick Griffin, Robert Crumb and Alex Grey.
Brian Chambers
is easily one of today's most active collectors and independent curators of the Psychedelic Art genre. Originator of the Furtherrr Collective, Brian Chambers has commissioned outstanding collaborations by Alex Grey/Mars 1 and Allyson Grey/Vibrata Chromodoris plus numerous joint and individual works of Oliver Vernon, Damon Soule, among many others. Chambers has curated exhibitions, performances, public murals, and workshops throughout the U.S.
Carlo McCormick is a culture critic and curator living in New York City. Senior Editor of New York City's, Paper Magazine, Carlo lectures and teaches extensively on popular culture and art and is renowned for his authorship of books, monographs and catalogues on contemporary art and artists. The essay, "Through Darkness to Light: The Art Path of Alex Grey" for Alex's first book, Sacred Mirrors (1990) is credited to Carlo.