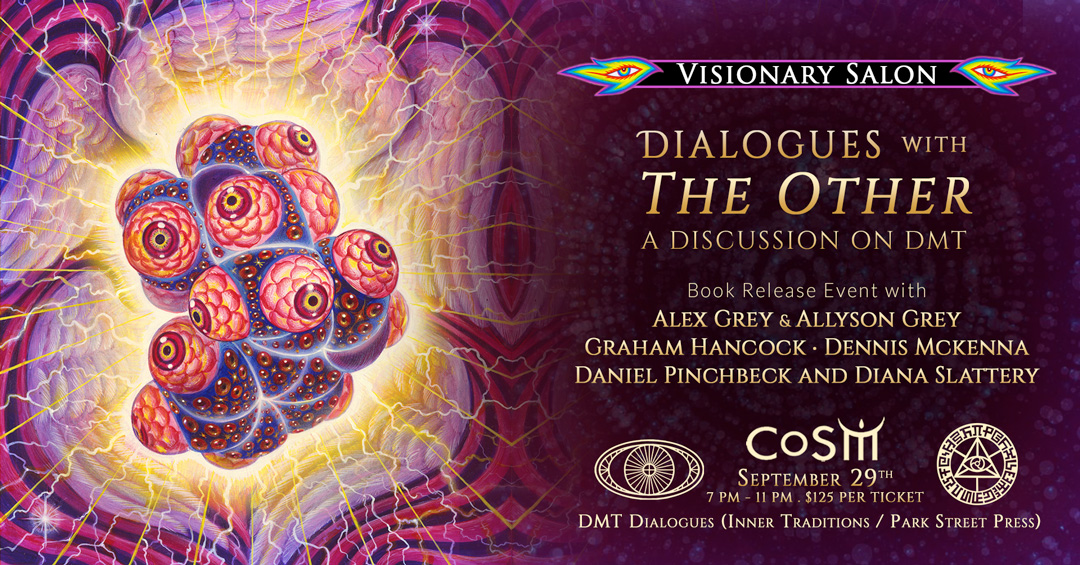 Visionary Salon: DMT & Dialogues with the Other
Visionary Salon
Dialogues with the Other
A Discussion on DMT
Book Launch with
Graham Hancock, Dennis McKenna,
Alex Grey, Allyson Grey
Diana Slattery & Daniel Pinchbeck
**Though the main room is sold out, discounted overflow seats are still available in our remote viewing rooms. A stream will be set up in the Grey House parlor and library for you to watch from those select areas only.
Schedule:
7:15 pm —
Introductory remarks – Anton, Rory, Alex/Allyson, Dennis, Graham
7:30 pm —
Daniel Pinchbeck in discussion with Dennis and Graham
8:15 pm —
Q and A for the above – 20 mins
8:35 pm —
25 min. break
9:00 pm —
Daniel Pinchbeck in discussion with Alex, Allyson and Diana
9:45 pm —
Q and A for the above – 20 mins
10:05 pm —
Daniel Pinchbeck plus Alex, Allyson, Dennis, Graham, and Diana all on stage and open up the floor to discuss proposed experiments
10:45 pm —
Wrap up and general mingling
Tyringham Initiative invite you for the launch of DMT Dialogues, the transcripts of talks from the 2015 Tyringham Symposium – Exploring Entheogenic Plant Sentience. Graham Hancock, Dennis McKenna, Alex Grey, Allyson Grey, and Diana Slattery join Daniel Pinchbeck to discuss DMT and Dialogues with The Other.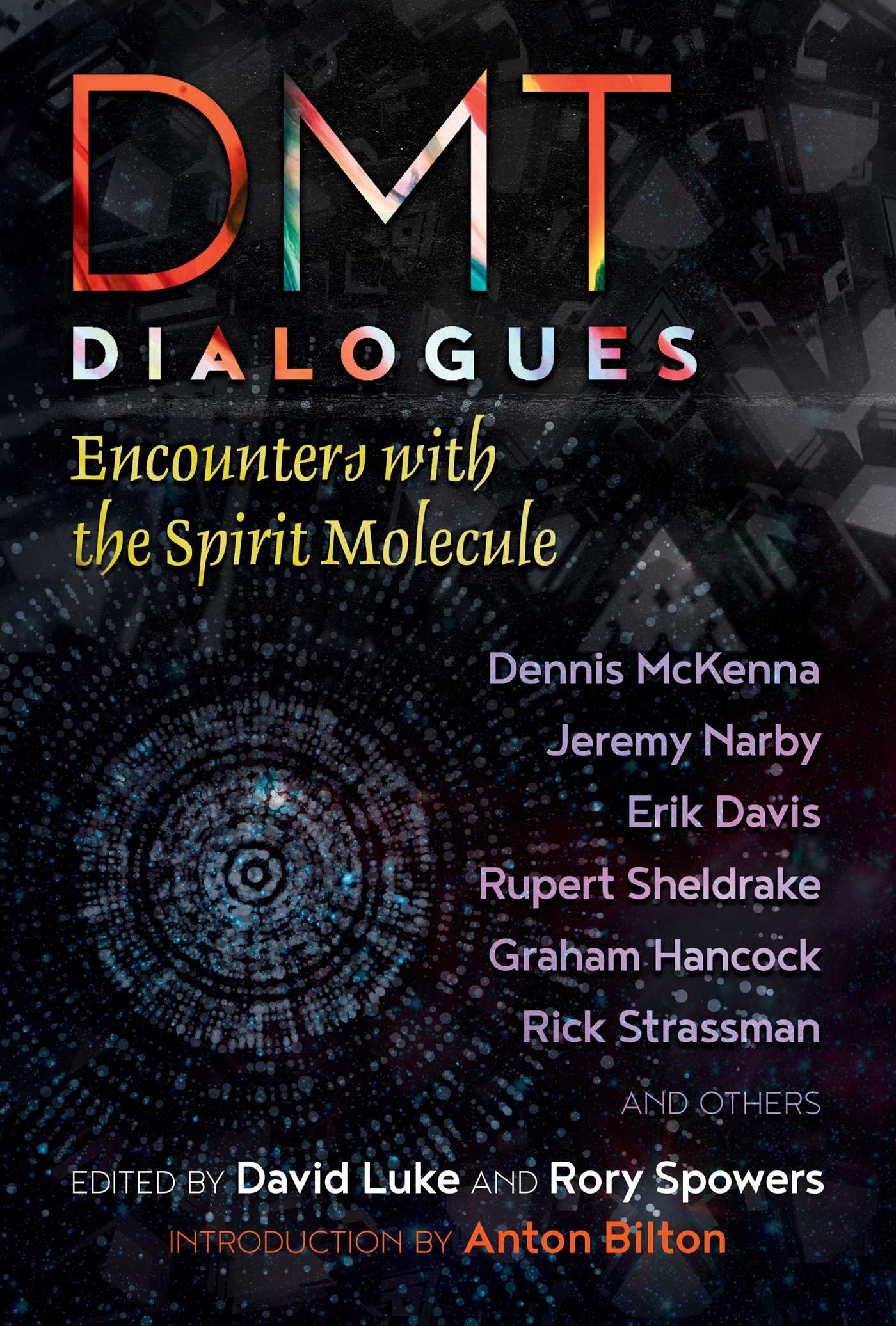 About DMT Dialogues: Encounters with the Spirit Molecule
Encounters with apparently sentient beings are reported by half of all first time users of the naturally occurring psychedelic DMT, yet the question of DMT beings and plant sentience, interspecies communication, discarnate consciousness, and perhaps even dialoguing with the divine has never been systematically explored.
In September 2015, ten of the world's leading luminaries noted for exploring the mysterious compound DMT (dimethyltryptamine) gathered with other researchers at Tyringham Hall in England to discuss the subject. Over three days, they pooled their expertise from a wide range of subjects – archaeology, anthropology, religious studies, psychology, neuroscience, chemistry, and psychopharmacology, to name a few – to explore the notion of "entheogenic plant sentience" and the role of DMT as a conduit between Spirit and Matter.
Offering cutting-edge insights into this visionary domain, this book distills the potent exchange of ideas that occurred at Tyringham Hall, including presentations and discussions on DMT entities, the pineal gland, the possibility of DMT as a chemical messenger from an extraterrestrial civilization, the Amazonian shamanic perspective on Invisible Entities, morphic resonance, and the science behind hallucinations.
Contributors to the talks and discussions include many leading thinkers in this field, including Rupert Sheldrake, Rick Strassman, Dennis McKenna, Graham Hancock, Jeremy Narby, Erik Davis, Ede Frecska, Luis Eduardo Luna, Bernard Carr, Robin Carhart-Harris, Graham St. John, David Luke, Andrew Gallimore, Peter Meyer, Jill Purce, William Rowlandson, Anton Bilton, Vimal Darpan, Santha Faiia, and Cosmo Feilding Mellen.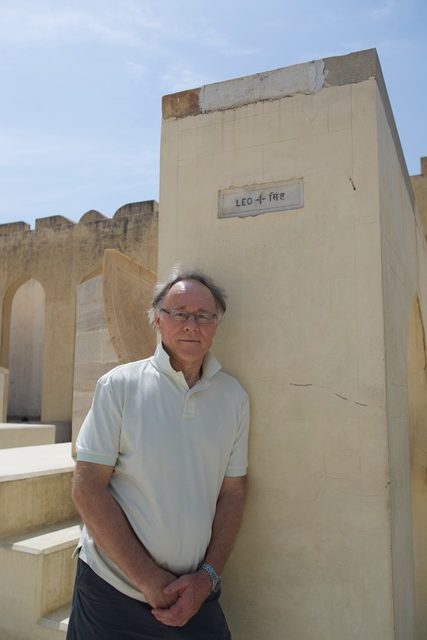 Graham Hancock is the author of the major international non-fiction bestsellers The Sign and the Seal, Fingerprints of the Gods, The Message of the Sphinx, Heaven's Mirror, Underworld and Supernatural, and of the epic adventure novels Entangled and War God. His books have sold more than seven million copies worldwide and have been translated into thirty languages. His public lectures, radio and TV appearances, including two major TV series, Quest For The Lost Civilisation and Flooded Kingdoms of the Ice Age, as well as his strong presence on the internet, have put his ideas before audiences of tens of millions. He has become recognised as an unconventional thinker who raises resonant questions about humanity's past and about our present predicament. In February 2015 Hancock was voted No 30 in the Watkins list of "The 100 Most Spiritually Influential Living People".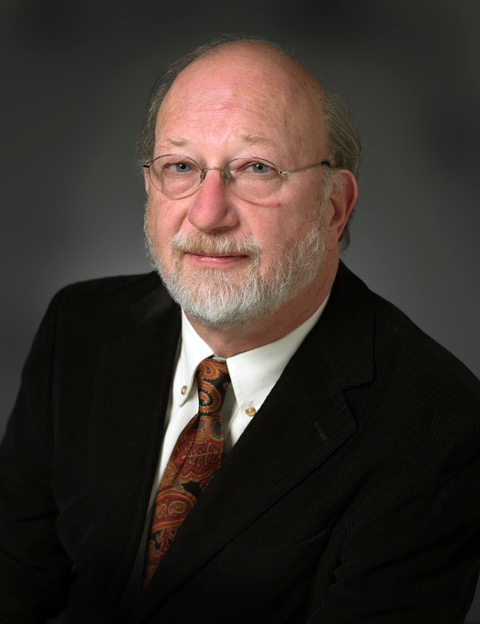 Dennis McKenna's research has focused on the interdisciplinary study of Amazonian ethnopharmacology and plant hallucinogens. He has conducted extensive ethnobotanical fieldwork in the Peruvian, Colombian, and Brasilian Amazon.
His doctoral research (University of British Columbia,1984) focused on the ethnopharmacology of ayahuasca and oo-koo-he, two tryptamine-based hallucinogens used by indigenous peoples in the Northwest Amazon. He is a founding board member of the Heffter Research Institute, and was a key organizer and participant in the Hoasca Project, the first biomedical investigation of ayahuasca used by the UDV, a Brazilian religious group. He is currently Assistant Professor in the Center for Spirituality and Healing at the University of Minnesota.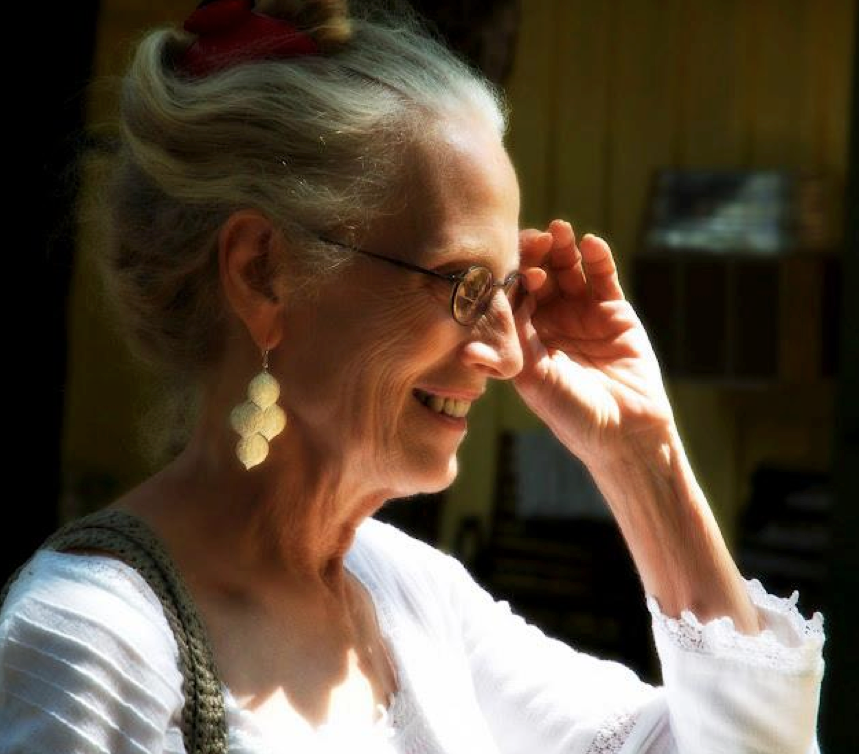 Diana Reed Slattery is a novelist, scholar, and video performance artist. Slattery's science fiction novel, The Maze Game, tells the story of a game played on mazes made of the psychedelic language, Glide. She received her Ph.D. in 2010 from the University of Plymouth, UK, for research in psychedelics, language, and the phenomenology of altered states of consciousness. States of extended perception were used in the conception, design, and implementation of her LiveGlide video performance software. Psychedelics provided the means to emerge from the cocoon of natural language into what could be understood as both a pre-linguistic state of direct apperception of the world around and inside us, and as a post-linguistic realm of evolutionary forms of language. Her book on these topics, Xenolinguistics: Psychedelics, Language, and the Evolution of Consciousness, was published in 2015 by North Atlantic Books. She is currently exploring the interface of Tibetan Buddhist meditation practice and psychedelics.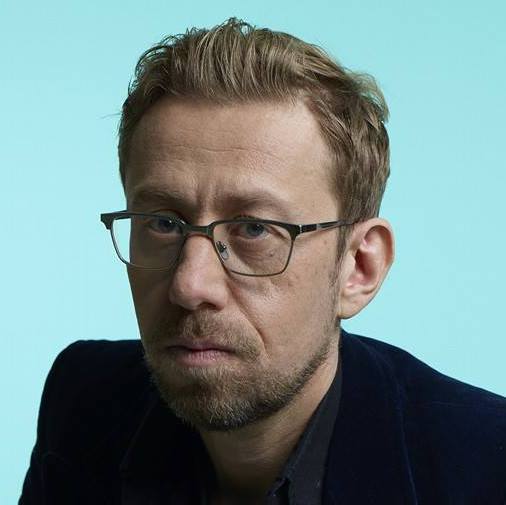 Daniel Pinchbeck is the author of Breaking Open the Head (Broadway Books, 2002), 2012: The Return of Quetzalcoatl (Tarcher/Penguin, 2006), Notes from the Edge Times (Tarcher/Penguin, 2010), and How Soon Is Now (Watkins, 2017). He is a co-founder of the web magazine, Reality Sandwich, and Evolver.net, and edited the publishing imprint, Evolver Editions, with North Atlantic Books. Daniel was featured in the 2010 documentary, 2012: Time for Change, directed by Joao Amorim and produced by Mangusta Films. He founded the think tank, Center for Planetary Culture, which produced the Regenerative Society Wiki. Daniel has also been a featured host for the talk show Mindshift on GaiamTV. His essays and articles have been featured in The New York Times Magazine, Esquire, Rolling Stone, ArtForum, The New York Times Book Review, The Village Voice, Dazed & Confused, and many other publications.
With Your Hosts:
Alex Grey & Allyson Grey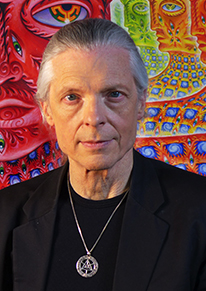 Alex Grey, world-renowned artist, poet, and author, is best loved for his paintings which portray multiple dimensions of reality, interweaving biological anatomy with psychic and spiritual energies. His books, Sacred Mirrors, The Mission of Art, Transfigurations, and Art Psalms, trace the development of his work and mystical experiences that shaped his spiritual artistic life. Alex's most recent monograph, Net of Being, addresses how his art is evolving the cultural body through icons of interconnectedness. www.alexgrey.com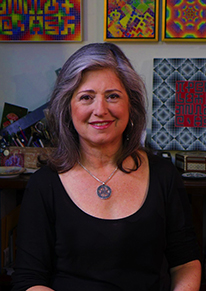 Allyson Grey
, artist, writer and social sculptor, has co-written and edited a dozen books and all seven volumes of CoSM Journal of Visionary Culture. Since 1975, Allyson has been artistic partner and studio mate of artist, Alex Grey. With a Master of Fine Arts from Tufts University, Allyson has been an educator and muse to artists for over 30 years.
 Alex and Allyson are the parents of actress, Zena Grey. allysongrey.com Together, the Grey co-founded the Chapel of Sacred Mirrors, CoSM, an interfaith church since 2008, celebrating creativity as a spiritual path.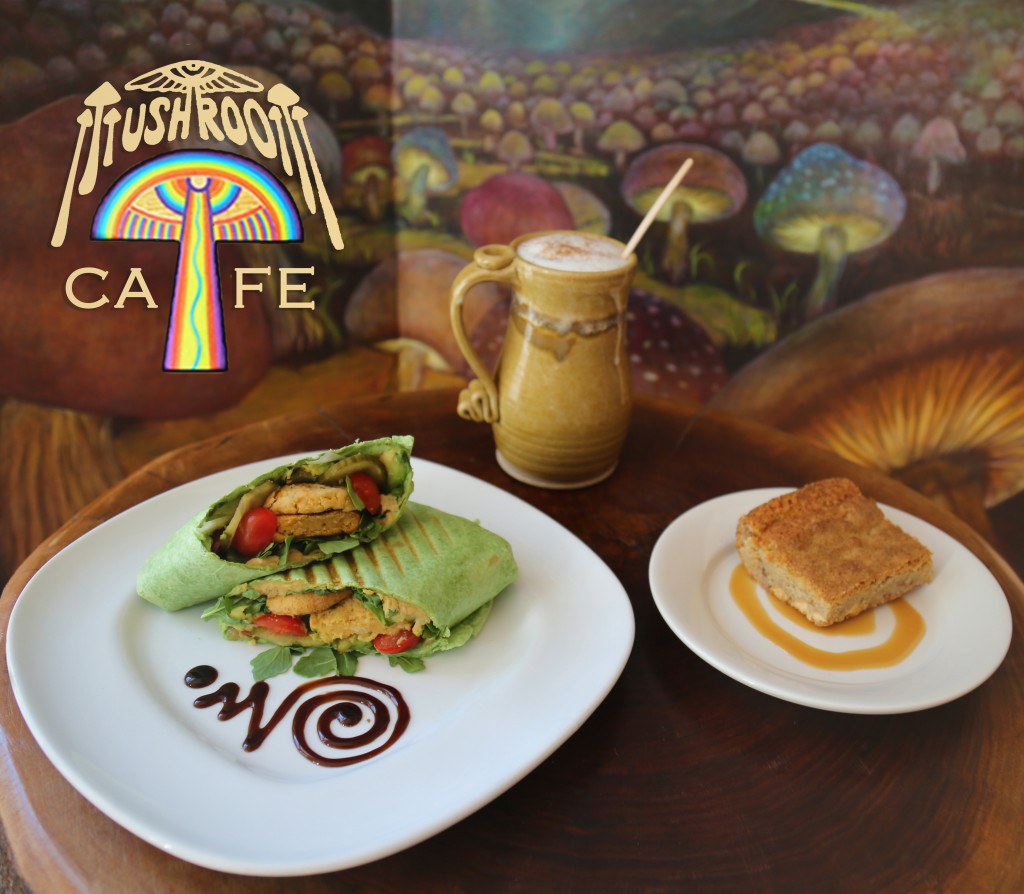 CoSM, Chapel of Sacred Mirrors, 46 Deer Hill Road, Wappingers Falls, NY 12590.