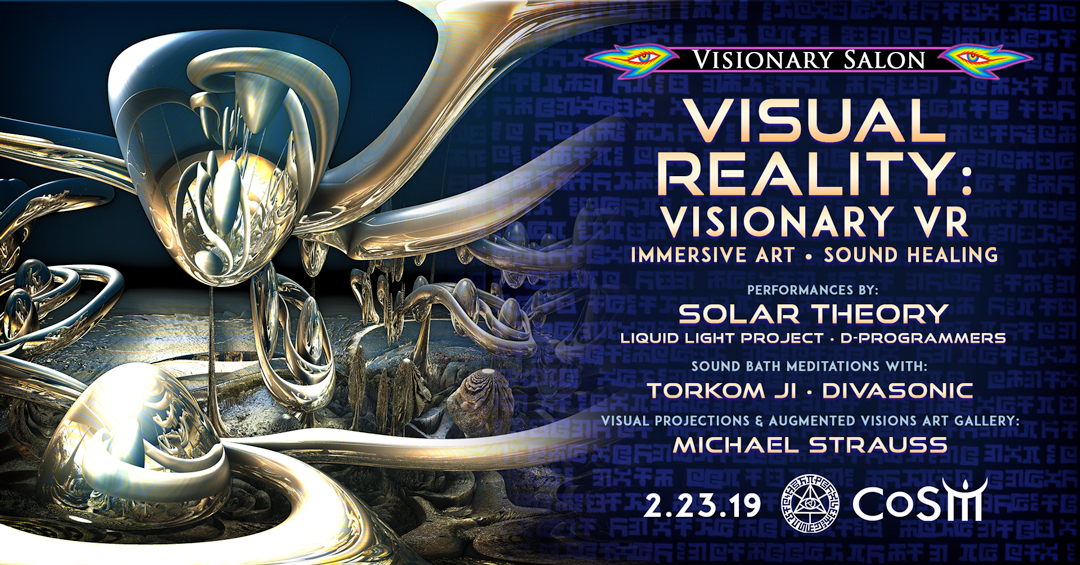 Visual Reality: Visionary VR, Immersive Art & Sound Healing
Visual Reality:
Visionary VR, Immersive Art & Sound Healing
7 pm – 12am
7 pm – Doors
7:30pm – Visual Reality Introduction
8 pm – Opening Sound Meditation by Divasonic
8:30pm – D-Programmers (Audio/Visual Set)
9:30pm -Liquid Light Project  (Mixed Reality)
10 pm – Solar Theory (Live Performance)
11 pm -Visual Soundbath with Torkom Ji
12 am – CoSM Closes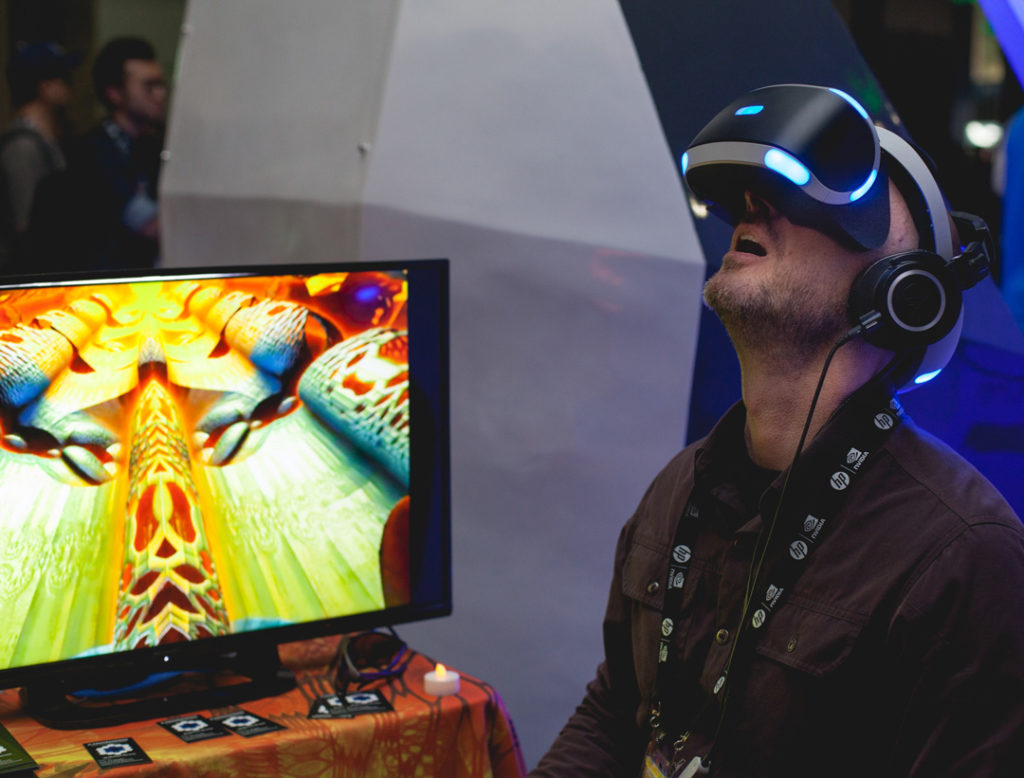 VISUAL REALITY is bridging the gap between art, technology and consciousness. We design experiences and produce events that open hearts, lift spirits, and blow minds. After 2 years of refining the perfect formula for transformation at events all over the west coast, we are excited to bring this unique experience to CoSM!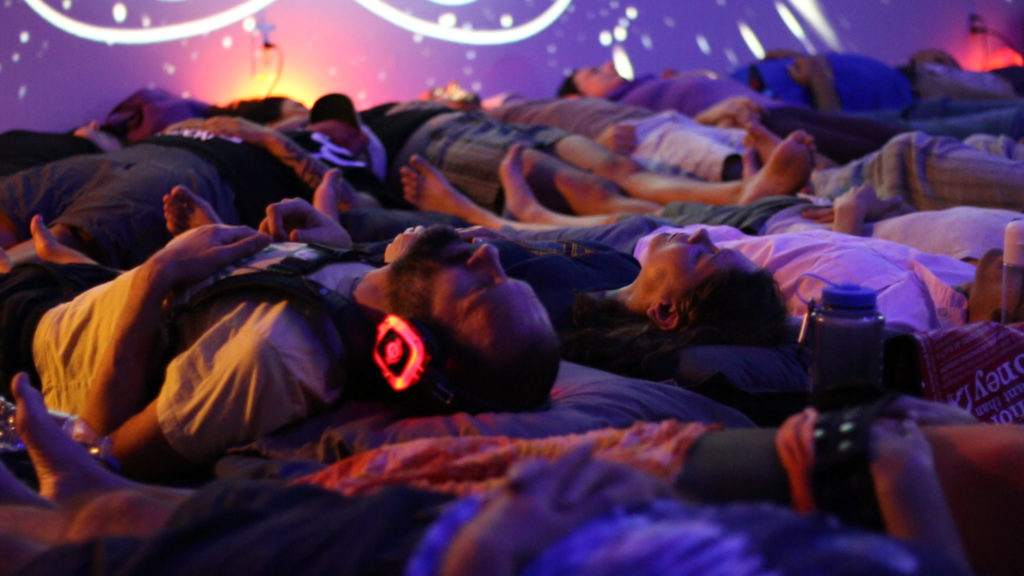 Participants are invited to explore a curated selection of meditative and psychedelic VR voyages. Seeing is believing in this new world of infinite possibilities. Immerse yourself in the full spectrum of transcendent virtual realities, then come together for a powerful sound healing meditation with hypnotic visual projections.
The evening also features eye opening cinematic audio/visual sets by Torkom Ji, Divasonic, Solar Theory, D-Programmers, and more.
EXPLORE SPACE • FREQUENCY • DIMENSION
• Transcendent Virtual Reality Experiences
• Augmented Art Gallery Exhibition
• Psychedelic Visual Projections
• Live Audio/Video Performances
• 432hz Healing Soundbath Sessions
Augmented Visions Art Exhibition
Curated by Michael Strauss, the Augmented Visions art exhibition demonstrates new forms of expression using projection mapping and AR software. Witness unbounded creativity as canvases magically spring forth with animation, and sound effects.
See the visionary works of Alex Grey and Allyson Grey with a new lens as they come alive before your eyes. The entire Chapel of Sacred Mirrors museum will be transformed in this never-seen-before collaboration by the Greys and Michael Strauss Visuals.
The show features a full spectrum of digitally enhanced pieces by artists including Abhi Thati, Ben Ridgway, Benedigital, Brad Rhadwood, Hakan Hisim, Salviadroid, Sawyer Hurwitz, Simon Haiduk, and Vajra. Reality will never be the same!
Sound Journey with Solar Theory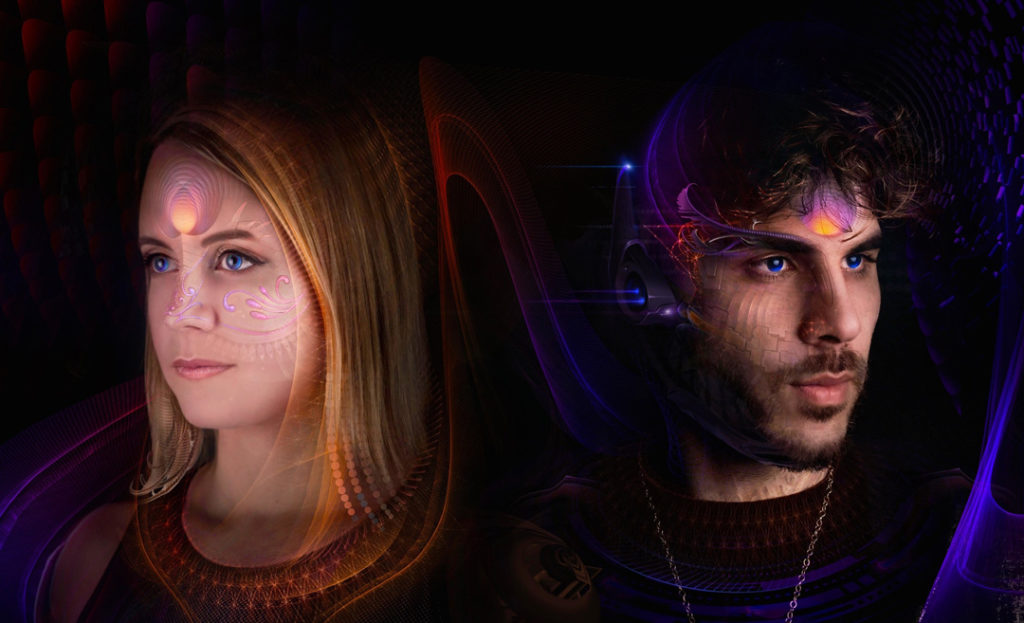 The two universes of Torkom Ji and Divasonic collide to form Solar Theory, their collaborative electronic performance and production project. Torkom and Lynda weave deeply mystical and spiritual compositions. Lynda's vocal and instrumental musings about the universe and evolving consciousness, stories of our journey through time, space and love through connection to source, float over Torkom's signature 432Hz electronic grooves and soundscapes. Solar Theory is unifying the space between sound meditation and live performance through a diversity of form and expression. Their live experience is further enhanced by the visual wizardry of Michael Strauss, creating a synesthetic audio-visual experience designed to open hearts and blow minds.
'Language of Light' is an ambient listening experience designed for deep meditation, healing, inner exploration and relaxation.  Their sound healing collaboration centers around creating a safe and grounded space to dive deep within the mind and spirit. The purpose of creating space for internal sound journeying is to resolve and release tensions, receive answers, and cultivate a deeply restful state of integrated awareness.  The Language of Light sessions often incorporate vocal meditation exercises like toning, chanting and breath work to help participants drop into the experience and connect more intimately with themselves.  It is a journey of deep listening. They have shared this experience at dozen of events, festivals and yoga studios.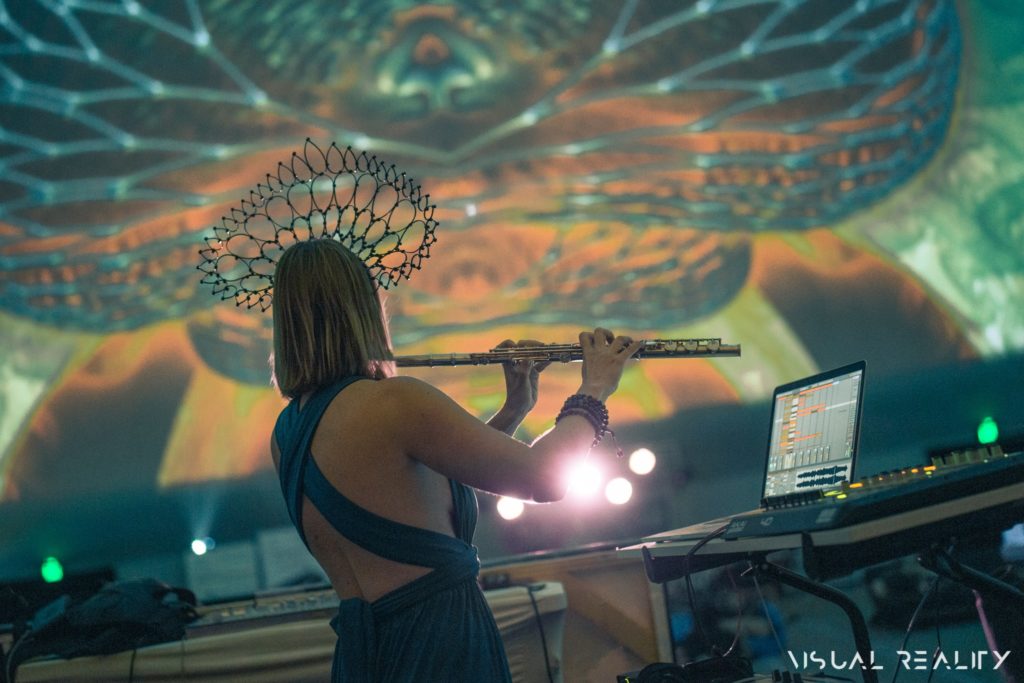 Live Painting by Brad Wradwood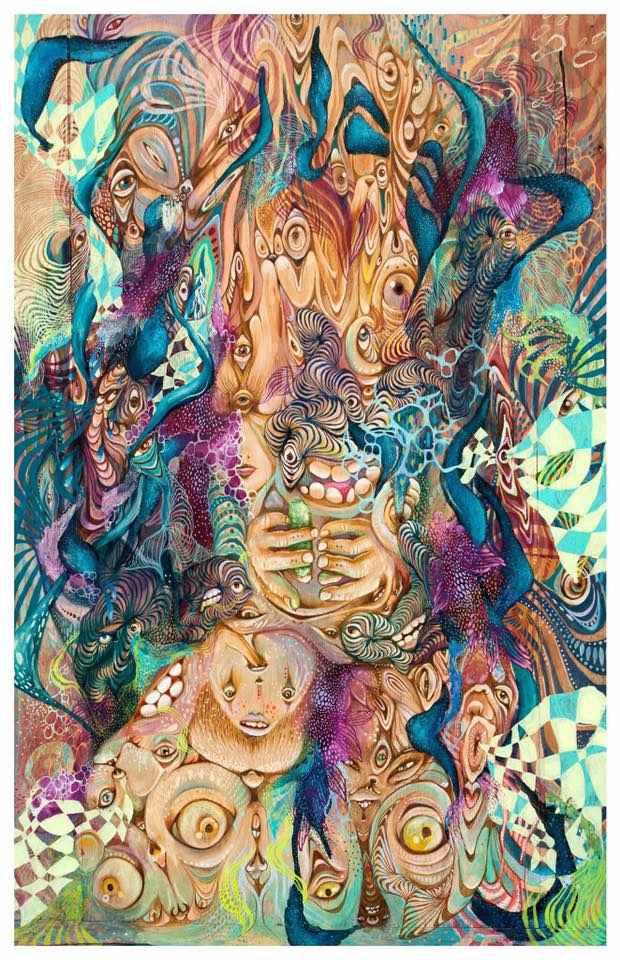 Visual Reality is a visionary event production company and new media art collective with an eye on a positive future for humanity. We create environments that facilitate deep inner journeys, as well as community building social connections.
Our pioneering multi-sensory events blending VR with audio/visual art, live performances, and sound healing meditation provide a unique perspective on immersive entertainment and transformative technology, as well as an engaging restorative experience.
Founders Michael Strauss (visual artist/VJ), Torkom Ji (music producer/sound healer), and Anshul Pendse (software developer/immersive designer) are masters of sight, sound, and interactivity. Their focus on meditation, consciousness expansion, and virtual psychedelic experiences represents a unique approach to the world of VR.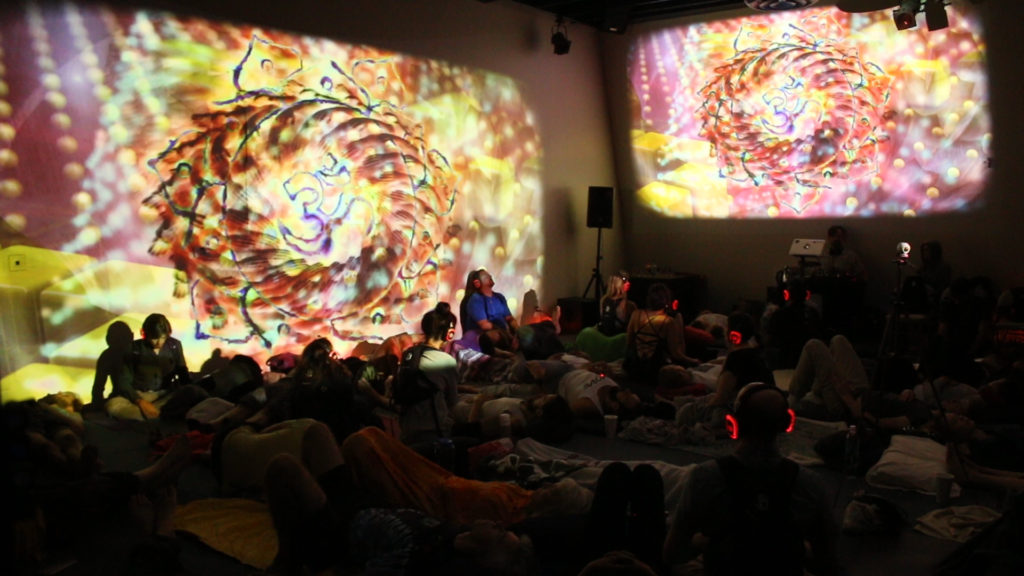 Visual Reality serves as a platform to collaborate with and promote the work of independent artists, developers and creators exploring the fields of mindfulness technologies, audio/visual experimentation and immersive art. Artists, developers and designers from varied disciplines bring their projects, ideas and skill sets together to form a cohesive whole.
Our exhibitions are designed as intimate play spaces to explore awe and wonder. Artistic installations facilitate sublime transitioning between the real and virtual worlds, and provide the comfort that participants require to fully immerse themselves in the virtual journey. We welcome you into this community to share in this voyage. See you in the future!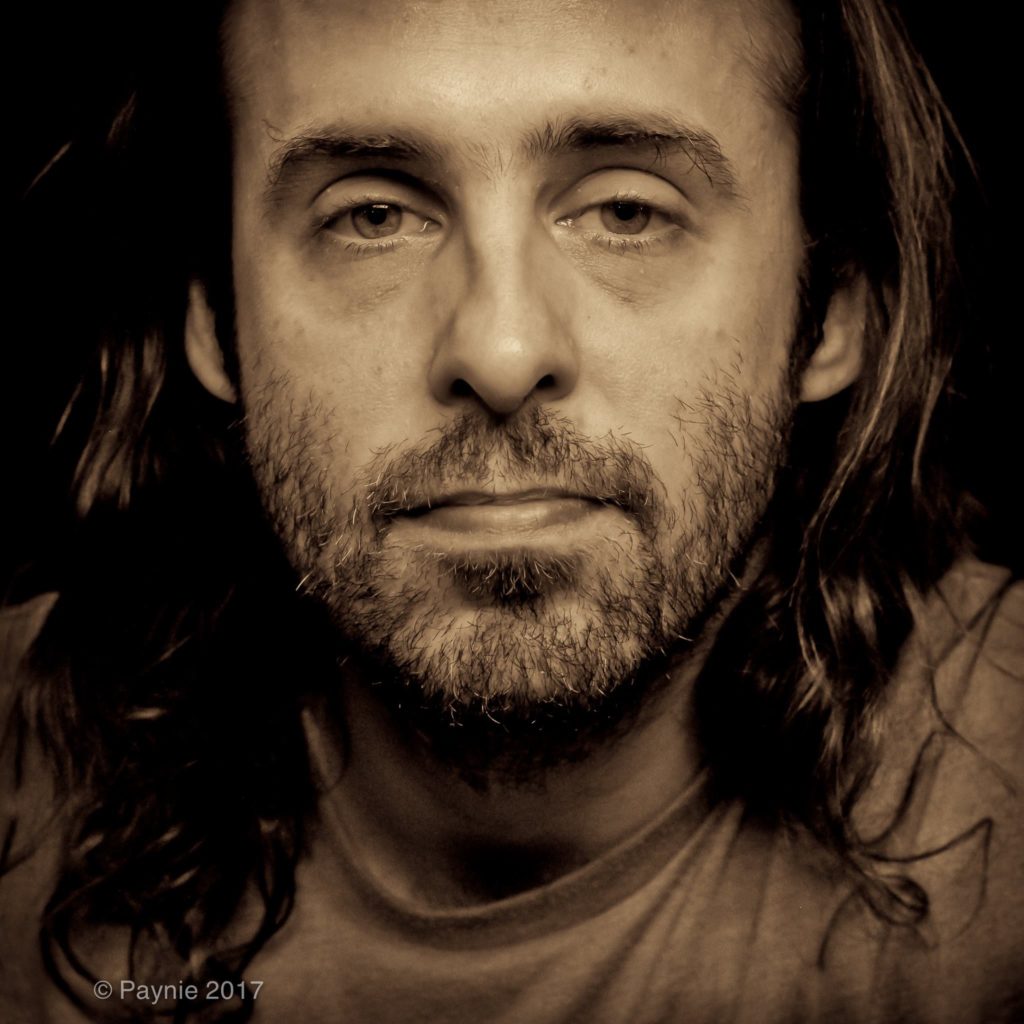 MICHAEL STRAUSS is a live visual artist and event producer, crafting psychedelic immersive environments and multi-dimensional visual projections for over 12 years. Most recently Michael was chosen to represent and remix the visionary art of Alex and Allyson Grey as the official VJ for the Bicycle Day 75th Anniversary tour with Shpongle. Michael's live visual mixing and custom animated music videos have enhanced performances by countless legendary artists. Collaborations include next-level stage productions with mind blowing acts like Lucent Dossier Experience and Kalya Scintilla's Evokation. His work has been seen on the main stages of festivals such as Lightning in a Bottle, Symbiosis, Lucidity, Serenity Gathering, Sonic Bloom, Untz, Electric Daisy Carnival, and Nocturnal Wonderland. Michael is the true embodiment of a modern-day wizard, using technology and creativity to transform reality.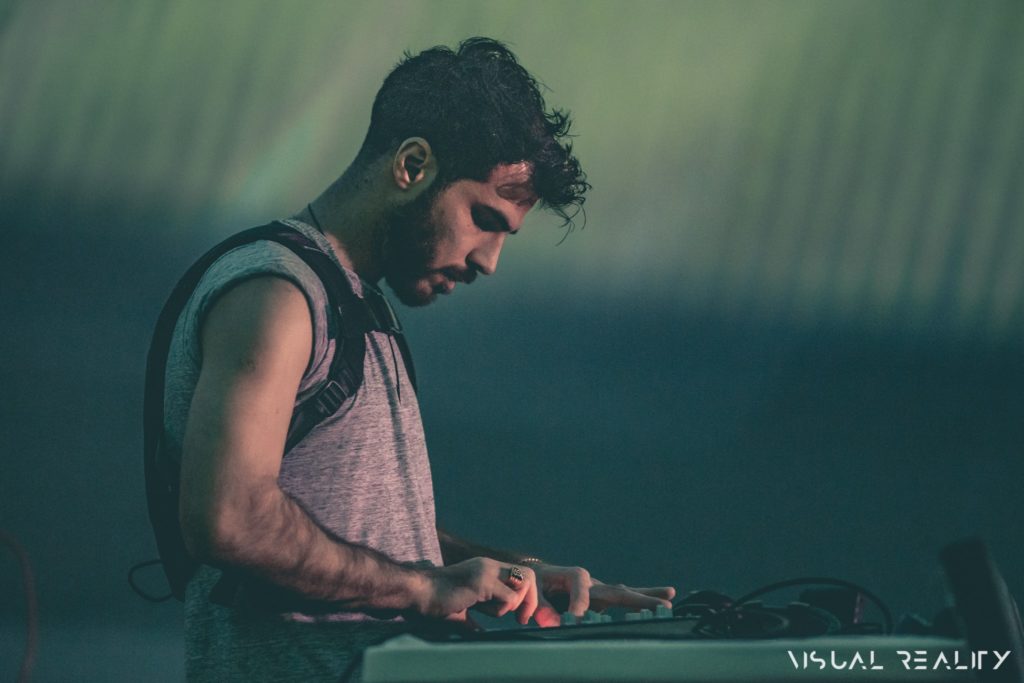 TORKOM JI is a master sound healer and sonic architect from Los Angeles. He has been facilitating group sound healing experiences since 2012 and has provided deep meditation and rejuvenation for thousands of people using his unique and powerful modality. Birthed from his studies of music, vibration, energy and the practice of meditation and martial arts, Torkom has mastered and perfected a system that is known to put people in very deep states of consciousness. Using a synthesizer in 432hz tuning, Torkom weaves sound waves and harmonics live, using his one-of-a-kind system, Quantum Harmonix, a sound-based healing technology using live synthesis, and sacred mathematics. He has performed at major music festivals around the world and contributed sound design for several VR experiences.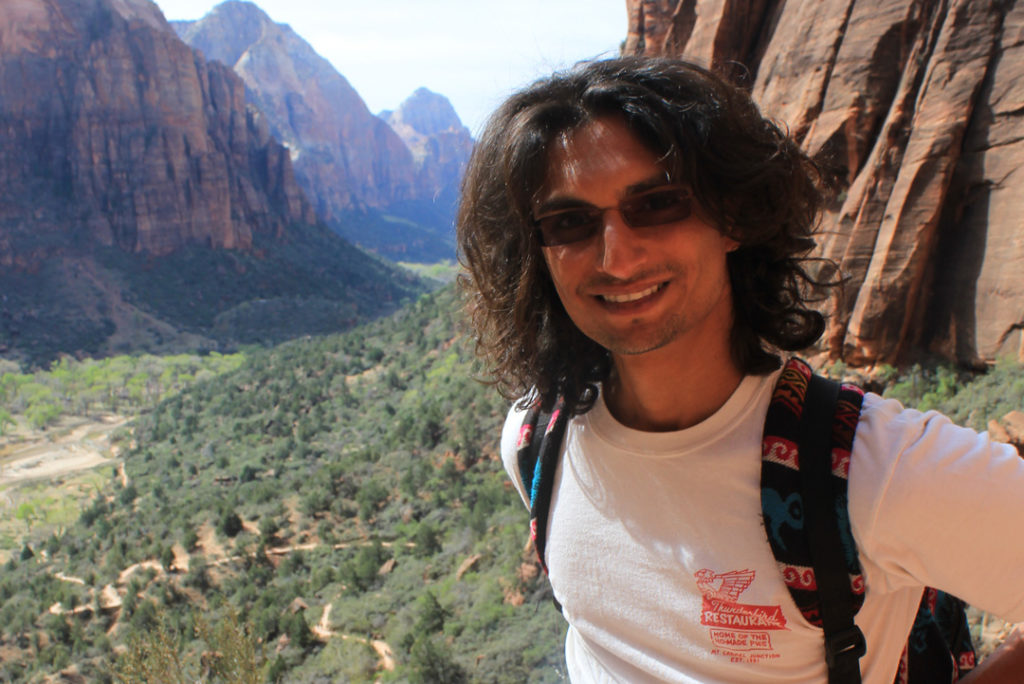 ANSHUL PENDSE is an immersive experience designer with a keen interest in bridging the gap between entertainment and therapy using immersive media and multi-sensory technologies. He has a background in animation and visual effects, working on films such as Harry Potter and the Deathly Hallows, Pirates of the Caribbean: On Stranger Tides and X-MEN: First Class. He holds an MFA in Interactive Media & Game Design from USC's School of Cinematic Arts, where he developed his MFA Thesis 'Inner Activity' as an entertainment based therapy modality using virtual reality and multi sensory technologies. Anshul is currently a doctoral candidate in Media Arts & Technology at University of California, Santa Barbara.
LYNDA ARNOLD (Divasonic) is a certified Sound Healer, Vocalist & Multi-Instrumentalist, Composer and seasoned Performer on a life long mission to build healthy communities through the power of sound and music. She offers sound healing workshops, private sound baths, singing for wellness sessions and performs in Los Angeles and has appeared at Shakti Fest, Bhakti Fest, LA Yoga Expo, DisclosureFest, SXSW, Lightning in a Bottle Festival, Emerald Exchange Festival, Burning Man and Lucidity Festival among others. Her intention is to provide a gateway for people to reduce stress, transform consciousness and heal through sound and meditation. She received a Certificate in 'Sound, Voice and Music Healing' at the California Institute of Integral Studies in San Francisco in 2010, has multiple music degrees and over 25 years of music education and performing experience.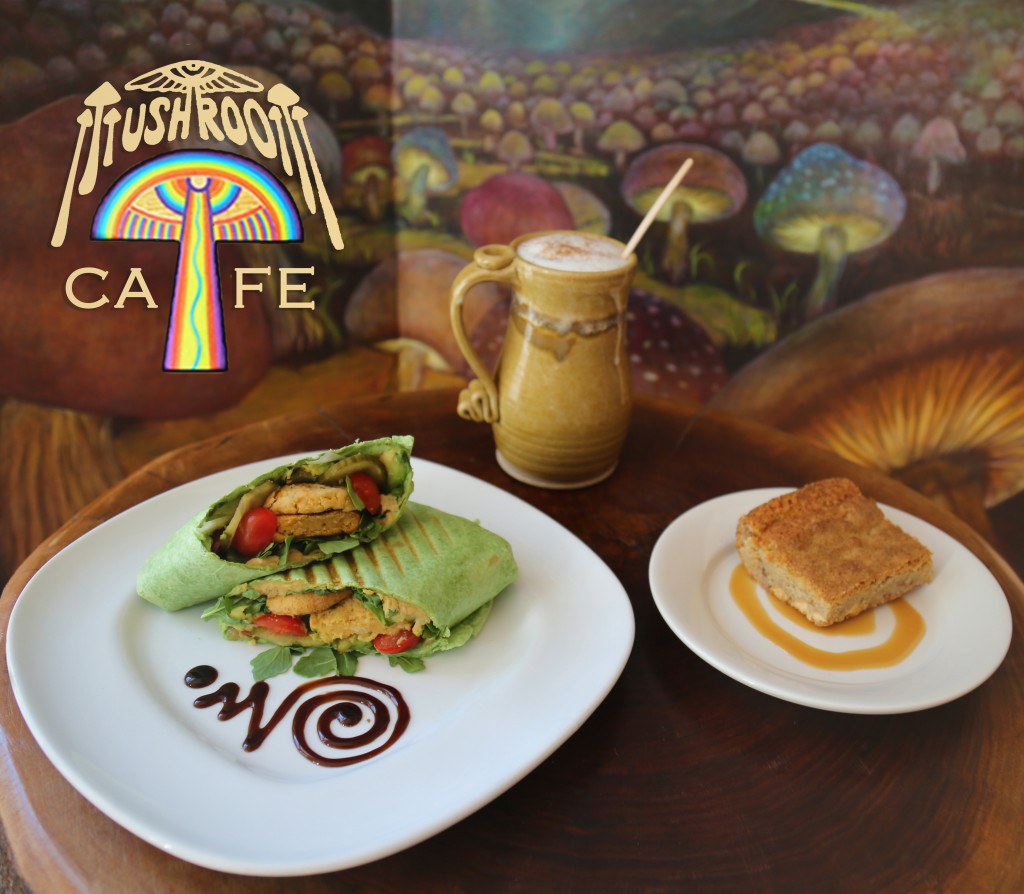 Rooms are available for rent in the Grey House, CoSM's fully renovated Visionary Victorian guest house.
Accommodations for this event must be booked directly through Hospitality. Accommodations may only be booked once event tickets have been purchased. Please call 845-297-2323 ext. 104 or email us at [email protected]
To plan a future stay, please view our Booking Calendar.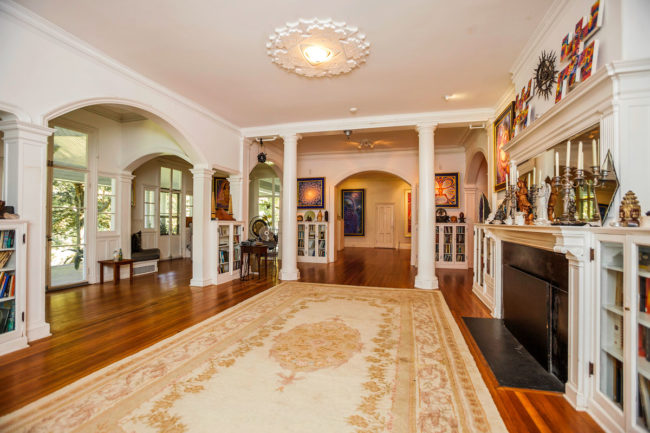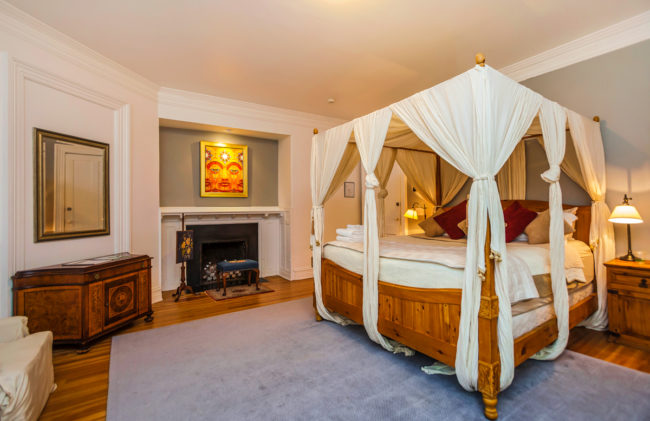 The artwork of Alex Grey & Allyson Grey plus many other visionary artists are on display in the guest house.
CoSM, Chapel of Sacred Mirrors, 46 Deer Hill Road, Wappinger, NY 12590.