"Where there is great love there is always miracles."
-Willa Cather
Celebrating love in art and creative expression, the number 10 'Love' edition of CoSM Journal of Visionary Culture is now available.
This new edge publication will uplift and inspire people across the planet. It features an amazing array of visionary thinkers and teachers including Amma, Michael Beckwith, Ken Wilber, Martin Ucik, Looby Macnamara, Erik Davis, Susun Weed, Michael Phillips, Ian Mackenzie, Judith Ansara and Robert Gass, Core Love, Richard Rudd, Jean Houston, Jon Young, Rosemary Morrow, Louie Schwarzberg, Sijay James, Delvin Solkinson, Eli Morgan, Alex Grey and Allyson Grey. Expect an outpouring of love in full spectrum colour from visionary masters and maestras like Amanda Sage, Luis Tamani, Autumn Skye, Michael Parkes, Robert Venosa, Martina Hoffmann, Li Lian Kolster, David Heskin, Aloria Weaver, Shrine, Andrew Jones,  Mark Henson, and Cryptik.
Journeying through the inner reaches of visionary reality, artists everywhere are exploring new and creative ways to express the ineffable. Every moment is a unique opportunity to love, and share new visions of love to uplift and inspire a more artful world. Celebrating creativity as a spiritual practice, the Chapel of Sacred Mirrors co-creates CoSM Journal of Visionary Culture to support its Core Mission to build an enduring sanctuary of visionary art to inspire every pilgrim's creative path and embody the values of love and perennial wisdom.
Email [email protected] for more details.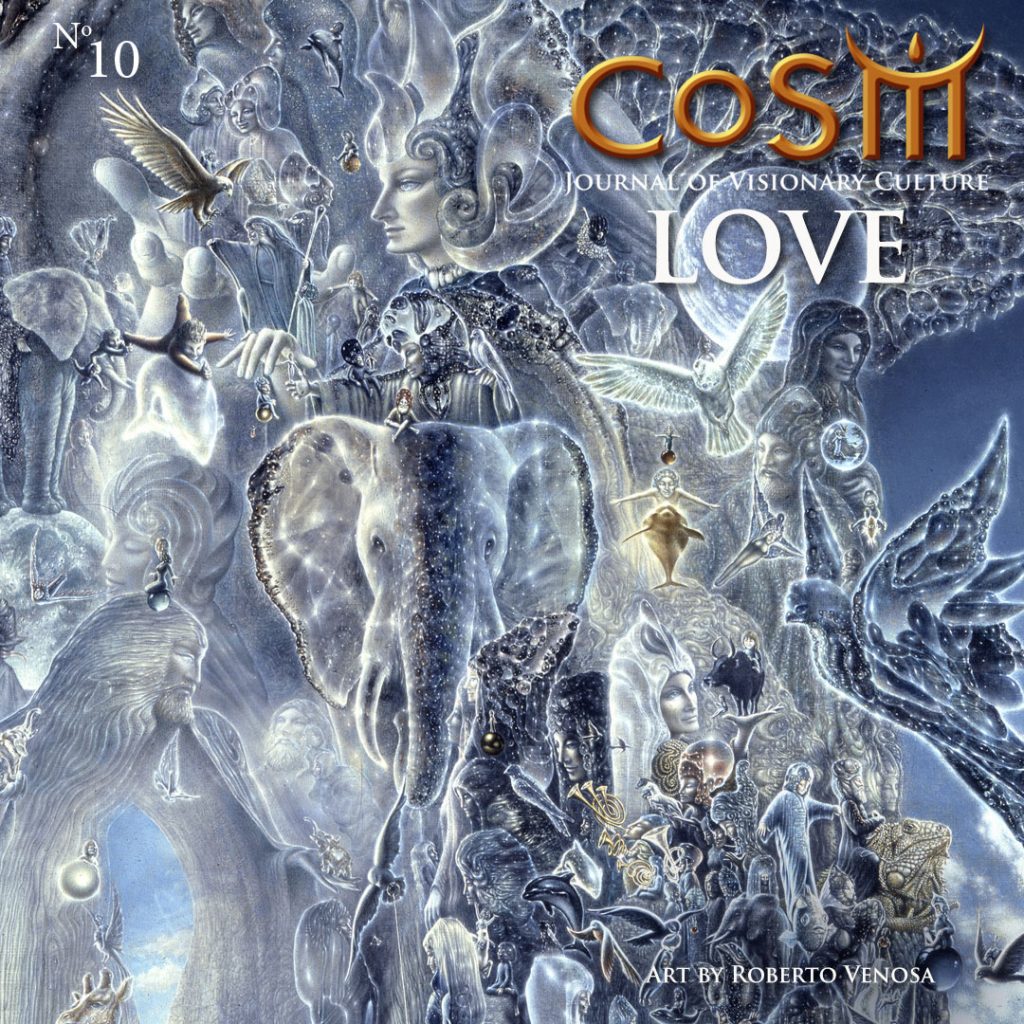 The Chapel of Sacred Mirrors honors the creative spark in each of us as a direct connection with divinity. Art practiced in service to love and divinity weaves together the global Visionary Arts Movement.
The special edition, number 10, 'Love' volume of CoSM Journal of Visionary Culture was created by Allyson Grey, Alex Grey, Eli Morgan, Sijay James, Delvin Solkinson with Alexa Spadafora.
"Love is not an aberration, or the brief bumping together of meaningless molecules… Love is the fabric and foundation of every manifest thing. The visible universe is an ornament of a seething boundless net of Love. It condenses into every weird and wonderful shape.  Occasionally one may glimpse this timeless firmament, the infinite One, the sacred marriage field of all beings, the mystic primordial background to the foreground of the material world. This glimpse can be found in the eye of the Beloved. Lovers are temporal extensions of the trans-temporal field. One reason loving relationships can be successful is in their recognition of themselves as extensions of a transpersonal field of Love."
~Alex Grey
Articles in this Volume
---