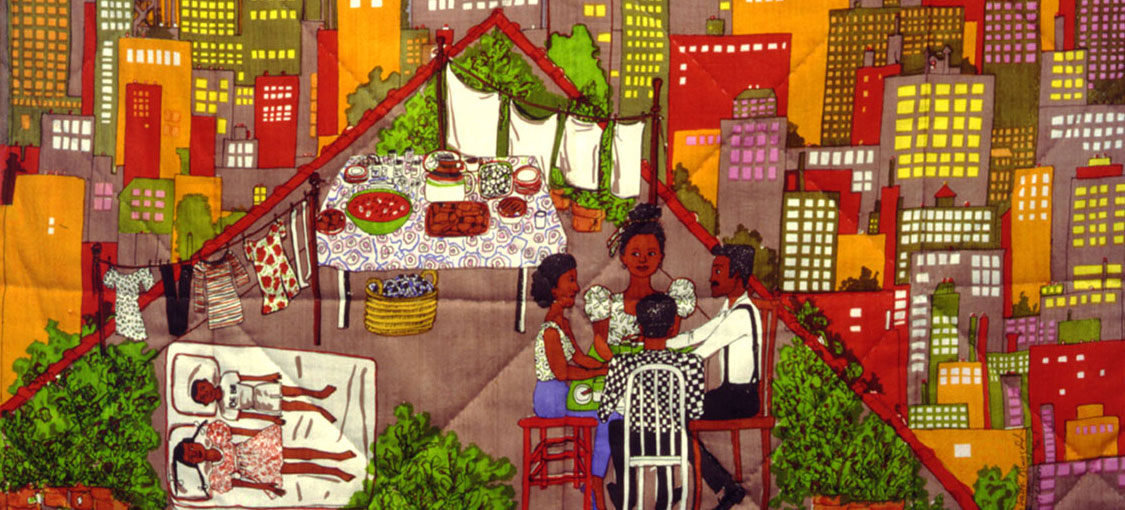 by Faith Ringgold
Faith: Art school taught me how to paint but it couldn't tell me how to tell my story or what my story IS. In the early 1960's there weren't a lot of people making art about the life of the black community and political art was not going to sell. As a black artist and writer, what guided me was a drive to know my own story and to tell my story. My ancestors did not come on the Mayflower. My people came to America as slaves. The art and music from Black Americans reflect that. Much Black music in America is now considered American music.
Alex: Jazz is the cradle of all music that we care about. American music, rock & roll and jazz wouldn't exist without Black musicians.
Faith: I went to college in 1948 and African Art didn't appear in New York museums and galleries until the 1960's. So, I went to Nigeria and Ghana in 1976 to explore the art of my roots and brought back books on African Art. If you allow others to write your story, you are not the primary source and your story will not be told. In 1980, I got a literary agent to look at my autobiography and was told that this was NOT my story. So, I decided to write my story on my art. When the art is published the story will be told. Then, they could not tell me it w as not my story.
Alex: That was the beginning of the quilt work?
Faith: Yes it was. Quilts are functional. Black slaves were not encouraged to paint. They couldn't take time to carve masks and wouldn't be allowed to anyway. Quilts could keep you warm and could be a creative contribution. You can't stop people from telling stories or from singing or from making things with a purpose.
Allyson: Your work is associated with images of community, groups of black children and adults. Your story entered the culture through your art! Now, there's a Faith Ringgold center in Harlem where you grew up. Harlem is your community. Art is also your community. You consort with Presidents. Your community is the world.
Faith: Leaving Africa and coming to America was the beginning of story telling from Black people and the beginning of Black influence in America. I heard the stories of Black people who moved to New York to get the hell out of the South. The music of Africa in America has changed culture. Through music and art our story is being told. In 1988, I did "Tar Beach" for my first solo show at Bernice Steinbaum in New York City. For the "cover" piece to advertise the show, I thought of being on the roof in Harlem in the summer time where it was cool. Looking around down the street, everyone was outside on their roof with tables and chairs and food and playing cards and adults telling their stories. Children could not run and play on the roof and they had to lie down and listen in order to stay up there with the grown ups at night.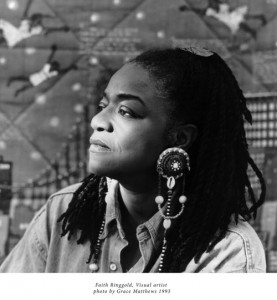 http://www.acagalleries.com
This article appears in