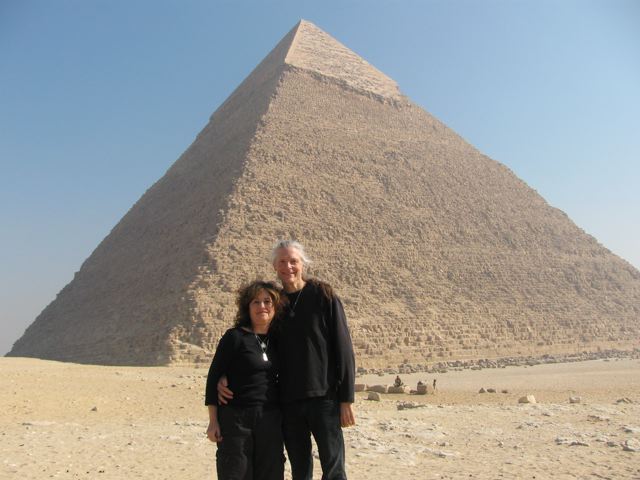 by Eli Morgan
For the past ten years, I have had the honor to be a part of the global phenomenon of CoSM. At the heart of this movement are the artists, Allyson Grey and Alex Grey. Although their medium of choice is paint, the Grey's influence transcends the canvas. They are teachers, performers, community leaders, visionaries, inspirational forces of natures. I have witnessed their international call to action, and seen them rally and uplift people with their love and vision.
From Bali to Moscow, Melbourne to Mexico City, CoSM and the Grey's bring out the best in people. Through lectures, workshops, and live-painting celebrations, they encourage anyone attending to love and see deeply, guiding all toward a connection with creativity and spirituality. Traveling with the Greys, I have had the privilege to see this International Family of Light first hand. All ages, races, walks of life, coming together in the harmony of art, learning, dancing, creating together, expressing themselves individually and collectively, sharing the experience, the magic palpable in air.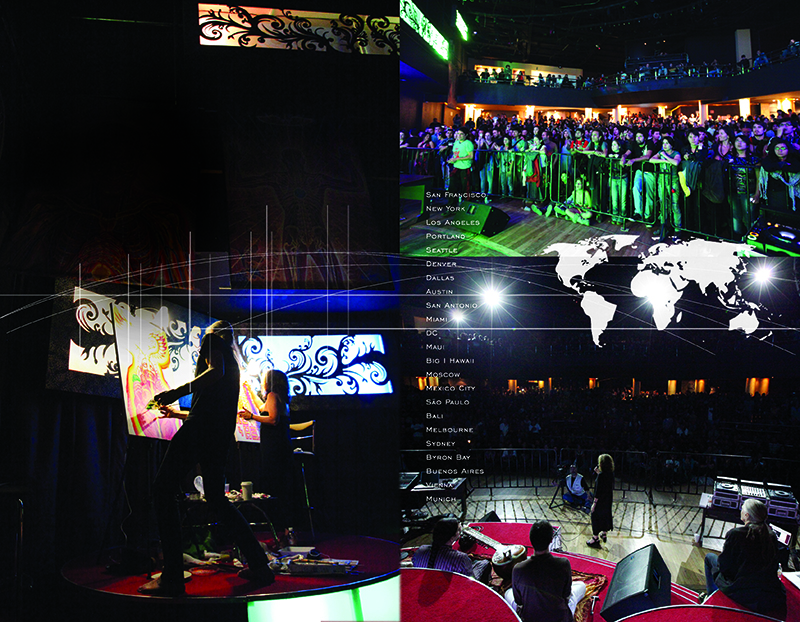 In São Paulo, Brazil, for twenty hours straight, the Greys painted one mural together before twenty-five thousand party goers. Crowded around the stage, a sea of faces were transfixed as the canvas came to life. In Portland, Oregon, twelve-hundred guests lined up for hours to meet them, all smiles, each person feeling they had had an intimate moment with Alex and Allyson. It is that kind of presence, that gives the Grey's the ability to live-paint with the boom and beats of the music, and the intensity of the dance floor.  Their live-painting is a wonder to behold. The channel of creativity flows through them on stage: Allyson's precision stillness that is personified by her colorful and sublime secret language, Alex, at times, rocking to the music, lays down bold strokes, and renders a master work at every event.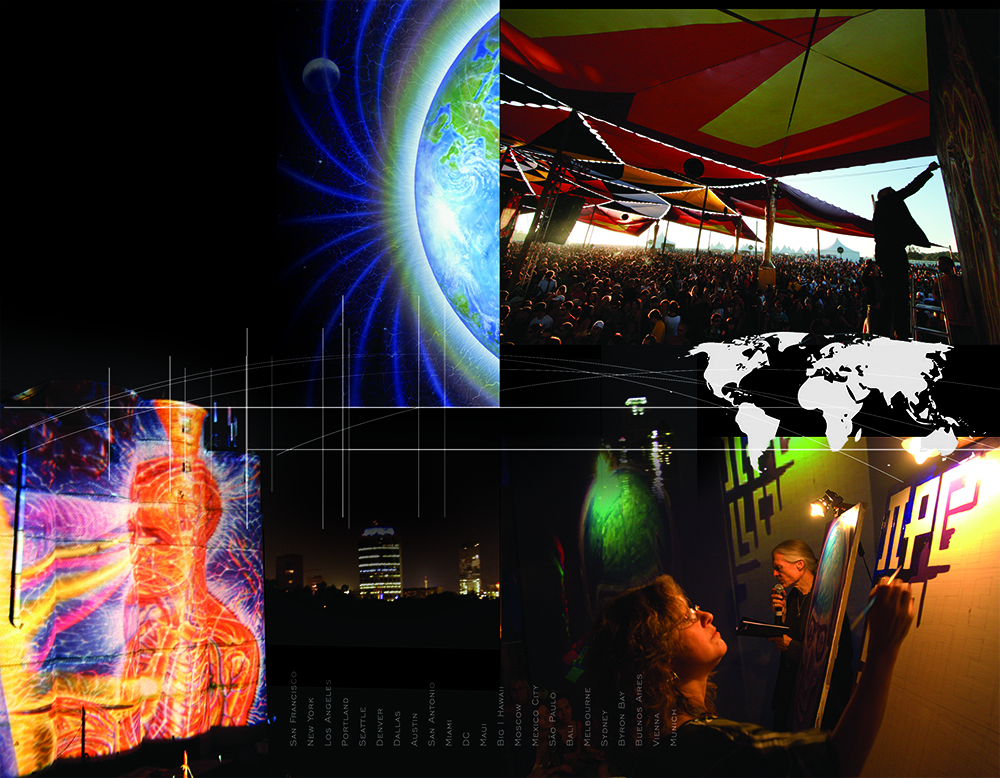 By zig-zagging the globe Alex and Allyson have facilitated uniting the love tribe all over the world. They have been the catalysts, bringing together the community in celebration. I have heard this in every city, from promoter and participant alike.  A beautiful swirl of energy at every event, there are always new friends sharing with me how their lives were changed for the better by attending.  For all of you that have been there, you know exactly what I mean. And for those yet to come, please join us at CoSM in the Hudson Valley, for one of our CoSMic celebrations, and check the web site for when CoSM  is coming to a town near you.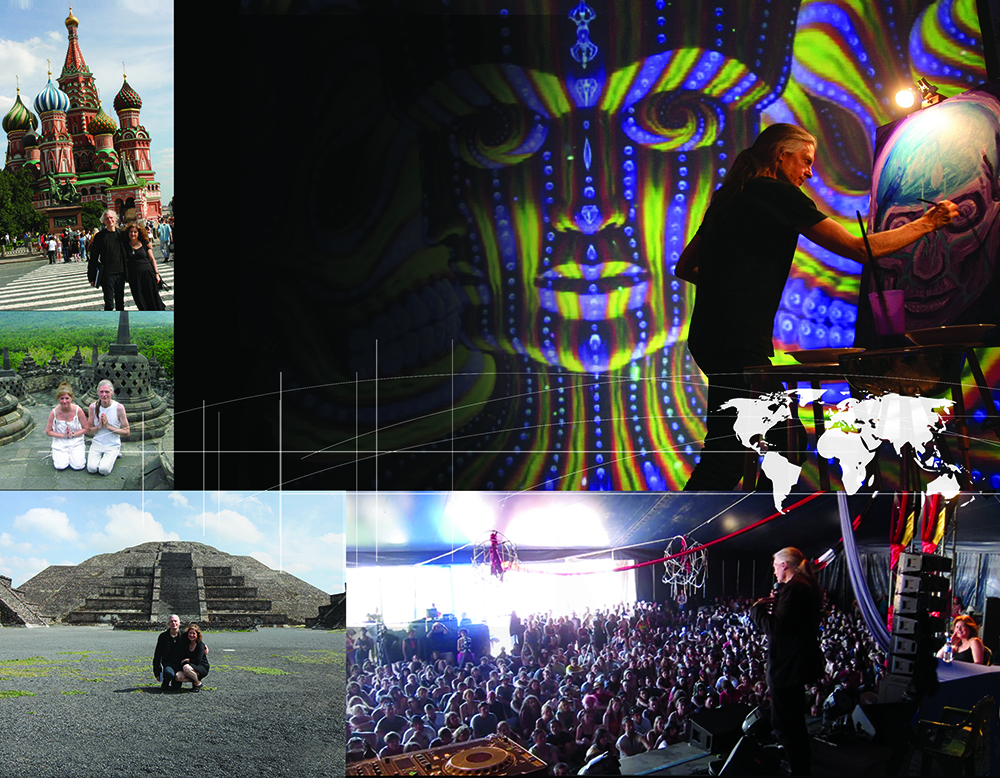 Eli Morgan: Born in Freedom, Indiana, raised in Northern California, and trained in New York City, Eli studied photography and graphic design at the School of Visual Arts. In 2001, Eli produced CoSM's first benefit party in NYC. This led to coordinating and managing hundreds of events for CoSM and becoming the Grey's Events Coordinator and Road Manager. Eli is the Creative Director and Chief Designer for CoSM and co-founder of CoSM: Journal of Visionary Culture. As an international art director, photographer and event organizer, Eli is committed to world transformation through awareness, art and celebration.
This article appears in