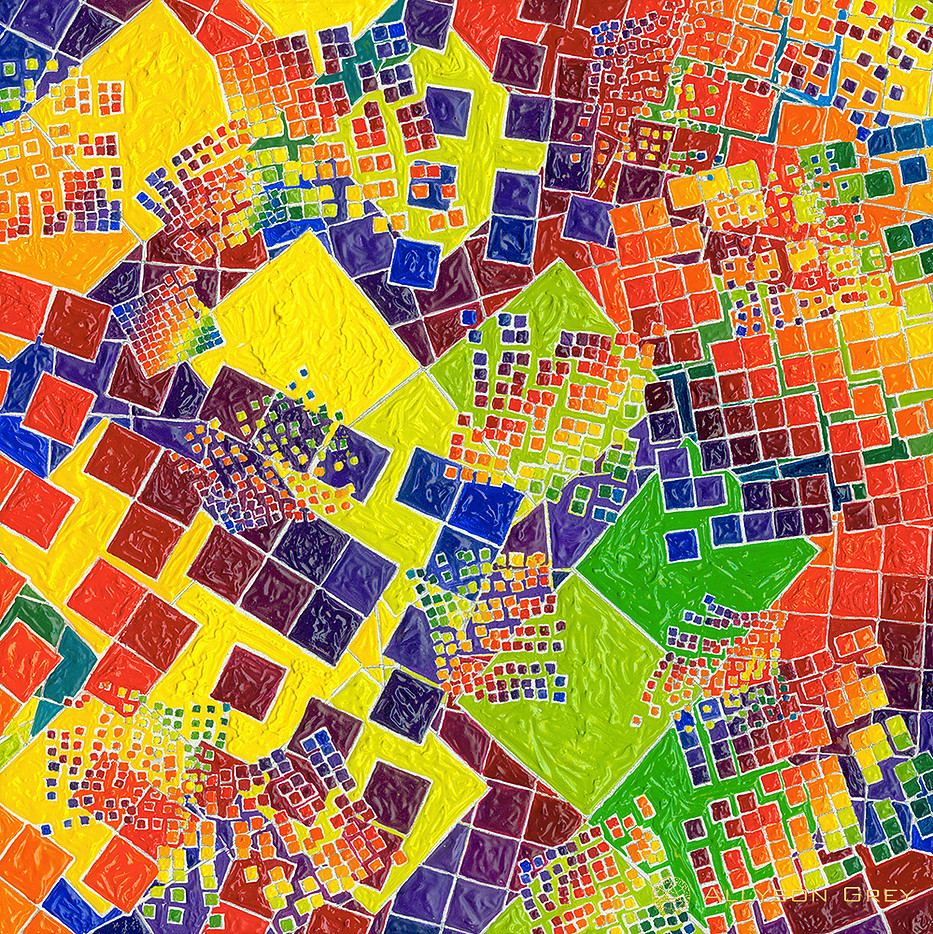 – by Allyson Grey
Cosmic art reflects visions of order and chaos. In the most expansive view of the cosmos, Hubble photographs, there appear to be clusters of galaxies, a chaotic field at the macro level. At the micro level, subatomic activity has been analyzed by smashing atoms and in those photographs there appears a tangle of spinning light shards that ricochet off of each other, a web of concatenations that charge our atmosphere. We all breath in each others skin cells and share atoms with ancient history.  The Greek word "cosmos" refers to the order of both inner and outer realms.
This work is a language of light in spectral colors. These worlds of light occur on every level. The white light is the void that unites all forms. In the bliss realm, some of us have seen the white light surrounding all beings and things, connecting it all. My paintings honor the white light ground of being by allowing it, as much as possible, to be exposed around every square cell.
The concepts chaos, order and secret writing symbolically expressed in the compositions, colors and systems of my art, represent an essentialized world view that has long been the content of my oeuvre.
Chaos in these paintings symbolizes the material world where distinctions and judgments are made. Explosions and drifts of thousands of spectrally arranged squares in the artwork represent the presence of entropy, disorder and unpredictability that exist in every system in the physical world.
Order in the work, the interconnected harmonious patterns, suggest bliss realms one might experience in transcendental states of mystic unity sometimes called Nirvana, heaven or the infinite Divine.
The Secret Writing in this series is comprised of twenty unpronounceable letters, corresponding to the nameless presence existent in all sacred writing, the spirit imbedded in communication that cannot be reduced to concepts. Sacred writing in every culture is like a window revealing spirits revelations manifested through creative expression in the material world.
This article appears in