by Juan Carlos Taminchi
translated by Vacio Cielo 
Community is Unity, Harmony and Fraternity between brothers and sisters of Mother Earth. It's rooted in friendship, a common vision, and a seed. Walking together with consciousness and love is a spiritual path. We work and share the same dream for a new world of peace, living with nature and the sacred within, while honouring all creation both visible and invisible.
The shamans sing "Icaros," songs shared from the spirits of the ancestors, the spirit of the plants and the animals, to illuminate and clean the energy during the ceremony with their light. Humans can understand the Great Mystery.
This piece is inspired by Mother Nature in the Amazonian jungle, still virgin and powerful. In her enormous forest cities are many sacred plants. Within each of them there is a spiritual lesson, wisdom that offers the equilibrium to life and the healing of our souls. During the ancestral rituals with the ayahuasca vine "heart of the amazon," our consciousness awakens to the subtle and magical realms that the jungle pervades. In this way, the hearts can receive healing and light messages to help them walk with Her in unity, harmony and love.
This is a message to inspire joy and consciousness in humankind. Mother Ayahuasca shows visions of medicinal plants from different cultures from around the world that can help humans strengthen body and spirit. These plants also offer their light and wisdom to maintain the balance and communion among the plant and animal kingdoms. This is how Mother Earth wants us all to walk: in communion with light and wisdom.
The jaguar from the amazon represents the spiritual guide, the physical force and the ability to let oneself be guided by the heart. The rainbow eagle is a symbol for the Great Spirit, opening its wings to take humans beyond ordinary sight, to open our horizons and remind us of the human relationship with the invisible world.
The hummingbird helps us find the beauty within, to follow our own ideals and walk with happiness. The hummingbird has magical qualities, it opens the heart and ignites love with flavours from the nectar of life.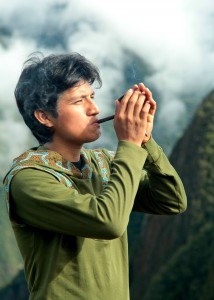 Juan Carlos Taminchi is a Peruvian artist. Born in 1985, his lineage come from the Andean and Amazonian cultures. At the age of 8 years old, the natural world captured his attention and stimulated his drawing abilities, thus opening the possibilities for his artistic dreaming. During high school he was able to develop his drawing skills by taking artistic education courses. Eventually that lead him to continue with his studies at the Pucalpa School of Arts, where he became an Art Instructor. Seeking for new artistic trends, he discovered the spirit world and the sacred plants, which enabled him to experiment and deepen his focus on Visionary Art
This article appears in