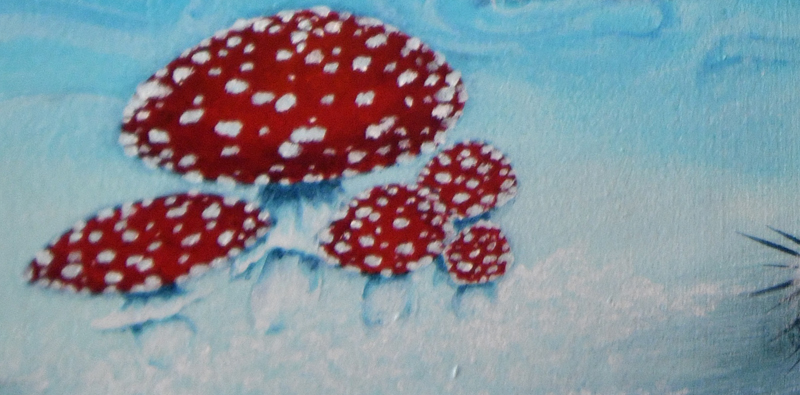 My art intends to inspire sovereign empowerment through creativity and to reveal the beauty of our world and inner realms. May my art inspire the spirit of curiosity and bring healing and wonder to all viewers. A collective potential to bridge Heaven and Earth through our love and imagination makes us all powerful creators.

My mural contribution honors the Siberian Shamanic mushroom traditions that preceded many modern Christmas symbols. The red and white Amanita Muscaria mushroom essential to shamanic practices of Siberia, grows beneath pine trees. Dried in stockings by the hearth. Amanita mushrooms were ingested by reindeer and by shamans who wore red and white in honor of the Amanita. Due to high snow drifts, medicine was delivered from the shaman through the roof hatch. In my mural, a reindeer shaman stands near a patch of Amanita Muscaria while summoning the winter aurora's light. When complete the mural will include flying reindeer spirits. Designs above and below the vignette are inspired by traditional Siberian stitch work.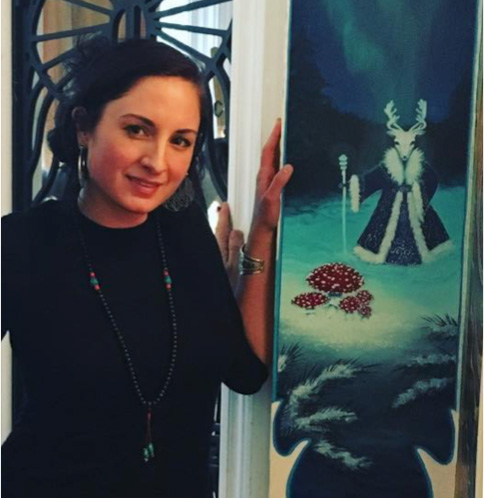 An artist since childhood, Kathryn June "Ka" Amorastreya, of west Texas, ignited her passion and purpose studying healing arts and practicing massage therapy. Discovering her power to heal and the beauty in helping others, Ka has woven this love into her artwork. She made tools and adornments from elements of nature and started painting at age 22. Revealing powerful visions and creating her own unique language of beauty, Ka also expressed herself as a performer, creating exquisite feathered costumes and ornamental headdresses for her ritual dances at festivals and galleries internationally since 2002. Her work has been featured in US Elle, Paris Vogue, and the Rolling Stone Magazine. Ka is also a founding director of the Visionary Arts Foundation and the Visionary Arts Academy. She now resides in Asheville, recently transplanted from San Francisco, where she spent the last decade.