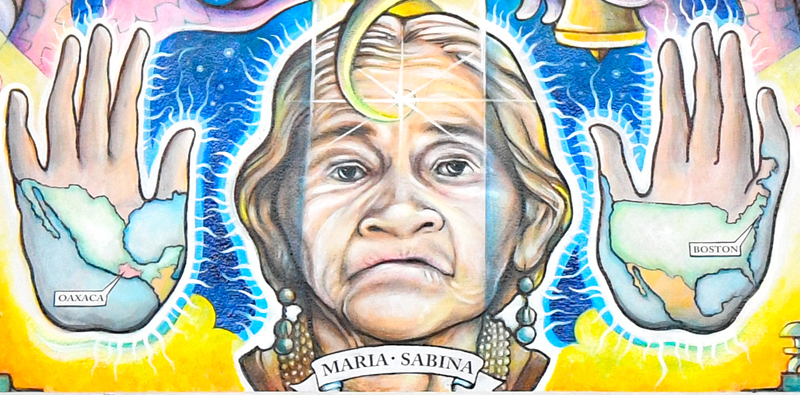 UNDERSTAND how important Art is.
KNOW the difference between religion and spirituality.
HONOR the environment.
BE INVOLVED with community.
EMBRACE all cultures.
RESPECT the beauty of diversity.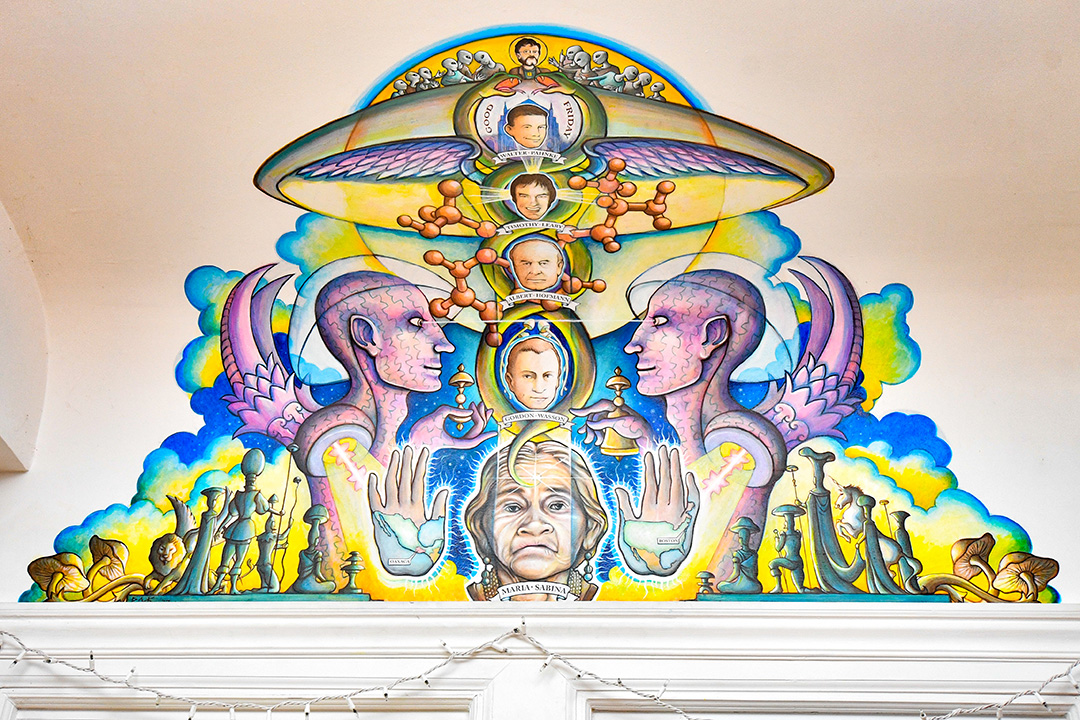 In this mural I have attempted to combine the history of Psilocybin, and it's integration into modern society, with my own personal Psilocybin visions.
The central stem of the mural is a totem caduceus depicting the spiritual and scientific lineage of psilocybin mushrooms and their 20th century journey from the ancient Mexican medicinal tradition of Maria Sabina (1950's), up to the Good Friday Experiment conducted by Walter Pahnke in Boston (1960's).
Hovering above the totem is a mushroom-cap UFO, manned by philosopher Terence McKenna who is surrounded by space aliens gathered in the formation of Da Vinci's "Last Supper".
On either side are two angel fayerie extraterrestrial Psilocybe Cubensis entities that have appeared to me personally. They hold the sacred Agaricus Bisporus Vajra and Bell. In the foreground the entire spectacle is viewed by Renaissance fungi-topped chess pieces.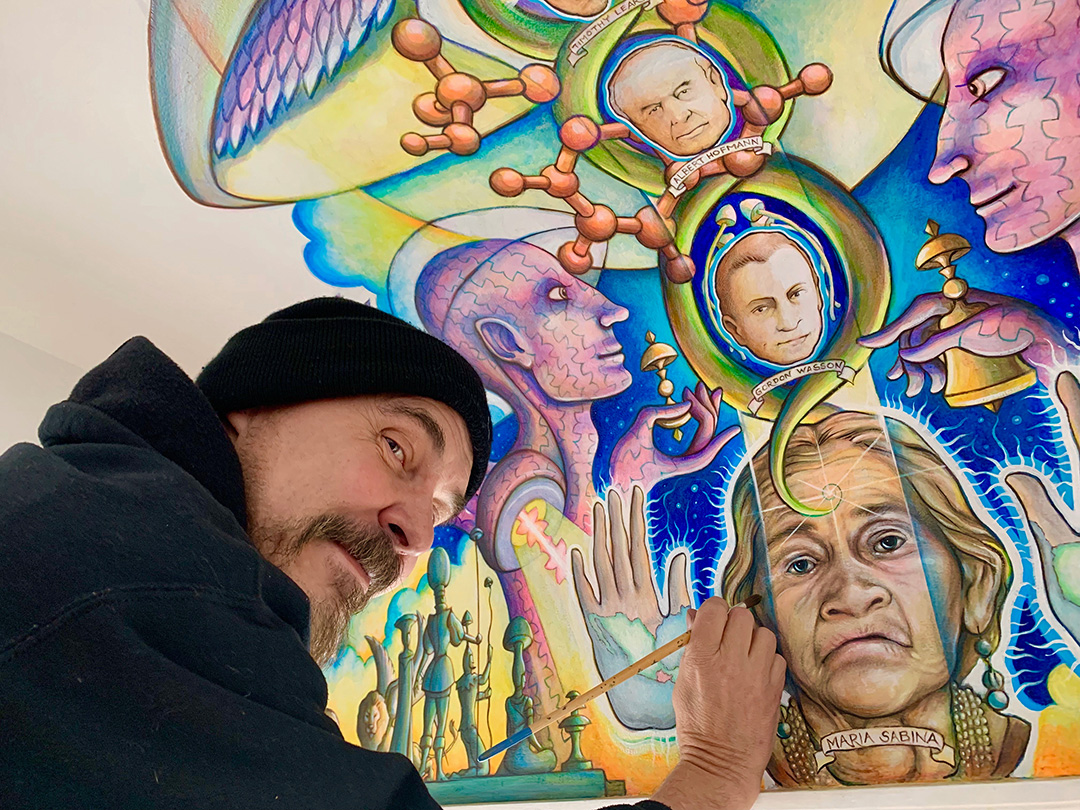 Perry Arthur Kroeger is a visionary performer, writer, designer, videographer, and artist. A three-time Broadway veteran, his theater art has been experienced in the United States as well as in Copenhagen, Bangkok, and Moscow. He has been a featured live painter at Burning Man and at CoSM where he also teaches. Perry is a student of The Vienna Academy of Visionary Art in Austria. Currently, he is artist in residence at The Growing Stage, The Children's Theatre of New Jersey, where he creates stage sets, puppets, fantasy costumes, and graphic art. His cartoon series Perry Kroeger's ROCKS (enlightenment without getting stoned) was featured in Natural Awakenings Magazine.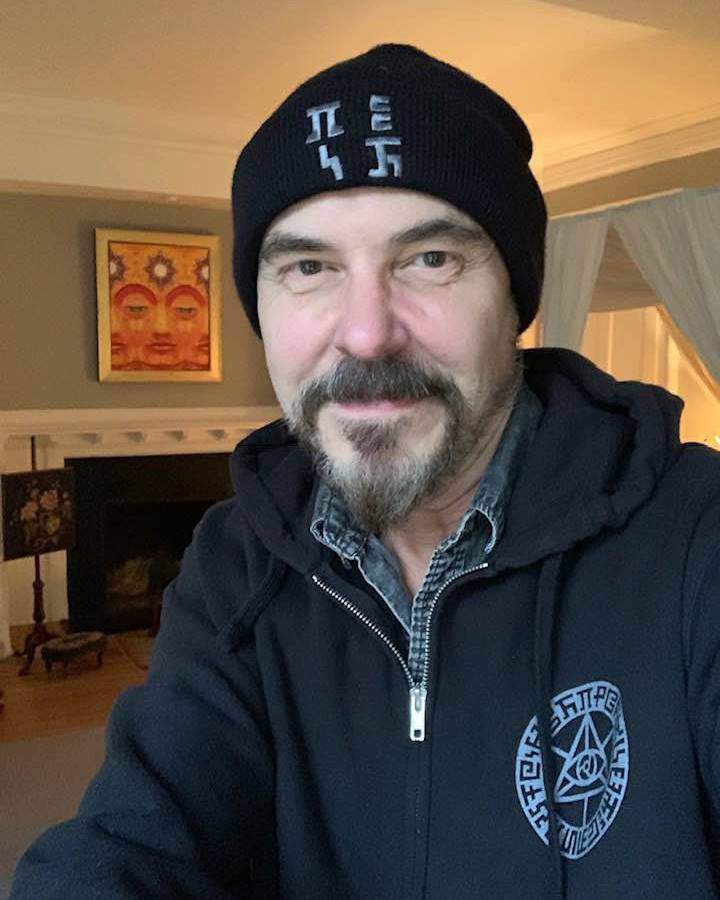 Perry Kroeger teaches art at CoSM every year. Learn more about his work at www.perrykroeger.com