Entheon is Now Open!
Friday, Saturday & Sunday
Noon - 6pm


Entheon means a place to discover the Creator within.
Entheon, Sanctuary of Visionary Art at CoSM, transforms a three-story carriage house into a stunning 12,000 square foot exhibition of the finest original works of Visionary Art, precious paintings, drawings, sculpture and moving image, that resonates with the highest states of consciousness. Inside Entheon, the Chapel of Sacred Mirrors features a cathedral-esque latticework ceiling, ten archangels, and a quartz crystal moat that surrounds each of the twenty-one Sacred Mirrors.
Contribute to Entheon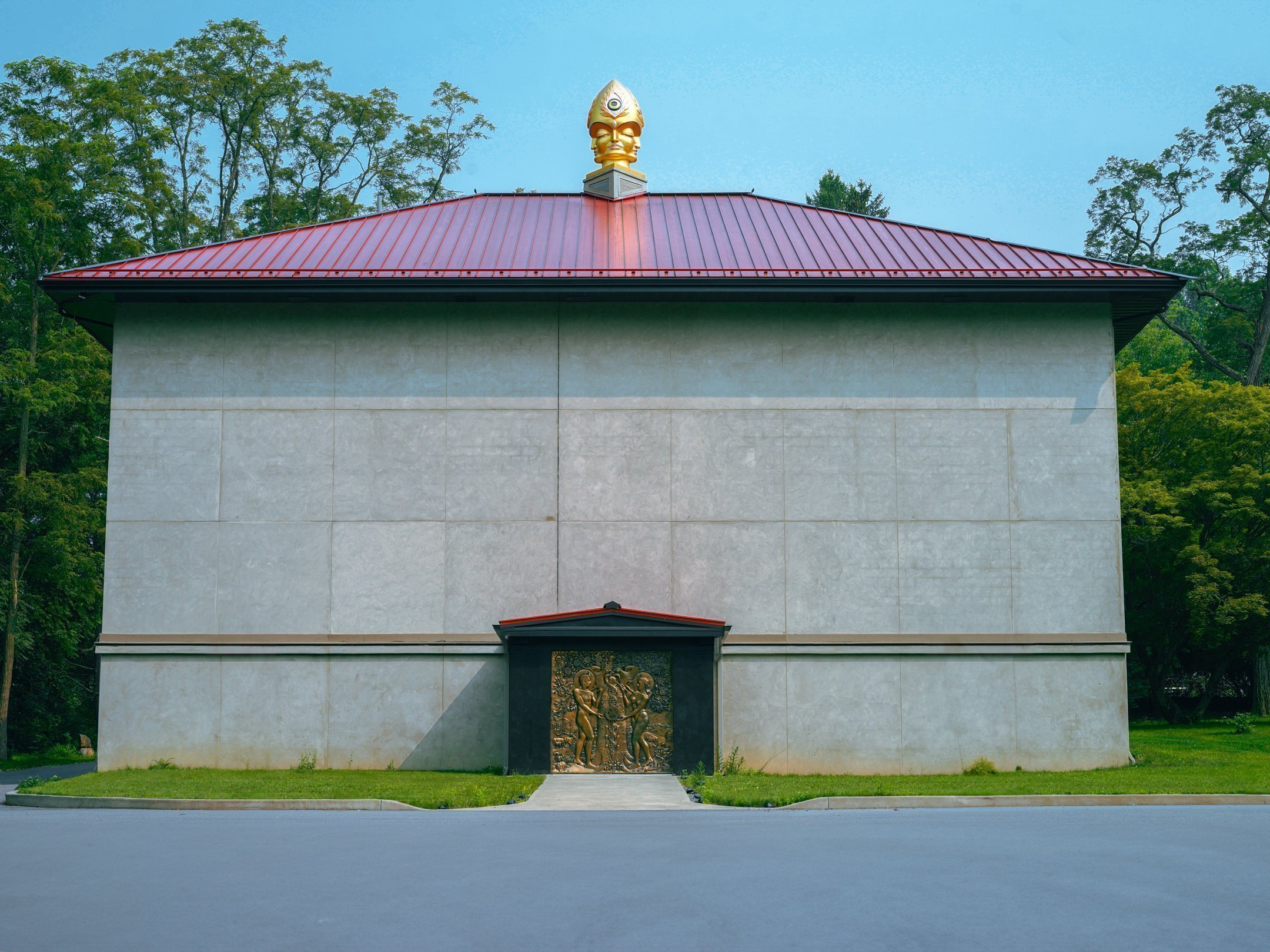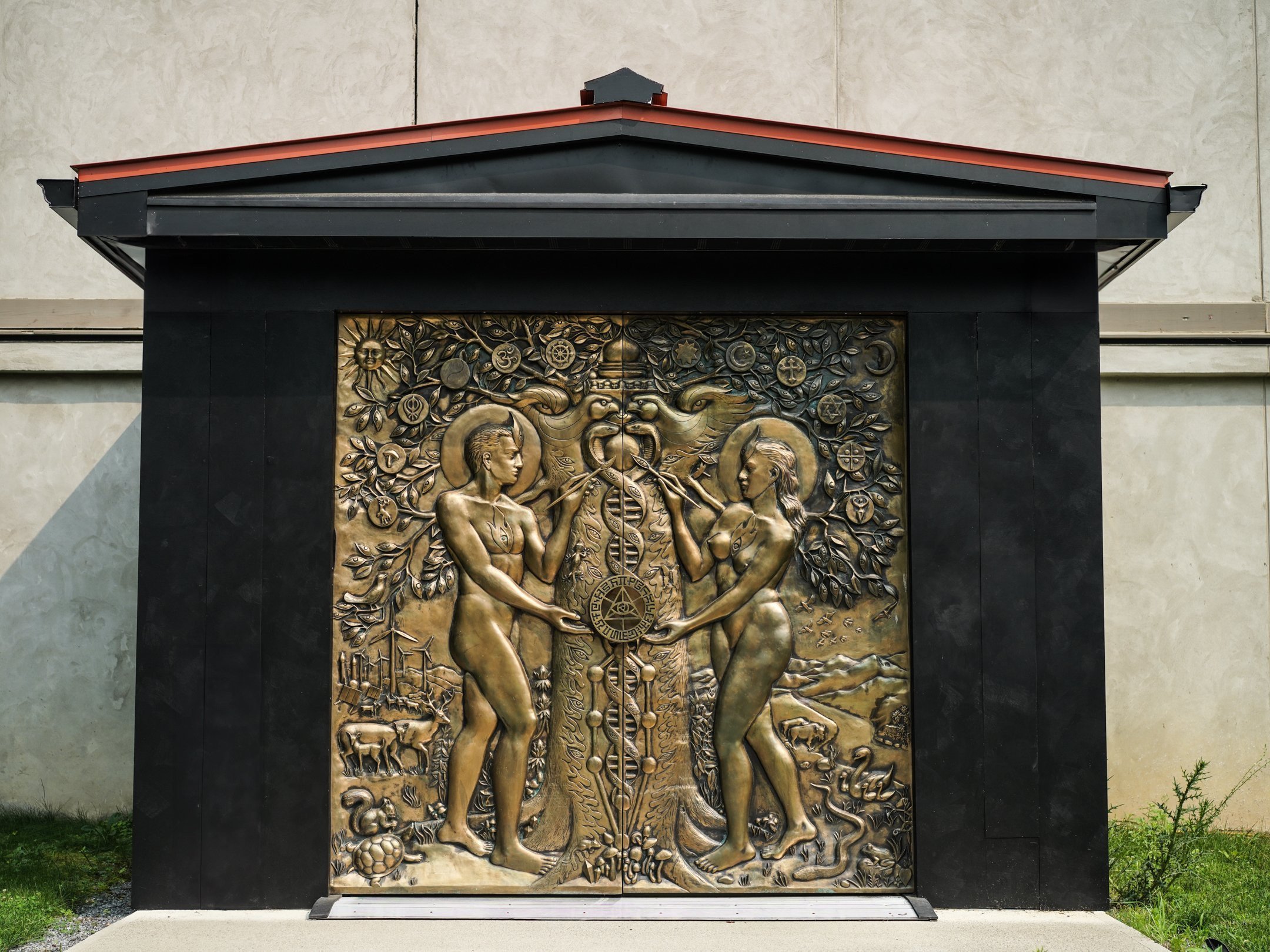 Creating a Better World Doors by Alex Grey
The Entheon Portal features bronze sculptural doors, a work of art entitled Creating a Better World, by Alex Grey. Artists, Adam & Eve, return to the Garden to paint a new world and harvest the Tree of Wisdom.



All One Gallery
Through the inspiring bronze and glass doors of the Portal, you enter the All One Gallery.
Original artwork is exhibited by leading masters of the International Visionary Art Movement.
Inside the entrance, the World Prayer Wheel, by Alex Grey, may be turned by every visitor, each revolution symbolizing the repetition of the prayers inscribed, "May the Elements Be Purified." "May Peace Prevail on Earth." "May All Being Be Liberated." "Sustain the Web of Life."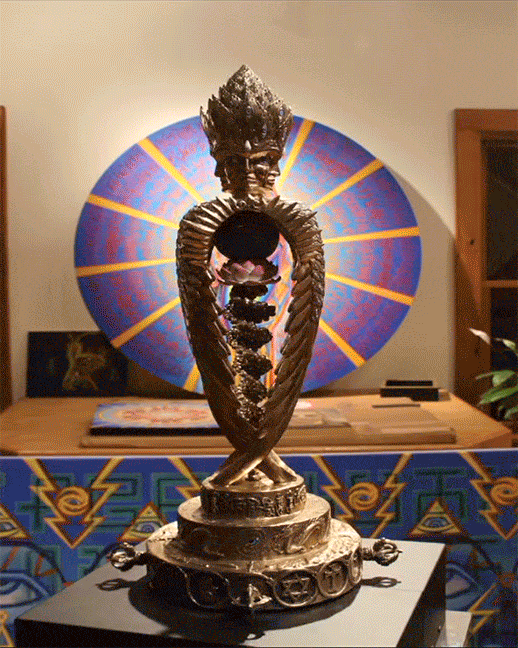 Prayer Wheel by Alex Grey
The Entheon Museum Shop will offer affordable originals, limited editions, Visionary books and posters, and an attractive and eclectic selection of artistic gifts and fine altar objects.
Psychedelic Reliquary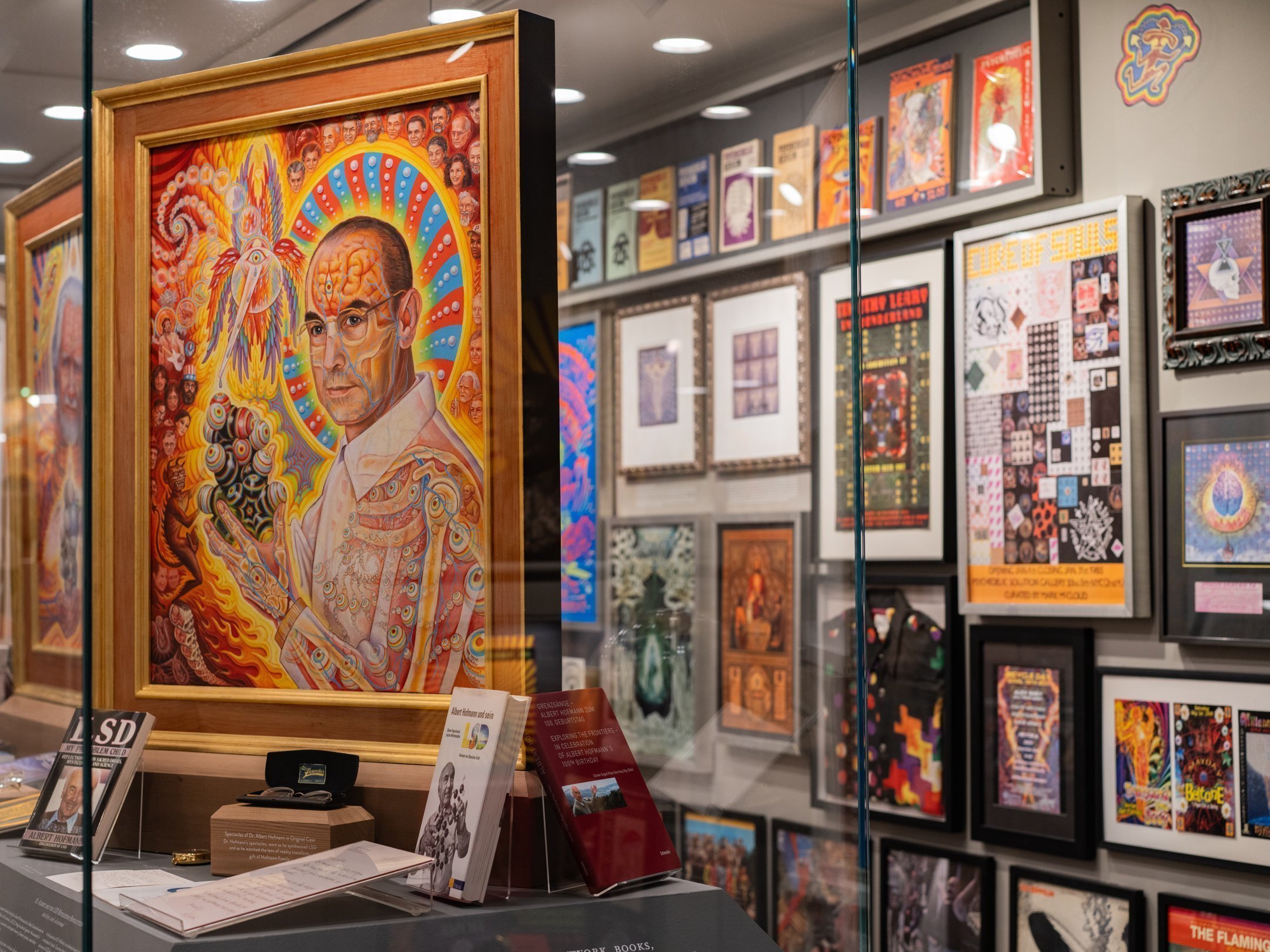 The Psychedelic Reliquary hosts treasured artifacts and ephemera, including the spectacles of Dr. Albert Hofmann and the ashes of Timothy Leary. A shrine inside the Reliquary Room is dedicated to Alex's artistic collaboration with Grammy Award winning band, Tool.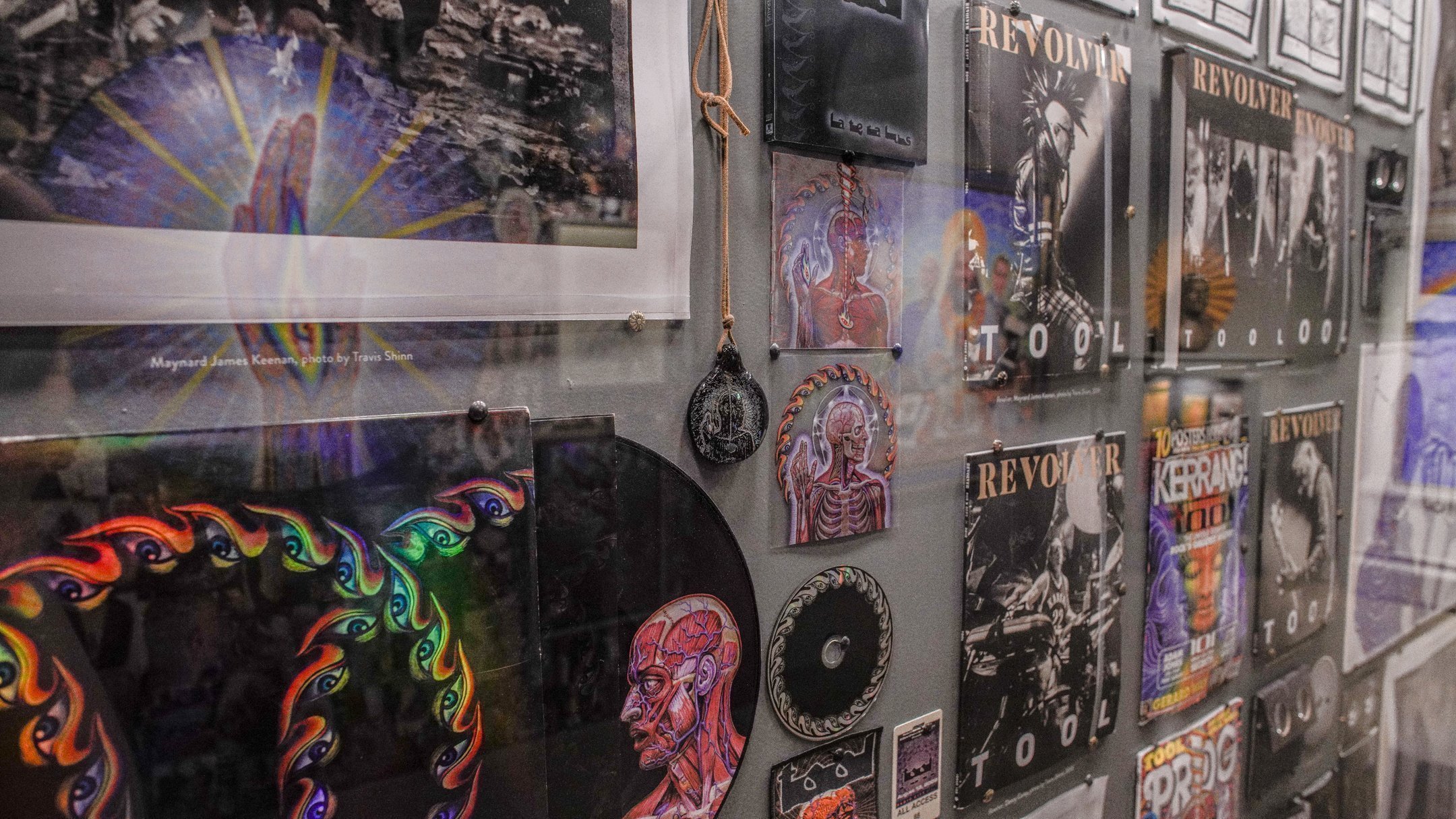 Chaos, Order, Secret Writing Gallery

A multi-media installation of the Chaos, Order, Secret Writing world of Allyson Grey includes devotionally labor intensive drawings and paintings, her mystic abstractions point to the fabric of spectral light, a system at the foundations of consciousness.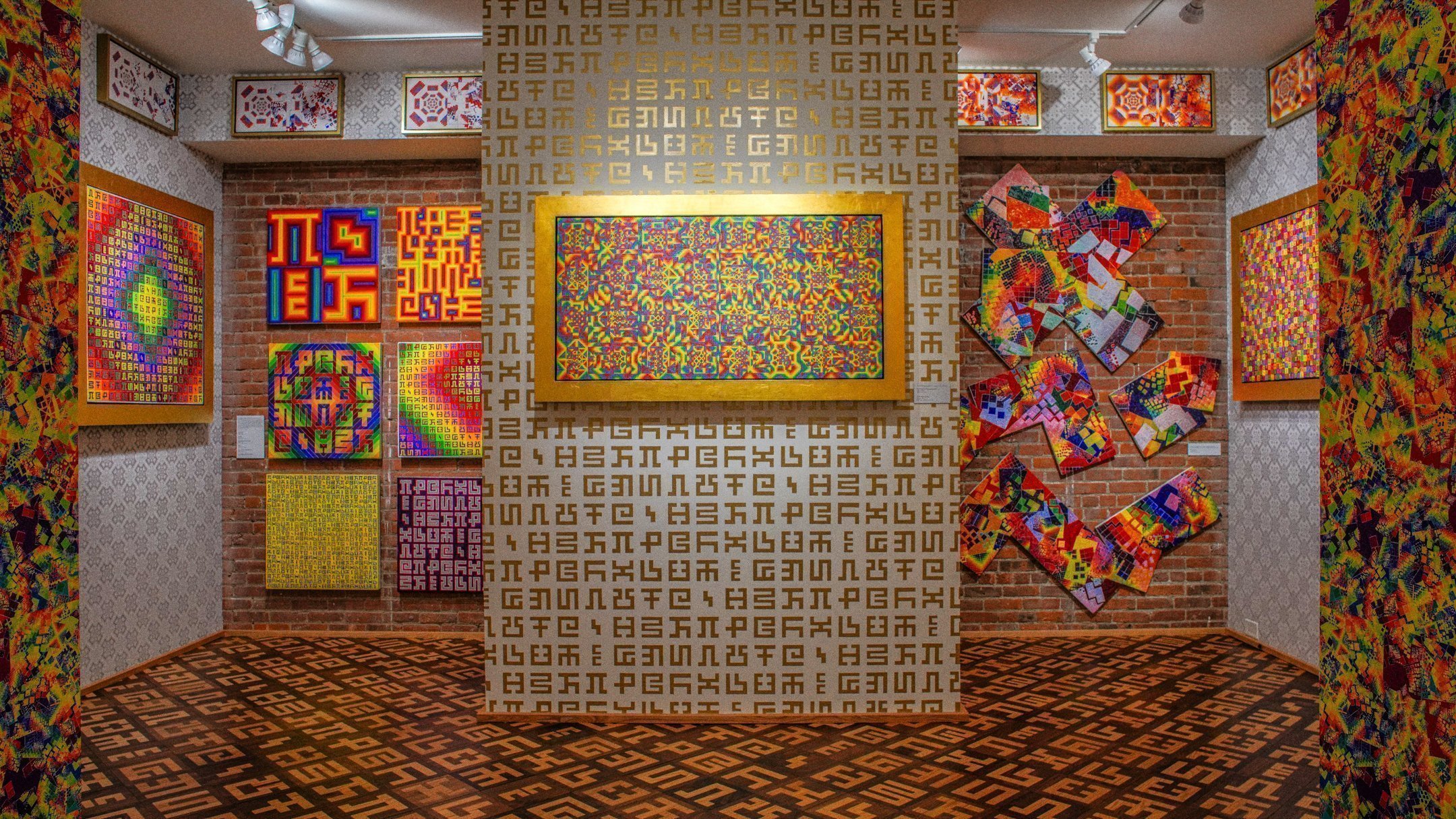 Progress of the Soul
An unfolding narrative appears in the Progress of the Soul Gallery, featuring Alex Grey's original masterpieces, Kissing, Copulating, Pregnancy, Birth, Nursing, among others.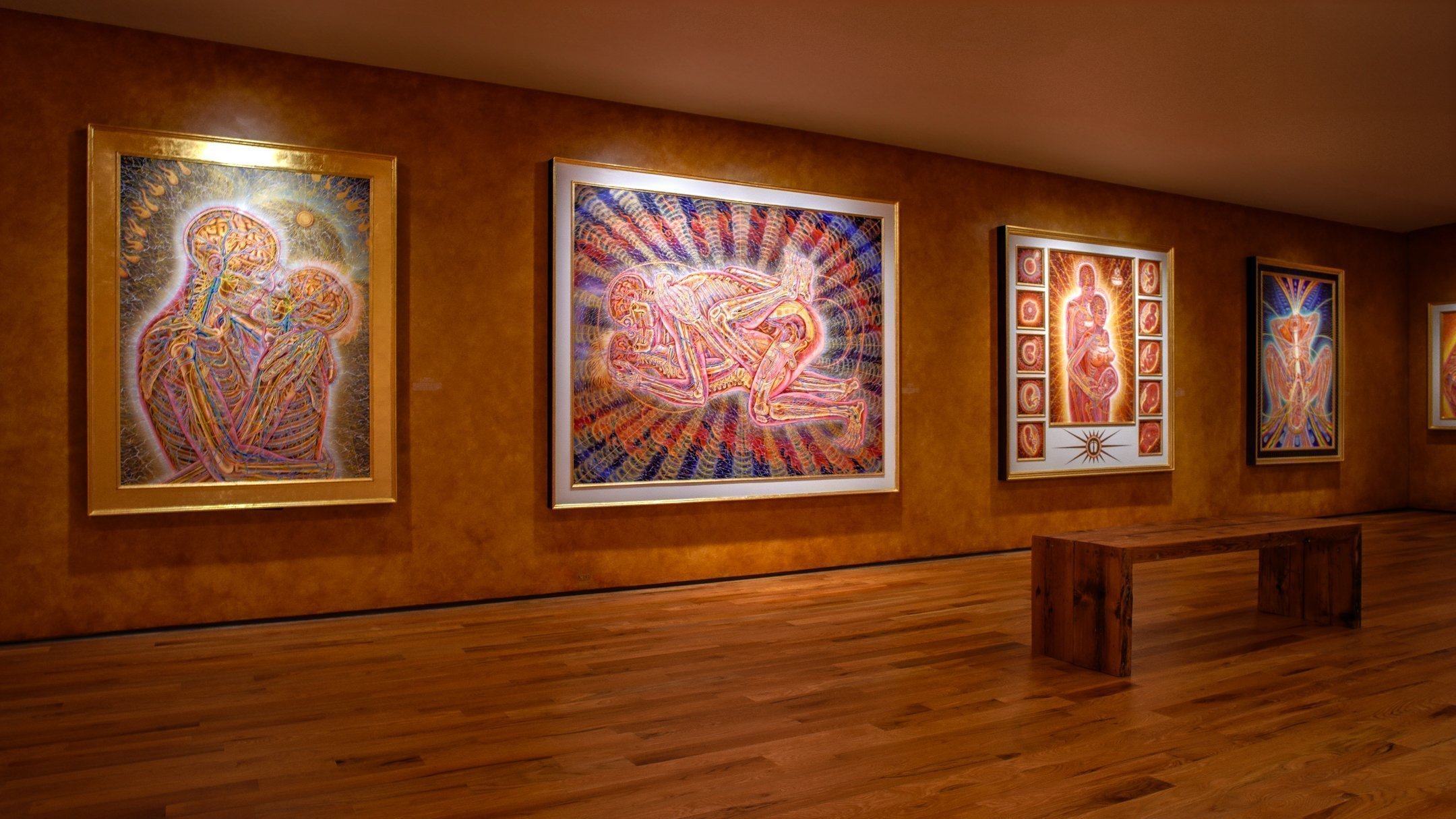 Gaia Gallery
One of Alex's most beloved monumental paintings, Gaia, a twelve by eight foot masterwork, is on view. Painted in 1989, this visually prophetic work articulates the plight of our environment while also revealing two airplanes headed toward the Twin Towers.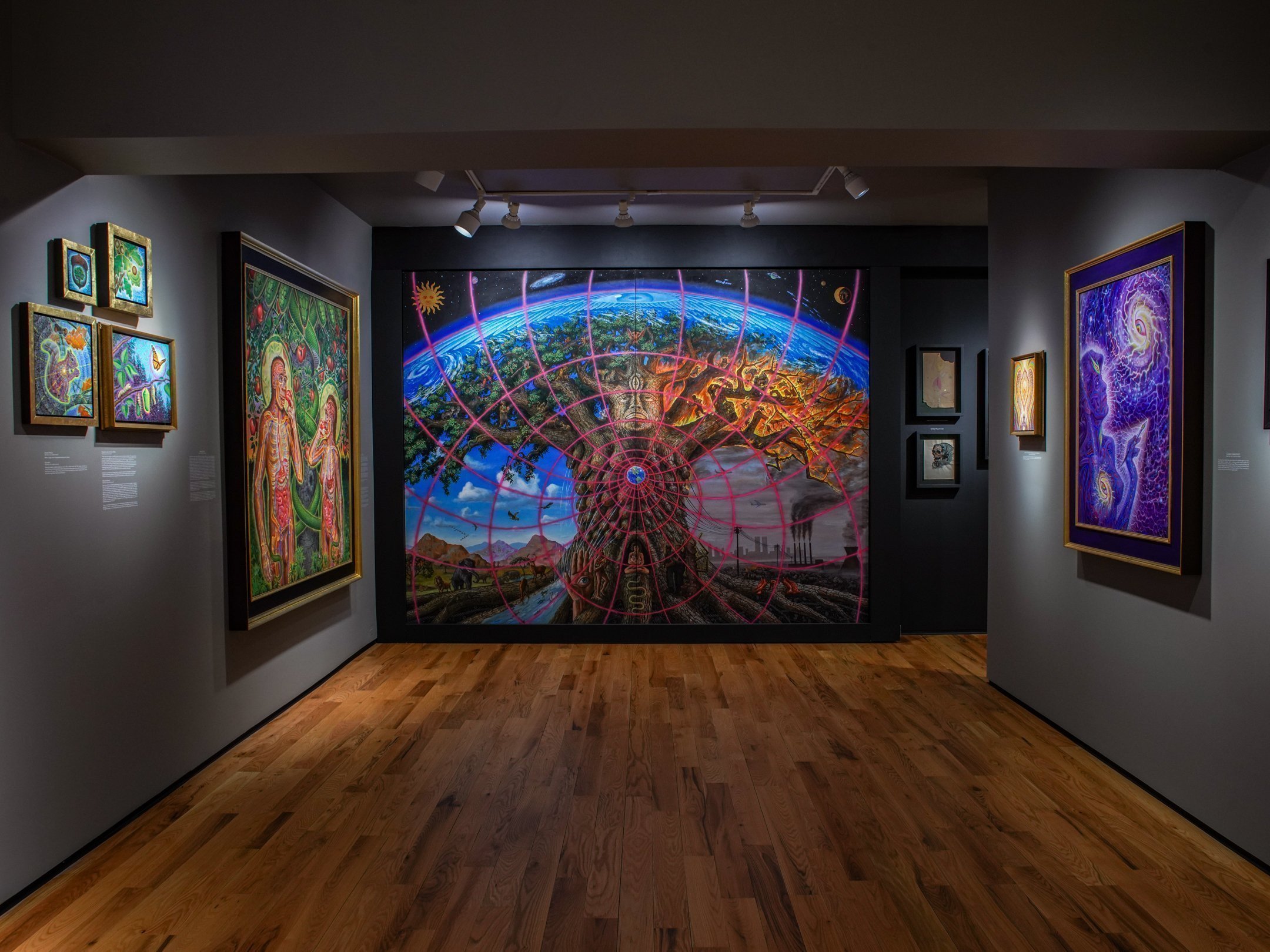 Performance Gallery
The Performance exhibit hosts documentation, relics and rarely seen early footage of the Grey's provocative performance art rituals that led to the creation of CoSM and Entheon.


Great Hall
On display in The Great Hall are transcendental works including Alex Grey's beloved paintings, Net of Being (featured by the band Tool), Theologue (meditating figure), Cosmic Christ, and the winged bronze sculpture, World Soul.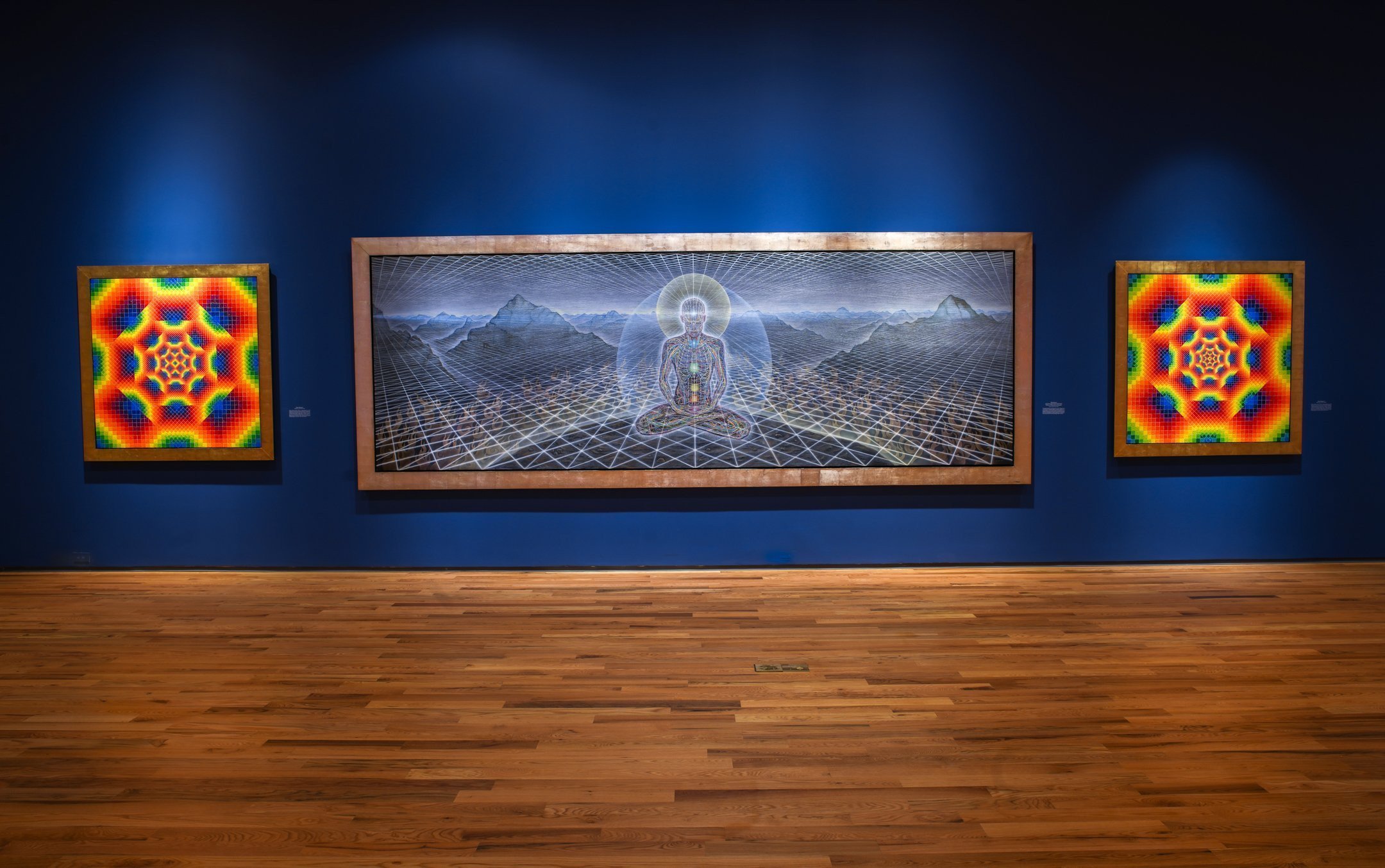 Also on view in this mystic gallery are four of Allyson Grey's most iconic works, the diptychs Jewel Net of Indra and New Order I & II.

Chapel of Sacred Mirrors
Entering Chapel of Sacred Mirrors, we stand inside a gothic brick archway and become a living Sacred Mirror. This series of nineteen highly detailed paintings and two etched mirrors, are presented in frames sculpted with the history of humanity and the universe. Viewers are invited to reflect on a vision of the physical body transforming into pure infinite love energy.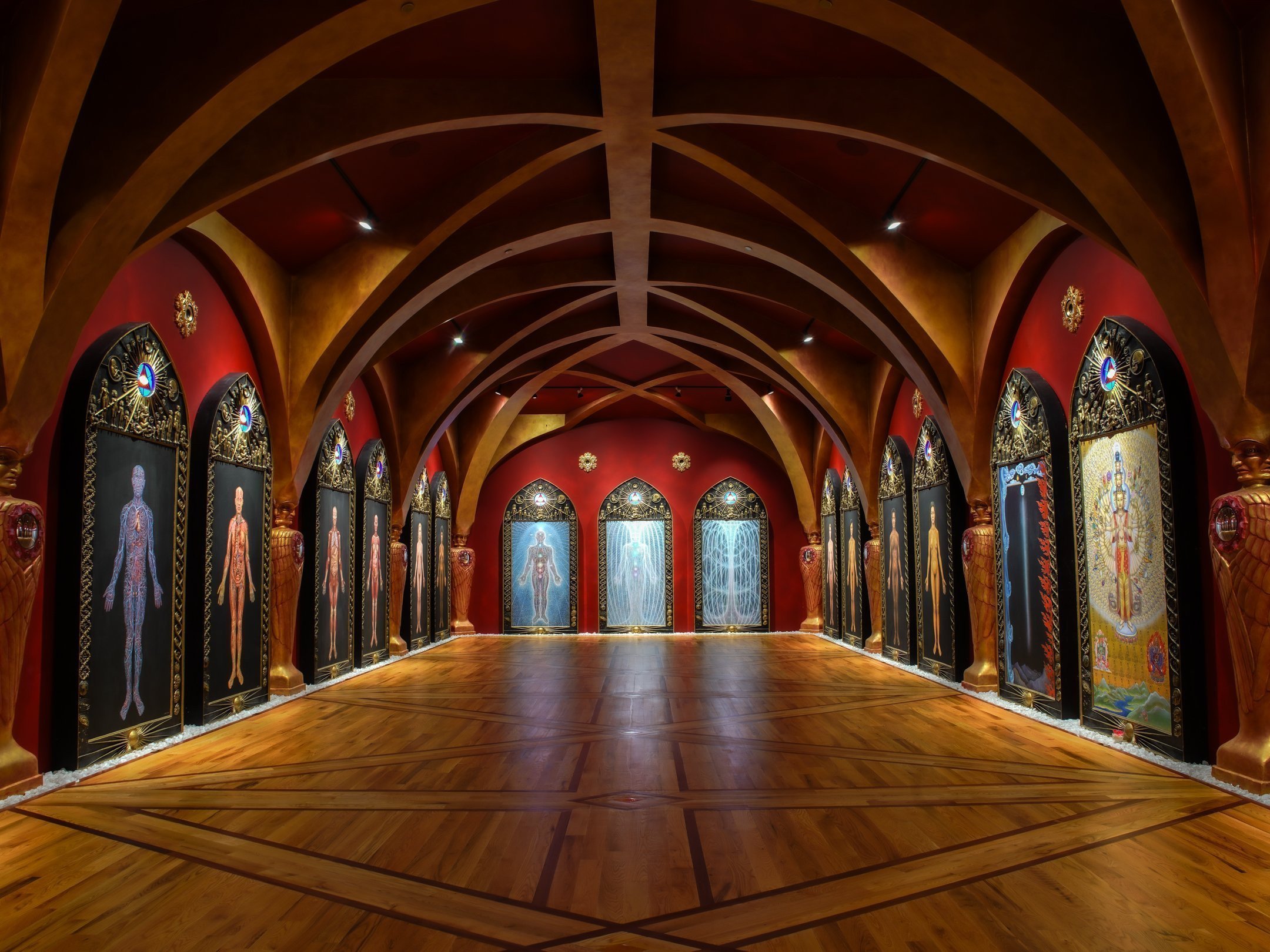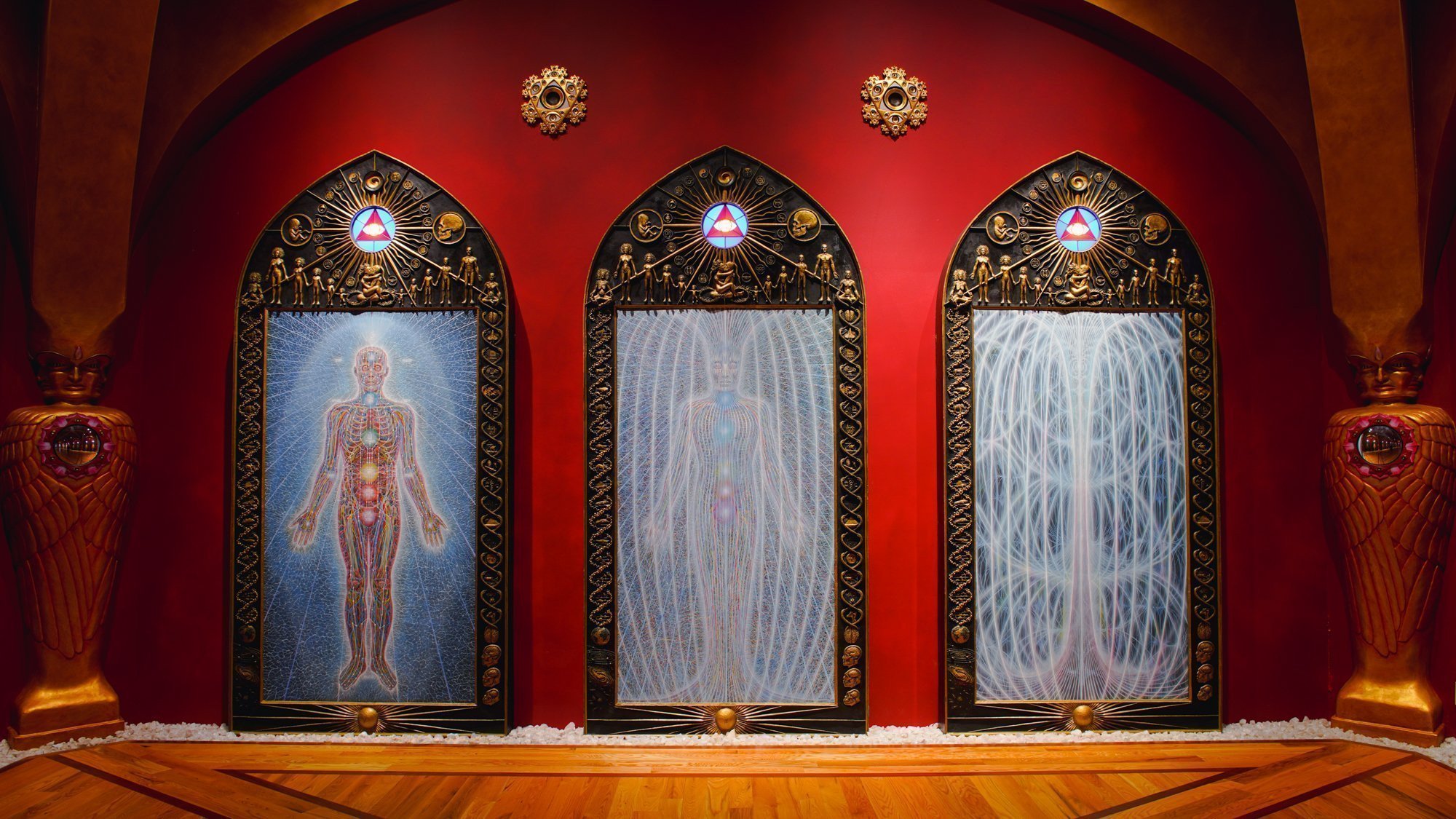 Completions Ahead: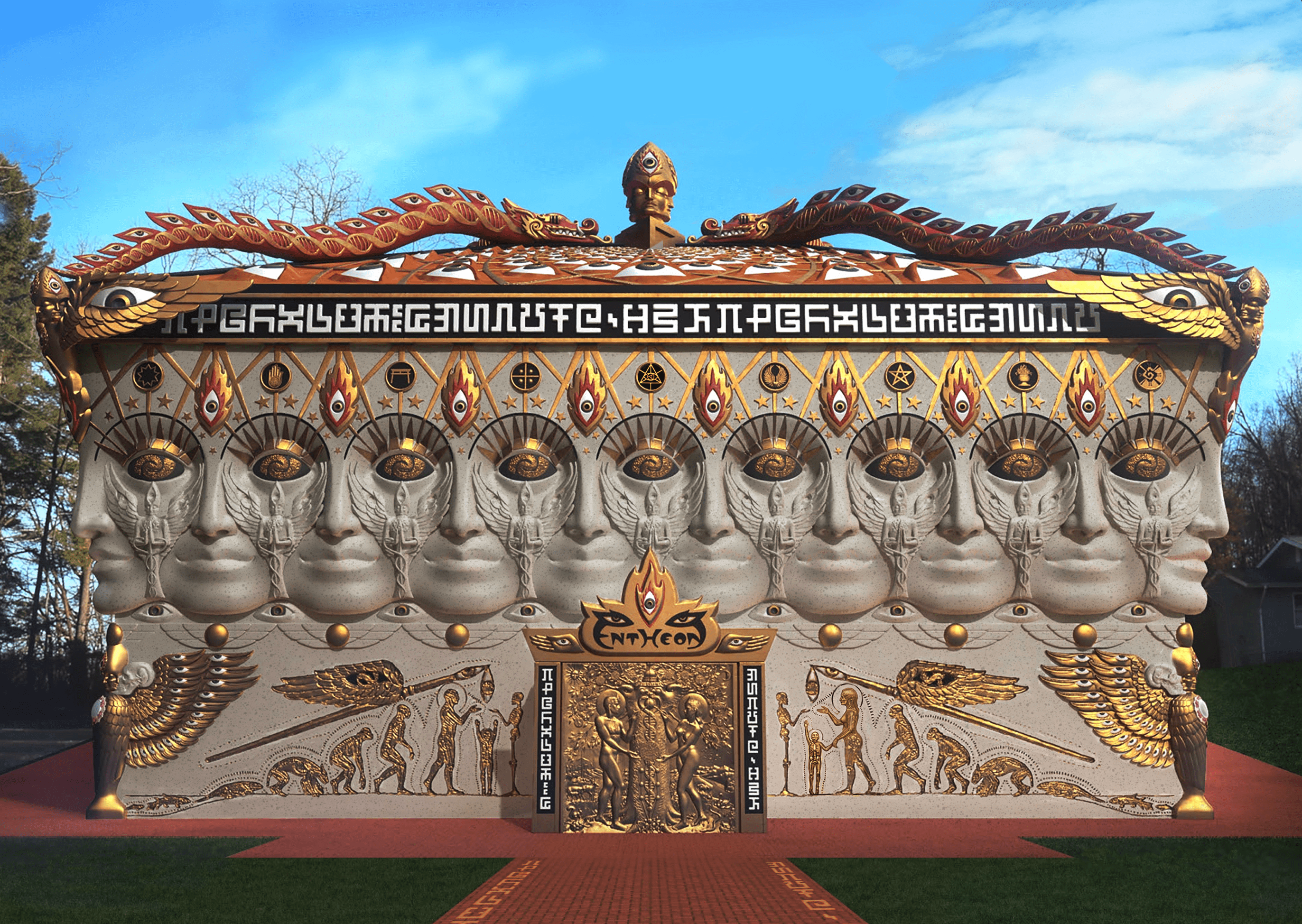 Still in construction is the sculptural "countenance" of Entheon, the thirty faces, the corner angels, roof dragons, evolutionary murals, secret writing… all pointing to the Transcendental Unity of Spirit. The monumental sculptures will be realized with the help of experts in ornamental concrete, utilizing advanced technologies of 3D modeling and fabrication. By sharing the psychedelic and mystical experience through visionary art, an observatory is provided for the beyond within. The Soul is restored by beholding transcendent beauty.
To all who have helped make this historic sacred work of co-creation an ongoing success, we join with a growing community in thanking you with all our hearts.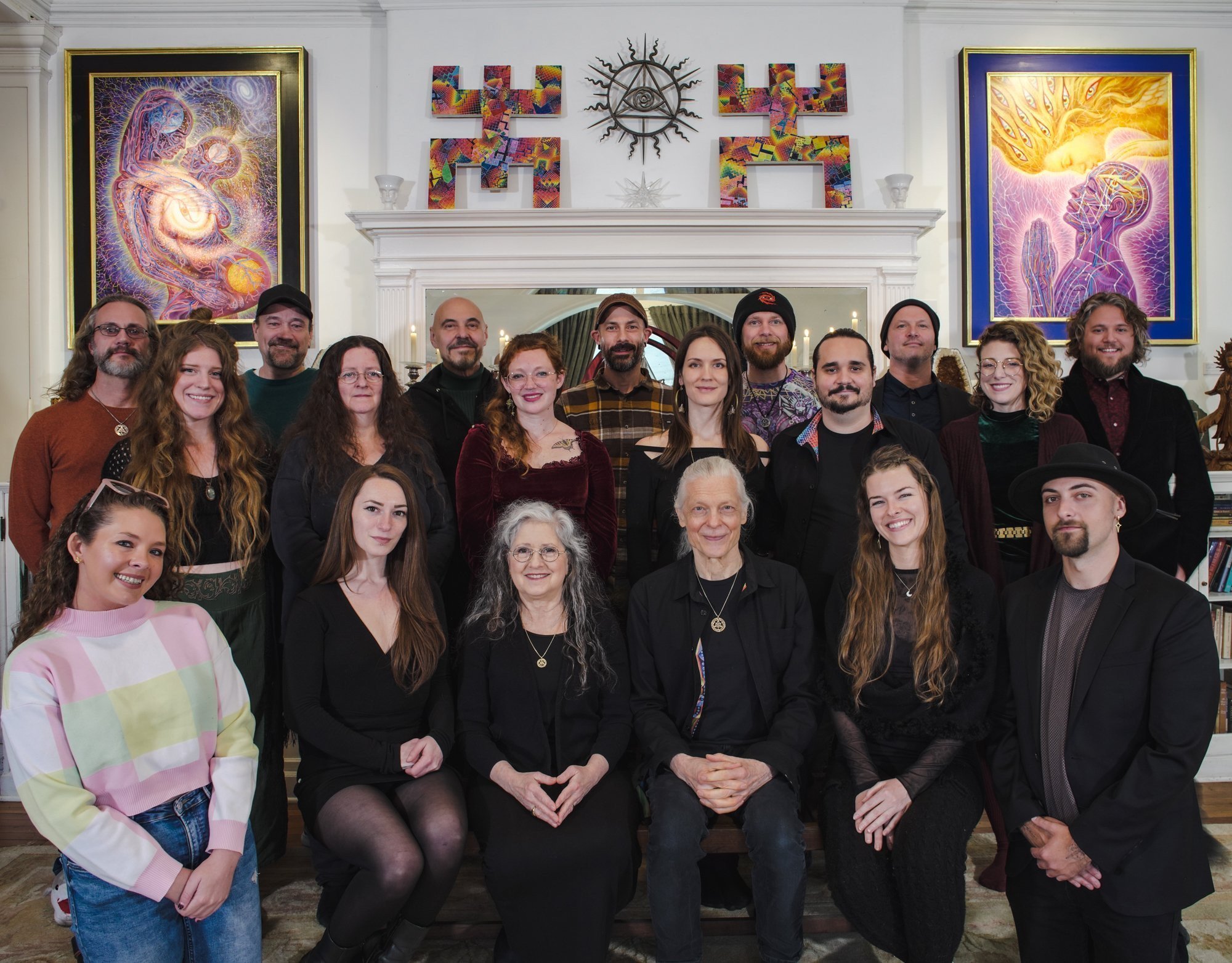 Together we can offer a spiritual creative legacy for generations to come.
Building a temple, the work of a community, is the inevitable consequence of love.